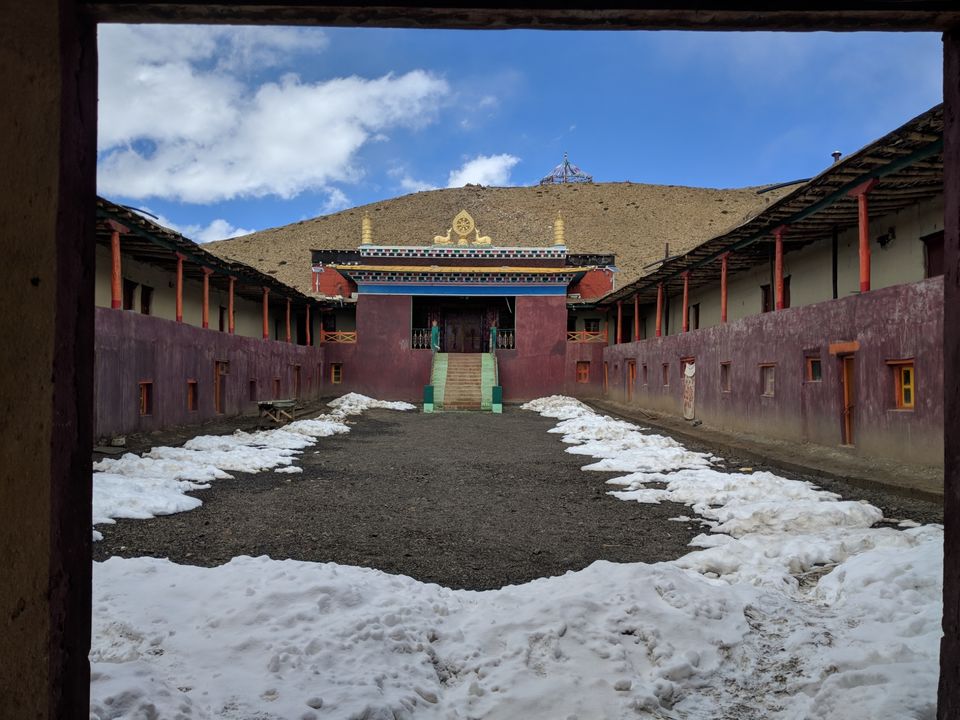 Spiti valley has been one of my favorite destinations. Land of Lamas has not only left me with vast expanses of deserted, in your face and cold trans Himalayas views but also given me special, surreal and life-altering memories to ponder upon time and again.
I can't really stop talking about Spiti, both in real life and on Instagram.
One of the persons DM-ed me just the other day on Instagram, flooding me with a dozen questions on How-tos, etc. as she is planning her trip to Spiti.
That was an enough motivation to write a super super detailed GUIDE to Spiti.
From my experience, I know that Spiti can be a difficult place to plan while you are in your research phase. So I will make this article as detailed and helpful as I can by covering all the questions I have received so far.
First things first,
🏔️ WHAT EXPERIENCE DOES SPITI OFFER?
Spiti is a cold, deserted (read no-vegetation) high altitude hilly area. It is adjacent to Tibet which has a huge influence over Spiti.
So, yes you will be visiting a couple of Monasteries. You can live at the monasteries. Talk to monks and attend their prayers.
You will be doing some cafe hopping. If you are on your own, you can indulge in conversations from people all around the world.
You may do a short hike/trek. You will basically spend a lot of time with nature which is the crux of the entire experience.
You will walk thru' apple farms, stay with the locals and drink thukpa (the local soup).
So don't expect hyperactivity. Being there will give you a lot of time with the stark wilderness which is so much in your face that you may get a lil' overwhelmed.
I literally cried twice, once out of fear as I was traveling in a bus which was very, very near to the valley and the road was extremely narrow, just enough to fit in the government bus and second when I was sitting alone by the river front and just gazing at the Himalayas.
🏔️ HOW TO REACH SPITI?
If you are from one of the metropolitan cities, you can fly to Chandigarh.
Take a local transport/government AC Bus to Shimla which is comparatively cheaper than private vehicle.
🏔️ ACCLIMATIZING
Spiti valley is situated at high altitude (read 15,000 feet)! And to really enjoy the place and not struggle acclimatizing, you should get adjusted to the height.
It is advised to stay at Shimla/Manali for a day or two and then move ahead to the valley.
Shimla is at slightly higher altitude and will help you better at acclimatizing.
So you can follow this route:
Shimla (entry point) -> Spiti -> Manali (exit point)
🏔️ ITINERARY
Spiti valley is composed of multiple remote areas and ideally it can take upto 10 days to travel across. Ofcourse, there is something that you will miss no matter what, but 10 days is a good time period.
List of places, no. of days & things to do
Shimla - 1 to 1.5 days
You can make your life easier by staying at Mall Road. However, if you are looking to stay away from the usual hustle, you can choose to stay a lil' away.
I stayed at Alpine Heritage which was a few miles away, situated at Cart Road. Local bus fares are as low as Rs. 2 so you can move around with ease and in budget.
Reckong Peo & Kalpa - 2 days
I recommend to live at Kalpa as it is less commercialzed comparatively. While here, you can walk in apple farms, eat at local eateries and stay at Homestays.
There is also a really beautiful Monastery and Temple built with the similar theme, located next to each other
Sangla - 1 day
Tabo & Nako - 2 days
You should definitely be living at the Monastries while here.
Kaza - 1.5 days
While at Kaza, you can soak in all the city vibe as this is the most commercialized place and by the time you reach Kaza you will miss being in a place which is more lively and full of people & cafes. Soak it all in.
Some cafes will rent out cycles, so you can move around and ride to places.
Sit by the river stream. Check out cafes.
Hikkim, Koumik, Langza - 1.5 days
These places are day trips from Kaza so you can live at Kaza and plan to visit these places.
Hikkim - There is highest altitude post office here. Keep postal addresses of your friends and relatives ready in your notepad as there won't be any network while you are here. Send the postcards to your loved ones at home.
Koumik - The world's highest altitude restaurant is situated here. You must try wild onion snack while you are here.
Langza - This is a surreal place and a lot of my friends have found this one best of all.
Manali - A day or two
🏔️ TRANSPORT WITHIN SPITI
The best and the cheapest option is the local government bus from one place to the other. However, there is only one bus in an entire day and that too at early hours.
Tip: To get a seat to sit, reach bus stop 30 mins to 1 hour before journey begins to get a confirmed seat. Usually the bus is so crowded that you may have to stand for 6 hours straight as you are not left with any option but to take that bus.
If you are traveling in a big group, you can rent a cab too, which will provide you convenience & flexibility of time.
🏔️ PHONE NETWORK AND CONNECTIVITY
No network other than BSNL works here. BSNL SIM will help make calls. Data connectivity is poor.
Some hotels provide WiFi but expect very poor range
🏔️ WHAT TO PACK
🧳Walking shoes
🧳Comfy clothes - Track pants, loose bottoms are preferred
🧳Cold cream
🧳Fleece/Down jacket
🧳Woolen socks - Can be purchased from a local store too
🧳Diamox tablets for acclimatizing
🧳Personal medicine(if any)
🧳BSNL SIM for staying in touch with family back home
🧳Google offline map/Physical map
🧳Neck pillow for really long bus rides
🧳Clothes - I suggest to repeat clothes and not carry one cloth for each day as it will unnessarily increase your bag weight
🧳Camera - Especially for night photography to capture milk way, shooting stars, etc.
🏔️ SAFETY
Spiti is quite safe with warm mountain people to welcome you.
However, during the tourist season, take precautionary measures to keep your stuff well protected from robbery
🏔️ HIGHLIGHTS
The highlight of your trip will be a starry night with clear milky way view
That's about it. Do write to me on Instagram if you have any further query. I tried to make this blog post as informative as I could.