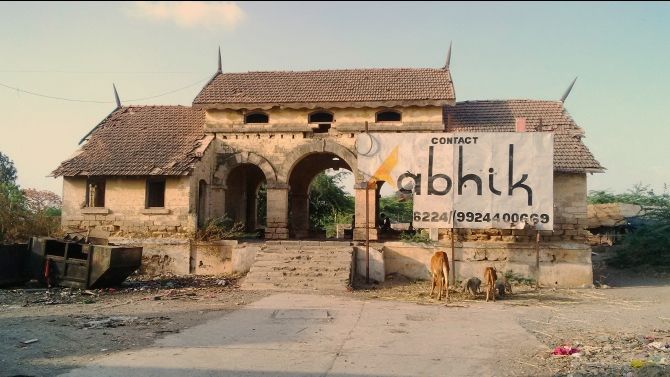 It was summer holidays, everyone was packing their bags and traveling far away to the place you wouldn't have heard the name of. It was time for me to travel somewhere amidst the summer time in India, when the sun is lashing out its flames on the 'tropic of cancer' which falls directly on Rajasthan and goes all the way to North East, dividing India into two almost equal parts. Since I live in this particular areas, the temperature here goes high on to a whole next level, meaning skin burn, tiredness, and weakness among people.
A huge number of youngsters went on a bike trip to Ladakh and Himalayas or basically the northern part of India. Even my father goes to the treacherous Himalayas every year and does trekking of around 40 kilometers in a day to reach the Amarnath Cave. He went this year too. Though he goes there just for the peaceful five minutes he spends inside the cave, in the divinity of Lord Mahesh, he told me once. I went there with him too in the summers of 2012.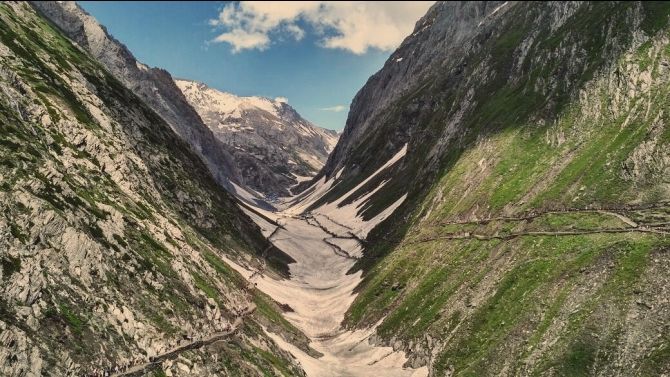 I had to break the shackles of Summers and travel somewhere. Going to the Himalayas and run away from the heat was too mainstream, I thought. That's when my mother asked me to take her to the native place of hers and my Dad, the place where their love saga began. Since my elder brother and Dad are very busy nowadays with their work, I had no choice but to take her. So, brace yourself for my travel to the ruined vicinity of 'Bantva'.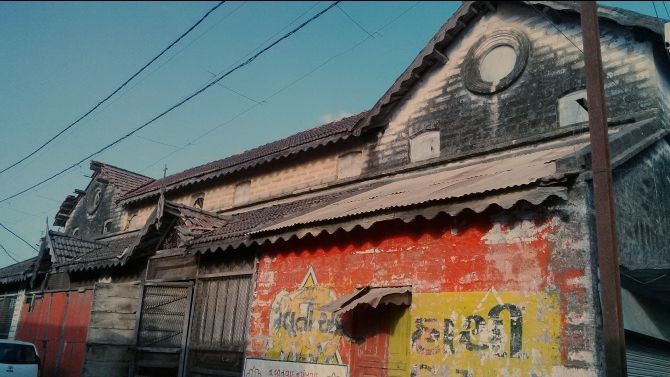 Bantva
My Mom and Dad were born in the town of Bantva, located in peripheries of Junagadh district in the state of Gujarat. That's where their love saga and exchange of letters begun as my Dad and his family had to shift themselves to Jaipur (Rajasthan) for business purpose, my Mom told me. Bantva is a very small town and The Arabian Sea is merely 10 kilometres from here, so you can feel the humid air coming from the sea when you come to this town. If you ask any Gujarati about Bantva and they happen to know about this town, they will say "That old town of Bantva?". Appearing to be just a dot on the map of Gujarat, contrastingly Bantva has a very rich history of its own, regardless of its size on the map.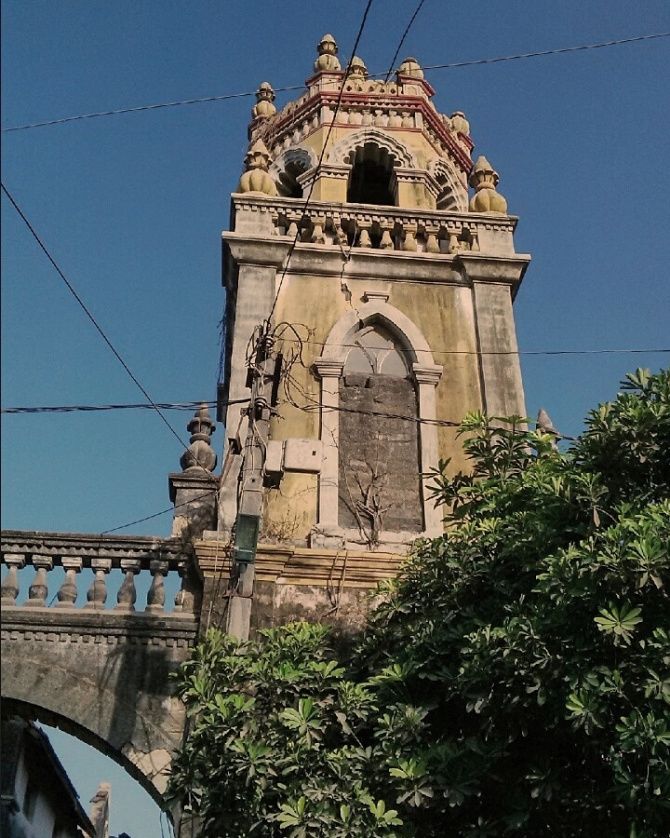 History of Bantva
First traces of the succession of Bantva are to be found from the year 1733, when Nawab Bahadur Khan of Junagadh Province had bestowed Bantva to Diler Salabat Khan Babi and Sher Zaman Khan, rulers who belonged to Babi dynasty during the Mughal Rule in India. They both were considered to be the richest Parganas during that time in the province. Bantva was ruled by Diler Khan's successors only until 14 September 1947. Following the independence of the new dominions of India and Pakistan, Bantva had a population of approximately 35,000 during the partition. Out of which 80% of its population was of Memons (a Muslims Community).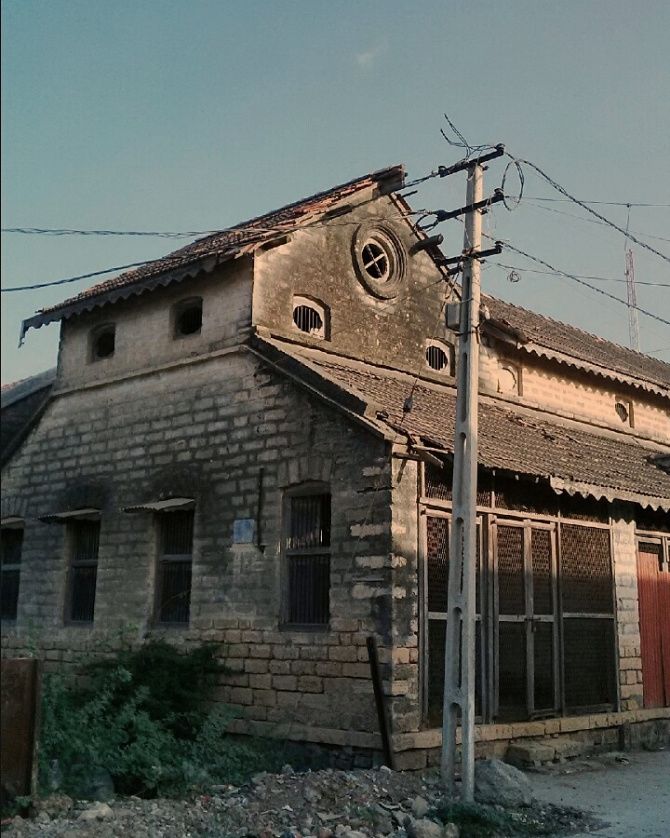 1947 was not at all an easy year for Bantva. Although India gained independence from British rule, it was also divided into two separate countries – India and Pakistan. Princely states were given an option of joining either India or Pakistan. Since Bantva was only a Jagir under Junagadh state, the then ruler of Bantva, Moin-u-ddin Ghulam Khan, had no say in that matter. Yet, he along with Nawab of Junagadh chose to join Pakistan. However, the accession was not liked by people of the region, they wanted to remain with India. Therefore, the Government Of India moved in. It took control of the whole district on 22nd October 1947. Moin-u-ddin Ghulam Khan was put under house arrest and an interim government was set up to carry on the administration. Later, a plebiscite was held under the supervision of the United Nations. As the majority of the population wanted to remain with India, its accession to Pakistan was revoked and the town remained a part of free India. A large percentage of Memons of Bantva migrated to Pakistan along with the ruler Moin-uddin Ghulam Khan through the port of Okha on the seashores of Gujarat.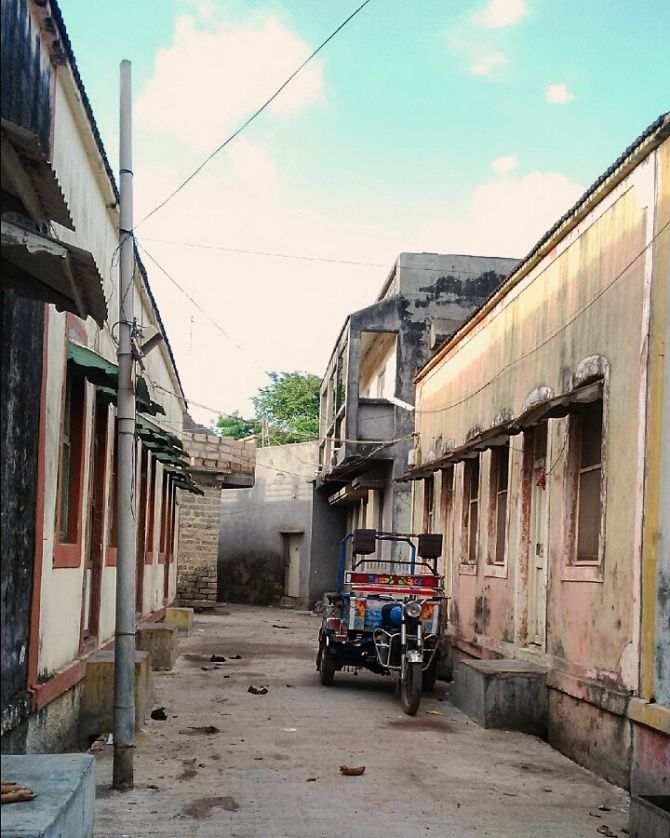 Bantva Post Independence
On 20th February 1949, Bantva emerged with the United State of Kathiawar, which was later renamed as Saurashtra (Southern part of Gujarat). The next major change took place in 1956. In that year, Bantva along with the rest of Saurashtra became a part of Bombay State. However, in 1960, the state of Bombay was bifurcated into Maharashtra and Gujarat, and the town became a part of Gujarat.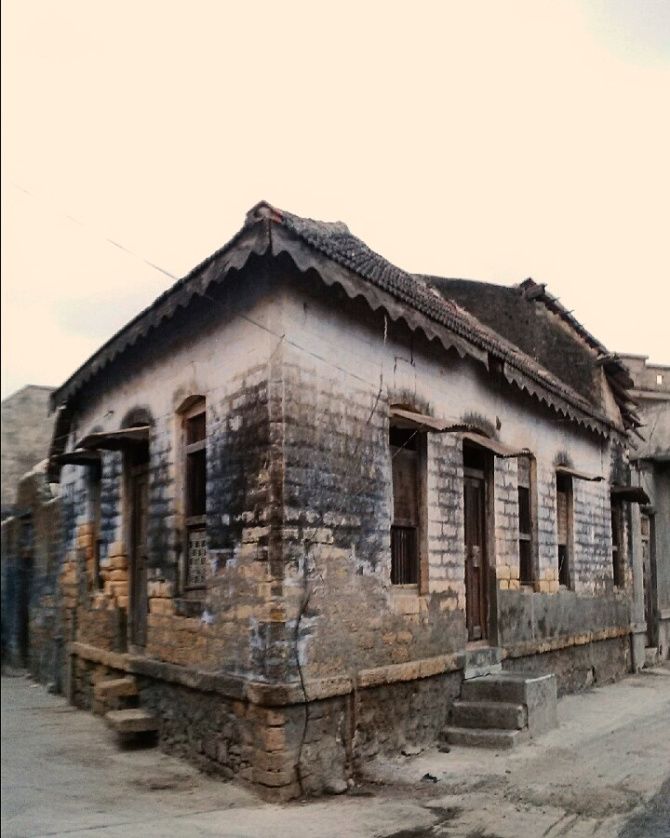 Architecture of Bantva
The architecture of Bantva attracts me the most, which is the reason why I made this post in the first place. To showcase this remote town to the modern world. Most of the houses here are very old and still intact, despite the fact that Gujarat comes in the earthquake-prone zone. Houses here are made of large pale yellow blocks (much bigger than the size of a red brick) which are lightweight, yet very strong.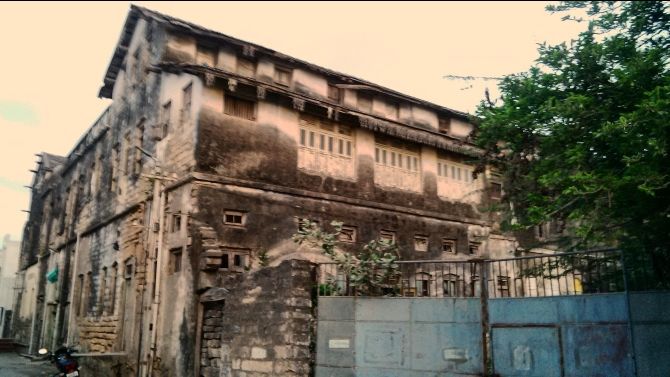 The roofs are made of three large tree trunks to hold the bamboo sticks and wooden planks which further hold red flat bricks to complete the structure.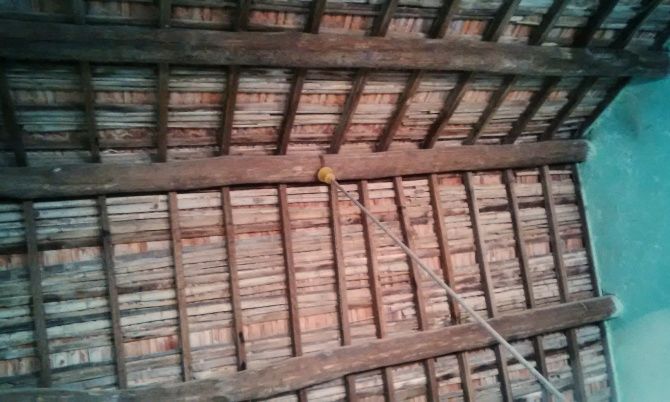 These houses are somewhere fifty to eighty years old, and some even more than a hundred. No doubt that there must be houses much older than them, but the fact which makes these houses more interesting and different from others is that people are still living in them with merely making any changes to them. And it's not just one or two buildings (which you see very often in the modern cities are made into heritage property), it's a whole fucking town.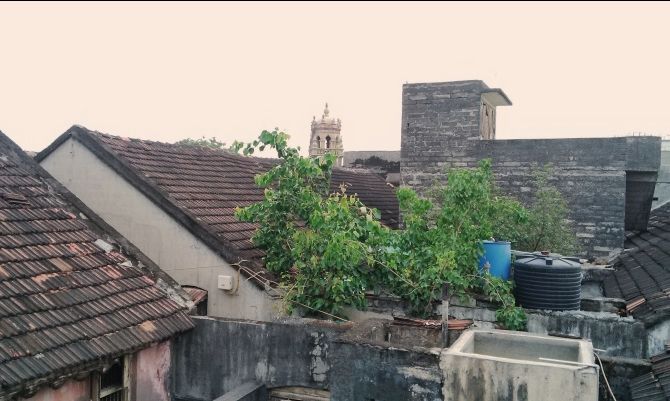 People don't live in some of these houses anymore because these houses've been damaged to such an extent that they are beyond the stage of repair.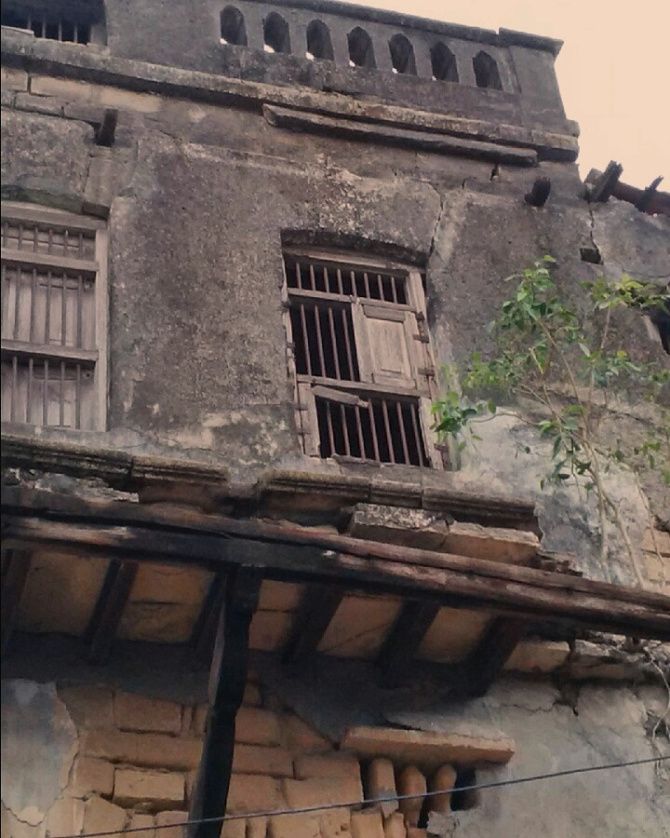 Because no one lives in some of these anymore, these houses have developed an eerie vibe to them. These houses are spooky which you will feel when you pass through them or are nearby them.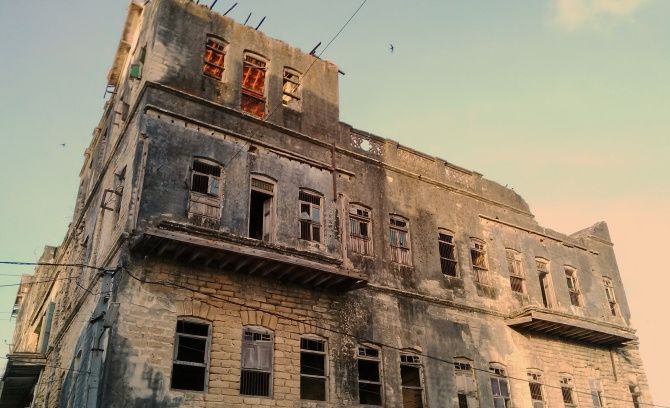 These houses are standing just because of the pale yellow bricks which are bigger and stronger than the red ones, said a local.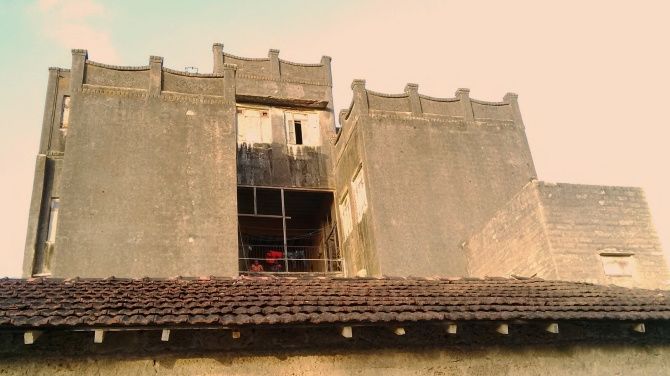 In this picture, you can see some clothes put outside to dry after they were washed. Just after I clicked this picture, a woman came into the balcony and stared right at me which indeed made me shit in my pants. JK. Or is she already there?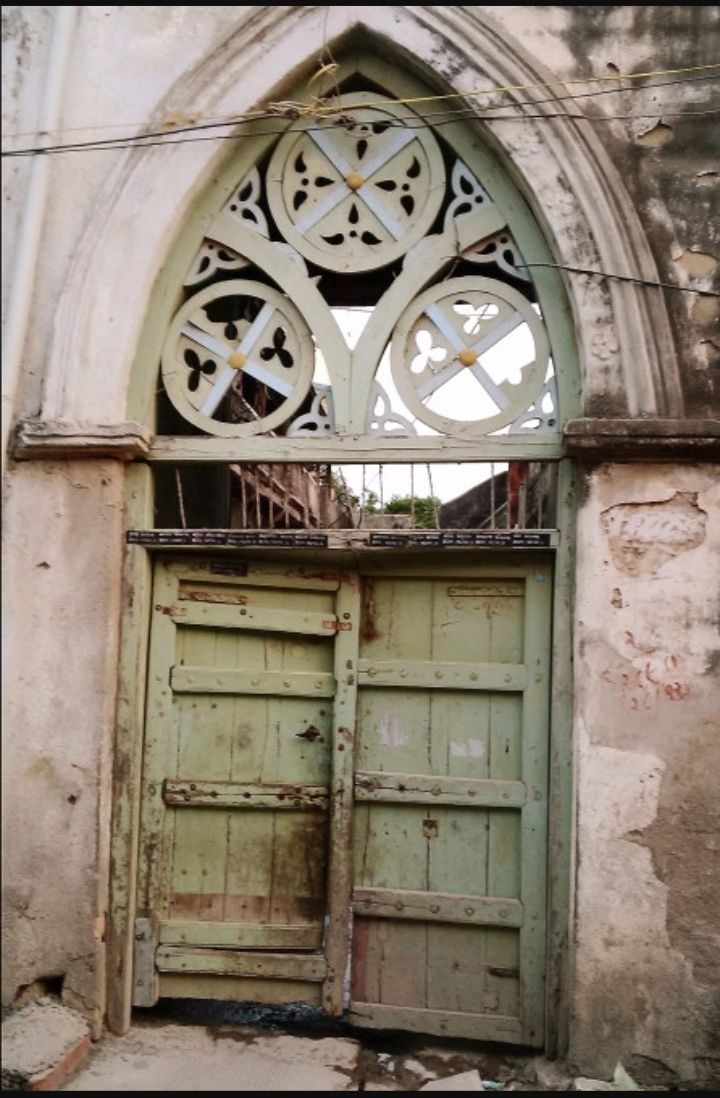 These dangling doors are very old which indeed make these houses more scary. Trust me, this place will scare you to death if you roam around here in nights.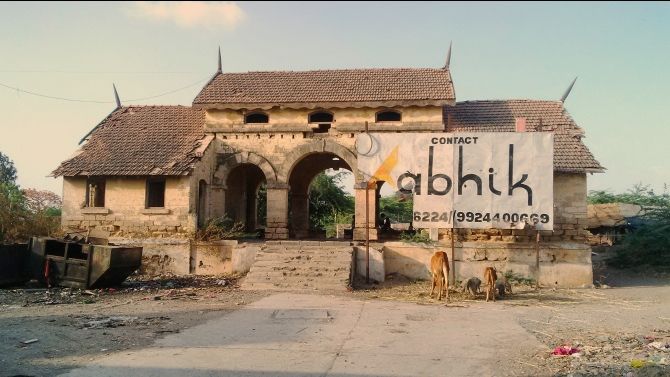 *Abandoned Railway Station of Bantva*
Railways are an integral part of India. It connects smallest of dots in the map of our country. It's surprising how in some not so familiar town of Gujarat, amidst all the chaos of modern world, a railway station established by the Britishers is still standing. You will know about the reason why there was a railway station ever built by the Britishers in the 'Business and Economy of Bantva' section of this blog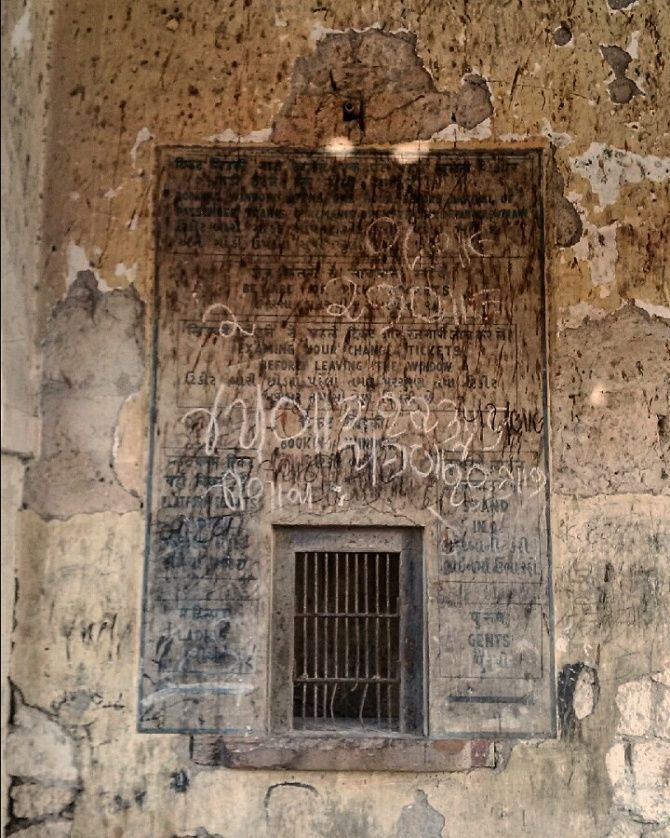 Upon enquiring from a local soda shop owner Pama Bhai about the railway station, I came to know that station was shut in the monsoons of 1983 when heavy rains flooded the streets of Bantva and nearby regions. For an interval of two weeks, it just kept raining heavily due to which the government had to shut down the railway services for over a month. By the time authorities came to check the tracks, they were gone. Apparently, some part of the tracks washed out due to rains and some were carried away by locals to their homes. Pama Bhai said that locals used the tracks to rebuild their houses which got severely damaged in the flood.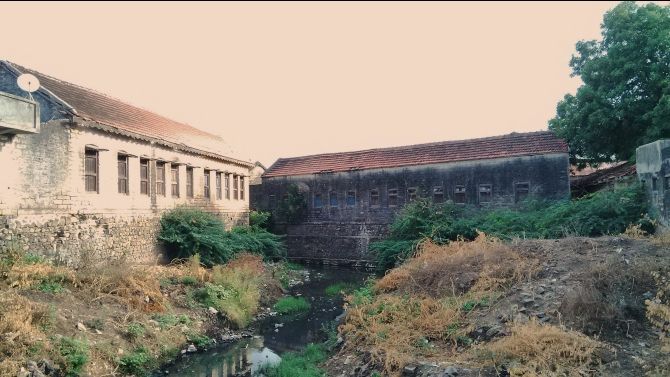 Pama Bhai's soda shop was on railway station road. Even his shop is so old that you would feel you are in some ancient era. So far even he himself has not done anything major to change his shop. His family owns this shop from some eighty years, before which it was owned by someone else from whom it was acquired by his grandparents, he said. So, I just took a quick tour of his shop and found some interesting things.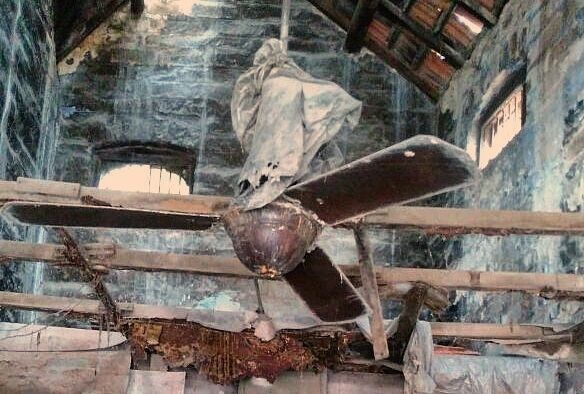 This old fan is very huge as compared to the normal fans we have in our houses. This apparently shows how electricity was still there in Bantva, despite this town being in a remote area.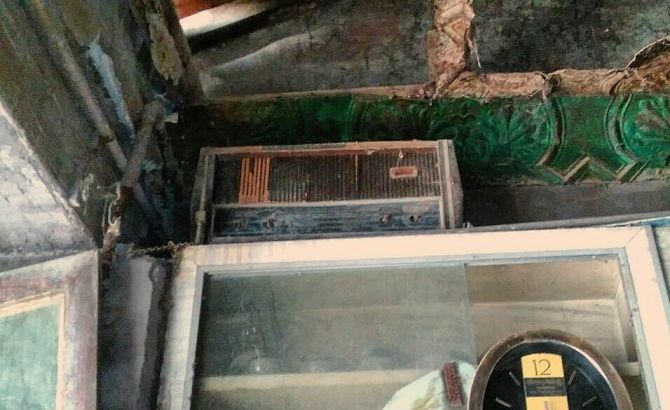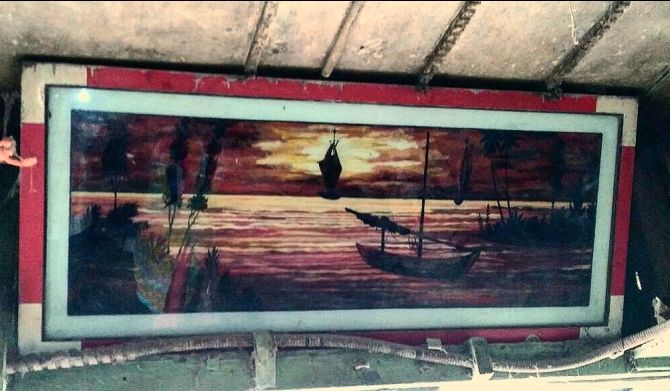 His restaurant used to be flooded with people back in time when the railway station was running and he used to offer a lot of things varying from fast food, beverages other than just soda.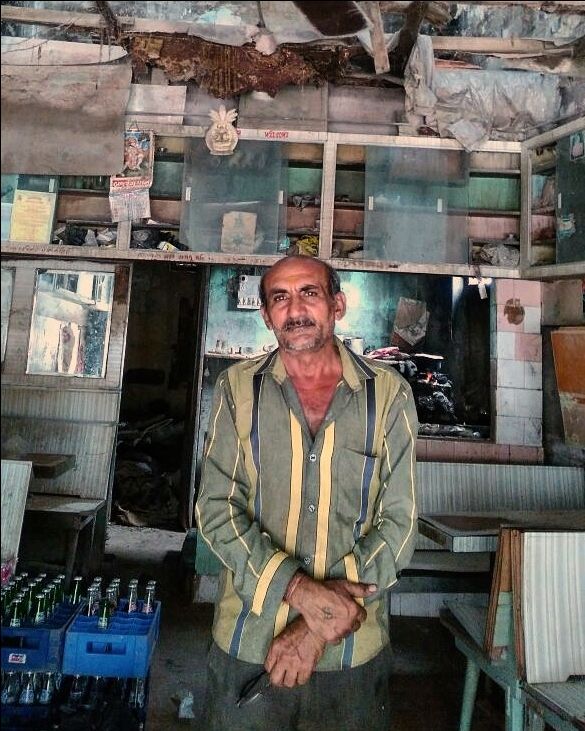 But now, he just keeps soda on his counter which indeed was very refreshing for me in the summers.
Waadi Ghar – a Haveli owned by my maternal family in Bantva
Land of this haveli was bought by my maternal ancestors some 70 years ago at the outskirts of Bantva and then this haveli was built, when my mother's ancestors migrated from Sindh – Punjab after the Indo-Pak partition (Sindh Province now comes under Pakistan).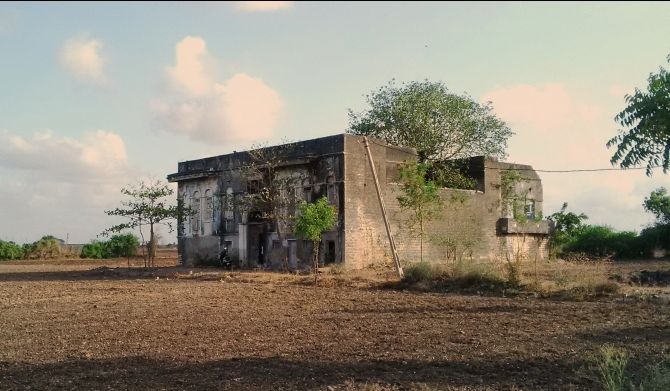 This Haveli is located in outskirts of Bantva in the middle of some groundnut fields. 'Waadi' means 'fields' in Sindhi. So, that's how the Haveli got its name. I was told when I was a kid that Lions from Gir National Reserve used to often come in the fields to have a feast on the goats. I don't know how much of 'Lions of Gir' story is true, but I did find a few big snake there back in time when I was a kid.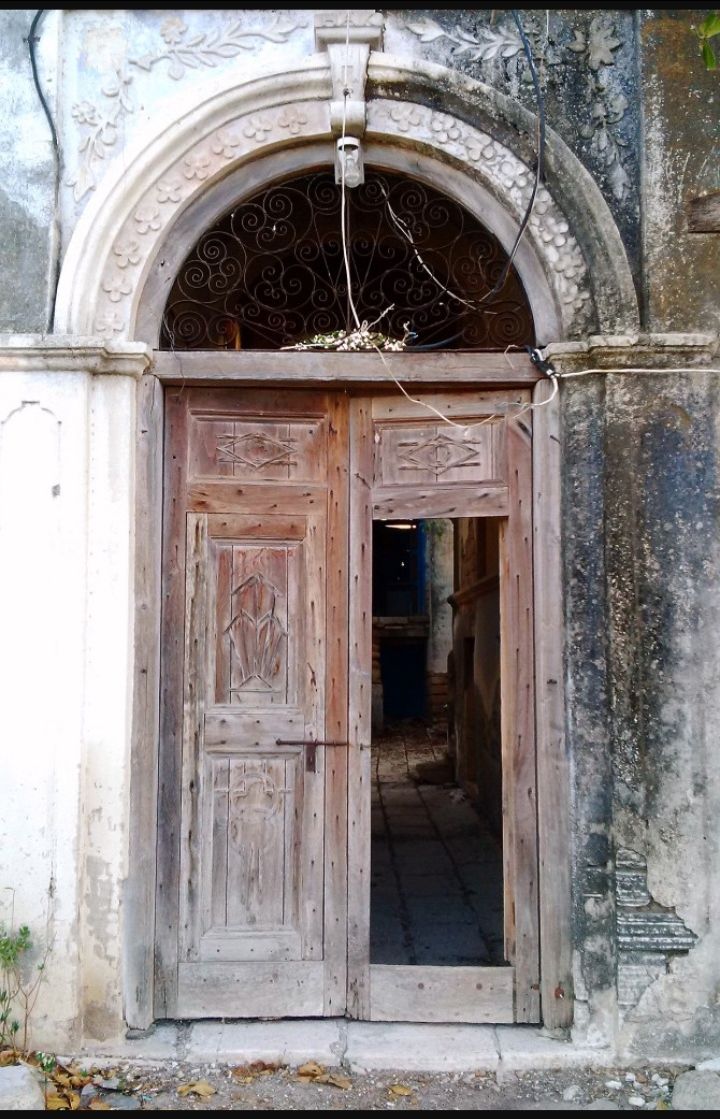 When me and my mother came to Bantva, the first thing we did was go to Waadi Ghar. Nobody lives here anymore but my mother's most of the time before her marriage was spent here. She wanted to come here because she was born and brought up here.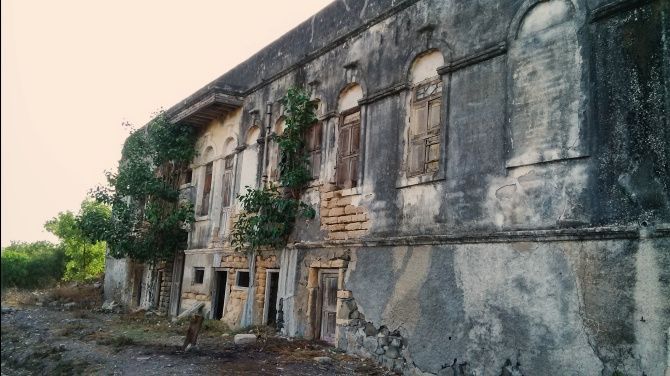 I remember when I used to come here some 15 years ago, I used to just climb over those windows and lean over them to feel the cold breeze coming through them.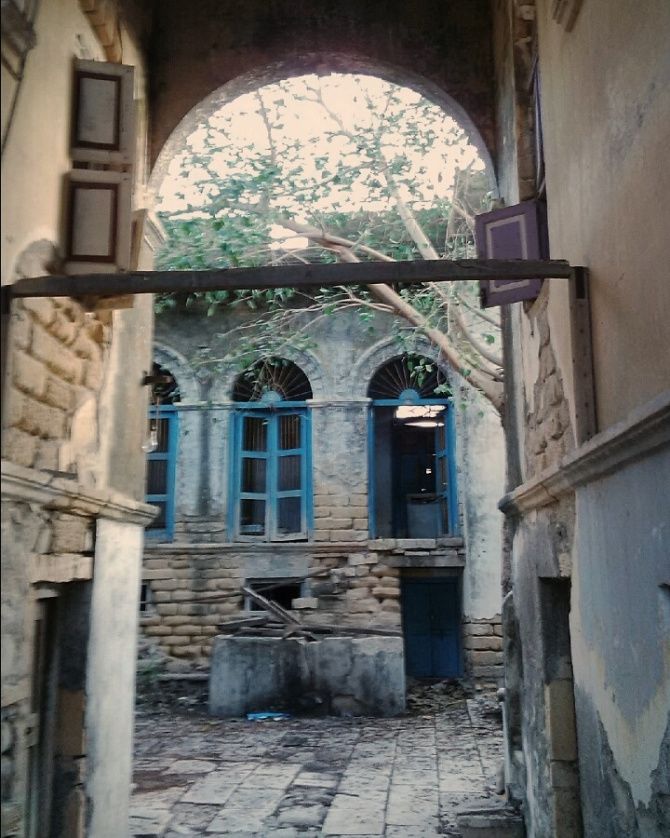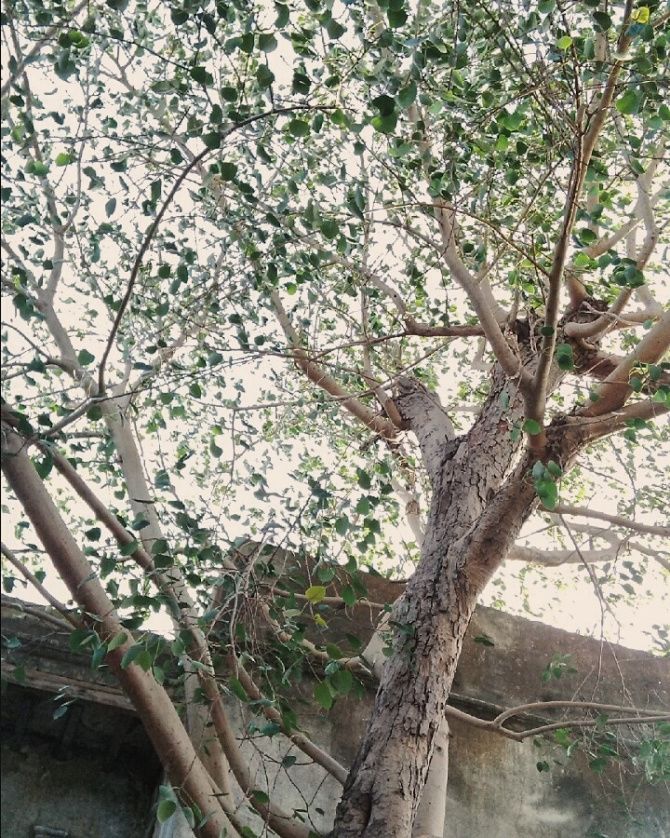 In the center of Haveli, is a huge Banyan tree. You can hear the sound of its leaves moving because of the wind even before you enter the haveli. Both, Haveli and the tree give a strange and eerie vibe to its surroundings.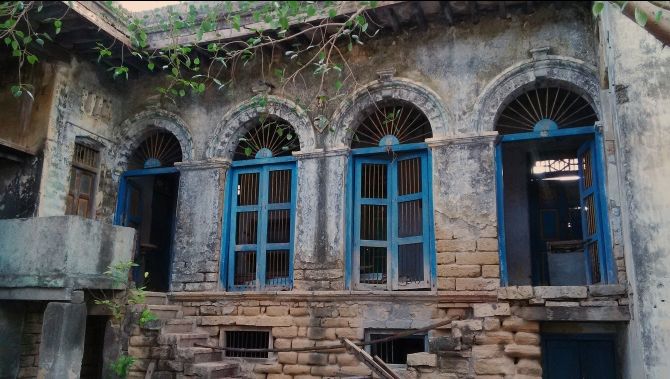 It's a two storey building and consists of over a dozen rooms with countless windows. Haveli is divided into three parts. The biggest part is the one with blue doors.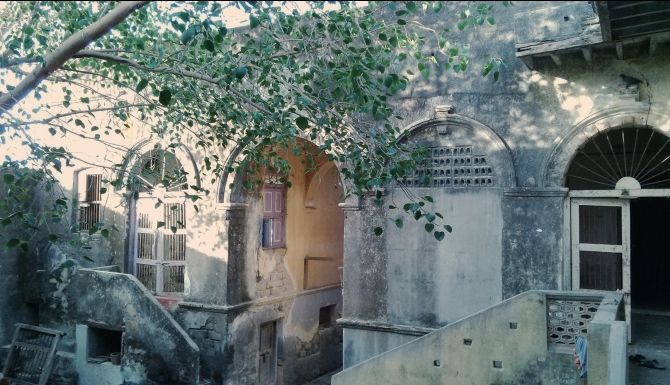 My maternal family left this place some 14 years ago and shifted to the city. Although my extended maternal family was living in a part of the Haveli but a year ago they too left this place and migrated to the city.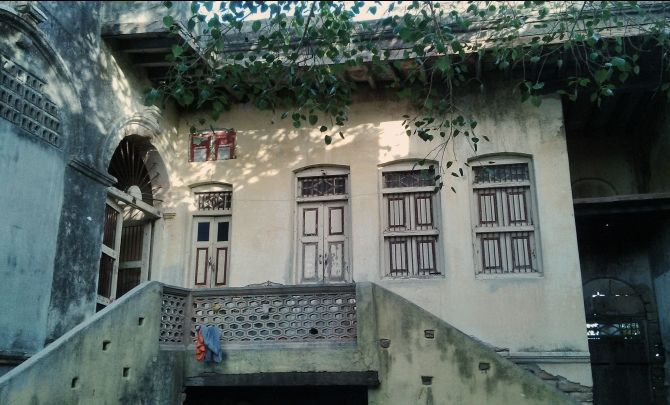 The condition of Waadi Ghar is very bizarre because there was no one to look after its maintenance.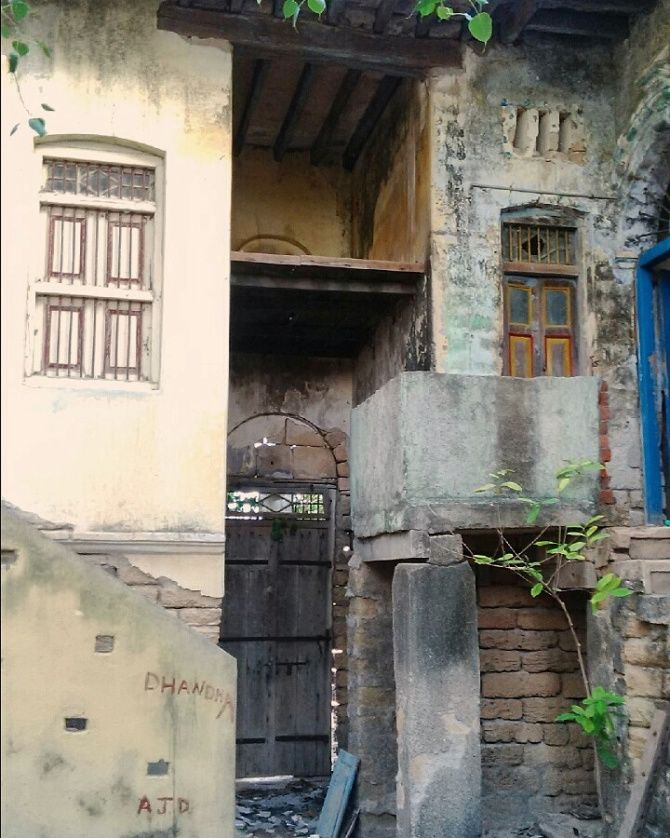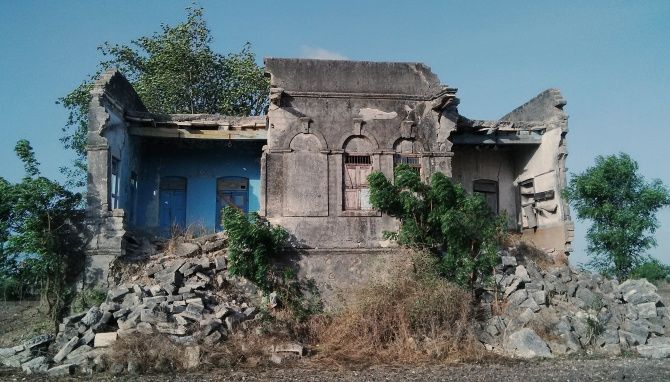 In back side of the Haveli, two parts including four rooms have completely been destroyed after the heavy rains of last year's monsoon.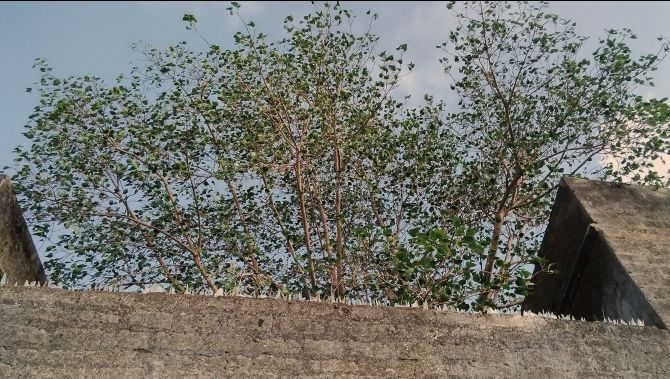 People of Bantva
Pama Bhai was a finest example of this section of the blog since he works very hard for his bread just like others in the town. Although a large percentage of Memons of Bantva migrated to Pakistan after Indo-Pak partition but there are still a few families who stayed here even after the partition.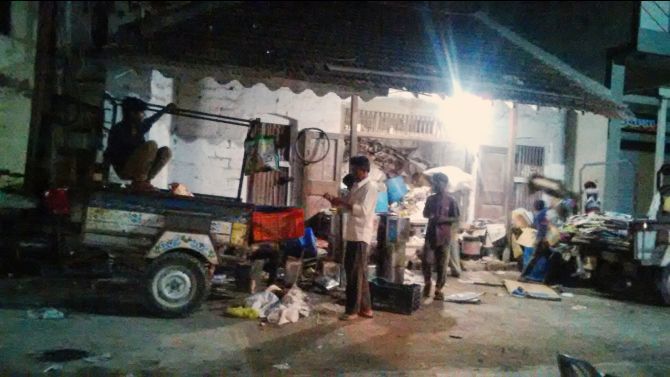 According to the Census of 2011, Bantva now has a population of 15,291, of which 7,660 are males while 7631 are females. Surprisingly true, but male to female ratio of Bantva is per 1000 males to 996 females, which is way more than the national average of per 1000 males to 940 females. The literacy rate is also as high as 81.51%, 7.51% more than the national average of 74%.
Most of the rural men in Bantva wear Dhoti, a long or short coat over their shirt and a white turban (traditional gujarati turban) but nowadays pants are becoming more fashionable instead of the conventional Dhotis.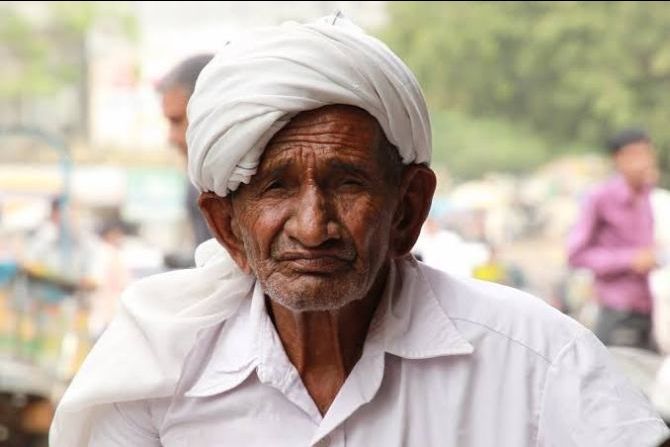 Usually, women in Bantva wear Saree and Blouse, whereas rural women in Saurashtra wear Chaniyo-Choli. Different from the regular embroided Chaniyos (richly colored and embellished Petticoats) which are famous for the festival of Garba. You know their items of clothing, right? You also wear them during Navratras. What you don't know is, rural Gujarati women wear maroon or red colored printed Chaniyos which is the traditional attire of a Gujarati woman. Mostly, their arms and necks are tattooed, which is pretty common among tribals.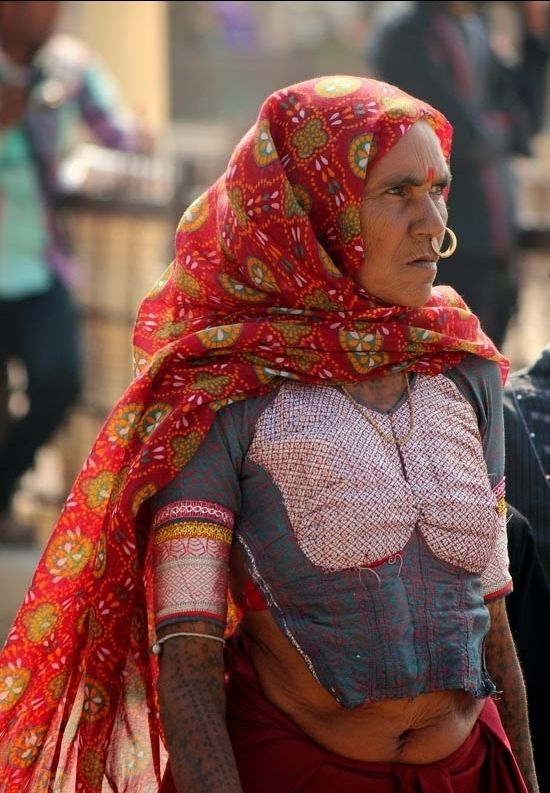 Her son is by her side. By the looks of him, this woman could not be more than fifty but looks older due to the hard life and exposure to the sun.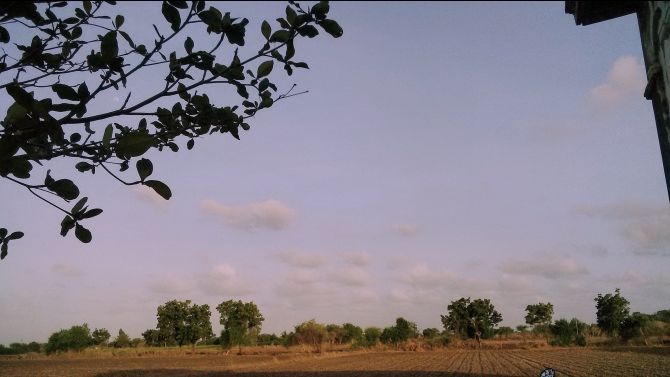 Because Bantva is very near to Arabian Sea, the climate is mostly very humid. Even in the air of Bantva, you can feel the salt and humidity. During the monsoons, it rains very heavily here because of the sufficient supply of water from the nearby Arabian Sea, clouds often form in the sky of Bantva only. Sometimes it rains continuously for a week or two, you wouldn't wish to be here during that time.
Mode of transport in Bantva
If you want to travel by air, you must go via Keshodh Airport. In fact, Bantva is well connected to the rest of Gujarat through a network of state and national highways. State Highway 32 runs right through this town. Metered taxis are also available from bigger cities such as Junagadh, Porbandar, and Rajkot. Therefore, traveling to and from Bantva is very easy and hassle-free.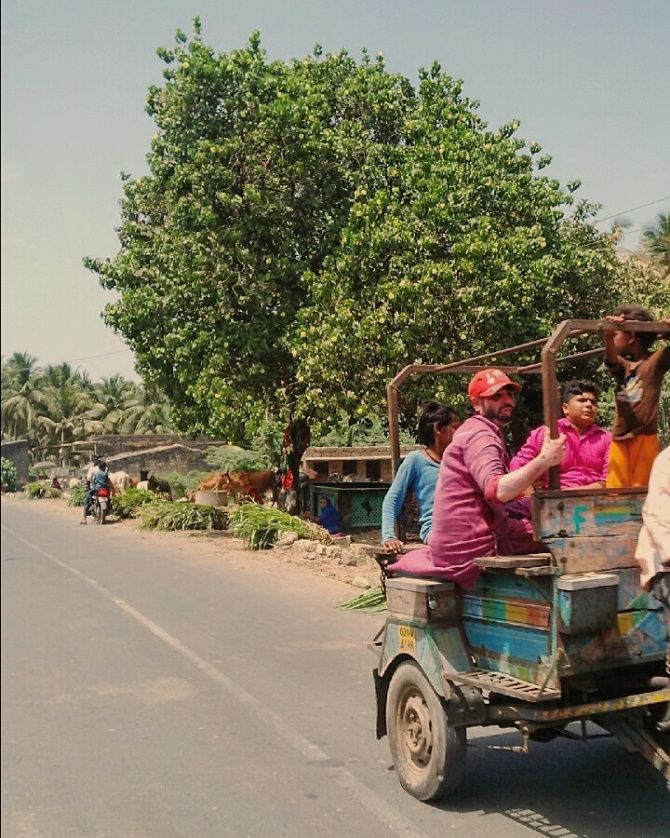 However, the most interesting mode of transport found in the rural parts of Saurashtra is, Chhakda or Tha-Tha Rickshaw. As the latter name suggests, they sound the same. These three-wheeled rickshaws are very common in rural Gujarat because of their rugged nature and go-anywhere abilities (even in the salt fields of Kutchh). If you are coming to Saurashtra and you didn't sit in one of these, I bet your trip to Saurashtra is incomplete.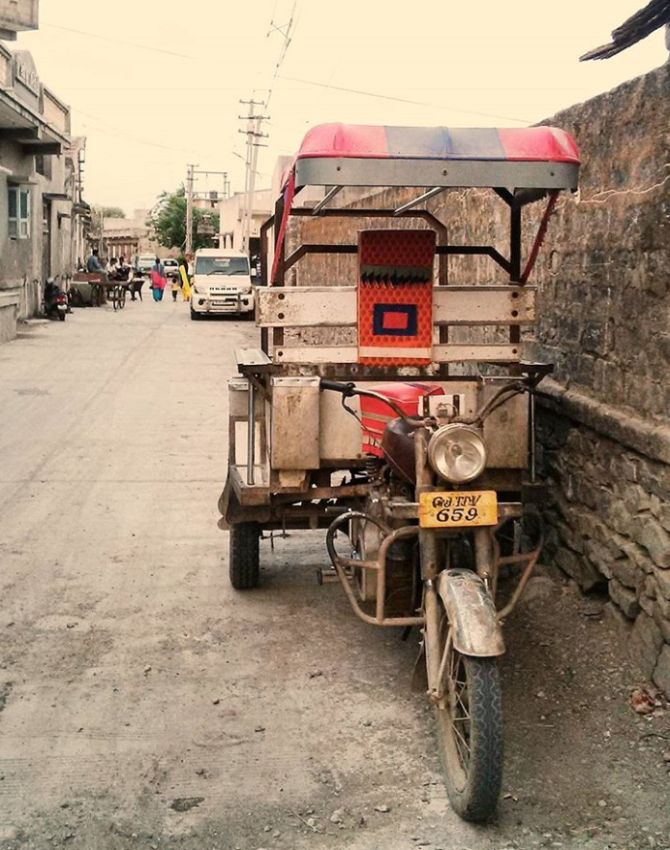 From the looks of it, it seems like a Royal Enfield Bullet has been attached to a metal cart but no, their engine is much more powerful than a 500cc Royal Enfield. There are different companies and manufacturers of these rickshaws running a multi-million dollar business in Saurashtra. A rickshaw like this comes with a price tag of around 3 lacs.
Business and Economy of Bantva
The economy of Bantva rests mainly on trading. Because the sand here is brown, which is very good for the cultivation of Cotton, Groundnuts and other vegetables which grow inside sand (potato, onion etc), still, people of this area rather opt for sea food. People of this area also mostly trade in cotton and groundnuts. There are also a few industries of the same in town. Now you know why Britishers ever brought a narrow-gauge in this remote area of Saurashtra-Gujarat? To transport raw material to their own country required for the manufacturing of Cotton made items of clothing.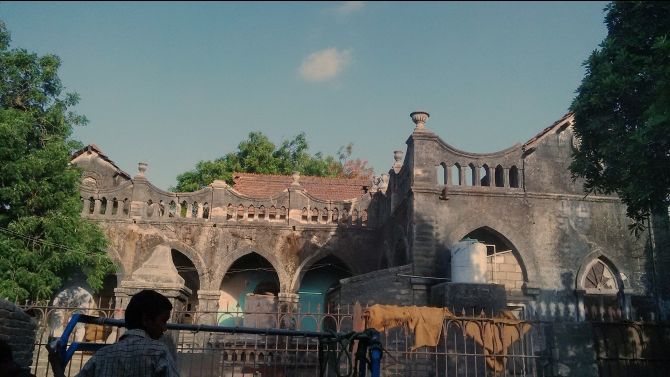 Bantva has a very rich history and the thing which makes this town richer is its old and intact architecture which should be refurbished to preserve it for a longer period to tell the story of this remote town of India to young generations to come.
First published on 9 July 2017