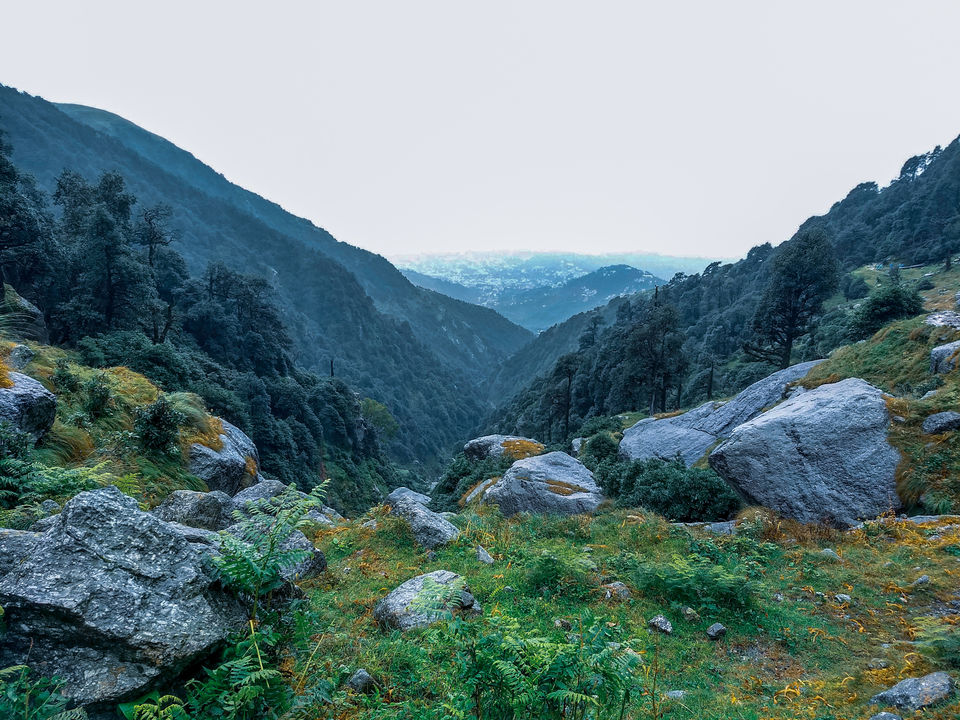 Three grand in cash and a two-digit bank balance. After pushing myself hard at studies for weeks, I decided to hit the reset button and give myself a much-deserved break by going on a trek to Triund. On the evening of the 21st of September, I hopped on a bus. From Kurukshetra, it took me a little less than 2 hours to reach Chandigarh. On discovering that I'll be traveling in the next bus for 6-8 hours, I decided to stop by at Domino's for a late dinner. I grabbed a pizza, freshened up, charged my phone and started walking towards ISBT. In around 20 minutes I was there, to my very good luck I scored a Semi-Volvo from Uttarakhand Roadways. I slept on my whole journey to keep myself rejuvenated and energized for the next day. I reached Dharamshala bus stand around 6.15 in the morning, I had an hour to kill since the first bus running towards McLeodganj starts at 7.15 AM. I grabbed a juice and smoked a cigarette. I could feel the difference in the air and it was evident from the air that I was back in mountains. I boarded the bus to McLeodganj and it took me 15 bucks and half an hour to reach there. I grabbed a cup of tea since it started to rain heavily. I am going to mention what all things I was carrying in my backpack:
1. Phone and its charger.
2. A track-pant, shorts and a pair of t-shirts.
3. Hand sanitiser, toothbrush and paste, dry soaps, band-aids and a few tablets.
4. My ID cards for hotel check-in, my ATM card in case of any emergency.
5. A knife and an umbrella.
It was around 9 when I started ascending towards Triund. You have the option to take the shared cab or an auto till the Galu Temple, which leaves you with a 6.5-7 KM trek. I started from McLeodganj which makes it near to 10 KM. I was mesmerized by all the peace and calmness that was around every street. No one was fighting, no one was screaming, everyone was passing a smile and it felt so right. From slow showers to thunderstorms, the rain started pouring heavily, I took out my umbrella and continued walking. The original plan was to trek up to Indrahar Pass but how I settled at Triund is a good story, more on it later. The reason why i lost hope of reaching Indrahar included two reasons: number one, my body didn't recover properly, and it was getting hard with each ascending step. Reason two, a local shop-keeper told me that the last habitat is at Snowline Cafe and if you wish to camp at Indrahar Pass, you should've brought your own tent. I reached Triund in around 3.5-4 hours and by the time I reached Triund, my body was so exhausted that it gave up on any more walking. I settled in a tent for 500 bucks and immediately I fell asleep. It was around 4.30 in the evening that I woke up and noticed it was still raining. I just sat there inside the tent thinking that was this I planned for? are you gonna settle for just Triund? and then came the answer. No, I wanted to do Indrahar pass but since it was not possible this time, I could do Snowline at least. I searched for the owner of the tent and my umbrella, none of them were there. I found the owner after 20 minutes but unfortunately there were no whereabouts of my umbrella. I bought a poncho for 150 bucks, paid the tent owner 200 bucks and left instantly. I was speeding my steps as it was soon about to get dark. I met a peasant on the way and upon asking how far Snowline was, he said "wapas chale jao, bhaalu hote hain"(Go back, there are bears). But I ignored him and kept walking. It started to rain harder than before and it started to go dark. In a matter of few minutes it went from light black to pitch black. I was forced to take my phone out and use the flashlight since I couldn't see beyond a step. I reached around 7.30 PM at Snowline Cafe drenched in rain and shivering in cold. I was just wearing a t-shirt and my poncho hit a snag. I was only able to reach there even in the dark because there were yellow direction giving arrows at every few meters. I ate some food there and lay there thinking about how insane this day was. I was sleeping at an altitude of 3200 meters and it felt different kind of crazy. I started the descent with few other trekkers and we did it in only 1 hour and 45 minutes. I settled in a cheap hotel after reaching McLeodganj and took a nap. It was raining from last 36 hours and it didn't stop till next morning. I went down to Illiterati books and coffee and grabbed a couple of hot chocolate drinks. I always wanted to come here, and it has raised my expectation for any next place I visit. Next morning, I took the bus back to Kurukshetra. This was one hell of an expedition.
Carpe Diem.