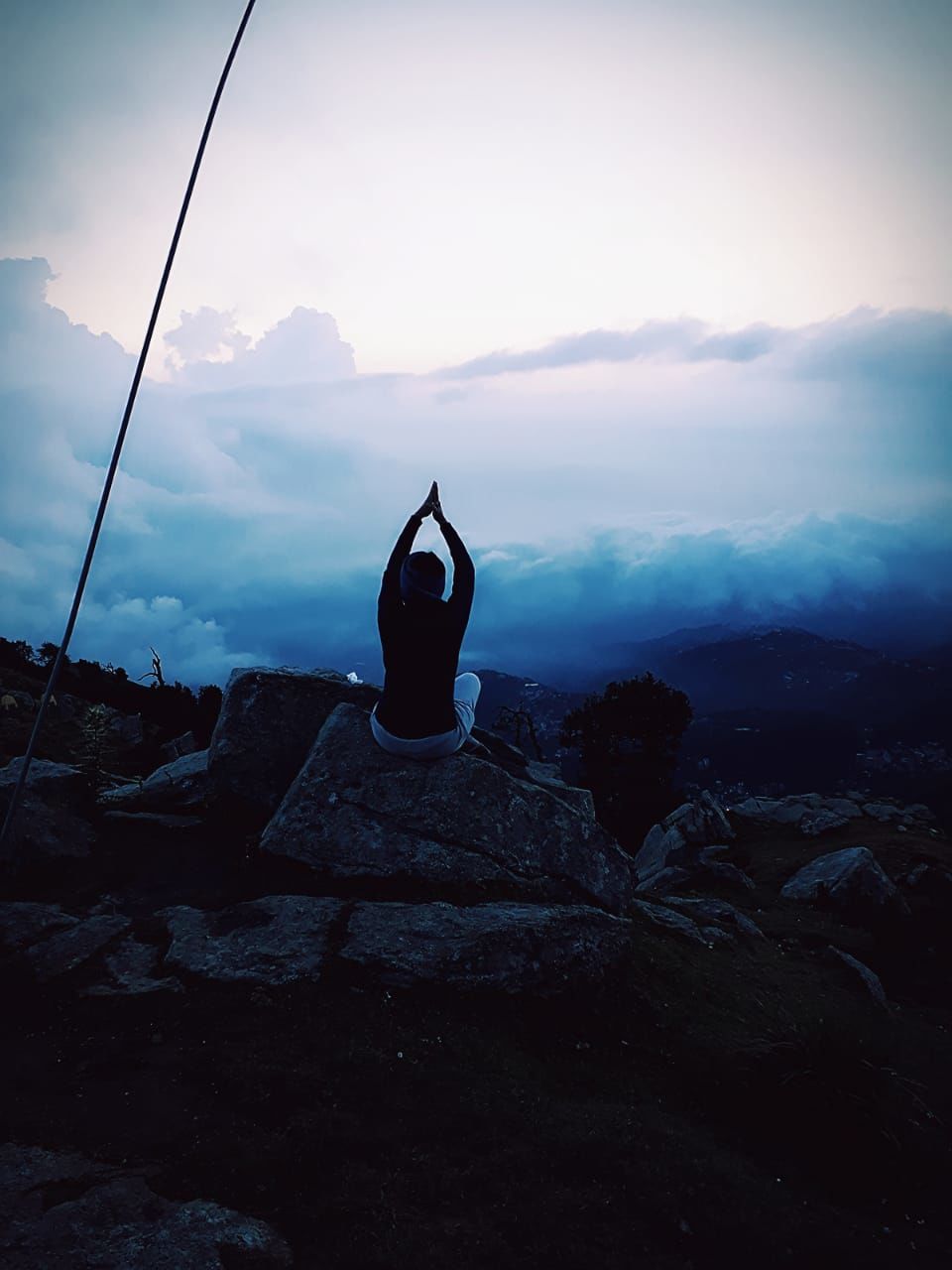 My first trek to Triund
In the year 2016, I visited Sikkim-Darjeeling and in my stint, I came face to face with the mighty Mt. Kanchenjunga whose beauty mesmerized me so much that it made me fall in love with the mountain and left an imprint of it on my soul. It was then I decided that I'll hike the mountains to feel the beauty of nature closely. Also, my visit to Himalayan Mountaineering Institute in Darjeeling gave my desire the wings of motivation.

Finally, on 26th June 2017 I planned my first trek. I decided Indrahar Pass as my first trekking destination, though later I realized how flawed my planning was.
I booked the trek with Hippy Traveller for INR 6500 for 2nd July - 5th July 2017.
The trek cost included: Camp stay and food and was exclusive of the travel from Delhi to Mcleodganj and back. Shiv Shakti Guesthouse was our base camp from where we start the trek.
About Indrahar Trek: It is a 3-4 days trek and the itinerary includes: Trek from Mcleodganj to Triund > Triund to Snowline>Ilaqa Got > Ilaqa Got to Indrahar Pass> Ilaqa Got and descend to Triund and Mcleodganj. It's an Easy to Moderate trek and the total distance is 35kms.
Delhi to Dharmshala: I booked a seat in A/C Volvo bus from Delhi to Dharamshala for 1st July 2017 with MMT, the ticket fare was INR 1203.00 (one side). The bus started from ISBT Kashmiri Gate at exact 8:30 am and the total travel time was supposed to be 13hrs but as our bus got a flat tyre after crossing Chandigarh it took us 15hrs to reach Dharamshala.
Dharamshala to McLeod Ganj: McLeod Ganj is 7kms from Dharamshala. I made few friends during my Delhi- Dharamshala Bus journey and as it was already too late we all decided to go to Mcleodganj by state run bus which cost us INR 30-40 approx.
I had booked a bunker in Mcleod backpackers' hostel from AirBNB for INR 750.00 per night. The hostel was in Bhagsunag, 3kms from Mcleodganj. Since it was late I took a taxi from Mcleodganj to Bhagsunag which cost me INR 150. I picked dinner from Cookie Wallah Café, one of the famous cafes in the area and an ultimate destination for hippies, this café is the only one that serves till late and one can also enjoy live trance music here.
The next day I woke up early and had breakfast at one of Israeli Café and started for Shiv Shakti Guesthouse.
And the trek begins
With many apprehensions and excitement, I started the first leg that is the trek to Triund. The total trek distance was 7kms.
The first 1km was very steep and it left me panting and it was then I discovered how tough it is to walk on the mountains. As we moved forward, the difficulty increased not in terms of the trail but in terms my hiking capabilities.
The incessant rain made the trail quite slippery and despite of being well geared with raincoats I was all soaked in rain. But the main issue was my physical unpreparedness for the trek that resulted in a sprain in my right thigh. After hiking half way, the sprain worsened and I wasn't even able to raise my right leg after a point.
Besides, all the pain I was affirmative that I will complete the trek at least till Triund. Our trek guide bhaiya was very supportive and he really helped me a lot during the entire trek, kept motivating me and made enough break space for me. He also took over my backpack in the last 1km as it was very steep and slippery because of the wet dried leaves.
With all the pain and suffering and tumbling many a times, I finally made it to the Triund top after 5 hours of strenuous hiking. The view from the top was breath-taking and it made me forget all my pain for the time being.
As it was my first encounter with the mountains, I was awestruck by the beauty that it beholds and it stayed with me for real long. I also made few friends at the top and we discussed our travel experiences. Among all the trekkers, I met a member from the famous Bandit Dance Crew and two young guys who were Senior Gym trainers with Gold gym, who gave me fitness goals. It was a cold night as it started pouring again.
The next morning, I decided to cancel upon my further trek as I was in pain and my belongings had gotten wet in rain and I decided to descend. The descend was pretty much okay and I could complete it in 3.5hrs.
Since I came back early, I decided to head back to my hostel in Bhagsunag and planned to explore Bhagsunag. I visited Bhagsunag waterfall and did café hopping in the evening with my new friends.
The overall experience of my first trek was good and I'll cherish it throughout my life. But most important were the lessons I learned and discovery made about self.
Lessons learned:
• Choose your trek wisely keeping in mind your physical preparedness, do a little bit of research about the trek and its trail. It is good to make an informed decision.
• Train yourself for the trek - depending on the grade of the trek physically prepare yourself for the trek a month before. This is the most important thing that generally people miss out. To experience a hassle-free trek this is must.
• Be well equipped in terms of trek gear - wear the right hiking shoes, carry a hiking pole, keep a poncho, rainwear and other clothing as per the trek and the season. Quoting my own experience, it would have been impossible with the sprained leg to continue my hike without the walking stick, which I had fortunately rented for the hike.
• Choose a good trek company - this is again a very important which people generally miss out. The parameters on which you can decide a good trek company are: Experienced & trained trek leaders, high focus on Safety, focus on physical preparedness for the trek and trek gears to be used, good quality tents, sleeping bags and food along with their focus towards preserving the ecosystem.
As aptly said by Sir Edmund Hillary - "it is not the mountains we conquer, but ourselves"
"Endurance is not just the ability to bear a hard thing, but to turn it into glory" by William Barclay - my hiking to Triund with a sprained leg but focused mind helped me discover my personal endurance level. Also, I discovered that I'm more capable than what I thought of myself. It is good at times to push your protective walls that you build around yourself, loosen up a bit, and try to be in the moment and enjoy every bit of it.
Reviews of Mcleod Backpackers Hostel:
It's the coolest place to stay. The hostel was clean, safe with very good managing staffs. Everything is just at the walkable distances - café, chemist shop, the market. I highly recommend it.
Reviews of Hippie Traveller:
My experience with them wasn't that good.
• No focus on safety
• The tent, sleeping bag and the toilets were just not up to the mark.
I'm in love with the mountains and I promise to come back to you soon.

"I'll come again and conquer you because as a mountain you can't grow, but as a human I can" - Sir Edmund Hillary