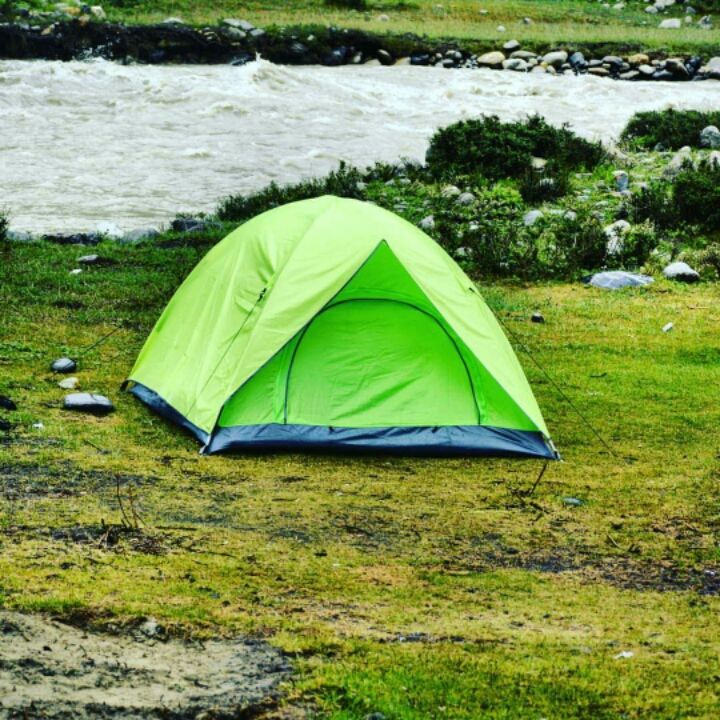 There are few plans one make which no matter how much you try to materialize, always falls apart at the last moment. For three years, I planned for the trip to Spiti Valley, but for one reason or the other, I always had to postpone the plan. Come January,2016, I made a New Year's Resolution (one among the few, the others as usual, every year goes down the drains :-P :-P)_---------> COME HEAVEN OR HELL, THIS YEAR I SHALL COVER SPITI VALLEY.
Once I decided on the plan, I wanted partners for the trip. I wanted to do with friends, but those morons were either busy with jobs or post marital life & none can afford a leave of almost two weeks. Being in the dilemma I was in, I opted for Indiamike & Travbuddy if anyone shared the same interest and planned for Spiti in the month of July (as was I). Eventually, thanks to my Rahu Ketu Shani and all, I did find a few "Comrades" for the same. Plans set!!! Fellow cohorts found!!! All was well set for the trip now.
Before I start on the travelogue, I would say there are innumerable blogs you may find on Spiti Valley and the details are well available. So why go through the pain of reading my travelogue knowing it is going to be long and may induce sleep for the ones who don't want to read or just get into the details??!! Well, for starters, such grand and adventurous plans are in everyone's bucket list & not everyone is able to make them a reality for their job schedule or one of the many causes. I myself being a washed out Engineer working for a PSU (currently in a Mid Life Crisis!!!!!), find it very hard to adjust leaves, that too of a long duration. Anytime I ask my Boss for leave accounting for more than 10 days, the look of appalled horror & repulsion he gives make me wonder if I am asking for his heart or any of his other precious bodily organs (CURSE YOU ALL BOSSES!!!). Am sure, most of you working in the Corporate Sector face the same predicament as me. In any off chance you do get the leave, you shall definitely want to utilize the most out of it and cover the trip in a wholesome manner to make it a memorable one. Well, for us "Lesser Mortals" grinding ourselves in our jobs, this article is for you. For all "The Motorcycle Diaries" Go Pro clad dudes, this one is not for you, as I didn't have the luxury of so many leaves or the ability to "Quit my job to satiate my wanderlust" kind of adrenaline rush!!!
Now before I (finally) start on my travelogue on Spiti valley, I would like to ask one question. What exactly does come to your mind when you think of a trip to Spiti??? Cold arid deserts, sky high Trans Himalayas, experiencing the reclusive yet peaceful life of the locals, breath taking scenaries & an ever peaceful ambience all around??? I would like to make a small suggestion. Empty out your slate & then visit The Serene Spiti. I request this of you for the simple reason that its inconsequential whatever pre conceived notions you have of Spiti, the location shall surprise you. The rugged stone mountains, the Gompas, the ever friendly and innocent locals, nothing shall fall short of your whims and you shall come back a better human being.
I won't digress more and shall come back to the trip. We were a group of five. All complete strangers as we all met through online portal and shared the same plan. We had our rendezvous in Mohali Airport, Chandigarh from where we got our Innova booked through Zoom Car. Pleasantries exchanged, seeing each other for the first time and chatting for a while, we gelled pretty well and it was group well in sync with each member. We started from Chandigarh around 14:30 hrs and to my amusement, I got to know none of the other mates had proper high altitude experience. I being from North Eastern part of India, basically grew up in the Himalayas and high altitude & rough terrains are non issues. I secretly hoped none of the members turn out to be a party pooper with Altitude sickness and as a preventive measure I asked each one of them to pop a pill of Diamox before the start of the trip. Thanks to my Rahu Ketu Shani once again, none of the members had altitude sickness throughout the trip except for one girl who vomited twice on the Chandigarh Shimla Highway. We eventually reached Shimla around 18:30 hrs and checked into Torrentium Lodge. Its a pre colonial establishment that has been renovated and now is a Heritage property. Located at just 15 mnts of walking distance from the Mall Road, in Chotta Shimla, the location was decent enough for us.
I initially wanted to cover only Spiti Valley, but by a little goading and persuation from my fellow travelers, I decided to visit Kinnaur Valley as well. We wanted to cover the Shimla-Spiti-Manali Circuit and as Kinnaur is en route our journey, we decided to give it a go. I must mention here that Kinnaur district is THE MOST BEAUTIFUL DISTRICT OF HIMACHAL PRADESH. The magnificient Satluj snaking and trailing you parallel to the entire NH 22 (The Famed Hindustan Tibet Highway) is a sight to behold. Weather was a big issue in Kinnaur valley as it was Monsoon season and rain was already leading to heavy landslides and road blocks. With apprehensions eating our mind, prayers to the Omnipotent to save us from such a travesty we started on our trip to Rakcham in Sangla from Shimla.
We started early morning to Rakcham around 07:00 hrs after a hasty breakfast of Chai and Sandwich (SUTTA too in my case). The weather till Rampur Bushahr was nothing short of pleasant. Post Rampur, the incessant nagging rains and mist played kind of a spoil sport. We reached Bhabanagar around 13:00 hrs where we had our lunch of Rajma Chaval, fried momo and Thukpa. By this point of time, the rains were merciless and we were worried our Kinnaur Trip shall be a total disaster. Thankfully by the time we reached Karchham, the skies began to clear out a bit and a complete fog cover ensued. Roads from Shimla to Karchham were decent considering mountainous terrain, but we were in Dante's Seven Rungs of Hell considering the roads from Karchham to Rakcham were virtually non existent and at some points we were literally driving through small glacial streams of water or big jagged boulders. The Hydel Power Projects on the Satluj & its tributary Baspa took a heavy toll on the landscape and it was actually disheartening. Result of such activities was loose rocks, non existent roads & ever increasing number of land slides. Finally around 16:00 hrs we reached our destination Rakcham where we had bunked in Rupin River View Hotel right on the banks of the Baspa river. The view of the Baspa from Rupin was awesome and the proprietor Mr. Naresh, though was a bit chatty and boastful, was a wonderful man and a real adventure seeker. He guided us on a few of the hiking trails in Rupin Meadows and also gave us valuable information regarding the life of the locals. The best thing about Rupin was the super amazing food and the awesome views of the Baspa. I seriously didn't expect the food to be this heavenly in a location which has an ice cover 8 of the 12 months a year. The very same day we hiked for a while in Rakcham meadows and got to know of their local drink "Angoori". Being the Booze-tards we were, we coudn't help but order a full 1 litre bottle of the same. Angoori came with a statutory warning "NOT TO BE DRUNK NEAT IF YOU WANT TO LIVE." With apprehension & excitement at the same time, we all did our Angoori shots. Trust me guys, you should't drink this "Acid" neat. 4-5 shots down we were already sloshed and gave up.
The following day around 08:00 hrs we left for Chitkul-India's last village towards Tibet. What could have been a great experience in Chitkul was a total disaster with rains. Even though we did hike for a while near the banks of the Baspa, the icy cold weather which dipped suddenly due to rains made us run to take cover. We were back to Rakcham by afternoon a bit disappointed with Chitkul, not 'coz it wasn't great, but rained spoiled our mood. We spent the whole evening in Rupin enjoying the views from our rooms with our new found best friend "Angoori".
The next day early morning we were supposed to visit Kamru fort and then make our way to Kalpa. We had our hearts in our mouth when we got to know there has been a landslide and we may "indefinitely" have to stay in Rakcham. The grim situation made us visit the landslide spot and make a quick scrutiny that was the reason of the pickle we were in. Thanks to the locals and ITBP Jawans, they cleared the landslide pretty soon and we left Rakcham for Kalpa by 16:00 hrs in the evening. We had to give up on Kamru Fort as we anyhow had to drive to Kalpa before sunset.
Once again we had to reroute back to Karchham and once again, we had to manoeuvre our ride through those Hellish roads. While coming to Rakcham, the sheer depth of the gorge below the road was undecipherable due to the heavy cover of fog that ensued after the rains. But on our return journey to Kalpa, the view that we had below the road made us chant the name of our "MAKER". Not only was it almost a 2000 ft deep gorge, but the rampant mood in which Baspa was flowing below, it sent a shiver down our spines. Though drinking & driving is something I am totally against, but I really missed our dear friend "Angoori" to calm our nerves. Still we trudged along the road & finally reached Karchham without any misdadventures.
The road from Karchham to Kalpa was pretty decent compared to the nightmare we passed behind. By 17:30 hrs, we reached Reckong Peo which is the district headquarters of Kinnaur and it swept upon us a sense of relief at some sign of urban life after a couple of days of solitude in Rakcham & also a sense of accomplishment at manouevring the & Highways of Hell. After a tea break in Reckong Peo, we started on our journey to Kalpa which was just 13 kms ahead of us. Driving on pitched roads with a gradual ascent from Peo to Kalpa amidst Pine & Deodhar Trees was quite refreshing as it brought back memories of my rides from Guwahati to Shillong. En route Kalpa from Peo, what shall really make your drive worthwhile will be the snow laden Kinner Kailash Mountain Range which shall be your constant companion throughout the road. The constant Hide & Seek Kinner Kailash plays with you on the numerous bends & turns on the road shall yearn you for more and we were excited to reach Kalpa as soon as possible. Finally around 19:30 hrs we reached our Hotel "The Monk" and checked in for the day. There is nothing special about The Monk except for the fact that you get a clear glimpse of the the Kinner Kailash from the balcony & it is a sight that to feast your eyes on. Kinner Kailash is considered holy for both the Hindus & the Buddhists and it has this unique property of changing color with the varied shades of the sun. If the peak is reddish in the morning, it will be greenish in the afternoon and shall again be rich hues of orange towards sunset. After a quick shower and dinner we all retired for the night as we had to get up early for our journey from Kalpa to Tabo the next day.
I woke up around 05:00 am in the morning hoping to click some good shots of the Kinner Kailash. But it turned out to be a royal blunder as there was a thick cover of cloud over the mountain range. I was sitting alone in the balcony silently cursing myself at waking up so late and being a victim of the cold. The thoughts of the warm & cozy blanker were drifting in my mind and I was almost willing to doze off again. But being a man of the mountains myself, one thing I learned is, "Mountain weather is always unpredictable". Just as I was about to go back to my room and light a smoke, the cloud began to vanish giving me quite a good early morning view of the Kinner Kailash Range. The snow topped peaks played hide and seek with the clouds and with the rising sun began to emanate a reddish aura. It was a sight to make you believe in God.
We soon freshened up, had our breakfast and by 08:00 hrs, were on the way to Tabo, in the magical Spiti Valley. The thing to notice from Kalpa to Spiti Valley valley is the gradual change in the terrain and the change in vegetation. Shimla to Rakcham and then to Kalpa offered us a drive through lush green mountains veiled with fog and sometimes covered with snow. It was the exact opposite on our way from Kalpa to Tabo. The lush green mountains gave way to naked stone mountains without any vegetation except shrubs scattered randomly on the mountain face. The rugged nature of the mountains gave us a clear presumption of the kind of terrain we were about to face in Spiti Valley.
Continued in Middle Land-II.
Itinerary (as of now):-
15/07/2016:- Chandigarh to Shimla.
      It takes almost 5 hrs to reach Shimla from Chandigarh. We started around 14:00 hrs from Mohali Airport & reached Shimla by 18:30 hrs. We lodged in Torrentium Lodge, Chotta Shimla.
16/07/2016:- Shimla to Rakcham
   Shimla to Rakcham is almost a 250 kms gradual ascent passing through Narkanda, Rampur, Jeori, Wangtue, Tapri & Karchham. It is to be kept in mind that for Rakcham, you have to take the right from Karchham through Sangla. The road straight from Karchham shall take you to Reckong Peo (towards left) and straight shall lead you to Spiti Valley. In Rakcham we stayed at Rupin River View on the banks of the Baspa River. I would suggest it is better to halt at Rakcham as it is less crowded & the view and scenery is much more ravishing than Sangla. We started from Shimla around 07:00 hrs & reached Rakcham around 16:30 hrs with various photo breaks & lunch at Bhabanagar.
17/07/2016:- Rakcham to Kalpa
   Rakcham to Kalpa is almost a 3 hr drive covering a total distance of 56 kms (as per our car Trip meter). In Kalpa we bunked at The Monk,Kalpa. I would rather suggest stay at Rolling Rang though a proper view of the Kinner has to be compromised.