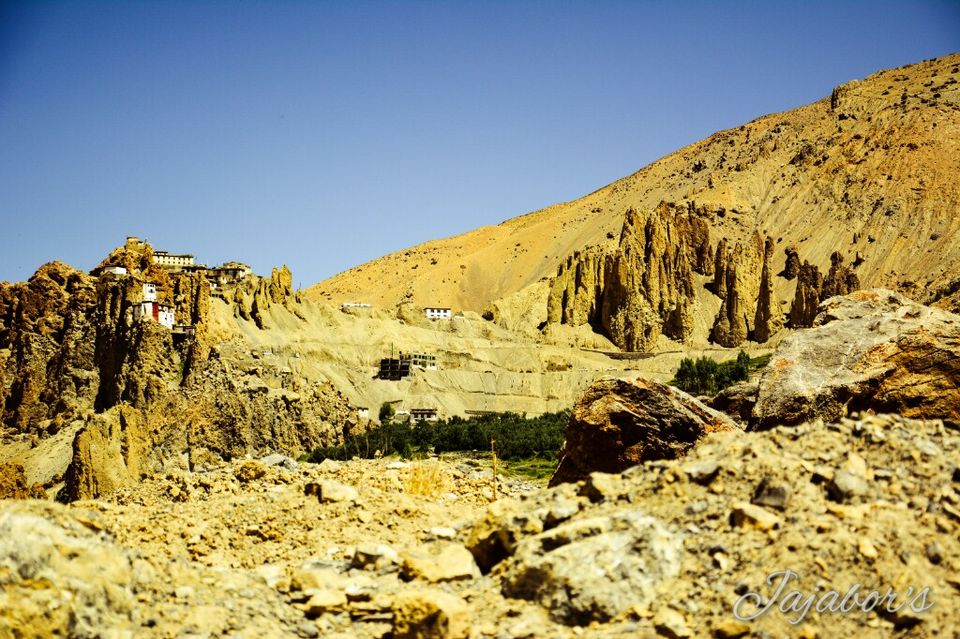 For the earlier part, click here.
Post our "Nirvana" session in Tabo Monastery we headed towards Dhankar Gompa bidding adieu to Tenzin and his host of associates at Tow Dhey promising him to be back very soon. Pretty soon we were again riding along the dusty roads snaking parallel to the Spiti River that has been a constant company for us ever since we entered the valley through Sumdo. The roads from Tabo to Dhankar were pretty decent enough streching across meadows and meandering in between mountains at certain sections. Not that you won't feel the bumps in the road, but considering the other roads we have traversed, this part of the journey was pretty satisfying.
We reached Dhankar Village around 10:30 hrs and boy it was a sight to behold!!!! Perched precariously on rocks, the Dhankar Gompa looked like a catastrophe ready to happen. It made me wonder how and what compelled the Lamas of the bygone years to build a Gompa in such extreme conditions. Later on we got to know that due to the ancient warring factions of Ladakh & Kullu Armies, the Lamas had no other option but to ensure a proper vantage point for their safety and thus such a construction. What was surprising was that Dhankar Gompa also served as a Fort, a stronghold & even a jail in those years when Wars were still raged between Ladakh & Kullu factions & Spiti being their battleground. Makes one wonder, " What one man can do to other".
Dhankar Gompa follows the Gelukpa Sect of Buddhism, the same as being followed in Tabo Monastery. What really fascinated me was the layout of the entire Dhankar Village. From a high point, the entire village looks like built on a slope in a hemispherical pattern with the Gompa dominating the landscape. There were houses built on the slopes and below the slopes there were patches of cultivations of the locals. To give a clearer picture, figure a bowl, with the interior faces of the bowl being the planes of construction for the houses and the bottom portion of the bowl being the land of cultivation. Such grandeur, much elegance!!!!!
Though there are many travelogues documenting trips to Spiti, none mentioned Dhankar is motorable right up to the Gompa which though is a blessing for many, was a curse for us. We initially had a presumption, we shall have to hike up to the Gompa daring to climb up those jagged rocks & enduring the elements. To much of our horror, we saw cars lined directly up to the Gompa main gate. What was supposed to be a hike turned out to be a car safari. Yet the adrenaline rush & the kind of fervour we were in, we parked the car way beyond a regular tourist's comfort zone and walked up to the Gompa clicking pictures & interacting with the locals all along the way. Though it was not a proper hike as we hoped for, still we had lot of fun interacting with the locals and understanding their culture.
Dhankar Gompa is kind of a two part section. One part is towards your right and includes a prayer hall and acted as a vantage point during the bygone years. It is a moderately steep climb leading us to this section. The best part of this climb was the amazing panoramic view of the confluence of Spiti & Pin River which than flows downstream as one. This vantage point is a landscape photographer's paradise not only for the confluence, but also for the snow peaked rocky mountains encompassing Dhankar. We spent quite some time here & breathed in the beauty of this blissful scenary.
The other section of the Gompa, which is the actual Gompa or Dhankar Fort is towards your left once you come down climbing from the earlier section. The Fort is basically a labyrinth of passage from one section to the other and from one part of the Gompa to the other by means of small corridors & steep stone saircases. Me being a tall person, had quite a few bumps on my head considering the ceiling was pretty low almost throughout the Gompa. What was a thing of pride for me became my hubris and at one point of time, I literally crawled through to prevent any further assault at my precious cranium. Aaaah!!! It still stings if I think of it!!
Even though Tabo Monastery is known for more of it's artisitc brilliance, Dhankar too had quite an exquisite collection of artifacts, murals, Thangka paintings & manuscripts. There are innumerable rooms holding dossiers, manuscripts, artifacts & Thangkas that we were able to see and explore. The room of His Holiness, The Dalai Lama, when He visited Dhankar was quite grand and magnanimous. As usual, no photography!!!! But I guess sometimes even picutres fail to capture the beauty of such ehtereal items & you have to experience them and feast on them with your own eyes. Climbing through those narrow staircases, we reached the top of the Gompa where there was a terrace with a prayer room towards the right and a medidation room towards the left. As morning prayers were in session, we were not allowed inside the Prayer Room but were rather herded to the Meditation Room. It was basically a dome like structure made of stone where you can sit & meditate. Though am not a "Ramdev" person believing in Yoga & Asanas, on coaxing by my fellow mates, I did go into the meditation room grumbling and in a brooding mood, which I regretted later on. Sitting on the floor of this room, the distant voices of the praying Lamas created a kind of mystical music. I did not want to, but eventually I closed my eyes and felt the stupor of the harmonic melody that was emanating from the prayer room. I never knew Dhyaana was this blissful, that it connects one with His soul, that it transfers you to a state of ehtereal and ephemeral divination and calms one from within, clearing His mind of all the tensions and worries of the world and being lost in the glory of The Omnipotent One!!!! No doubt Buddhism is the most peaceful religion of the world. We spent nearly half and hour in the Meditation Room and then proceeded for our return to our car & eventually head out to Kaza.
As per our inital plan, we were supposed to hike up to the Dhankar lake post Dhankar Gompa, and were deciding to skip Pin Valley altogether. But on consultation with Tenzin in Tabo & with a few locals, we changed our plans and decided to head out to Pin valley instead skipping Dhankar Lake. We left from Dhankar around 13:00 hrs for Pin Valley and we were pretty excited after all the rave reviews we got from the locals and fellow travelers.
Our decision to skip Pin valley would have been a blunder had we not heed to the locals & did Dhankar Lake hike instead. Pin Valley is a refreshing whiff of green among the barren and dusty terrains of Spiti. As per the directions from the locals, we took the Dhankar Monastery Extension Road and crossed the Attargo Bridge connecting Pin Valley to Spiti Valley. We had planned for Kungri Monastery & travel right up to Mud village and head from there to Kaza.
What was really astounding was the fact that hardly after half an hour of crossing Attargo bridge, the barren mountains seem to have been filled with life. What was filled with stones & dust in Spiti had a lush green cover of flora abounding in Junipers and Birch. The very drastic change of terrain and seeing proper vegetation after 2 days in this cold desert filled our heart with hope. The very ambience we were in, the literally non existent roads seemed inconsequential. Words fail to explain the divine beauty of Pin Valley and it is an experience meant to be felt.
Nestled between two mountains and the Pin river, Kungri Monastery follows the Nyigma Sect of Buddhism and by far was the grandest Gompa we saw till date on our trip. Tabo & Dhankar Monastery though were culturally rich and more popular, were simplistic & minimalistic in construction & designs, the very oppostie of which is the Kungri Monastery. When we reached, classes were going on for the young Lamas and we were fortunate enough to witness the session. We interacted with a senior Lama and he shed light on the various Schools of Buddhism & the concept of Bodhhisatva. The main prayer hall of Kungri Monastery was gargantuan in nature and rich in decoration. The architecutre, the design, the artifacts & the murals were rich & were a multitude of colors. Paying our homage to The Buddha, we then left Kungri for our next destination, Mud Village.
We left for Mud around 14:30 hrs from Kungri Monastery and again trudged along the non existent roads snaking between the Pin river on one side & towering high land slide prone mountain on the other. We didn't realize that the road from Kungri to Mud would be the toughest we shall face in the trip. Also what escalated the problem was the ever decreasing sun light which plays a big factor in the Trans Himalayas. The final nail in the coffin was shooting stones which hurled towards us from the mountains which barely missed our car by few inches. With all these "Omens" and travesties, the two girls in our group were going paranoid and were persistently goading us to quit Mud and return to Kaza. Reluctantly, we agreed and we turned back without Mud village being checked off my bucket list. Well, this is for the next time and am sure I shall cover Mud the next time I drive to Spiti.
Since Mud was a fiasco, we were a little dejected and we headed towards the main town of Spiti, Kaza. Also the grumbling tummies which had nothing except for tea, bread & butter since morning, made us all edgy & we were hoping to reach Kaza soon.
Finally around 17:00 hrs, we reached Kaza and it was a joy for us to see some proper civilization after days of wilderness & non connectivity. Prior to the trip, we had booked ourselves in Hotel Deyzor for our 2 nights in Kaza. But on randomly checking Zostel website, I got to know that in June, Zostel opened it's newest branch in Kaza. Though none of the other travel mates tried Zostel experience before (most of them were AirB&B worshippers), I persuaded them to try it for once since my last two Zostel experiences of Jaisalmer & Khajuraho were pretty awesome. Eventually, they all agreed with a catch that for a day we shall spend the night in Zostel & subsequent night we shall shift for Deyzor as we pre booked the place.
Since Zostel is known for it's dorm system of accomodation for the wanderer, it is completely random who is bunked with whom. The girls were a bit apprehensive of the same, but thankfully we all got the same dorm and the smiles were back on their faces. The ambience of Zostel is well, its ZOSTEL!!!! It's Rastafaari!!!! With booze and snacks flowing around, we were in need of the "Golden Elixir" to mark the near completion of the trip. Unfortunately only Beer was available at Zostel and we wanted whiskey to mark the ocassion. Seeing no other option left, after a quick snacks break, we left for the main town of Kaza in search of Booze and a bit of souvenir hunting.
Kaza is the Sub Divisional Headquarters of Spiti Valley and is typical hill town as the ones we have towards Northeast. As any Hill Town, the lifeline of the town is the Bus Stand surrounding which the town develops. So with the same hunch, we drove to the Bus Stand and went for our Booze reconnaissance and souvenir hunting. As expected, most of the Town has developed around the Bus Stand and it wasn't difficult to locate a few Wine Shops. We were almost ready to load on our "Kaala Kutta" for the night that the girls started to have fancy ideas of vodka and made our ears bleed to go for the latter rather than whiskey. Finally frustrated and seeing no way out of their jibber jabber, we the guys surrendered to their whims & got a full of Smirnoff to celebrate for the night alongwith Angoori (Yes!!!! We still had some left from Raksham!!!). Souvenir hunting in Main Town was a bit expensive and we regretted not having brought in Tabo where stuffs were relatively cheaper than Kaza. Still on talking with a few locals, we got to know that there are a few shops outskirts of Kaza towards Dhankar Road where we can find Souvenir at cheaper rates and mostly prefered by travelers. As it was a day to celebrate we made the girls agree to our terms of shopping for the next day and give it a rest for the day as I desperately needed to reach Zostel and appease my parched throat with some A Grade Vodka. :-P :-P
Finally after collecting our stuffs from Kaza Town & gorging on some delicious Mutton Momos, we headed back to Zostel around 19:30 hrs to retire for the day & celebrate the ocassion.
Continued in The Middle Land-IV
Itinerary (as of now):-
19/07/2016: Tabo to Kaza via Dhankar & Pin valley
We started from Tabo around 08:30 hrs & reached Dhankar around 10:30 hrs. It was a pretty decent ride of around 2 hrs with frequent photo & sutta breaks.
We started from Dhankar around 13:00 hrs for Kungri Monastery & reached around 13:45 hrs. I would like to mention that though Pin valley is mystically divine, roads are non existent and if self drive is an option like we did, I would suggest appreciate the scenary by halting your car rather than on the go and diverting the attention of the driver. A near fatality we faced for the shooting stones towards Mud and as such, rather wait and decide or appreciate rather than driving and creating diversions.
Mud village is a challenge we failed and we had to return half way. Still there pointers I shall like to share. The road from Kungri to Mud is devilishly wicked & hard to manouevr. To make matters worse the adjacent mountain is high shooting stone prone area. So be watchful & if halt is needed, I would rather suggest halt at a place where ithere is the least chance of shooting stones or landslifes (like ridge between two mountains etc). Months of July & August, the Pin river bed basically stays partially dry. So if the adventure bug in you craves to walk in the river bed, I would suggest to do so, but be careful for flash flooding due to sudden glacial meltdown or trapped water gushing down etc.