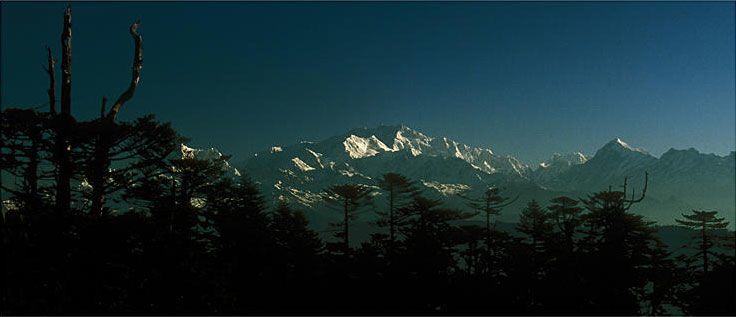 Nirav (the guy I've been married to for a decade now) is a gadget geek. Name a gadget and he has it. Two months ago the boys had trekked this place with Amar and the same Sherpa. Nirav had carried his altimeter. When Tshering saw this he wanted it then and there.
Like two kids fighting over the same toy, Nirav did not part away with his altimeter then, but promised Tshering, "my wife will be here soon and I will buy you another one and send it with her".
Tshering was not happy with this bargain and said he wanted this one only. But yes he was ready to wait till "Ma'am" would come in a few weeks time and hand him the altimeter.
The first time I saw Tshering, I had told him I have his "thing" with me and from then on I know he wanted to ask me,
"Where is it? Can I see it? When can I hold it? When will it be mine forever?"
His patience paid off well, because post dinner in Tumbling, I went to my room, took out the altimeter and as I came up to the dining area, Amar spotted me. He asked me, "What's up? Who are you looking for?"
"Tshering", I replied, showing the altimeter as I waved my left hand holding the gadget.
"It's a bad idea", Amar answered.
"Why?" I asked him. I mean this was his gift and that too a promised one. He was expecting it and sooner or later I had to give it to him.
Amar tried making me see things in a different way. He cheekily said, "As long as the altimeter is with you, he is going to treat you like a Goddess. He will be on his toes to look after you. But if you give this to him now, his services may dwindle". I did not see any logic and before I could say anything, there he was, Tshering, coming towards us with a mug of hot water for me.
"Coffee, ma'am?" he asked as his eyebrows rose slightly in an involuntary motion.
I looked at Amar & then at him and said, "Tshering, this is the altimeter. I am handing it to Amar dada, and you can take it from him whenever you want."
I took the mug from him, emptied one Nescafe sachets and told both the men "goodnight" and walked down to our room, leaving them up to their own devices.
I woke up around five in the morning, the view from the window was such a good one, that I took out my camera and rushed outside to freeze all the moments I could. I spotted my Israeli friend and we both walked around trying to take as many pictures as we could.
It was cold, very cold indeed. I felt my fingers getting numb. I rushed back to the room and saw Dipanjali still in a deep sleep. I again looked out of the window and chanted "Om Mani Padme Hum" and I tell you, it was the most refreshing feeling.
Soon we got ready. Our actual adventure would begin soon. We would trek the hills to reach out next stop Kaalpokhri, descend a thousand feet and walk for about six hours.
As I walked to the dining hall, I saw a group of men outside, soaking up some sun and all heads stooping in one direction. I walked towards the men, just out of curiosity, to see what the buzz all about was.
There he was, Tshering, our Sherpa, in the centre of all possible attention, drawing as many eye balls he could. He was surrounded by a few more Sherpas, around ten porters and all were looking at this wonder toy!
Tshering, literally with his chest inflated was showing these guys and teaching them a thing or two about the altimeter.
I smiled at him and walked straight into the dining room for breakfast.
Amar, who was already having his grub, said, "Nandini, Tshering did not let me sleep in peace. Every two minutes he kept asking about the altimeter and I was so bugged that I woke up in the middle of the night and handed him his gadget!"
I smiled again.
I already had a chance to see the boy with his toy and I knew I had done the right thing!