Skiing. The activity that I had seen only in Hollywood movies, TV shows, & sometimes in Winter Olympics. Skiing is not common among most Indians yet it is an interesting sport that I wanted to try at least once. For the first time, I tried Skiing in Gulmarg, Jammu & Kashmir. I was pathetic at my first attempt & fell 8-9 times within 1 hour of the training session. That day, I gave up on Skiing because I felt I was not made for this sport at all.
This was 5 years ago. In 2018, when I visited Switzerland in Winter, once again, I had a chance of Skiing there. I mean, only someone stupid will pass this opportunity of Skiing in Switzerland! I told myself, "you were bad at it because it was the first time". This time, I decided to give it another shot & booked 1 Day Beginner Ski Package with Outdoor Interlaken.
Let The Skiing Begin
The day arrived & the van from Outdoor Interlaken took us to their store to get all the basic gears needed for Skiing. We got boots, helmet, ski, winter ski clothing & other necessary things & walked out (in an awkward manner). The van took us to Zweilütschinen & then we headed towards Grindelwald on a bus.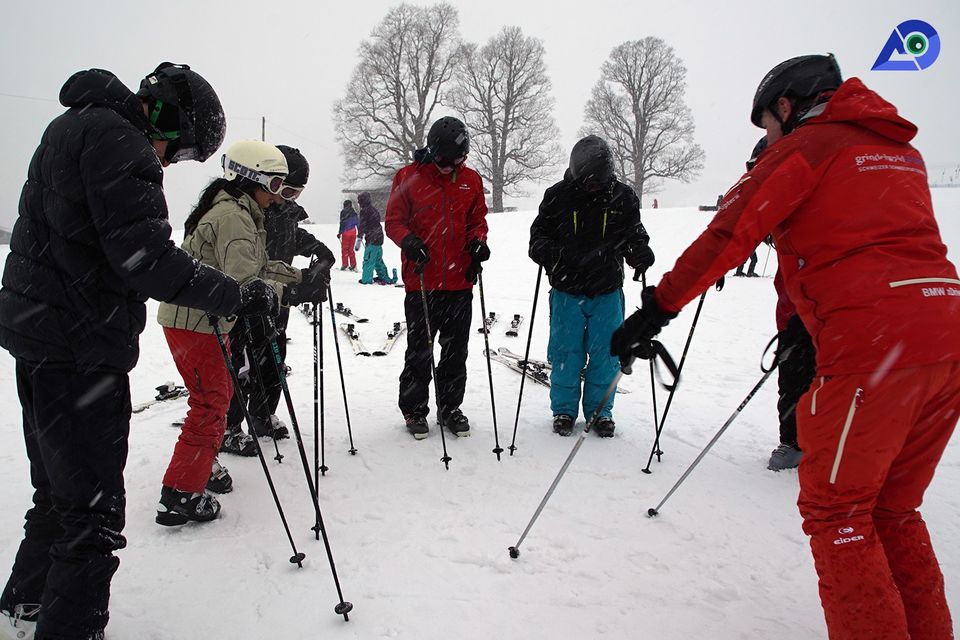 After arriving in the Ski area, our Skiing training started. Our instructor started with the basics of Skiing. After a brief introduction to the activity, we were shown how to wear & remove the skis. It was the most important thing in case of falling down (which I was intending on doing a lot). We were asked to wear a ski on one foot & drag it with another one. It sounded funny but when we actually started doing it, I understood the importance of this activity.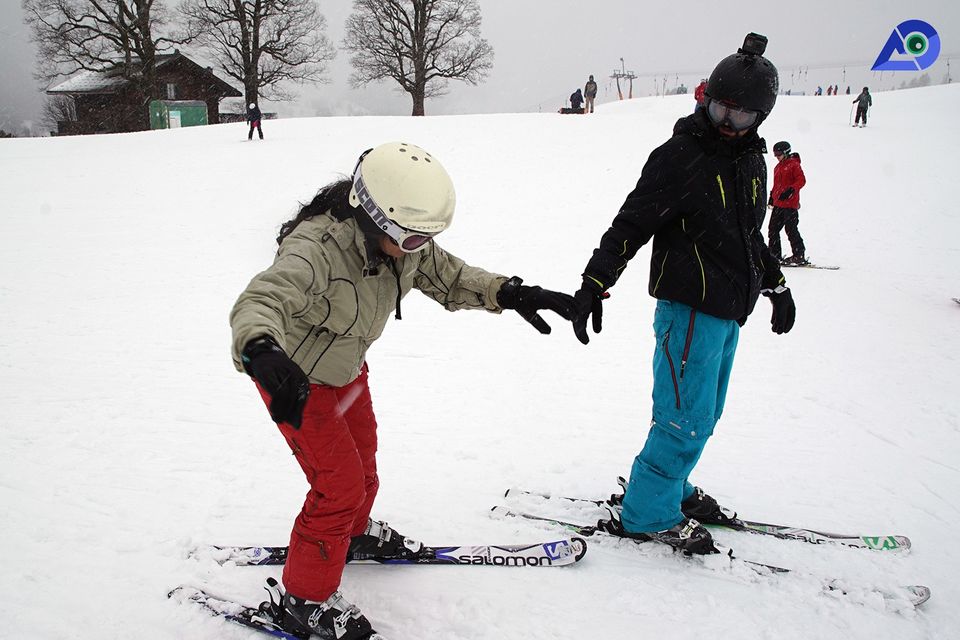 The temperature was going down in Grindelwald & the snowfall was getting worse by the minute. It was Parampara's first time in snow & the weather was too unpredictable. We knew only one thing – THIS WAS AWESOME! After our instructor was a little relieved that none of us fell in the first stage, he asked to wear another ski & we were all set to go down a slope like an Olympic champ ski like a beginner.
Getting Better, Slowly & Steadily
After going down basic slopes a few times, I got a little confident about Skiing. The tougher thing was to get back to the start line which means climbing the slop with skis on. We came down the slope so many times when we were supposed to go up. We also got a little better at climbing after some time.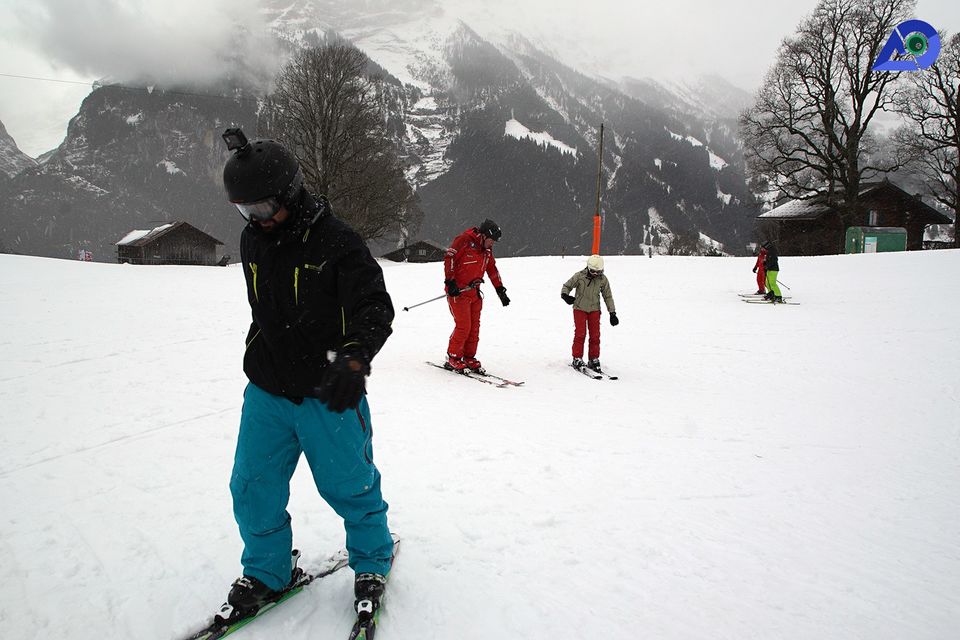 The instructor started teaching us about how to apply brakes in case of speeding. I honestly felt that I didn't need it because there was literally no speed in my case! But like a studious student, I tried grasping as much as I could. Then suddenly, the instructor said magical words like, 'pizza, fries, pizza, fries' & he got my attention. Fries was a feet formation which is used for speeding – || & pizza is a formation used to brake – /\.
Fries – Pizza – Fries – Pizza was fun for some time but it was getting difficult to do it continuously because we were so new to Skiing. At so many times, we just went straight down the slope (about 150-200m away from the instructor) because we couldn't, well, pizza – fries. He understood that & took another lesson on how to turn while Skiing. I think we sucked at turning as well. At this point, we were asking ourselves if we could & should really do it?
Motivation Matters The Most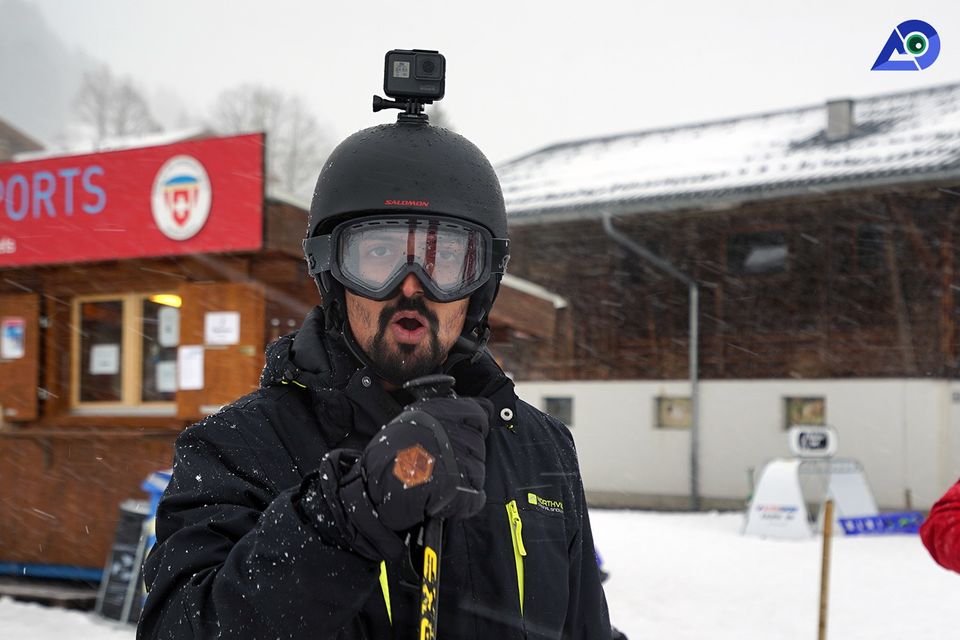 Our Ski teacher was really supportive & he motivated us to carry on with the activity (even though we sucked) & showed us few more easy tricks to ski well. We really tried hard but I guess it is not possible for us to ski that well in a day or two's training because the kind of training is not available back in our city. I mean, we could ask Skiers to play street Cricket in 45° heat & they won't be able to do it on Day 1.
The day was well-spent even though we didn't ski well. The snowing made it surreal. There were people, even kids, skiing like pros & it was fun watching these rockstars going down slopes like a breeze. I did a climb a small hill & asked the instructors if I could try going in the 'fries' formation just once (for the camera) & he allowed. I feel that particular moment of going down the slope successfully, that adrenaline is what most of the skiers must be feeling!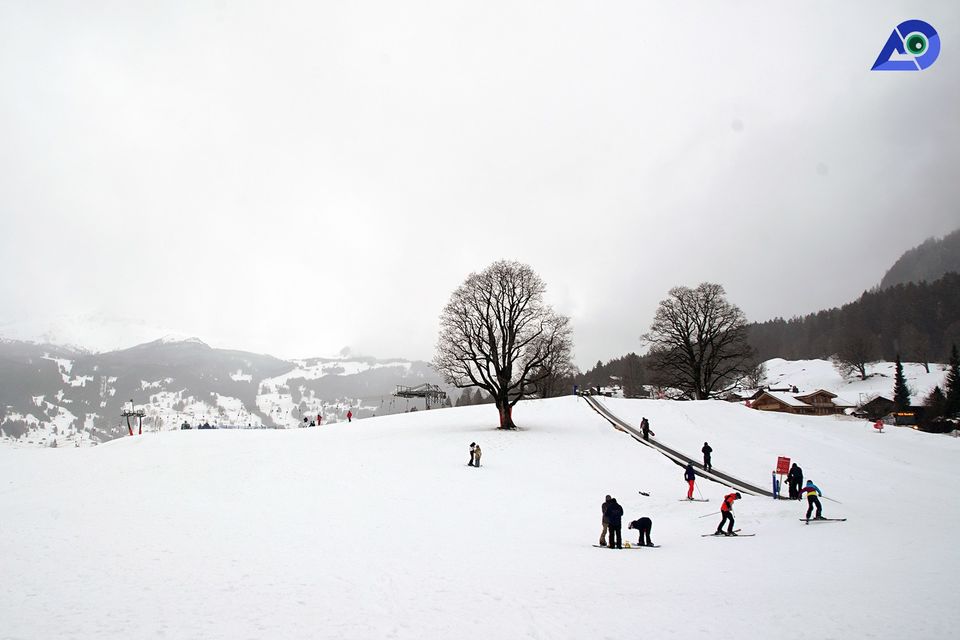 Our beginner lessons ended & we came down back to Interlaken. If you are a beginner like us, you should take up the 1 Day Beginner Ski Package because if you are in Switzerland & not skiing, what are you even doing in Switzerland? ????
Check out our video here: