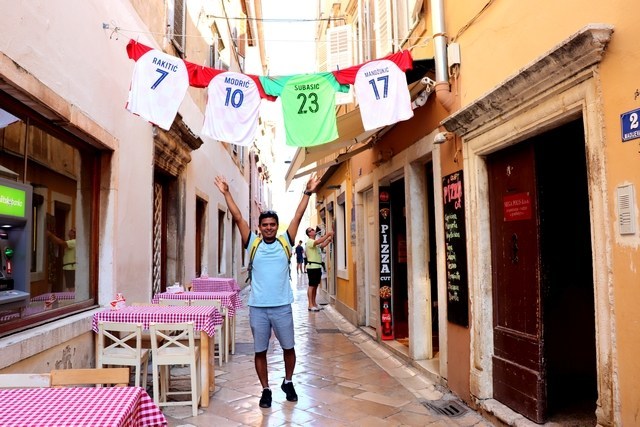 "France won the cup but Croatia won our hearts" - If you were following the 2018 FIFA World Cup then you know what we are talking about. The way Croatia made their way to the finals, made them the world's favourite even before the final match started. After the World Cup, Croatia was the talk of the town- not for losing the title, but for their extraordinary performance and for winning the world's hearts and support.The craze and passion for football is boundless in Kerala, in-fact you will be stunned to see how close knit friends and family turn foes during the International tournaments where one half would be cheering for Brazil and the other half for Argentina. After the 2018 FIFA World Cup, Malayalis have one more football favorite and it is Croatia. Due to Croatia becoming the sudden talk of the town, everyone is interested in exploring the beautiful country.
We both booked our tickets and got set to find out if the hype is real - about Croatia being one of the most beautiful countries in the world and this is what we have to say. Croatia is undoubtedly one of the most beautiful countries in the world and it is a place which shouldn't be missed at any cost.
Before you read the rest of the post , if this is the first time you are traveling to Croatia then please read our 10 Tips for first time travel to Croatia
The Ultimate 7/10 Day Croatia Itinerary guide: Points of Interest
What to Do in Croatia in 10 Days or Less?
In this blog post we have penned down a detailed list of activities we did and places we saw during our stay in Croatia. Even though Croatia is not a big country, there is still so much that you can do. There are countless things to see and places to make your itchy feet go crazy. Before you read further you must know that Croatia is divided into mainly into four regions - Central Croatia, Slavonia, Dalmatia and Istria.
Why do you need to visit Croatia?
It is a beautiful country nestled in the Adriatic sea consisting of beautiful coastline, islands and beaches. Croatia is blessed with stunning landscapes and pristine natural sights. The food in Croatia is lip smacking and above all if you are a Game of Thrones Fan then Croatia is your dream destination.
What are the Visa requirements for Croatia?
If you are visiting Croatia, then you will require a valid visa to enter the country.
If you hold a European Resident permit, then you can enter Croatia with your Resident Card. Make sure to carry your Passport too as you will be asked to produce your passport while crossing borders in Croatia. If you are an Indian national who does not hold a European Resident Permit, but hold a valid Multiple Entry Schengen Visa, then, you can enter Croatia with that visa.
Currency of Croatia
Do they use the euro in Croatia? Even-though Croatia is a part of the EU, it does not have Euro as its official currency instead the country uses Kuna as its official currency. Even-though Euros are widely accepted in Croatia, some hotels and apartment owners, ask specifically for Kuna. You can do the currency exchange at the airport or at the foreign exchange kiosks that are spread across the city center. Instead of having all funds in advance, Its better to exchange as you go along. There is intense competition between foreign exchange agencies in Croatia, so you can look around and find excellent rates. Its always best to carry cash as much as possible, in order to be fully aware of the rate of exchange and not to be subject to any kind of bank fees (in case of use of Debit card/ Credit cards).
Exchange Rates as on December 7th 2018
1 Croatian Kuna = 10.89 Indian Rupee
1 Croatian Kuna = 0.15 United States Dollar
When is the best time to visit Croatia?
Just like any other destination, Croatia too has a high season, low and a shoulder season. The months of July and August are high seasons, May/June and September is the shoulder season and the remaining months make the low season. Best months to visit Croatia are May, June and September. In these months, The weather is pleasant, less tourists visiting Croatia and also prices of accommodation, tours, and activities are cheaper when compared to the busy season of July /August.
Where to stay in Croatia?
Croatia offers numerous accommodation options ranging from lavish stays to simple and basic bed and breakfast options, apartments, family run home stays and backpacker hostels. During the busy/high season, it becomes quite hard to find reasonably priced stay options. Since tourism is one of the main sources of income in Croatia, the locals take good advantage of it and you will find the cost of accommodation is subject to seasonal distortions. In our opinion, it is best to stay in hostels/ Airbnbs if you are on a tight budget. For Hostel bookings, we always rely on HostelWorld.
How to travel inside Croatia?
If you are wondering on how to move around in Croatia then there are several options. You can rely on rail, ferries, public and private buses and rental cars. For our trip we mainly used Buses and Ferries to move around.
We really liked and highly recommend bus travel in Croatia because of the excellent connectivity and great road conditions. We relied on licensed buses to move from one city to another and also to visit the National Parks such as Krka National Park and Plitvice Lakes National Park. We felt the travel was more convenient and hassle free and also we didn't have to worry about the parking outside the National Parks. If you travel by Flixbus, then we have a tip for you. Always watch out for the option to choose the seat number and make sure you choose a seat and dont just click on the free seat option. If you dont have a seat number then the chances are very high that you will be woken up from your deep slumber in the middle of the night to move seats.
Croatia has more than 1000 islands and is truly a heaven for those who love to explore and visit islands. Lokrum Island and Olive Island are two of the main islands we visited during our trip and for both we used the service of the ferry companies . Jadrolinija is a very popular company and operates ferries between major islands and coastal towns. We highly recommend them as their prices are economical and their ferries are equipped with all the basic facilities you need to sail smoothly.
What are the Top Places to Visit in Croatia/ Best places in Croatia?
Dubrovnik is one of the most expensive and most visited cities in the whole of Croatia. In the year 2016 alone, it is said that more than 1 million tourists have visited Dubrovnik. Even though the city is currently facing foot traffic issues, one must not miss visiting Dubrovnik for its stunning architecture and famous historical sights. The city boasts of a rich and grand history filled with buildings and beautifully ornate palaces. The Old City of Dubrovnik is very lively and should be your first point of exploration. Be sure not miss the famous Onofrio's fountain - which was instrumental in bringing fresh drinking water to the city for several centuries. Also make sure to walk the City Walls which are defensive stone walls running about two kilometers surrounding the city of Dubrovnik. The walk through the whole length of the city walls will take at-least 2 hours and it is not free. If you are under 18 years of age or if you are a student, then bring your student ID card to avail some discount on the entry tickets. While you are up there enjoying the views , you will also notice the iconic terracotta colored tiled roofs. During the medieval days, clay was used and the colour of the tile depended on the temperature at which the tiles were heated in the kiln. Last but not the least, if you are a fan of Game of Thrones then you must do the Game of Thrones Tour in order to see the filming locations. These tours last for about 2 hours and happen all year around. We highly recommend you go with Dubrovnik Walking Tours
Top Tips for Dubrovnik-
If you feel accommodation is expensive in Dubrovnik, then it is advisable to stay in smaller village like Cavtat and then make day trips to explore Dubrovnik. Purchase a Dubrovnik Card - This card helps you to save more than 50%, as compared to individually purchased tickets. Depending on the length of stay in Dubrovnik, you can buy 3 types of cards: 1-Day, 3-Day or 7-Day. By purchasing a Dubrovnik Card, you will have access to free use of public transport in Dubrovnik, a free travel guide with photos, descriptions and useful general information and also discounts in specially designated restaurants, stores, souvenir shops, jewelry shops and tourist agencies.
If you are looking to getaway from the city then we suggest Lokrum Island. It is the cheapest and closest island and is located a mere 15-minute ferry ride away from Dubrovnik. The island is a small nature reserve that is well maintained and naturally beautiful.While at the island you will feel so close to nature with peacocks walking around freely in the wild. There is also a bar and restaurant for snacks and refreshments. It is open for visiting from April to November.
Of all the places we visited in Croatia, Split is our personal favorite. A visit to Split gives you the chance to experience 1700 years of history walking in an Emperor's footsteps. The vibes and feel you get while walking on the cobbled streets takes you back to the Roman times. While simply wandering around you will come across ancient fountains which are still functional and original Roman columns and drains which are very impressive. The top attraction of Split is The Diocletian Palace which took around ten years to complete . It was built by Roman emperor Diocletian who wanted to make the palace his retirement home. The Palace has four gates, each on one side of the palace: The Golden, Silver, Bronze and Iron Gate. Each of these gates lead to prominent landmarks within the city. Inside the Diocletian Palace, is the beautiful Cathedral of St. Domnius. There is also a bell tower which forms a part of the Cathedral. You can pay a small fee of 3 Euros and go up the bell tower to see beautiful views of the city. Another important place to visit is the Piazza which is also called as the People's Square. The area is always buzzing with activity. Since we had a few days in Split, we also hiked the Marjan Hill for a terrific city/ sea overlook. Up on the hill there is an outdoor cafe and also one of the oldest Jewish cemeteries in Europe.
Top Tips / Recommendations for Split
It is said that the narrowest street in the world -"Let me pass"street is in Split. Make sure to visit and click a photo. If you are interested in seeing original sphinxes brought by the Romans from Egypt, then you will find them in Split right next to the Jupiter Temple. It is 3500 years old from the time of Thutmos 1-3 For good luck, rub the toe of Gregory of Nin (Grgur Ninski) statue . He was a medieval Croatian bishop who fought for the right to use the local Croatian language in church services. He is considered as a National Hero and his statue stands tall in the city of Split.
Points of Interest in Sibenik
Sibenik is a beautiful city with charming squares and old fashioned stone streets. Every nook and corner of the city is picturesque. While at Sibenik, you must visit the number one attraction which is the Cathedral of St. James. This impressive Cathedral is one amongst the most significant Cathedrals in Europe.The most striking feature of this Cathedral is that it is the only Cathedral in the whole of Europe to be built with only stone. If you want to get away from the city and do something interesting then definitely visit Krka Waterfalls. Krka National Park is located in Sibenik County and is an easy day trip from the city. The Park is an important landmark of Croatia and is gaining more popularity day by day due to its natural beauty. The highlight of Krka waterfalls is that you can swim in the gorgeous waterfall pools which is not allowed in other National Parks. Other interesting places to visit in Sibenik are the four fortresses built during the 15th and 17th century.
Points of Interest in Zadar
First things first go on a Free Walking Tour in Zadar. The walking tour is not really true to its name because free tours are illegal in Croatia. Hence the tour guide charges a small fee to pay to the State. After the tour you can tip the guide whatever you like. Zadar is a very interesting city as it was under the rule of Romans for 400 years and Venetians for 500 years. During the walking tour you will also visit St.Anastasia's Cathedral and St. Donat's Church. Both these churches portray different styles of architecture and are worth seeing. A walk around the city will lead you to Roman forums and remains of Roman Temple of Jupiter. The most impressive place in Zadar was the Sea Organ which is an architectural sound art object which plays music by way of sea waves and 35 underwater tubes stretching across 70 meters located underneath a set of large marble steps. Once you witness the sunset, watch out for the Greeting to the Sun - It is an art work installation of 300 solar powered modules arranged in a circular shape of diameter of 22m covered in a thick glass layer. During the day the solar modules absorb energy from the sun and then they glimmer in bright hues and colors after the sun goes down. If you are interested in gems and treasures then visit the Gold and Silver Museum which houses items that are centuries old. The Museum of Ancient Glass in Zadar is also a popular attraction. The museum displays over 1500 glass objects which illustrate everyday use of glass in households, production of cosmetic and medical substances, glass in funerary rites etc that range from the 1st to 4th century AD. When you are in Zadar, you must make a day trip to Plitvice Lakes.It is the most beautiful National Park we have seen till date. Truly felt like a tiny piece of heaven on Earth. It is Croatia's oldest National Park and also the only Croatian natural sight to be listed in the UNESCO World Heritage Record. There are several hiking options in Plitvice and numerous spots for photography. We recommend you keep one full day to see and enjoy the 16 lakes and its waterfalls. It is the most visited and popular sight of Croatia. If you have more days in Zadar, then take a trip on the boat to the Olive Island (also known as the Island of Ugljan). It is the closest island to Zadar and has 46 beaches to relax and enjoy.
Top Tips / Recommendations for Zadar
Visit the Sea Organ - world's first musical pipe organs that is played by the sea. Sunsets in Zadar are unique and said to be one of the most beautiful sunsets in the world. Hiking in Plitvice Lakes
If you have more time then we suggest you visit Zagreb, the capital of Croatia. We decided to explore Zagreb in our next visit to Croatia.
What Souvenirs should you buy from Croatia?
If your looking for something unique to pick up other than the usual lavender, olive oil, wine etc then you must check out souvenirs made of limestone. There are several shops selling limestone craft. What is impressive is that It is the white limestone used to build Dubrovnik walls, Diocletian Palace in Split and the White House in Washington. If you fancy picking up unique jewelry then you must check out Traditional Croatian Filigree Jewelry. The jewelry is beautifully handcrafted and often set with rare stones and pearls.
Some Croatia Facts and Information
In order to fish in Croatia, it is necessary to have a fishing license or a fishing permit that is obtainable from the Croatian local offices or travel agents.
Croatia has over 1000 islands
Croatia is the home of the world popular dog breed Dalmatians.
The Pen you hold in your hand was invented by Croatians
What to Pack for Croatia?
Since we made our trip during peak summer - it was very hot and sweaty. We made sure we wore comfortable walking shoes, and also had our hat and sunglasses on to shelter ourselves from the sun. We also carried a bottle of water with us at all times in our backpack to make sure we do not get dehydrated in the heat. Also carry your favorite camera or mobile to capture the stunning views!
We tried our best to do Croatia on a budget. Hence we stayed in Airbnbs and apartments rather than hotels and also did not eat every meal at a restaurant. We visited the local grocery stores and daily markets and cooked our own meals whenever we felt like.