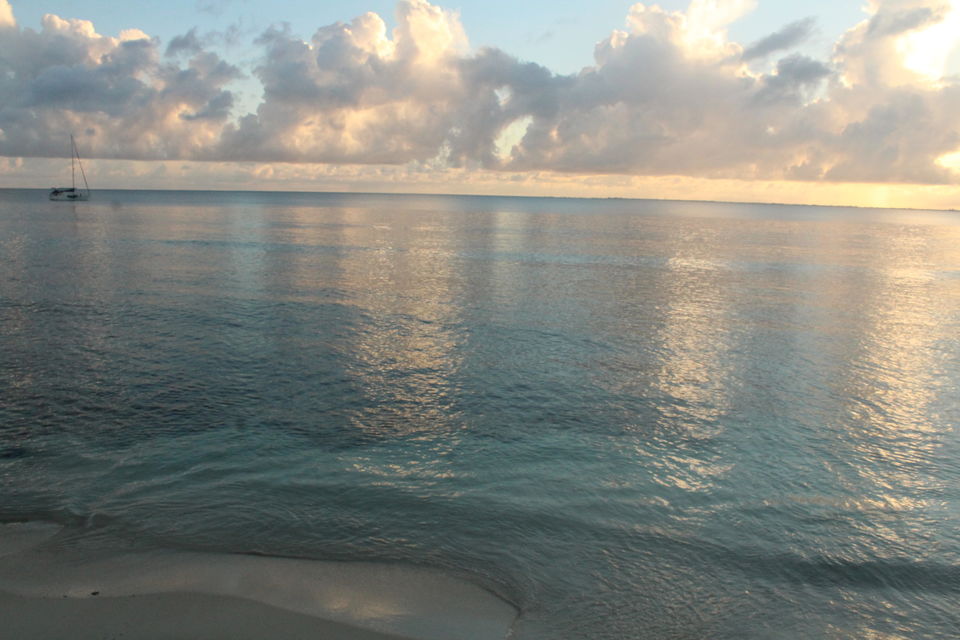 Maldives is a very popular honeymoon destination. The alluring blue water of Maldives is quiet inviting isn't it ?Pristine beaches and surreal landscapes are the speciality of Maldives.I had the opportunity to visit this amazing place recently. But I visited the lesser known side of this beautiful place. All thanks to Equator Village's instagram giveaway!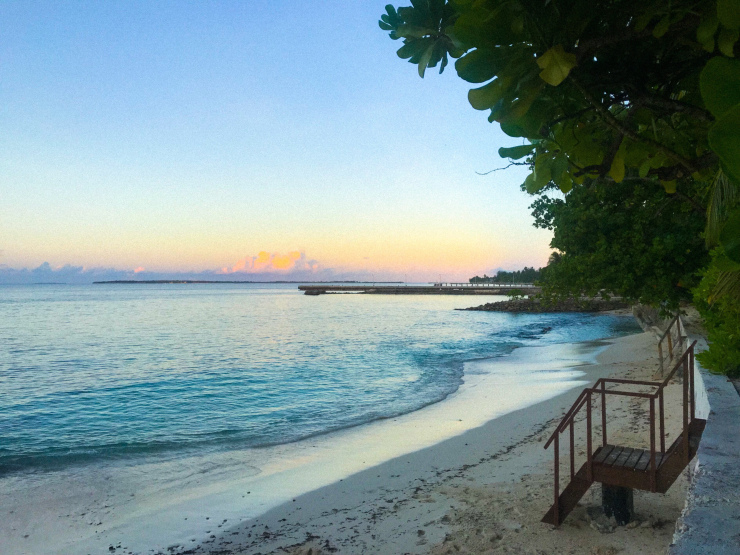 To be honest with you , Maldives was not in my five year travel plan. But it was a trip that happened out of the blue as I won an instagram giveaway hosted by Equator Village Resorts. The resort sponsored a 4 day trip for me and my husband (flight excluded).
Most of the pictures I saw online of Maldives are from Male Island. I learnt recently before the trip that Maldives has so many other islands to visit and not just Male. What I heard from people there is Male is very crowded these days with tourists pouring in. Anyways Male was not in our itinerary. We were bound to an island called Gan. Little did I know I am going to fall in love with this place.
Let's talk about flight views first. We landed in Male and took another flight to Gan island which was arranged by Equator Village. Normally I doze off in the plane.But during this flight I couldn't put down the camera for one moment. Such brilliant views. You will be flying over the sea whole time and you can look at tiny islands all through. I am gonna let pictures speak here.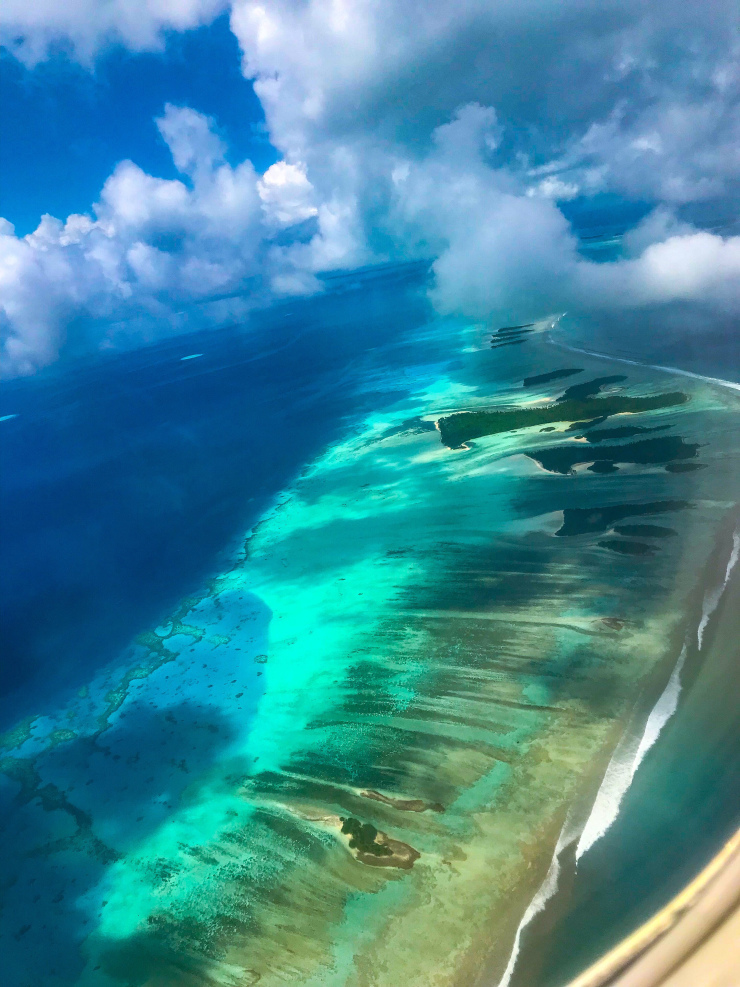 Here is a cool fact. You will be crossing the equator line just when you are reaching Gan island. Air-hostess hands you a certificate for crossing the equator just as you cross. This is the easiest thing I had to do to get a certificate.He he
Gan Airport is such a cute tiny airport and the landing is breathtaking. There is a video of it in my instagram stories. Check it out and see how beautiful it is. Equator village promptly picked us up from the airport. The resort is hardly five minutes from airport.After a warm welcome we checked into our room. AND THE OCEAN WAS RIGHT OUTSIDE OUR ROOM. I can't even!! The gushing wave sound was never ending. Different shades of blue as far as my eyes can see.
Now I don't have any day by day itinerary to give you. Maldives is meant for a relaxing holiday.Perfect for slow travel.But if you are adventurous then its the best place to snorkel and dive.
For some reason I cannot stay relaxed in a place. There was beach and beer at stone's throw but I was restless. So we opted for a dolphin cruise from Equator village. This boat ride reminded me Gokarna a lot.The landscapes were very similar. After 15-20 mins we were able to see a lot of dolphins jumping around. Boy oh boy!I.have never seen so many dolphins in my life. How cute are these creatures. We did click few pictures of dolphins but after a while we put the cameras down and simply enjoyed looking at them. We were back at the resort for an elaborate lunch and a short nap before catching the sunset.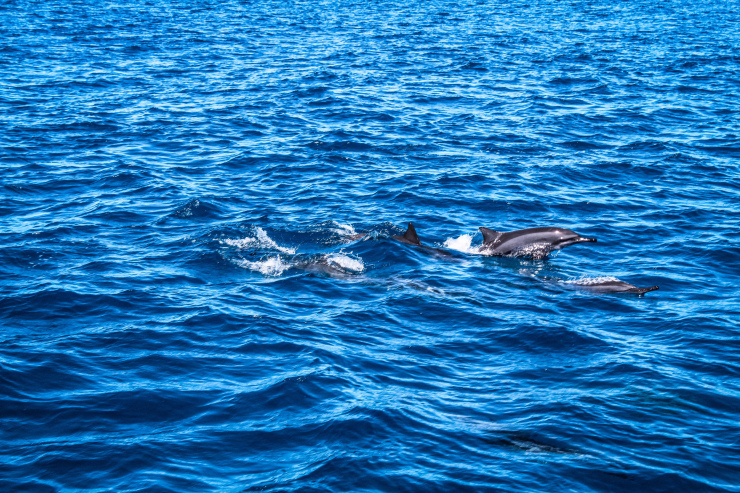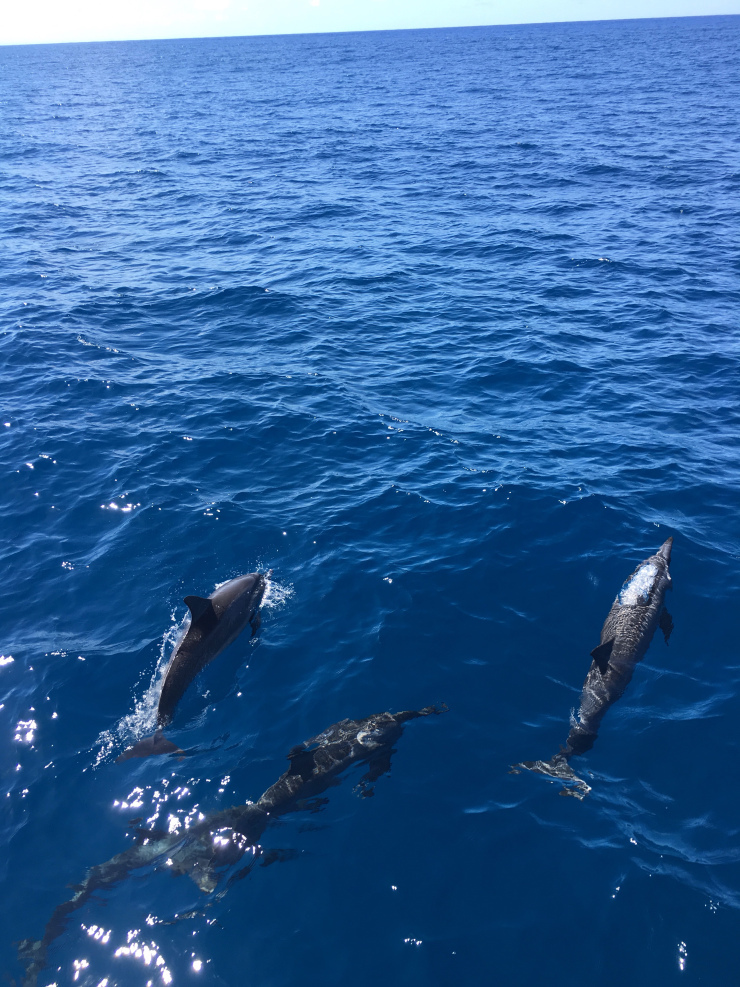 About sunrise and sunset in Maldives, it is very difficult to explain in words. I can show you pictures but it doesn't compare to what we saw. This is the purest sunset view I have seen so far. The orange color that it gives was so damn beautiful. Sitting at the deck during sunrise and sunset hours was my favorite part of this holiday. Sunrise will happen within 6. I woke up every single day to witness the golden magic. All the sunset and sun rise pictures here have no filter.
The second day I wanted to go snorkeling. But I don't know swimming and I am shit scared of water. I will only get into the baby pool (I know!!). The resort had a dive place but they didn't have any guided tours. Which means if you don't know swimming you cannot dive. When I heard this from the instructor I wasn't bummed but kind of relieved. I guess I wanted to snorkel only because of peer pressure and not because I actually wanted to do it. I was scared and I chickened out. But that's okay. One day I will dive not sure when ..but I will. I will when my heart says so!
The next day our resort manager offered to take us around to see few other islands . I was super excited because I haven't seen any other picture other than the blue waters of Maldives online. I really wanted to see the city and people a bit. I must say the drive views are too good. I didn't know which side to look . We drove to few nearby islands. Did you know Maldives has a mangrove region? Eydhigali kilhi is a nature park which is home for lot of birds. This is located in the Hitadhoo island. The place looked so serene with absolutely no one around. The drive to this island was also very beautiful surrounded by lush greenery. We also drove around Feydhoo and Maradhoo islands. All the houses in these islands had so many plants. The streets were pretty much empty because it was Ramzan time. We stopped at a local Maldivian snack shop to pick up something. Most of the snacks were tuna based. So I picked up few rice based snacks. I forgot the name of it. At the end of this drive I was so glad I got out my room and went around the city a bit. If you like exploring places include two or three island in your itinerary when you visit Maldives.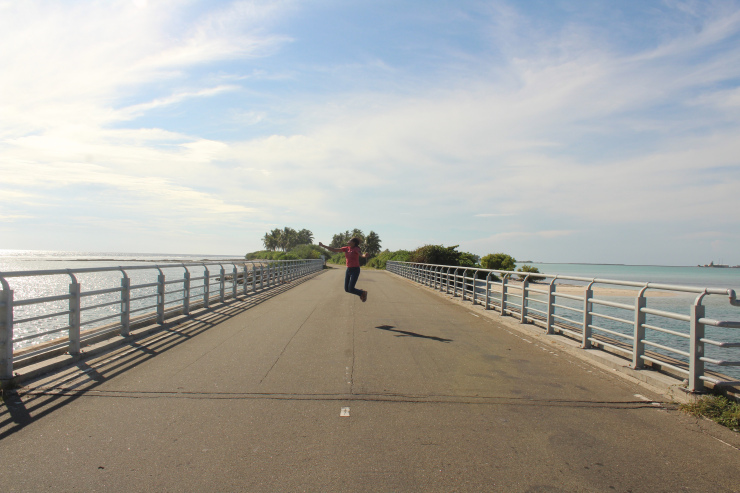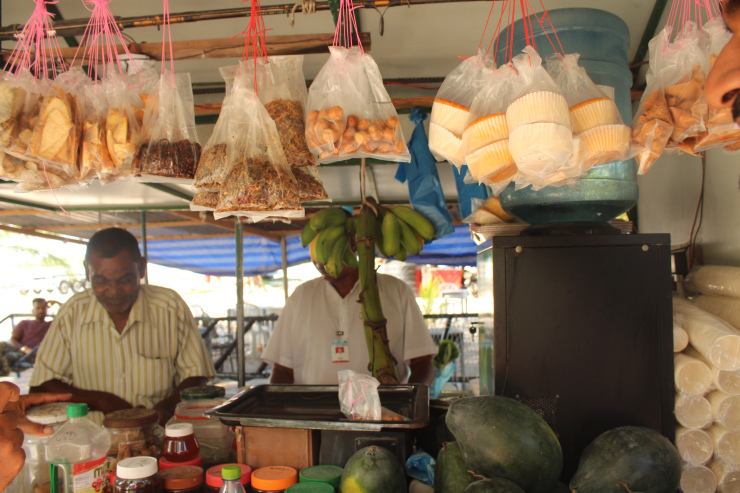 Final day we had our flight in the afternoon so we didn't have any plans. I sat by the the beach from morning wishing I could take a little bit of this beach back home. Any ways I promised myself I will come back more. The resort is very close to the airport and the manager told us you can leave the resort just five minutes before the flight departure. I was restless because we are used to going to airport atleast two hours early . This was strange . But we reached just before ten minutes and it was just fine . We bid goodbye to Gan now. Flight to India was from Male. Just a heads up food in Male airport is insanely expensive.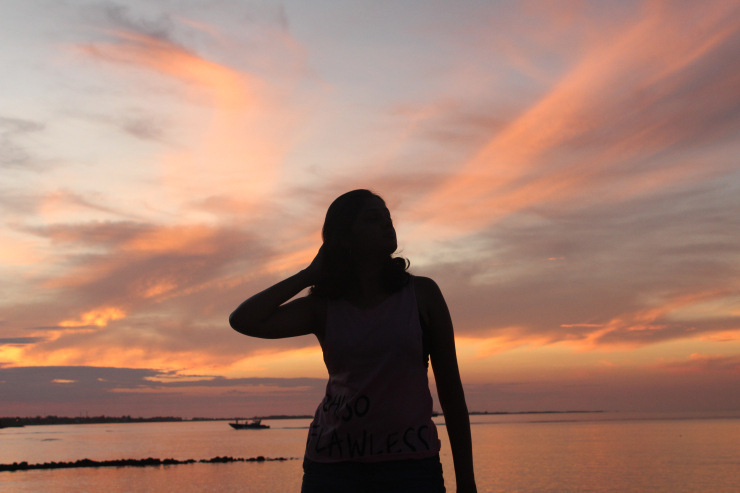 Stay: As I said earlier I stayed in Equator village resort in Gan island. It is very close to airport. People at the resort are amazing. Very helpful. Rooms are clean and spacious. Beach is at a close proximity. Resort has a nice pool area. Resort also arranges dolphin cruise, private picnics and dive tours. You can also rent your dive equipment here. The spa women are from India and they do a good job. I did a spa and body polish. Loved em' both. You can rent bicycle from the resort to go around. They also arrange cabs.
Food: I am a vegetarian (read eggitarian) and I survived Maldives. Because food in Equator village is absolutely delicious. Food spread is really good. You get lots of variety. Breakfast , Lunch and Dinner ..everything had a lot of options to choose from. Not once in four days desserts were repeated. Everyday there was a new menu. There were also few Maldivian special dishes. They also serve alcohol. On our last day they arranged us a special poolside dinner which was a really sweet gesture. There are very restaurants outside the resort and we didn't try any.
Flight tip: We booked flights to Male from Kochi and it was damn cheap. You can get flights from 3.5k one way which is really good deal.
Maldives is a beauty. Plan a trip when you want to completely relax and let go of everything else!
Checkout Maldives highlight from my Instagram stories.