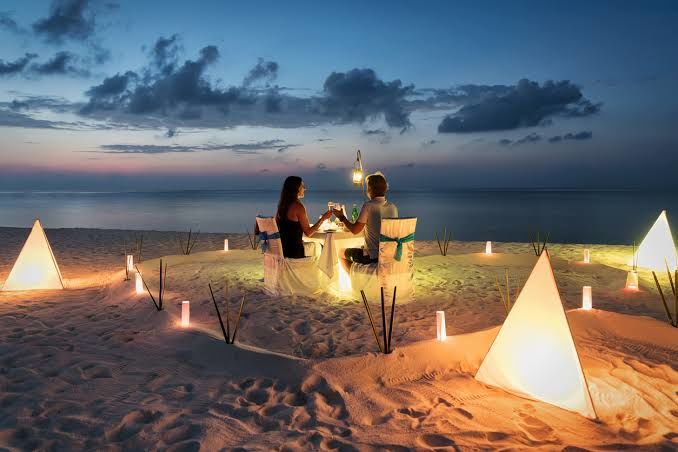 Wondering how you should celebrate your anniversaries with your partner in the most special way? Spending some quality time together and going on a dream vacation is something that couples look forward to for months. There's literally nothing like taking a trip to celebrate love. Celebrating the love between you and your special one in a faraway place? For a wedding anniversary, that's hard to beat.
Have a look at some of these alluring destinations which are perfect to ring in your anniversary this month. Here are our top 8 picks (from 🅽orth, 🅴ast, 🆆est, 🆂outh ) for the month!
Nobody can ever say no to Shimla! A perfect destination for couples to celebrate their anniversary, Shimla has so much to offer to its tourists.
Romantic things to do in Shimla:
•You two can enjoy the romantic stroll up to Jakhu Hill
•You can also choose to chill out on the Ridge and enjoy some yummy Tibetan delicacies at hill view cafes
Lakshadweep is India's smallest Union Territory consisting of 36 mesmerizing islands. One of world's most spectacular tropical island systems, Lakshadweep is tucked away at 220-440Kms off the Kerala Coast. It is a great pick for couples who are looking for a romantic vacation.
Romantic things to do in Lakshadweep:
•You can totally go for Scuba diving in Kalpeni Island, Agatti Island, Minicoy island and others.
•Kite surfing at Kadmat island is something tourists love to do here.
•Another great option is to go for Couple canoeing at various islands. It is an experience in itself. Its something you will remember forever.
•Taking part in festivals of the land.
•Dinner at the beach
Sikkim, a part of the Eastern Himalaya, is known for its biodiversity. India's highest peak and third highest on Earth, Kangchenjunga is situated in this beautiful state. The alpine and subtropical climate keeps people happy and relaxed throughout the year. This place is a treat to the eyes and never fails to amaze you with its beauty.
Romantic things to do in Sikkim:
You can visit these romantic places in the state -
•Zuluk (for its marvelous beauty)
•Tsomgo Lake (is serenely pure)
•Pelling (for its wild waterfalls)
•Ravangla (is incredibly gorgeous
•Gangtok (for its Placid Views)
Often referred to as God's own country, Kerala has been popular amongst travelers since a long time. The lush green scenic landscapes and crystal clear beaches will leave you awestruck. It is truly a paradise in India and a great recommendation for couples to spend their anniversary here.
Romantic things to do in Kerala:
•Spend quality time at Heart Shaped Lake In Chembra Peak
•Spend a night in a Treehouse
•Take sun bath at Kovalam Beach
•Watch sublime snake Boat Racing
•You may visit the famous Lullu Mall and gift each other something absolutely unique
If you are looking for a supreme and surreal romantic extravaganza, Ladakh is the right place to celebrate your anniversary.
Romantic things to do in Ladakh:
•Some of the famous places to visit in Ladakh include Nubra valley, Pangong Lake, Zanskar valley, Magnetic hill and Khardung La pass. These are few of the perfect spots to spend quality time with your partner. Imagine getting lost in the beauty of these snow-filled valleys as you sip your hot cup of tea!
•Soak in romance with the peace of Tso Moriri Lake
•You must definitely try mountain biking with partner. Also, a divinely romantic experience of dining under the starry sky during camping is not something that you would want to miss!
Udaipur is a famous tourist destination and is dubbed as the most romantic spot on the continent of India by British administrator James Tod. This place is known for its history, rich culture, scenic locations and the Rajput-era palaces. It is also popularly known as the "City of Lakes" as there are seven lakes surrounding the city.
Romantic things to do in Udaipur:
•Sit by the lake (Five of the major lakes surrounding the city are Fateh Sagar Lake, Lake Pichola, Swaroop Sagar Lake, Rangsagar and Doodh Talai Lake)
•Visit City palace (it's absolutely beautiful)
•Visit Sunset terrace to witness the stunning sunset
⭐ P.S : To read about my personal experience of visiting Udaipur, you can check this article. ⭐
Dalhousie with its surreal beauty during the onset of monsoon makes it an ideal destination for couples to celebrate their special day.
Romantic things to do in Dalhousie:
•You can go on long romantic walks in Khajjiar. You will get to do fun activities like paragliding, zorbing, and horse-riding
•You can trek up to Dainkund Peak
•Spend cozy time near Panchpula falls that gushes out in full vigour during monsoon
•Walk the thrilling trail in Kalatop Wild Reserve
If you love monsoons and want to embrace the magic of rain, Coorg is the right place for you to visit this month. The soothing smell of the hills will fill your heart with love.
Romantic things to do in Coorg:
•Romantic walks through coffee estates
•Enjoy the rains during this season and enjoy some stunning views
Andaman is one of the most sought after tourist destinations in India. Nothing can disappoint you about this place. Be it the beaches, museums, nature parks and sanctuaries, famous prisons, chic seafood restaurants or the charming resorts- you'll never run out of places.