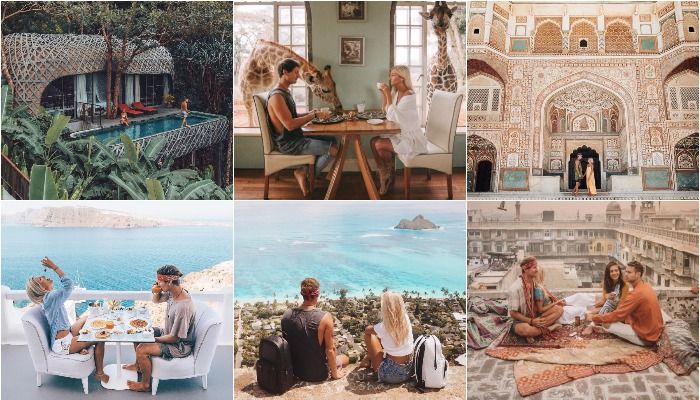 Addicted to Instagram? Are you always planning your next getaway? Let these best of the best travel Instagrammers introduce you to the new World of Wanderlust. The photographs of these people just inject the travel poison into your nerves and take you with them once you start to follow. These are the best travel instagrammers those influenced the Travel World in 2018.
#1. Murad Osmann
Instagram name: muradosmann
Followers: 4.2 million.
Murad Yusupovich Osmanov aka Murad Osmann, is a Russian photographer, who became famous by his 'follow me' series on Instagram made with his wife Natalia Zakharova, went viral in 2012, and since both have been named as top travel influencers. Started his campaign followed by his girl friend's impatience, whenever he stopped for taking photos and now he is the mostly followed travel inspirer on Instagram. A book named 'A Journey (a life)Around the World Through the Eyes of Two Ordinary Travelers' by Murad Osmann and Nataly Zakharova has also been published.
#2. Chris Burkard
Instagram name: chrisburkard
Followers: 3.3 million.
With lots and lots of rewards and recognitions, this American photographer and artist based in California central coast region is well known for human portraits. He uses natural light to capture humanizing moments. He is a pro in taking photographs of landscape, lifestyle, surf, outdoor and travel subjects. He has captured landscapes in a lot of cold places like Iceland, Norway, the Faroe Islands, India, Cuba, New Zealand, Russia, Switzerland, and Italy.
#3. Jack Morris
Instagram name: doyoutravel
Followers: 2.8 million.
Jack Morris is another travel influencer who is from Manchester, left school at 17 and worked for several years as a carpet cleaner before buying a one-way ticket to Bangkok in his early twenties. He started earning money by creating Instagram accounts aimed at niche audiences, building up followings, and then generating advertising revenue. He went on to sell the accounts, which had several hundred thousand followers, and used that money to continue his travels and launch his Do You Travel brand. He travels to exotic destinations around the World with his girl friend Lauren Bullen who is next in this list.
#4. Lauren Burren
Instagram name: gypsea_lust
Followers: 2 million.
Well, she comes with a page named as Gypsea Lust. The couple Jack and Lauren are travelling together for last three years and are inseparable and have more than 4 million followers combined. Bullen, who hails from Australia's Gold Coast, started her Instagram account while working part-time as a dental assistant. As her following grew to the tens of thousands, she quit her job and began travelling full time.
#5. Alex Strohl
Instagram name: alexstrohl
Followers: 2 million.
This French photographer and author based in montana was ranked 12th position in the "TOP100 photographers on the web" list in 2018 by XXLPIX. He is associated with publications and magazines like Forbes and buzz feed and also with brands like Canon and Land Rover. He is very well known for his landscape and outdoor photography.
#6. Max Rive
Instagram name: maxrivephotography
Followers: 1.5 million.
European Alps being his training backyard for photography, photographs of mountains taken by him are mind blowing. The travels he made during his study made him realize that his current path and direction were only motivated by the expectations of his surroundings. After witnessing the major earthquake (Nepal) in April 2015, he continued traveling around the world to Chile, Argentina, Greenland, Sweden, Scotland, Norway and New Zealand. He has also won the IPA awards, one of the biggest awards in today's Landscape Photography.
#7. Michael Yamashita
Instagram name: yamashitaphoto
Followers: 1.5 million.
This 70 year old American photographer has 1,500,413 Instagram followers. Working for National Geographic he has traveled to places as diverse as Somalia, Sudan, England, Ireland, and Papua New Guinea. For the past ten years he has specialized in Asia, including China and Tibet. A story on legendary Ming Dynasty admiral and explorer Zheng He first appeared in the July 2005 issue of National Geographic and was released as a documentary feature film in 2006. The film, The Ghost Fleet, won Best Historical Documentary at the 2006 New York International Film Festival. A book, Zheng He, was published in 2006.
#8. Lis Ezwein
Instagram name: newyorkcity
Followers: 1.4 million.
If there is a travel influencer who has come out an entrepreneur, then that should be her. Eswein's own account, @newyorkcity, that was the most successful and the one that helped her become an Instagram entrepreneur. As the name implies, the account was dedicated to documenting New York City and its seemingly endless number of picturesque settings, skyscapes and characters. Now tens of brands pay her for posting photos on Instagram. Her perfectionism attracted high-profiled brands such as Armani Exchange, Puma and Samsung, generating more than $1 million in revenue in just over a year and half.
#9. Theron Humphrey
Instagram name: thiswildidea
Followers: 1.3 million.
With an instagram page named as thiswildidea always accompanies his coonhound with him. Maddie is a sweet-tempered coonhound who accompanied her owner, Theron, on a yearlong, cross-country trip while he worked on a photojournalism project. In his spare time, Theron took photos of Maddie who is fond of standing on things. From bicycles to giant watermelons to horses to people, there really isn't anything that Maddie won't stand on with grace and patience. The poignant Instagram photos of this beautiful dog and her offbeat poses have captured the imagination of all those who long for a road trip with a good dog for company. If you are someone who is looking forward to take your Dog on travel, then this is the must page you should follow.
#10. Christoher Collin :
Instagram name: 'Wisslaren'
Followers: 1.3 million.
This Swedish photographer is an absolute nature lover. He is the working class guy with an eye for photography that few can match. "In Sweden it is possible to walk around freely in nature and discover nature in a more intimate way. And to be by yourself, alone. That is one important aspect, I believe", Collin says. His Instagram account is rich with dreamy photos of Swedish nature, the water around the Swedish coasts and in the Swedish lakes and the endless forests. The comments on his account would make anyone feel a bit proud of him.
What are you waiting for? Follow these impeccable guys on your social media and wake up for exotic feeds and stories those will urge you to travel as frequent and as far as you can.
Do you own an awesome Instagram account that can inspire travelers. Then share your photo blog here with us on Tripoto.
Happy Travelling!!!