This was one of the highlights of our Vietnam Trip. The whole village is UNESCO Heritage Site and exceptionally well preserve and a beautiful town.
Our luxurious stay was at Anantara Hoi An located right on the banks of Thu Bon River, little away from the magnificent town of Hoi An
There are numerous things to do in Hoi An right from chilling at the An Bang Beach or sitting on the banks of river or visiting the beautifully preserved Ancient Houses.We had distributed our travel days with one local guide for a day of Hoi An and surroundings and other day with Jack Tran's Eco Adventures.
Places to Visit in Hoi An
Hoi An Entrance Fees - The entry tickets are 1,20,000 VND (Roughly 6 USD) for foreigners , which allows you to visit any of the 5 attractions.
Hoi An old Town
The town itself represents the rich history of Vietnam. With over 800 ancient sites it's a UNESCO world heritage site and carefully preserved. The illuminated town on the days of Full Moon is a terrific site at night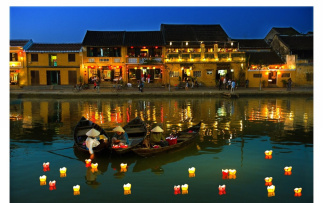 Image Source :Japanese Covered Bridge
This bridge was covered in late 1500s to link the Chinese Quarters with Japanese. Rock Solid construction it is with some amazing carvings.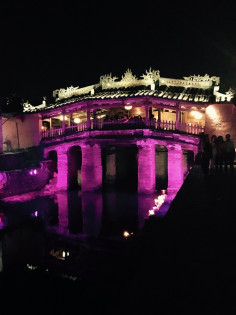 Old Town at Full Moon
On the full moon all the lights are kept off and only lanterns are lighting. Its not fully followed by the people but still its fun in hiring a boat and floating lanterns . There will be numerous people selling at high prices so make sure to bargain with them.
Old Houses of Hoi An Tan Ky House
Almost 200 years old has been preserved wonderfully. You can find the mixture of Japanese and Chinese architecture.The walls are painted with chinese characters ( poems mostly ) and the courtyard again gives a powerful sunrays. The backside is directly touched to the river.There are other historic houses like Quan Thang, Duc An, Phung Hung, Tran Family's Chapel, Nguyen Tuong Family's Chapel.
Kim Bong Village
Little away from Hoi An is a small town of Kim Bong. Immediately after coming out of the Small Boat we visited the Boat Building Workshop , How to make Rice Noodles , How to weave Sleeping Mat , Huynh family temple and a Handycraft Shop . It's a 10 min boat ride from the Central Market. We had our bicycles put in the boat and afterwards we visited the small town on our little bicycles. Make sure to make yourself hydrated .
An Bang Beach
Little taxi ride away from the town is An Bang Beach. Long stretch of beach with few basic cafes. Its pretty famous in the locals and lovely views from the cafes. You can easily spend 2-3 hours with you drinks. Make sure the book your cab in advance as at night there'll be less taxis available in this area and you need to call the taxi company.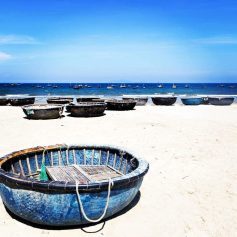 Fujian Chinese Assembly Hall
Initially a conventional get together lobby, this structure was later changed into a sanctuary for the love of Thien Hau, a divinity from Fujian area. The green-tiled triple entryway dates from 1975. The painting on the right-hand divider portrays Thien Hau, her path lit by lamp light as she crosses a stormy ocean to protect a foundering ship. Inverse is a painting of the leaders of the six Fujian families who fled from China to Hoi An in the seventeenth century. You will locate some exquisite ranch around the lobby.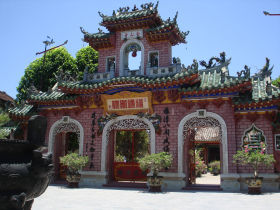 Hoi An Roastery
It's a starbucks of Hoi An. Excellent Coffee and Ambience. You should never miss this.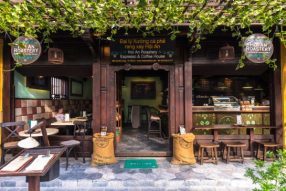 Jack Tran's Eco Adventures
This is another must do while in Hoi An. Very professional and Superb country side tours from these guys. Click here for our full Jack Tran's Eco Adventure Tours - Hoi AN
Image Source : Jack Tran's official website
Frequent Searches Leading To This Page:-
vietnam tour package from ahmedabad, top vietnam tour packages with price, top vietnam tour packages with holidays, cheapest vietnam tour package, vietnam tour package in indian currency, vietnam tour packages itinerary, holiday package for vietnam