It's been two weeks since I came back from Vietnam, but I often dream about walking the quaint streets of Hoi An, Vietnam again. The place had such a lasting effect on me that the husband and I talk again and again of going back; this time maybe forever.
Those who say you can't have everything have definitely never been to Hoi An. This town in central Vietnam is so remarkably beautiful that it seems almost unreal. And it has a lot on offer – everything from a lovely river passing through the heart of the the town, the most incredible food palette, clean, pristine beaches nearby and a shopping experience that is almost guilt-less.
Let me tell you more about why Hoi An, Vietnam is the most magical place on earth.
Silk lanterns hang everywhere and dazzle you with their charm
A Chinese and Japanese legacy from the 15th century, silk lanterns of myriad colours and patterns hang everywhere in Hoi An. Locals believe they are a sign of good luck and happiness. You'll see them in front of restaurant doors, dangling from trees, tied to long poles on small boats in the river and hanging in zig-zag lines across the length of streets. They make for the most perfect pictures during the day, and at night when they light up they turn the town into a dazzling dream.
The Ancient Town is hauntingly beautiful and full of treasures to explore
Hoi An's Old Town is a UNESCO heritage site since 1999 and it has been preserved to retain its look from centuries ago. It almost looks like a museum that houses historic Japanese and Chinese buildings which open into small shops selling everything from clothes, lamps, chopsticks, bags, shoes, books and many other collector's items. Dividing the Ancient Town into two is a canal on which you can take a romantic boat ride or just stroll alongside to feel the wind in your hair. If you are not shopping, go visit the ancient temples and the iconic Japanese bridge with its pagoda. And if nothing else, grab a cold beer and spend time walking around or sitting at a street-side cafe.
Get a perfect suit or dress custom-tailored within 24 hours
Hoi An is called 'the tailoring capital of the world'. Why? Because there are around 400 shops here that can stitch you that perfect suit, summer dress, shirt, couture gown, winter coat and practically anything, fit to your measurement. All within 24 hours, which is the maximum time they take. Many international clothing brands get their clothes made from here, so the quality is pretty good. Most shops have been running for generations and the tailors are masters of their craft. There are also shops that make high heels, boots, leather shoes and other fancy footwear.
Food in Hoi An is delicious, flavourful and unique
All that you eat in Hoi An is sourced locally within the city. The rice flour is milled using paddy from fields nearby, the noodles are made from the alkaline water taken from local wells and the seafood is scooped from the river here. You'll have exceptional food everywhere you go in Vietnam, but the flavours here are super special. There's cao lầu, a noodle-dish cooked in water from a local well and topped with pork, rice crackers, fresh herbs, greens and pork rind, white rose dumplings, a beautiful flower-shaped rice paper dumpling filled with a spoonful of meat, and of course everyone's favourite bánh mì – the best of which can be found at two eateries celebrated throughout the country.
Clean white-sand beaches are just 15-minutes away
We stayed near An Bang Beach, at the enchanting Under the Coconut Tree hostel, and took day trips to Hoi An, which was 15-minutes away by bike. This meant we could jump off our beds and be at the beach in under five minutes. The morning sun shining on the emerald blue water made for the perfect start to the day and splashing around and fighting the waves, convenient exercise. Later, my friends and I would sunbathe on the lounging chairs like several others on the beach – a majority of who were tourists – with a beer in hand and the distant Cham Islands for company.
You can learn how to cook your Vietnamese favourites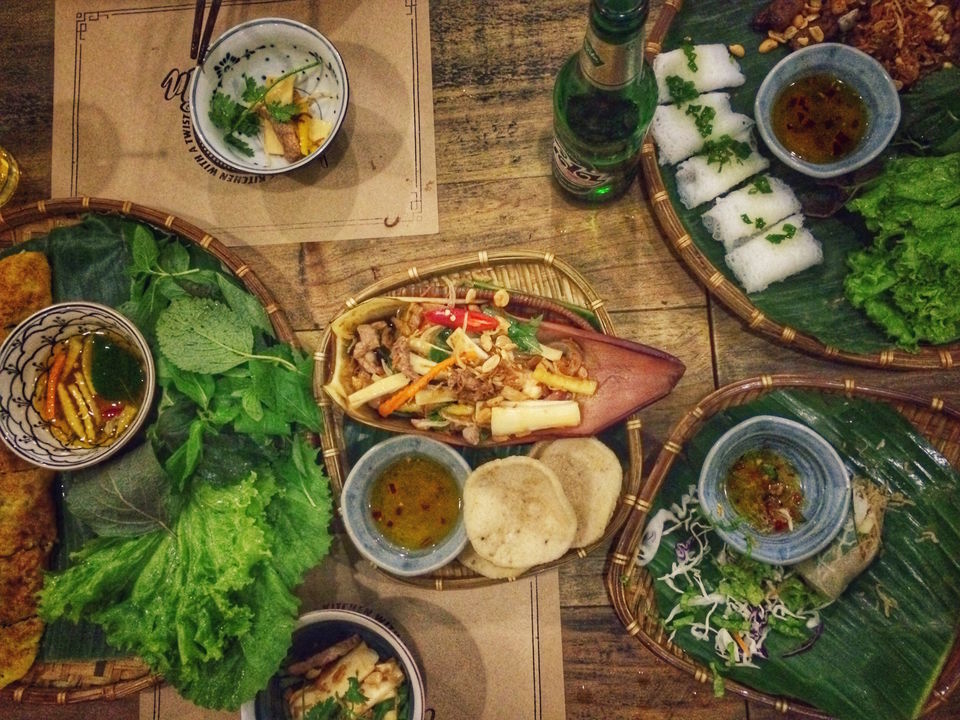 After travelling through the country for almost 15 days, I can safely declare that Vietnamese cuisine is one of the best in the world. If you become a fan, like I did, then a cooking class here might interest you to delve into the flavours and recreate the dishes back home. Many restaurants in Hoi An host cooking classes, where you usually start with picking up ingredients from the local market and go on to create summer rolls and other delights under the guidance of an English-speaking guide. I didn't have time to do one, but a highly-recommended school we heard about is the Thuan Tinh Island Cooking School.
It's the place to people watch while sampling craft beer
Vietnam is in the midst of a craft beer boom. While Saigon is the hub for new and upcoming breweries, many varieties of its craft beer can be found in Hoi An as well. One such place is Tap House, where you can order flights of beers from the top three breweries in Saigon and sit back as you taste them and discuss possible flavours and characteristics with you friends. If you are here in the evening, sit outside to watch people walk by and get lost in the vibe of Hoi An.
I fell in love with Hoi An, Vietnam and I can say with some confidence that if you pay it a visit, you will too. If you have any questions about visiting Hoi An, visit the community forum to ask questions and get helpful answers.
Frequent Searches Leading To This Page:-
hoi an vietnam things to do, top hoi an vietnam things to do, hoi an vietnam beach resort, hoi an vietnam victoria beach resort, hoi an vietnam beach hotel