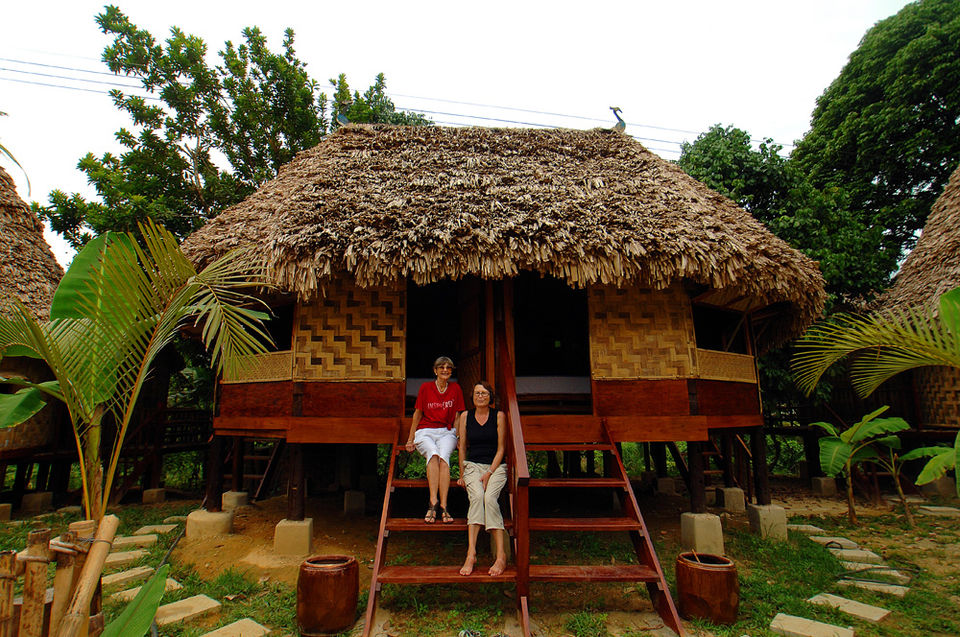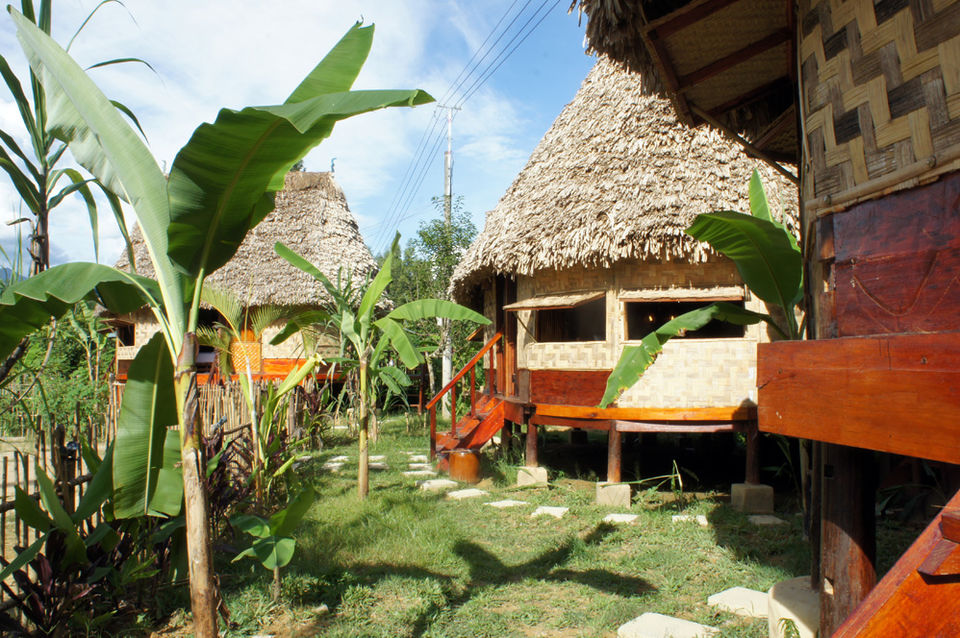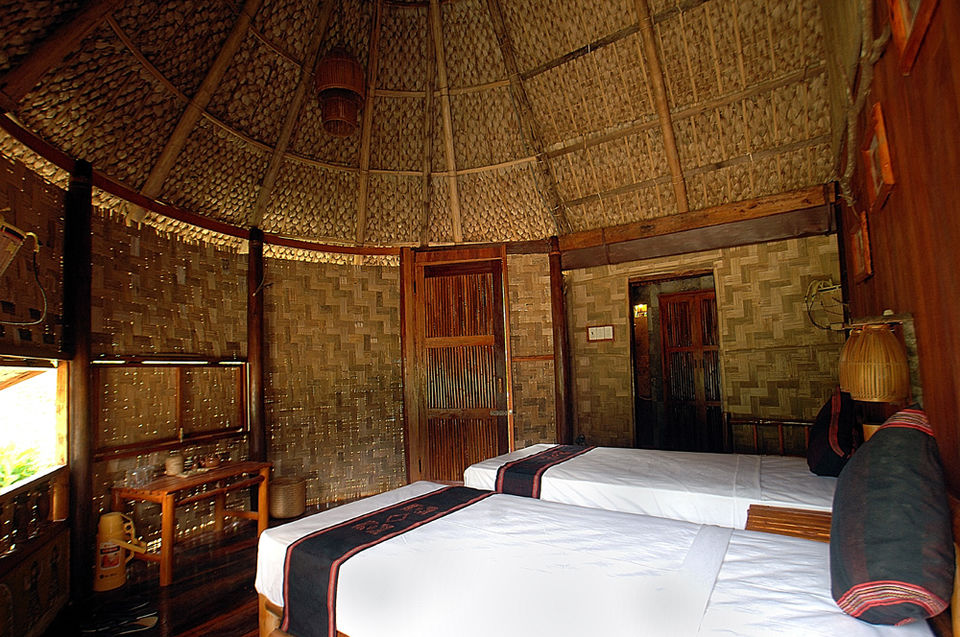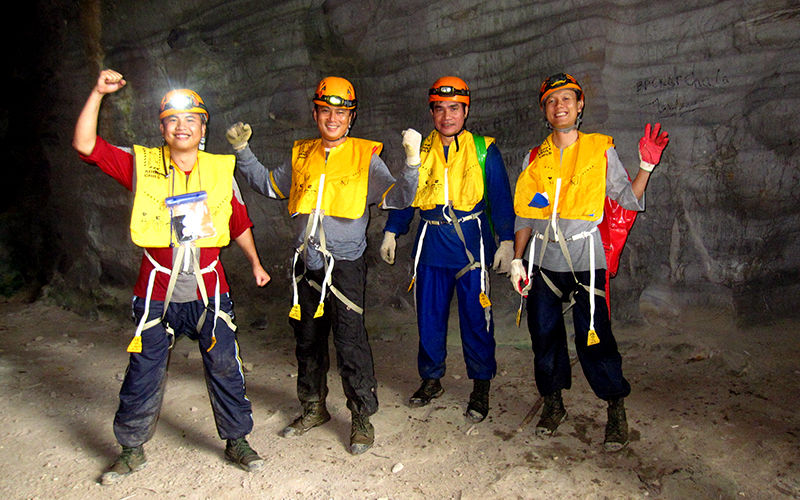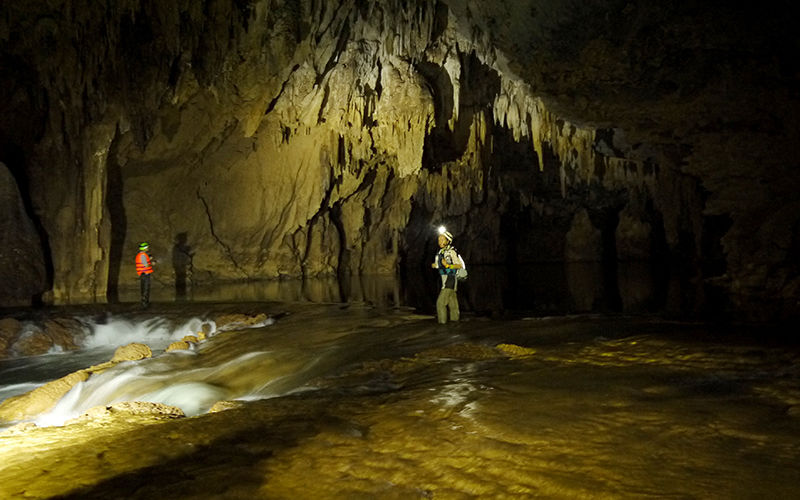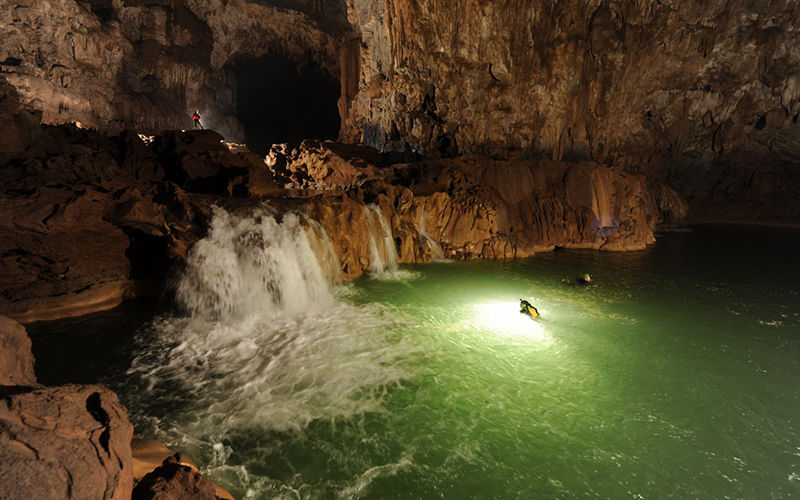 DAY 1: Hanoi ARRIVAL - FOOD ON FOOT TOUR (--/--/D)
Welcome pick up at the airport then escort to hotel for check in with free time. Late afternoon our guide will meet you up at your hotel to start Food tour, you are walking in Hanoi Old Quarter to sample feature, authentic food and drink within 3 hours or longer
DAY 2: HANOI CITY TOUR (B/L/--)
A city tour of Hanoi starts with a visit to Ho Chi Minh Mausoleum (from outside), His House on-stilts, One-Pillar Pagoda and the Temple of Literature - built in October 1073 to worship Confucius and considered to be the first university in Vietnam.
After lunch time, we will then drive to Hoan Kiem Lake where you will see Ngoc Son Temple which worships Van Xuong saint and Tran Hung Dao, a former general commander. Later in the afternoon, you will get a chance to enjoy a 1-hour cyclo ride around the 36 streets in the Old Quarter of Hanoi. Overnight in Hanoi.
DAY 3: HA NOI - CUC PHUONG NATIONAL PARK (B/L/D)
Have breakfast then drive for 3 hours to Cuc Phuong national park in Ninh Binh province. Visit the Primate Rescue Center. Check in the Guest house in the park. Have lunch.
After lunch, we drive 20km inside the park to Bong Station then do trekking 6km through the rain forest to visit the Giant Thousand Year Old Tree. Back to the brick house. Free time at night.

DAY 4: CUC PHUONG – BAI DINH – Trang AN (B/L/--)
After breakfast at the guest house, drive an hour to Bai Dinh pagoda & Trang An ecosystem. We spend time to visit Trang An tourist attraction nearby, take boat trip to visit cave complex: Sang Cave, Toi Cave, Ba Giot Cave, Nau Ruou in mystery and wildness, see scenery of mountain and rivers Halong on land of Ninh Binh.
Have lunch at local restaurant with some local special dishes such as Goat meat with elderberry, pork storage vessel
Continue to visit the Buddha Prayer place in Bai Dinh Pagoda, the biggest pagoda in Vietnam with 500 La Han statues, biggest bronze Buddha statue in Vietnam with 10 meters height, 100 tons weight. Relax and overnight in Hotel
DAY 5: NINH BINH - HALONG BAY- OVERNIGHT ON THE CRUISE (B/L/D)
After breakfast at the hotel, drive 170km to Halong city. The drive is long and roads are bumpy at times, but it is still a memorable experience. A part of the pleasure of traveling in this region is the simple joy of seeing the spectacular rural landscape the smiling faces of the people. Check in you cabin on the cruise and enjoy the stunning of Ha Long bay and other activities. The lunch & dinner will be served on cruise. Overnight on Junk boat.
DAY 6: HALONG BAY – HANOI – OVERNIGHT TRAIN TO DONG HOI (B/BRUNCH/--)
Continue sailing around Ha Long bay, visiting Amazing cave, Floating village. The breakfast & lunch is served then back to the pier at around 11.00-11.30. Driving the same road back Hanoi rail-way station to catch night train to Dong Hoi. Overnight on train
DAY 7: DONG HOI - PHONG NHA – LEISURE DISCOVER (B/L/--)
On your arrival at Dong Hoi railway station, you will be welcomed by our guide and driver who will bring you to restaurant for breakfast. Then transfer to Phong Nha home stay for checking in. you are free to walk around the village, chat with local people to learn about the local fife here. Or simply relaxing to welcome the day of Cave discovering adventure tomorrow.
DAY 8: TU LAN CAVE (B/L/D)
You'll be picked up at your hotel in Phong Nha between 8:00 am and 8:30 am with your tour guide in tow, where it's then off to travel back in time to the tiny village of Tan Hoa. A thorough safety briefing starts the tour, and then it's a 2.5 km stroll across öelds of peanuts, corn, and muddy water buffaloes.
A rocky climb leads up to the örst cave, Hang Chuot (Rat Cave), and after light exploration (300 m) there is a picnic lunch, followed by some steep climbing (60 m) and then a relaxing break at a scenic outlook on the jungle path. After a trek across the valley floor, Hung Ton Dry Cave is the next adventure on the list, followed by a full afternoon relaxing and swimming at the To Mo campsite waterfall. Enjoy dinner together, stories around the campfire, and a good night's sleep in hammocks strung up beside the beautiful waterfall.
DAY 9: TU LAN CAVE – PHONG NHA (B/L/--)
After gaining energy from a big breakfast, a 450 m swim inside Kim Cave awaits, complete with small waterfalls inside. Return to camp for more swimming in the lagoon or a rest, while lunch is prepared. After lunch, it's time to gear up for the last swim through Hung Ton Wet Cave (200 m), and then a hike into Hung Ton Valley. Follow the river through the valley (500 m) and climb the mountain to Secret Cave (50 m). Squeeze through the entrance to explore what lies ahead in this mysterious cave (100 m). The adventure winds down with the climb down from Secret Cave, and the walk back (2.5 km) to cross the Rao Nan river and buffalo fields buffalo fields to reach the Tan Hoa headquarters.
Arrival in Tan Hoa is followed by a chance to take in the scenery and relax with a cold drink in hand.
Showers are available for those who would like to clean up and change, and then departure back to Phong Nha is at around 4 pm, with arrival in Phong Nha by 5:30 pm.
DAY 10: PHONG NHA – VINH MOC – HUE – FOOD TOUR AT NIGHT BY CYCLO (B/L/D)
After breakfast, Leave Phong Nha cave for Hue. On the way stop to visit Vinh Moc Tunnels and Ben Hai river , where was the boundary between North Vietnam and South Vietnam. And finally we will head further south to Hue City where you will spend the night.
Lunch will be serviced at local restaurant in Hue, check in your hotel and spend your rest day at hotel.
Late afternoon, you will have chance to enjoy the Hue local foods by take and food tour with your guide on Cyclo. Overnight in Hue
DAY 11: HUE BIKING TOUR (B/L/--)
After breakfast, get started biking to the villages, on the green shaded roads, passing by the communal houses along the rivers, canals and thru' the rice fields to head Thanh Toan bridge, Agricultural museum, walk around the village to see local market. Keep moving by biking to Khai Dinh Tomb - that may be symptomatic of the decline of Vietnamese culture during the colonial era. Unlike Hue's other tombs, the grandiose concrete structure, built between 1920 and 1931, is a synthesis of Vietnamese and European elements. Even the stone faces of the mandarin honor guards are endowed with a mixture of both features
After lunch, cycle to The Citadel Complex of Hue, set up by Nguyen Dynasty from 1805 to 1945, is now one among the relics of the Hue ancient Capital – the World Cultural Heritage.
The next stop is Thien Mu Pagoda Built in 1601 between a river and a pine forest is one of the oldest and prettiest pagodas in the country. Take a nice dragon boat trip on Perfume River. Biking back to Hotel. Overnight in Hue.
DAY 12: HUE – TAM GIANG LAGOON ADVENTURE (B/L/--)
Our morning starts with bright smiles of our enthusiastic motorbike team and tour guide who will take you to
+ "Thanh Toan's tiled-roof", one of oldest bridge in Vietnam with similar architecture with Japanese covered bridge in Hoi An.
+ An Bang ghost city where thousands of enormous colorful tombs are located. You will experience how important worship plays its role in Vietnamese lives.
+ Mr. Nghiem's house, a friendly local family where you also enjoy seasonal fruits prepared by them
+ Tuy Van Mountain where sacred Thanh Duyen pagoda is located. The cruise will go into the inner of Tam Giang with spectacular views of ranges of mountains surrounding blue water.
+ "Mam ro factory" owned by an old lady and she passed down onto her children to preserve the traditional occupation.

Our stop for lunch and swimming will be at Vinh Hien beach with clean water and wild views. Fresh seafood will also be served for your cuisine's experience in Central of Vietnam. Then our motorbike team with take you to the car for transferring to Hoi An. After checking hotel, free at leisure or discover the ancient town sparkled by lanterns at night. Spend the night in Hoi An.
DAY 13: HOI AN - TRA QUE VILLAGE (B/L/--)
After breakfast, You will cycle to a local farm in Tra Que village. A short stroll will take you around the vegetable garden and then you can join in with the farmers in preparing the land and fertilizing it with seaweed from the local lake. The experience includes raking the ground, sowing, watering, and picking the vegetables as well many other gardening activities.
After this, you will take a short rest and enjoy a footbath before helping to prepare lunch with a local family. The lunch will consist of many local delicacies including 'Tam huu' spring roll, Banh Xeo or local pancake of the people in the middle region of Vietnam.
After your morning excursion and your lunch, you will take a Vietnamese traditional post-lunch nap before learning how to harvest and wrap vegetables.
Around 14:00 bid farewell to your host family before riding back to Hoi An. Take a walking tour to visit Hoi An's Museum, many of the town's renowned Ancient Houses which boast remarkable architecture, Assembly Halls of Chinese influence, a handicraft workshop and of course the Japanese Covered Bridge and back to your hotel.
DAY 14: HOI AN – BHO HOONG (B/L/D)
Leave Hoi An, Our next stop is Bho Hoong, a traditional Co Tu village where we will stay for the night. Little has changed in the past hundred years in Bho Hoong and it is the perfect place to relax and enjoy the natural beauty of Central Vietnam.
A light village walk, guided by a local resident, allows us to explore the village and unlock its cultural secrets. After our walk, we are free to enjoy a refreshing dip in the river.
DAY 15: BHO HOONG (B/L/D)
In the morning, wake up to the sounds of the village coming to life. Enjoy breakfast and a hot cup of coffee as you watch the morning activities of the Co Tu, heading to the fields and preparing the days meals. Today is yours to enjoy, immerse among the culture and life. After breakfast, you can take a full day trek to mountain waterfalls and explore parts of Ho Chi Minh Trail system by foot. If that is not for you, a mountain bike ride through the country side and villages could be more to your liking. If heading out of the road is more your style, we will set off to another ethnic minority town, visiting small villages along the way exploring and enjoying local food, learning about the differences of each village and culture from one village to the next. Or you can simply spend the day in the village relaxing in the river!
DAY 16: BHO HOONG DEPARTURE (B/--/--)
After having breakfast, you are free at leisure till check-out (the check-out time is at noon). Take the transfer to Da Nang Airport for the departure flight. End of service.