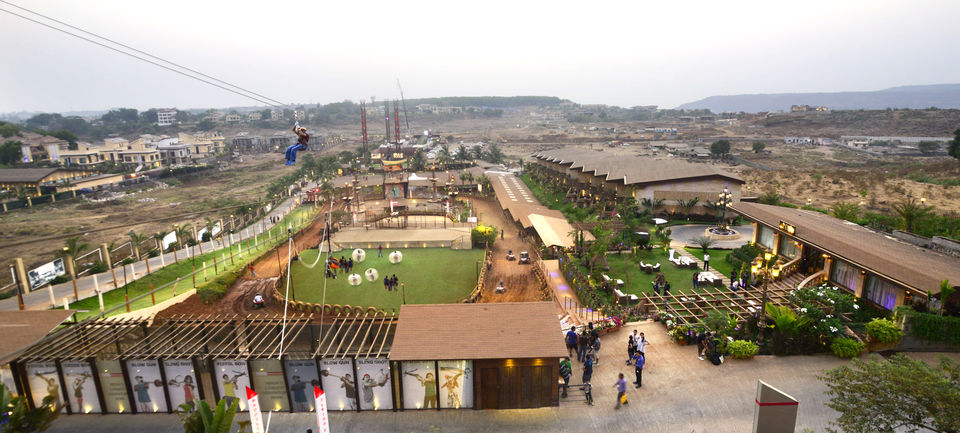 Anyone who lives and breathes Mumbai knows that the city can be exhausting. And so, after a tiring week in office or a grueling academic schedule in college, everyone can do with a quick escape plan! Ditch the beaches and museums this weekend and take a short road trip to a one-of-a-kind resort which is also a hub of adrenaline-pumping experiences.
Just a couple of hours' drive from the city of Mumbai, Della Adventure Park in Kunegaon, Lonavala, is an adventure junkie's paradise.
What all does it offer?
Della Adventure Park offers over 50 adventure activities and I found myself spoiled for choice. Whether you are an enthusiast who's looking for a bit of fun or a hardcore thrill seeker, there is something for everyone. Here are few of the most popular activities available at the park:

1.) Paintball:
A Play Station cannot ape the thrill of a real life battle ground. Duck, shoot and attack your opponents in a paintball battle with a paint gun. Take on your opponents solo or alongside your teammates, strategise, and 'fight' your way to capture the victory flag.
Thrill factor: 10/10
2.) Longest Flying Fox:
At 1,250 feet, it's the longest Flying Fox in India. Take in the bird's eye views of the resort and the surrounding landscape while enjoying this hair-raising experience.
Thrill factor: 10/10
3.) Swoop Swing:
Experience a thrilling 100 feet free fall at around 100 kmph before getting pulled back by elastic harnesses just a metre or two above the ground at India's only swoop swing. And guess what, you are secured by body harnesses instead of a usual rigid structure while you take the plunge.
Thrill factor: 10/10
4.) ATV ride:

Are you bored of following traffic lights when behind the wheel? Well, get ready for an adventurous quad biking experience with an ATV ride along India's first permanent dirt track, here at Della Adventure Park.
Thrill factor: 10/10
5.) Sky Cycling:
If you think cycling is child's play, here's a level up. How about riding a bicycle on a rope 30 feet above the ground? Enjoy panoramic views of the scenery while you pedal your way along 328 feet rope track.
Thrill factor: 8/10
What else?
For the less-adventurous people, there is enough entertainment to last a lifetime. Fancy restaurants, relaxing spa sessions, amphitheaters, nightclubs —you name it. Cafe 24 is known for its round-the-clock services. PNF Restaurant & Bar specialises not only in Indian food but also Oriental cuisines. If you are strictly vegetarian, you just shouldn't miss visiting Creme Della. I am a sports freak who loves clubbing, and Sports Bar proved the best of both worlds for me.
Besides, the adventure park resides within the luxury 5-star Della Resorts, which also has 164 rooms to chose from.
Customised exclusively for corporate team building, the amphitheater, the 5-star buffet options, and the outdoor activities at Della Resorts make it a perfect choice for those routine office outings. A weekend at this adventure park with your friends and family, too, promises to be a memorable experience. All you have to do is book your adventure pass and experience it yourself.
Know this before you visit:
Della Adventure Park is conceptualized by Mr. Jimmy Mistry, the Chairman & Managing Director of Della Group. Here are the additional details:
Timings: Monday - Sunday, 11 am to 9 pm (Booking counter closes at 8 pm)
Jumbo Pass: Rs 4999 + GST per individual (Jumbo Pass details here)
Day Pass: Rs 1750 + GST per individual (Day Pass details here)
Kids and senior citizens- Rs 1250 + GST per individual
Park address: Kunegaon, Lonavala, Maharashtra 410401, India
Phone number: 1800 3000 7440
Email: customerservice@dellaadventure.com
FAQs: https://www.dellaadventure.com/faqs
And don't forget to check out the website of Della , or follow them on Facebook and Instagram for regular updates and offers.

In association with Della Adventure Park, Lonavala.