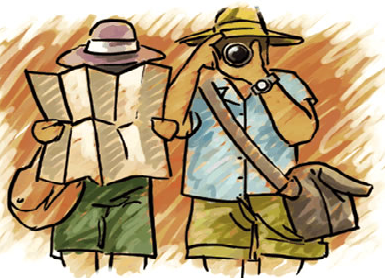 You can step out of that airport with a lot of things, but what matters the most is not your backpack but the attitude you carry. Stepping up and travelling to new places is one of the most exciting and powerful things you can do, but chances are that you can mess it all up. Granting every time you visit a place, you are technically a tourist, but that term has gained a negative undertone of selfishness and materialism. You can choose to be a tourist on the first day of your vacation and a traveler on the second.
Instead of immersing into the place and absorbing the vibe of the city, a tourist is crouched in his comfort zone. And don't get me wrong, it's perfectly okay to be one. If you're most contented around other 'visitors' and want to document every prospect of the place with your camera, go ahead, but you may find that a bit of an effort while you try your best to blend in. Keep those smartphones deep down in your purse and find a google map as you seek help from those pedestrians. Leave you 'purified mineral water' bottles and white sneakers in your hotel and let yourself camouflage. Forget your guide books and befriend some locals or even get tips from your bell boy, and find that one place which changes all you expected from that city. Walk that area by foot, or find some random public transport and do your best to avoid those tour buses. Well, it's no harm getting lost in a place, you never knew was there.  
Such deliberations evoke convulsions at dinner parties, where no one admits to being a tourist. They are all travelers. As New York Times bestselling author Pat Conroy wrote, "Once you have traveled, the voyage never ends, but is played out over and over again in the quietest chambers. The mind can never break off from the journey."