Capitals are always exciting, as of course, they're the capital of the country, but it's not that just that what makes us book a hotel in Madrid, is it? No, what will attract us and many more people to the city are many different reasons, all of them different for each person. There are lots of tourist attractions in Madrid, to start with the big ones you will have to go to the Palace in the center of the town, just off Puerta del Sopl , well, just a couple of minutes or so.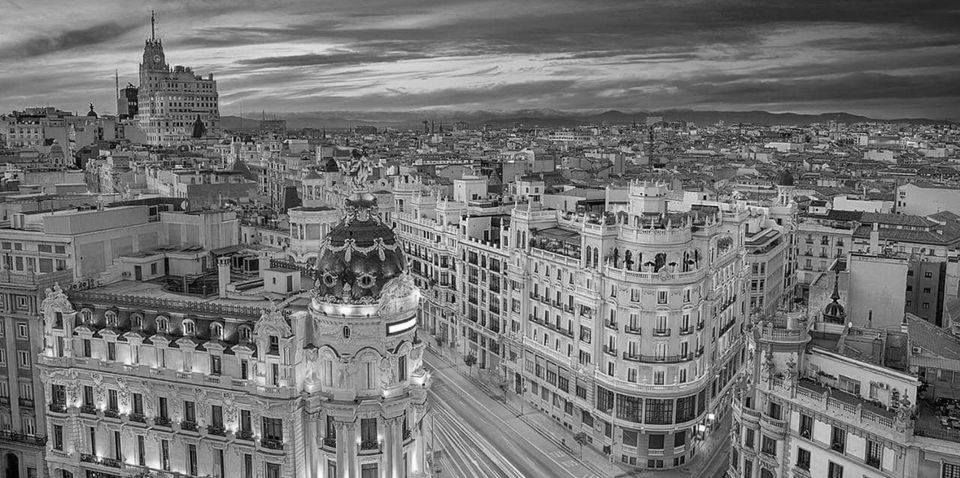 People in the city are stressed as in every big city, but not as stressed that tye´re not nice, they are nice and they will be delighted to help you with directions or suggestions of places to go. If you, like me, enjoy the city by visiting the small areas, the little streets hiding behind the big avenues, then Madrid is also full of those. My favorite network of little streets is the area behind Gran Via. The small streets are all full of life and small bars where you can enjoy a coffee, a beer or small tapas or racines.
Raciones is one of the things that you really need to have clear before you come. Most people abroad have heard of tapas, but what most people don't realize is that really, tapas in Madrid is just some small dish that you get with your drink and that the real deal are raciones. Bars have menus full of raciones, big platters to share… yummy. Good tapas bars are to be found around Plaza Mayor and Sol, but really all over the place.
Madrid, a gate to the sky
Madrid is not just the capital of Spain, it is a city full of mystery and legend with an exciting night-life. It is strategically situated in the center of Spain, surrounded by the villages and towns of Castile, set against the dramatic dry lands that were the stage of so many battles and historical events, and where nowadays the wine-loving traveler can find so many vineyards producing the renowned Madrid and Castilian wines.
Many of the nearby towns and villages can be accessed quickly and comfortably on one of the modern trains that leave from Atocha Renfe Station in the center. In this turn of the century station past and future merge in the spectacular indoor tropical garden that has taken hold of the old station, a tribute to nineteenth century cast-iron architecture. Inside this formidable structure travelers can sit down to enjoy a café con leche (white coffee) while waiting for their train, or simply take a stroll among the tropical vegetation and say hello to the myriads of turtles that live now there.
However, there is plenty to do in Madrid. Two minutes from Atocha, those interested in art can visit Museo Reina Sofía, , where they will enjoy the latest modern art exhibitions or maybe even catch a glimpse of one of those many spirits that haunt the building of what used to be a lunatic asylum. For those who are more interested in classical art el Museo del Prado is only a few minutes walk up the Paseo del Prado.
At night the town center offers a great variety of choice, restaurants, theatres, cinemas, bars, nightclubs, cafés where you can sit until late. La Gran Vía is one of the main arteries that link the center to the north of the city. It is also a great place to be for evening entertainment. This avenue hosts many of the main theatres and cinemas of the capital, including many cinemas that show movies in the original version. There are also many modern and comfortable hotels in the area that cater for the national and international traveler. What better way to end a long sightseeing day that watching a nice show, and then walk up to your hotel two minutes from your theater in Madrid?
Madrid eating through your holiday
Come on! Eating is one of the reasons people travel, enjoying new dishes, new flavors, the opportunity of socializing in front of a plate with a good wine or beer. We've all been there.
In Madrid, Atocha is a really good area and with nice hotels. You are close enough to the old town to walk there, but far enough that you can feel you are in the midst of life as they know it in Madrid.
One of the things that I still find difficult to find in Madrid is vegetarian food, although to be honest it's much easier now than ten years ago. However, I am never surprised of people trying to pass ham as "not meat" or the look of sadness on their faces when one discovers that you are vegetarian. But that's the spice of life, difference! Well, now in calle Atocha you have your very own fully vegetarian restaurant. This is a good restaurant with good vegetarian dishes like delicious zucchini soup as well as nice and welcoming service.
If on the other hand you do miss your meat and have heard great things of that main staple of Spanish cuisine which is "jamón" (ham) then you have to drop by the Museo del Jamón. This bar/restaurant is part of a chain, you will find ham museums wherever you go in Madrid, it's very popular. Not the cheapest one, but if you want ham and anything related to ham you don't have to go far. However, if you are squeamish and don't really like meat, it won't be a great place for you as the ceilings are covered with hanging legs of pig, cured of course, and the smell permeates everything in the venue. Which is great if you love ham, and not nice if you hate it!