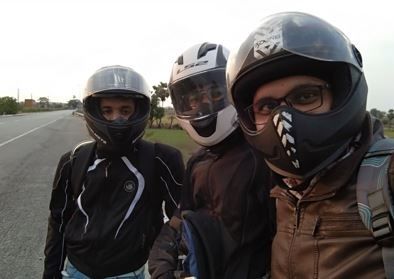 A quick affair with Nanded
No. Of Persons: 3
Bikes: 3; Duke 400CC, Dominor 400CC, Thunderbird 350CC
Total kms: 684
Total time: 13:00 hrs. (including breaks)
13-April-2018
It was on Friday (13 Apr) morning, my cousin asked me whether I'm interested to join for a bike ride to Nanded, Maharashtra on Saturday (14 Apr). It's a one-day trip and I said I'm in, as I'm very much interested and in the evening went to my regular mechanic anna to make sure my bike is all set for the ride on next day.
14-April-2018
The bike was in good condition and the odometer reads 26343 kilometers. Filled full tank petrol and began our journey. My cousin joined me at Kukatpally at 5:35 and reached decathlon, Kompally where my cousin friend joined us and we had our breakfast there and discussed our route plan and started at 6:55. Other 2 bikers are pro-bikers and they had many road trips under their seat.
Onward journey:
Kompally-Tupran-Narsingi-Kamareddy-Padmajiwadi-Dichpally (Take left at dichapally)-Nizamabad (Take right in Nizamabad, Nizamabad-Bodhan road)-Yedapally-Saloor Village- (State Border)-Biloli-Narsi (Take right at Narsi)-Krishnur-Kakandi-Nanded. You can fill in these points in Google Maps and get a picture of the route.
We rode to Nizamabad via Narsingi and Dichapally; roads were smooth and traffic free. The journey took around one hour and fifty minutes with no stops on the way. We took a 10 minutes stop before entering Nizamabad. Then we rode till Saloor village near Bodhan and took fuel break for 20 minutes and headed to Nanded with no stops in between. Due to Ambedkar Jayanti, We reached Nanded at 11:20 and parked our bikes inside this building.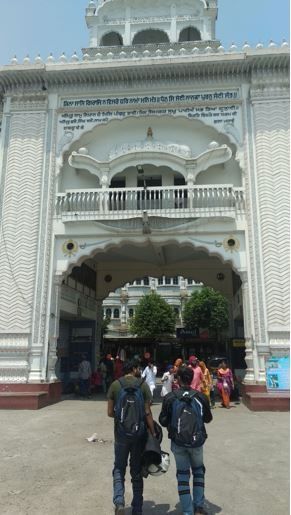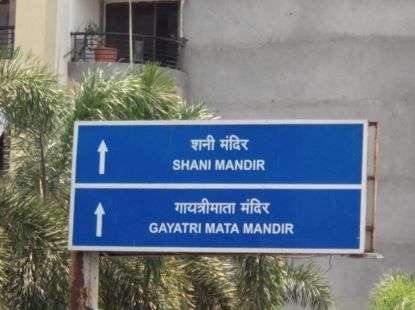 We planned to visit Gurudwara there and to enter inside to it we had to cover our hair with turban/cloth, which we can get it there for free and should drop in the bag where we took while leaving. We deposited our bags at cloakroom, which is a free service, and while leaving they will ask us to deposit amount to a box (like a hundi, it's up to us how much we want to deposit).
We offered our prayers in temple and headed to langar inside Gurudwara, the menu was Roti, Jeera rice, Rajma and Aloo curry and it taste so delicious, had heavy lunch and took rest inside temple till 13:30 and collected our bags and started to Nirmal.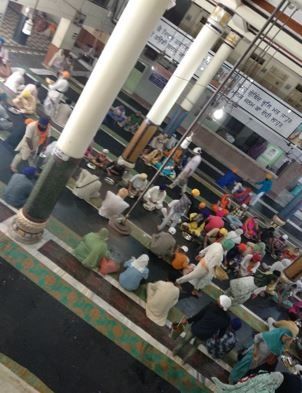 Return journey:
Nanded-Mudkhed-Jamdhari-Bhainsa-Narsapur-Nirmal-Soanpet-Chepur-Dichpally-Adloor-Jangampally-Narsingi-Turpan-Medchal-Kompally
The road is worst from Nanded till Bolsa (border) we took a break on roadside at 15:00 to give rest to our butts, because of the bad road our butts cried like anything. From after we entered Telangana state at 15:50 the road was smooth and pothole free and we stopped for fuel and air check and at tea stall in Narsapur for 20 minutes break at 16:40.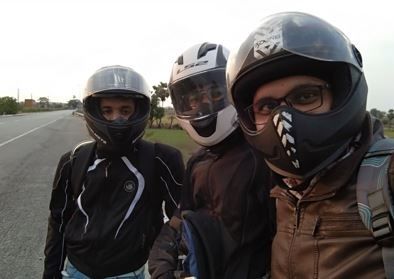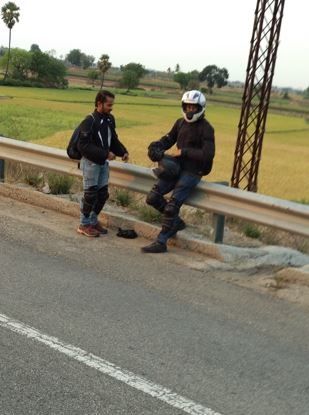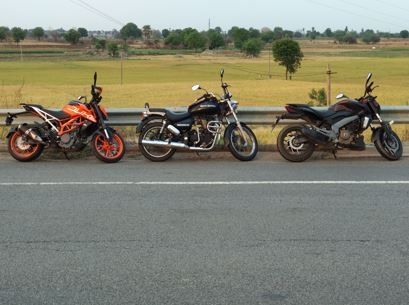 Started from Narsapur at 17:00 and took a break to capture pic at 17:50 and another one at 18:55 for 10 minutes and nonstop to Kompally and reached there by 20:05 where we separated to one's house.
Finally reached home in single piece :) and odometer reads 27027.
Not but not the least, it was a great ride and thanks to my cousin and his friend for this wonderful ride plan.