I am living in Indore (M.P.) and enjoy short highway and off-road rides every now and then. So, basically, this trip was part of my "home-run". I was thriving to do a solo bike trip and was waiting for an occasion. To full-fill this wish I decided to visit my hometown, Jabalpur (M.P.) for Diwali. This article describes my journey back from Jabalpur to Indore.
So, basically, if you want to go to Indore from Jabalpur, you need to reach Bhopal by any possible route. From Bhopal to Indore, its a straight (and best) route. The distance between Jabalpur and Bhopal is approximately 320 Kms and varies based on the route you choose. From Bhopal, Indore is only 190 Kms. Initially, I planned to do Jabalpur-Bhopal in one day, take a night halt in Bhopal and leave for Indore the next morning.
I decided to start early in the morning. When I was coming to Jabalpur from Bhopal, the rout I chose really tested my butt and patience. So, I consulted a few guys about the best route for going back. So, it looks like this - Jabalpur - Damoh- Sagar - Bhopal - Dewas - Indore.
I left from Jabalpur at 07:00 AM sharp. As this was my first solo ride and although I was carrying a few spares (my friends suggested this and even gave me the spares from their RM-Goa 2015 trip), I wanted to reach Bhopal before sunset. Yes, I am a slow rider because I believe in "Prevention is better than Cure" philosophy.
I also bought a new riding jacket, so I was feeling a little bit confident and safe to ride faster. From Jabalpur to Damoh, 108 Kms via NH34, is just a straight line, I mean literally. The road passes THROUGH the Veerangana Rani Durgavati Wildlife Sanctuary, Singrampur. There are road signs asking you to keep your speed low inside the sanctuary and if you really do so, you can actually enjoy the greenery of Vindhyas. The highest peak Vindhyachal range (and a great tourist spot) is also near Damoh on the same route. I reached Damoh without applying brakes even once and took 2 hours for this stretch. I used to travel on this route with my family and friends for a picnic. Every spot brought some memories.
I took the exterior bypass SH14 to Sagar from Damoh. The distance between Damoh and Sagar is approximately 82 Kms. This part is full of forests, caves, the Vindhya range and so many ancient spots such as Jain temples.
By 10:35 AM, I reached Sagar and here comes the pain. I was relying on Google Navigation for the whole trip. The route was through Sagar city. Now my overconfidence kicked in and after reaching Sagar and looking at the route on Navigation once, I took few turns on my own and got lost. I somehow reached to the other side of the city and took a different road which was going back to Jabalpur (yeah, LOL!). I realized my mistake when I saw markings for Jabalpur on the milestone. I stopped, created a new route to join the original route and started again.
Man, the roads inside the city are so narrow.... And the festive season.... I was stopping after every 200 or 300m just to check whether I was on the right track or not. On the other hand, there is one perk of taking this route. You get to drive by the beautiful Lakha Banjara Lake inside the city. Finally, I crossed the Sagar city and was on my way to Bhopal on NH146.
After riding for 30 Kms, I reached Ratangarh. I decided to take a 10 minutes tea-break at the Ratangarh junction. This was my first stop till now. I ordered a tea and asked the Dhaba owner about the route for Bhopal. So, from this point, there are two routes possible for Bhopal - via Vidisha (169 Kms) and via Raisen (207 Kms). Also, for the first time on this route, I saw directions and distance for Indore written on the Hoarding and milestone. It was exact 12:00 PM and decided to leave. The Dhaba owner told me that the road conditions are very bad near Raisen and I should go via Vidisha. But, Google was suggesting me to go via Raisen. But Desi took over Videsi and I took the straight road to Vidisha.
The greenery and the pleasant roads were not leaving me and they were still giving me company. I also started to see the markings for Sanchi on the milestones. So, I decided that I will take a short break at Sanchi before finally starting for Bhopal. From Ratangarh, Sanchi is 85 Kms. I again had to go through the city of Vidisha as there was no alternate route. I also started facing a lot of traffic because Sanchi is very famous Tourist spot in the state of Madhya Pradesh.
I reached Sanchi and stopped at Gateway Treat, Sanchi, Madhya Pradesh Tourism Resort. I called my parents and informed them that their son is alive (Indian parents, I tell you :D). Before visiting Sanchi, I always thought that I can't visit a place like this, not my cup of tea. But, after actually passing through the town..... I still think the same ;-).
The road between Sanchi and Bhopal is a gift for the riders. Empty road, few lovely and sweet curves, greenery. The only problem was the heat. I started thinking about the reason behind the high temperature and just then I crossed a big stone board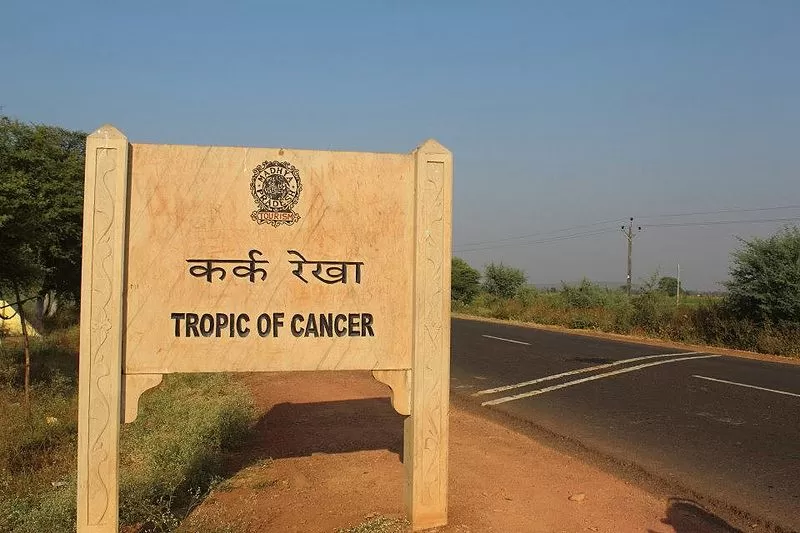 and everything was clear. Although, once you start getting near to Bhopal, the temperature starts getting back to normal.
I finally reached the entrance of Bhopal and looked at my mobile screen which read 02:15 PM. Wow, I am just at the doorstep of Indore (we Indians talk like this. "Are Bhopal to aa hi gaye, ab Indore bacha hi kitna, 3 Ghanta"). So, I decided to drop my plan for night halt in Bhopal and took the Bhopal Bypass towards Indore. Before exiting the Bhopal bypass and coming on to SH18, I stopped for refueling. At 03:17 PM I left from Bhopal bypass towards Indore.
To travel next 80 Kms, I took 62 minutes and reached Highway Treat, Dodi by 04:19 PM. I parked my bike in the parking, stood there for 5 minutes and then again got back on the road. My new target was to reach Indore before sunset.
The Bhopal-Indore route is very familiar to me as I frequently use this route for my Breakfast rides, outings etc. I was revving my bike at 90-100-110 Km/h, I was yelling at the villagers who were trying to get under my bike, I was talking to myself and whatnot. I took the road through the Dewas city (here, knowingly) and crossed the city asap.
Finally, at 06:25 PM, I was standing in my Paying Guest House's parking.
I got just one word for the route - Serene. I didn't take any pictures in between apart from the images I posted. I was in a bit hurry, as well as I didn't want to ruin the experience. After travelling through the route, I promised myself (just like I did 3 months back that I will go to Jabalpur by road all by myself) that I will revisit this whole route, I will visit each and every natural, historical spot, and then I will capture the serene beauty in some mere images. I want to travel on the same route with people who always inspire me and are my co-riders and family - Mr Akash Vyas (I owe you for the spares and saddle bag), Mr Manish Phillips (he actually called me before the trip and gave me some last minute tips) and Mr Shivendra Shrivastava (man who taught me riding, but I turned out to be a bad student).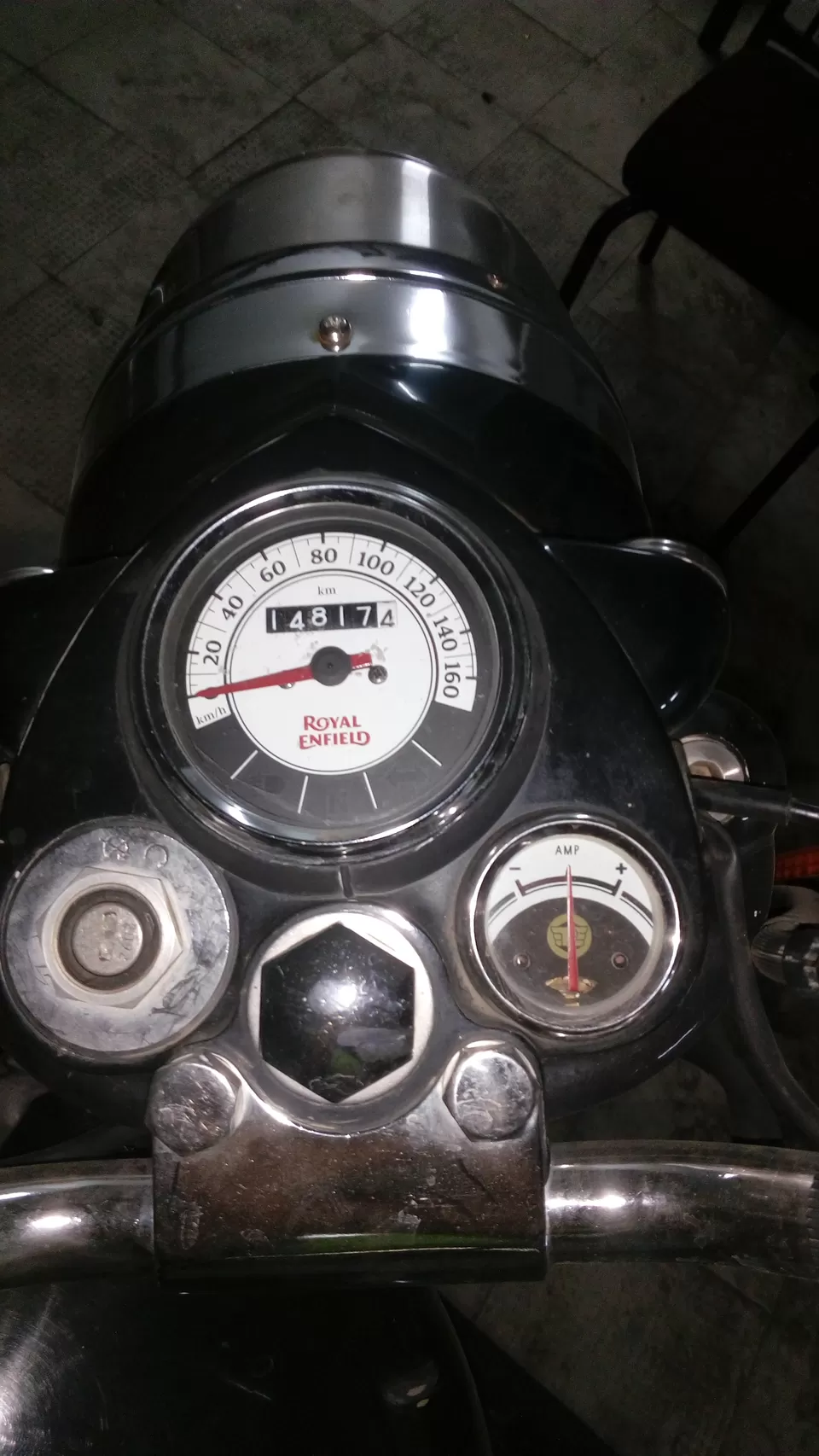 Frequent Searches Leading To This Page:-
solo bike trip india, bike tour in madhya pradesh, solo trip madhya pradesh, jabalpur to indore by road, madhya pradesh tour packages