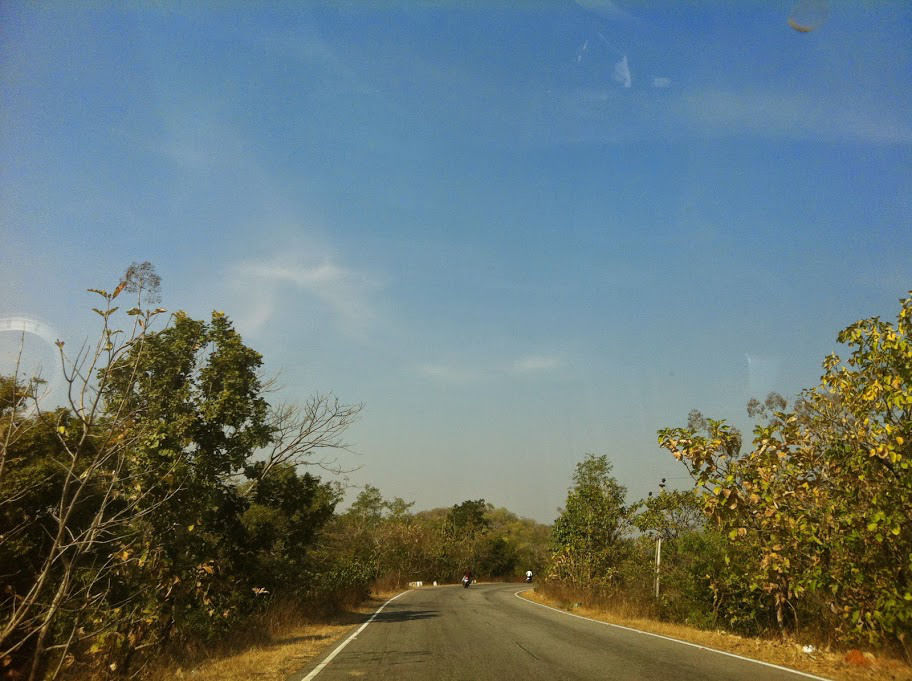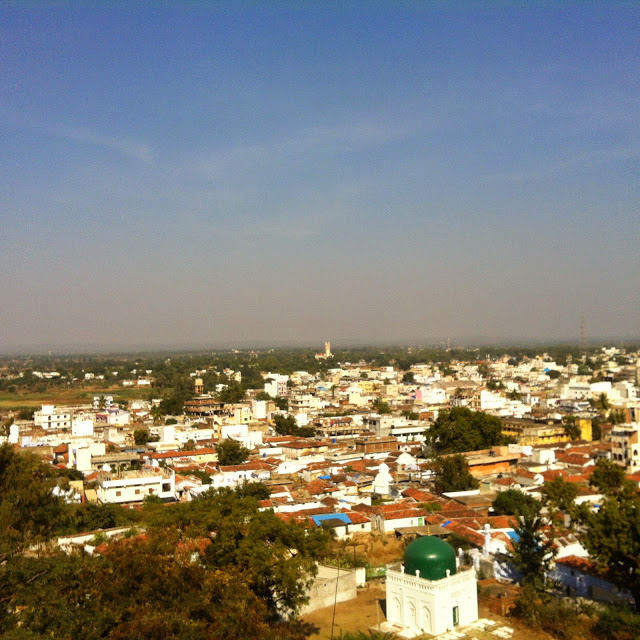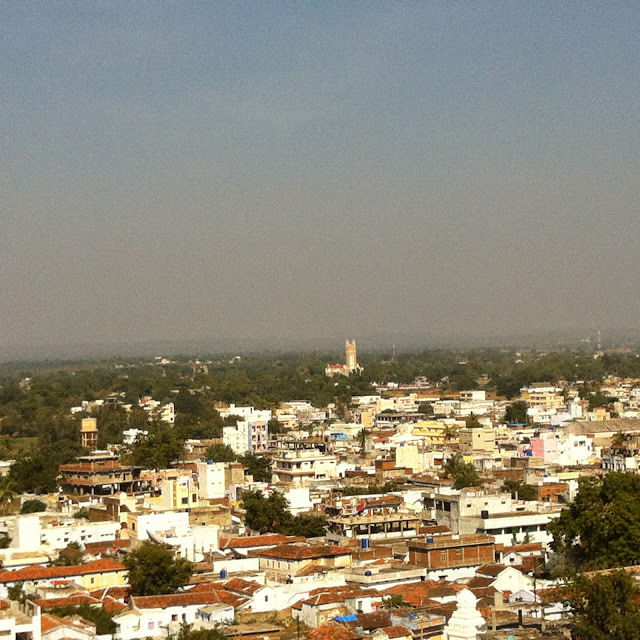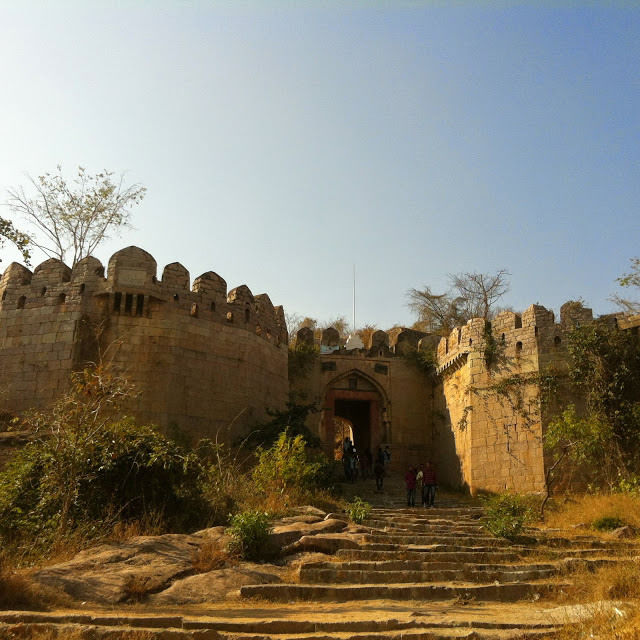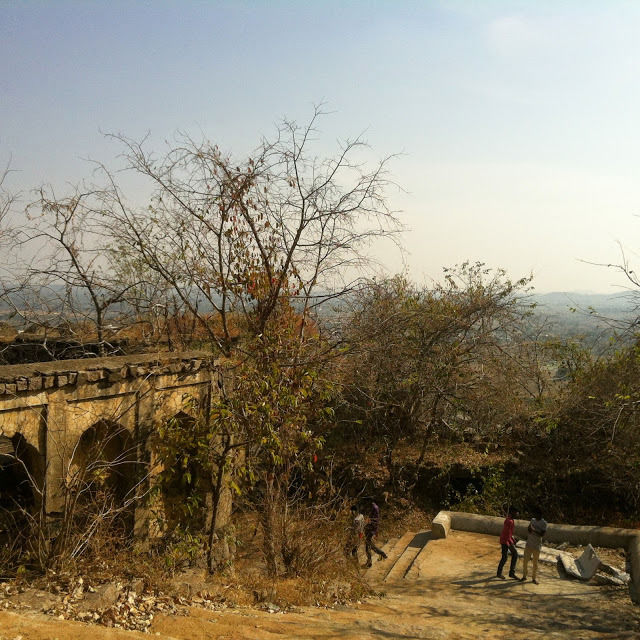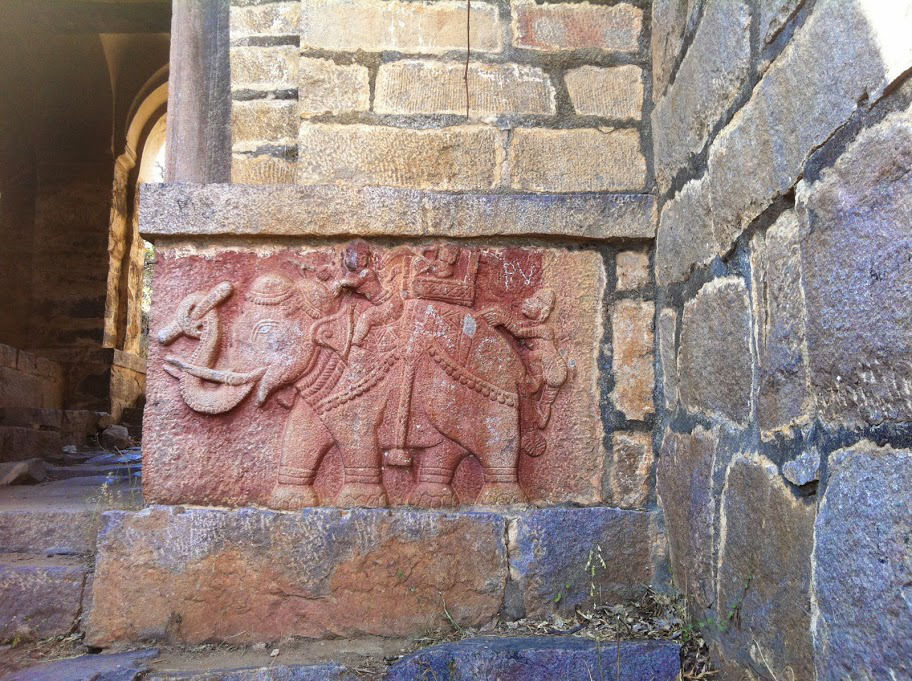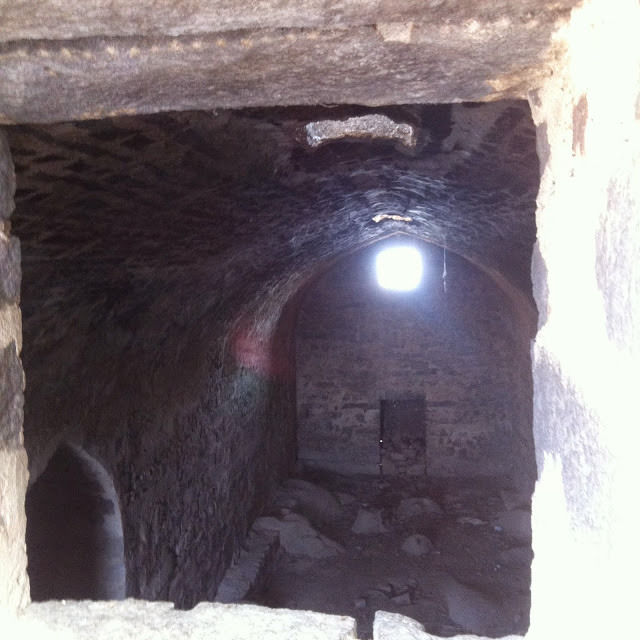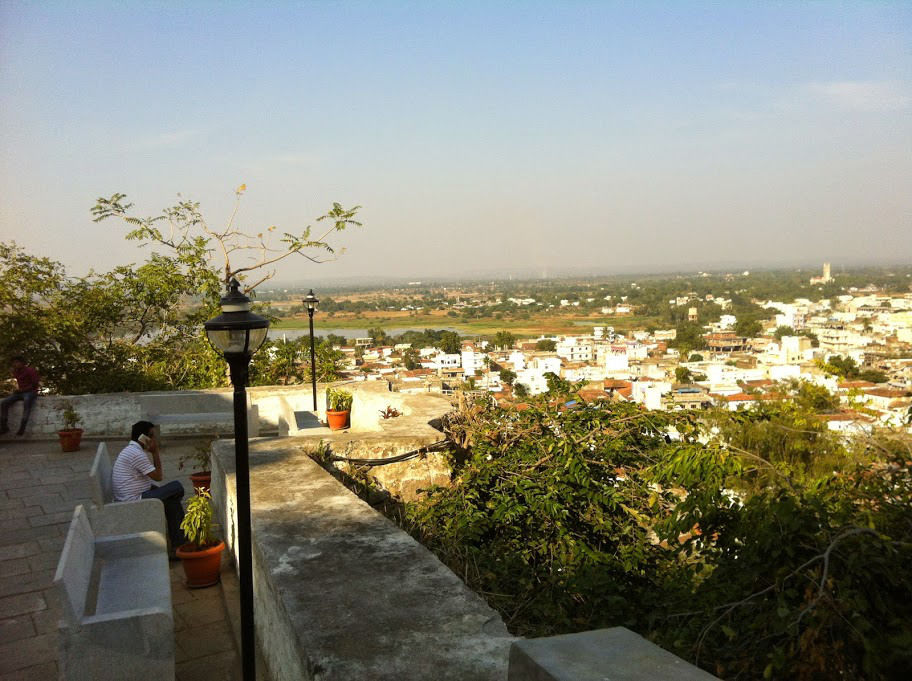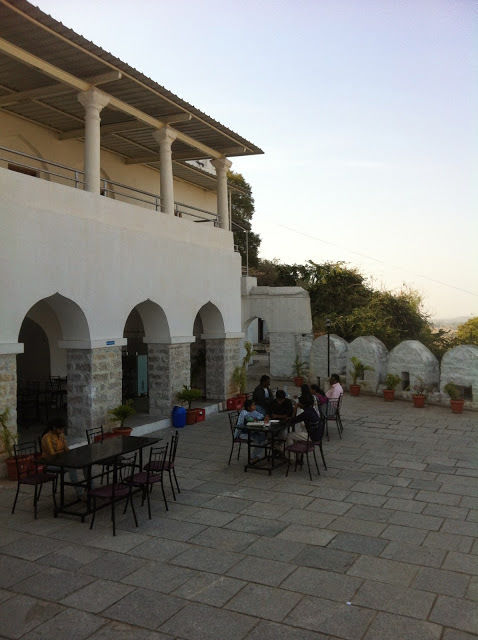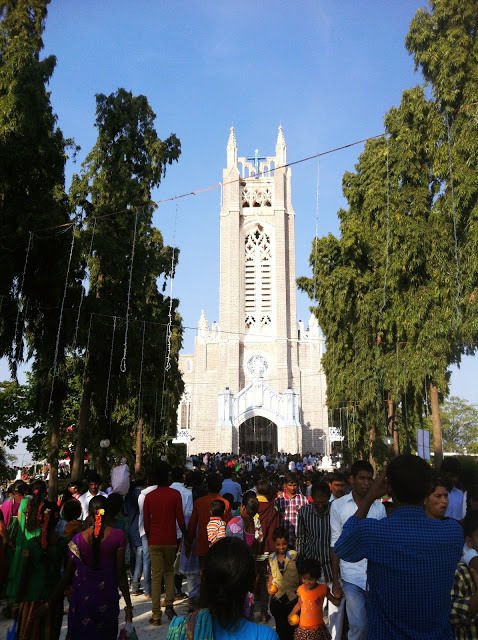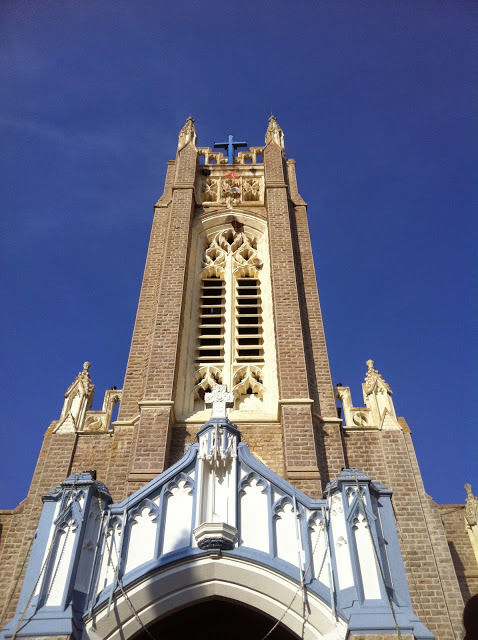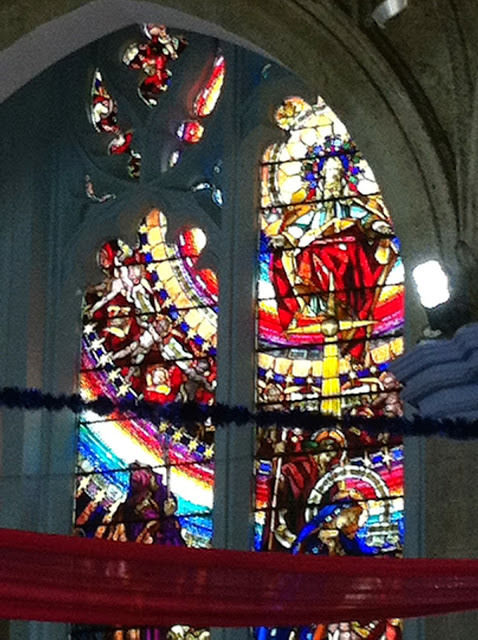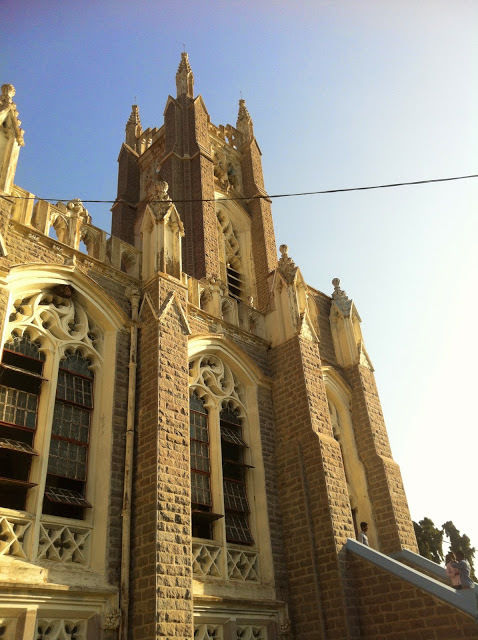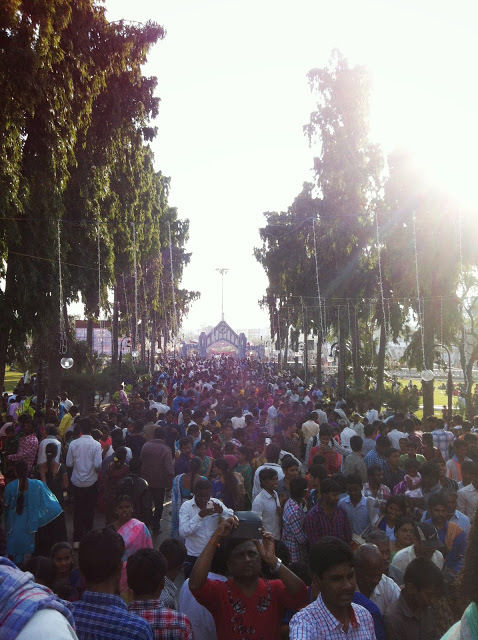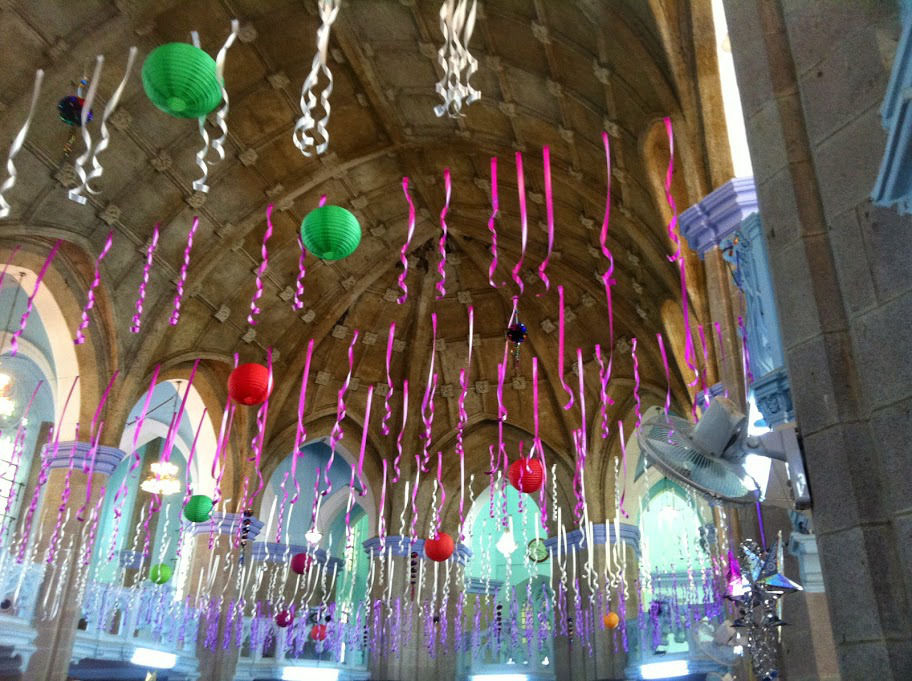 On Christmas last year, since our usual year end vacation was done, we were lazing in Hyderabad with nothing much to do, except a drive to Ratnalayam temple on the outskirts of the city, the visit was supposed to be a regular one. In our circle, a visit to a temple is usually called for every time this writer emerges out of a panic/anxiety situation, which happens all the time because of an obvious mental disorder !
Drive through Narsapur forest
While driving down towards Shamirpet, close to where Ratnalayam is located, we casually mentioned how nice it would be if we could go to Medak Church since it was Christmas and before we knew it, we were on our way to Medak ! The road to Medak passes through the Narsapur reserve forest range, the drive is very scenic with the forest stretching on either side. Except for a few patched the road is decent enough to enjoy the pleasant ride.
Beware of stepping out on the road, there monkeys everywhere ! You will find hundreds of monkeys throughout the road, especially during lunch time. Monkeys apart, drive on this road on a rainy day, you will love the experience ! Narsapur forest road is a popular destination for bikers in and around Hyderabad.
Methuku DurgamAccording to Wiki, the fort was more of a command post and that accounts for why you cannot find too many structures like halls, palaces and the like. We saw a dark room, probably the fort jail and that was more interesting for us, for obvious reasons, of course.
We arrived at Medak after an hour's drive, hungry and looking for a place to have lunch. We spotted a board directing to AP Tourism's heritage restaurant nearby. We followed the directions and arrived at Methuku Durgam or the Medak Fort. A few sites on the internet tell you that the word "Methuku" from which Medak evolved, is the Tamil word for cooked rice grain, someone wrongly mentioned it in one site and everybody else seems to have copy-pasted it ! Methuku is a Telugu word and there is no proper record on why the fort came to be called Methuku Durgam from the times of Kakatiya reign, when this fort is believed to have been built.
The history of Medak goes back even further to Sathavahana times and beyond. The Buddhist site museum at Kondapur (not to be confused with Kondapur, Hyderabad, where you will find IT specimens like us !) has exhibits dating back to the Sathavahana reign of 2nd Century BCE.
Arriving at the Medak Fort, we decided to have lunch at the Telangana Tourism's Haritha restaurant and started climbing up the fort. The fort is located on a small hill and you can take your vehicle till starting point and then climb up on foot. As you start climbing up, you get a nice bird's eye view of Medak town with the Medak Church dominating the skyline.
Since we had no idea we would be going on a trip to Medak, we did not carry our camera, our iPhone was the hero for the day. Check out this picture, the iPhone seems to have magically captured symbols of all 3 faiths in one frame, can you spot a masjid, a temple and the church?
A short climb from the parking lot, we stood at the massive entrance door of the fort. How many kings and nobles must have passed through these doors?
There is nothing much left of the fort except the boundary walls and a few ruined structures.
From the entrance, the climb gets a little steep and tiring. Even on a winter day, it was quite hot but we were glad to be sweating and feeling the heat after a month of shivering cold weather in Hyderabad. Further up, there was another gate, this one had some sculpture on the side, remnants of Kakatiya times, we suppose.
We climbed up to the top of the fort, all the while searching for the restaurant but couldn't find it and decided to head back thinking the restaurant must have closed down. Half way down, we spotted a sign board that said "Mubarak Mahal", we followed the board and after an hour of searching, found the restaurant that we were looking for ! The Mubarak Mahal, one of the halls in the fort has been renovated and converted into a restaurant, a simple but pleasant one, giving you the experience of dining at an ancient fort.
It was almost 3 PM when we sat down for lunch and almost starving but Haritha restaurant, as always, gave us an enjoyable lunch. For accompaniments, we had pretty views of Medak.
Telangana Tourism has built a few rooms near the restaurant for a resort like feel but we are not sure if they are operative. After lunch, we drove into the town to visit the church, the actual purpose of our visit to Medak.
Christmas gaiety !
The Medak Church, according to the internet is the largest Diocese in Asia, this close to 90 year old church is synonymous with Medak. When we reached Medak Church, we were not prepared for the scene there ! The place was teeming with people, the roads were blocked and police security every where. We did not know that Christmas was a grand festival for people of Medak, irrespective of their faith.
We had to park our car near some shop and walk for 5 minutes to reach the Church entrance. Parking was just one part of it, right from the entrance gate till the church, the entire pathway was jam packed with people, the count would have run into lakhs, there was no place to even walk properly ! There was a fair going on, stalls, hawkers, people shouting, colourful banners – Indian festivity at its peak ! We inched towards the Church, clutching our belongings because the police security warned people of pickpocketers. The scene cannot be described, you have to be there and find yourself sandwiched in a human flood ! Somehow, we managed to reach the church, by now we had got used to the crowd !
Inside the church, Christmas celebrations were on, people praying, blessings being given, a choir playing some music, decorations and the spirit of Christmas in full swing. We couldn't take too many pictures inside but managed to click some of the ceiling and decorations.
Standing in the middle of people and celebrations, we could only get a glimpse of the stained glass paintings that Medak Church is known for, we couldn't even get a clear picture on our mobile phone, this was the best we could do before volunteers began requesting people not to click pictures inside the church.
With people piling up inside the church, we decided to head out and go around the building. The church construction was started in 1914, it looks every bit a charming British era Gothic style building.
Out on the lawns picnickers seemed to be having a good time, soaking under the winter sun. We knew it would take us another 20 minutes atleast to find our way out and decided to take leave of Medak Church one of India's grandest Churches. To give you an idea of the human flood we had to walk through, a picture of one cross section !
What really stood out for us at Medak Church was that people from all faiths were taking part in the celebrations, at Medak, Christmas seems to be an important festival irrespective of religious beliefs, there truly was unity in diversity, something that we should all be proud of and most importantly, safeguard !
Info tidbits
– Medak is about 90 kms from Hyderabad. Buses are easily available to Medak and to go around locally, you could hire an auto rickshaw but as always, we suggest you drive/ride your own vehicle.
– Medak Fort doesn't seem to have specific timings, though you could do well by avoiding going up the fort after dark. For those not too keen on history, you may not find it very interesting.
– Medak Church is open from 9 AM to 5 PM. Though it was quite an experience to visit it on Christmas, if you want to experience the peaceful environment, go on a normal day.
– Other places of interest in Medak are the Singur Dam, Edupayala Durga Bhavani temple, Pocharam wildlife sanctuary and Manjira bird sanctuary and the Kondapur Buddhist site museum.
– One can plan a trip to cover most places under Medak tourism over a weekend, Telangana Tourism has accommodation facilities at Singur Dam or one could stay in Medak town.
Frequent Searches Leading To This Page:-
medak in telangana state, medak district telangana varthalu, tourist places in medak telangana, temperature in medak telangana, mandals in medak district telangana