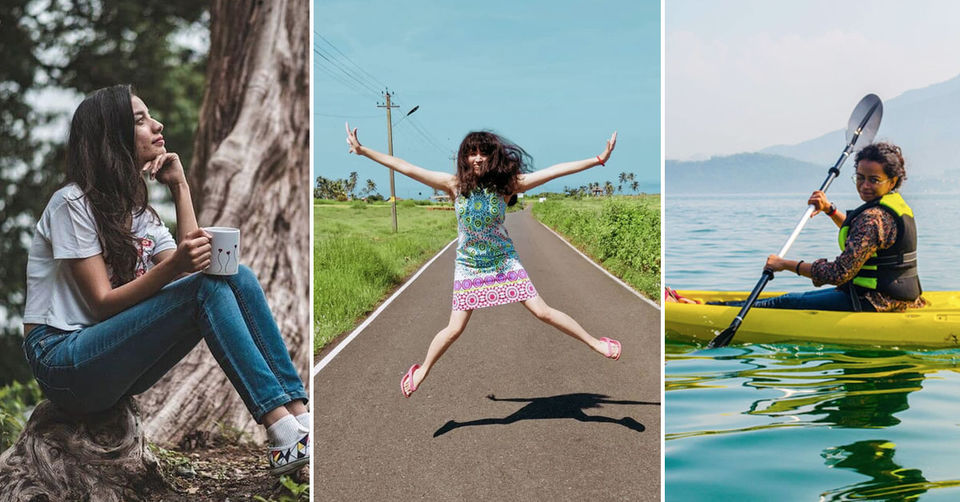 Don't we all love the feeling of spending without a worry while on a vacation? But somehow budget always seems to be a problem and everything turns out to be costlier than you anticipated! Isn't it? If you've been wanting to go on that long-awaited honeymoon or the dream trip with your friends but don't know how to start saving, we may have a solution with you.
We sought some answers from the budget-travel experts at Tripoto and found that there are quite a few ways to make your dream trip a reality. From setting short term goals to finding alternative modes of earning, here are some things you can do to save up for that trip you've been wanting to take:
Earning as many travel credits as possible
I travel quite frequently and if I were to rely just on my salary, a lot of my trips would not end up turning into reality. Instead, I focus on getting travel credits on a regular basis, which I generally encash for flight tickets and/or hotels stays. Here's what I do:
1. Earning credits from travel apps: A lot of travel apps give credits for signing up, posting content, and using their platform to book tickets and hotels. Apart from maintaining a regular account on several such platforms, I start inviting my friends to use these apps right before I have a trip coming up. This gets me additional points, which I then use during my bookings. I've gotten discounts of up to Rs 1,000 on flight bookings and up to Rs 800 on hotel bookings.
2. Using a travel credit card: I make my spends on a credit card that gives me miles instead of points. Once I have enough miles, I can then use these to book plane tickets with partner airlines.
Renting out my camera equipment
I love photography and have amassed quite the collection of cameras and related gear. A few months before a trip, I usually put my gear out for rent on photography groups on Facebook. Since these are popular items with a high rental value, I am able to save enough to cover all the expenses on my trip. Pretty sweet deal, I would say.
Selling old stuff
Approximately a month-and-a-half before I plan to leave for a vacation, I become a sales ambassador for second-hand goods. I have an account on several popular sales platforms like OLX, Quikr, Facebook Marketplace etc. Before the trip, I take a stock of items I own but don't need and put them up for sale. In addition to this, I also ask my friends for items they want to sell off and take commission on each sale. And just like that, I have my funds in place.
The answer lies in money management
I consider myself an expert saver and my process starts well before I set off on a vacation. I give up partying, shopping and other forms of splurging at least a month in advance. So by the time I actually leave, I have enough funds for myself and don't have to break my savings to support my spending while I am away.
Pitching in a little bit every day
I am someone who sucks at saving money in general, but when it comes to travelling, I manage to trick myself into saving. I usually have a daily budget set for spending. For small trips, I save the money that I have left at the end of every day and keep it separately, either in a bank account or a piggy bank, so that I don't end up spending it on frivolous things.
I continue this practice for a period of two to three months and you'd be surprised to know that sometimes I end up saving enough to have a mini luxury vacation.
Repurposing my fashion obsession
I love fashion and splurge on clothes on a regular basis. More often than not, I have a cupboard full of items I don't end up wearing often. Since travel is my second love and I don't usually have a lot of money saved after spending on apparel and accessories, I go on a small selling spree a few weeks before a vacation.
I gather a few clothing pieces from my wardrobe and put them up for sale on a few of these fashion apps that act as thrift stores for second-hand clothing. You'll be surprised by how quickly I'm able to sell off stuff and get some moolah to spend on my next trip (where I will also be shopping of course).
Picking up a freelancing gig
I have a full-time job as a writer and social-media expert, but I also have a keen interest in designing. When I plan a trip and realise that I need extra money to be able to fund it, I apply for freelance work on several platforms. Designing gigs also end up paying pretty well. More often than not, a single project is enough to cover my expenses for the entire trip and is not a lot of burden either.
Cutting down on unnecessary expenses
A month or two before I am about to travel, I take stock of all my expenses and then start cutting down on anything that I can do without. I start taking the public transport instead of driving my own car to and fro work. I don't splurge on eating out, which is otherwise a regular affair, and I stop taking short weekend trips, that are usually the norm for me.
Starting a travel fund

I start planning for a big/dream vacation about six months in advance. To ensure that I have the funds without any doubt, I start a short-term deposit. Most banks nowadays have this concept of a "Dream Deposit" which can be made for short term goals. I make an estimate of the amount that I would need for the trip and divide that by the number of months and start depositing that exact amount into the fund every month. This is also great because such deposits also earn some interest. By the time the date for my trip comes around, I have enough money to travel!
Booking everything at least six months in advance
This is probably the only thing I do to save money while travelling. Booking in advance gives me the best prices and I often end up saving thousands on hotel bookings and flights. There is a downside though. If an emergency happens right before I am about to travel, I might have to cancel my plans. But I cater for this by having a cancellation insurance for both my flights and hotels or I book on websites where I can cancel without a fee.
Do you have any such tips you'd like to share? Write about them on Tripoto. Meanwhile, you can get daily travel inspiration from us! Save and send a message at 9599147110 on Whatsapp to start.