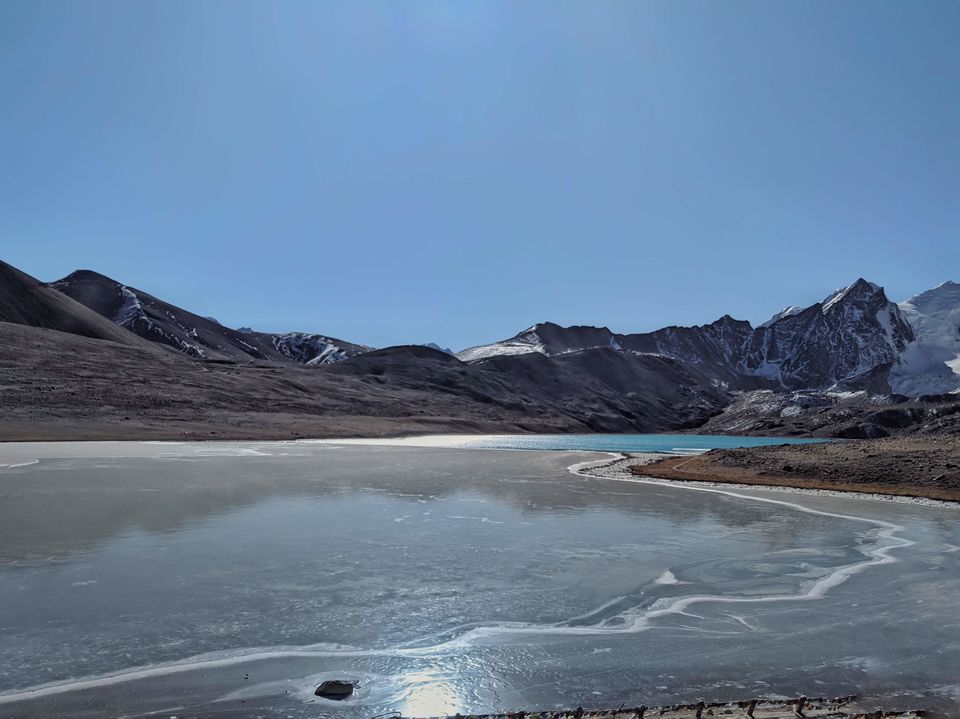 Serpentine roads decorated with colourful prayer flags, rugged terrains, gushing waterfalls, snow-capped Himalayan mountains, and the Teesta River turning and twisting with every curve in the path, best define my visions from Sikkim.
One of the most scenic states in the country, Sikkim, is bound to surprise you with an abundance of beauty and a mix of terrain. Perched in North-East India and sharing its border with three countries, Nepal, Bhutan, and China, explains the restricted and reserved movement of the tourists. However, the exclusivity of the state makes it an even more exciting destination to explore.
The second smallest state in India can be broadly divided into four districts- North, South, West, and East Sikkim. A 14 days' itinerary can aptly do justice if you intend to explore the entire state.
Reaching Sikkim
By Air ✈️
Bagdogra Airport in West Bengal is the gateway to Sikkim, and direct flights are functional from all major cities. From the airport, it is a 126 km transfer to Gangtok, via taxi. Despite the inaugural of Pakyong Airport in Sikkim in 2018, it remains to be non-functional. You can also book a helicopter ride from Bagdogra to Gangtok through the STDC ticket reservation counter or visit www.sikkimstdc.com. It is operational every day at 2:30 PM and costs Rs. 3,500/person.
By Railway
Train tickets can be booked to New Jalpaiguri or Siliguri in West Bengal, from where Gangtok is a short road trip away.
By Road
A 4.5 hours' road trip to Gangtok is an inevitable part of the journey. You will find numerous options for shared taxi rides at both New Jalpaiguri Railway Station and Siliguri Taxi Stand, which won't cost beyond Rs. 350/person and Rs. 250/person, respectively. Luxury shared taxis provided by wizzride.com is another viable option for Rs. 712/person (incl. tax). Private taxis are also available starting from Rs. 2,800.
*Tip: make sure your taxi is a Sikkim registered vehicle, else you will have to take another ride at West Bengal-Sikkim border.
7 Days Itinerary
Despite being the second smallest state in the country, travelling in Sikkim isn't a piece of cake. The elevation and depression in the altitude contribute to an exhausting road trip. You can customize your itinerary as the adventure bug allows you. The course I followed was:
Day 1: Flight to Bagdogra, transfer to Gangtok
Day 2-4: North Sikkim Tour – Explore Lachung, Yumthang Valley, Zero Point, Lachen, and Gurudongmar Lake
Day 5: Explore Gangtok and nearby tourist attraction
Day 6: South Sikkim – Roadtrip to Temi Tea Estate and Buddha Park
Day 7: East Sikkim – Tsongo Lake, Nathu La Pass, Elephant Lake Point, Heart Lake, Thambi view point
Day 8: Transfer to Bagdogra
* Tip: If you wish to witness the magnificent Mount Kangchenjunga, Kangchenjunga Falls, and impressive monasteries covered in murals, a trip to Pelling, West Sikkim, is worth adding to your itinerary.
About the Blog
The first blog in the Sikkim Blog Series – Everything you Need to Know about North Sikkim.
My Travel Diary
The majestic Kanchenjunga standing tall and in all its glory against an ombre sky, vibrant huts and houses perched on the hills, and the chilly winds piercing through my skin welcomed me to the beautiful capital of Sikkim – Gangtok.
Day 1
A comfortable flight that offered a distant yet breath-taking, and an early glimpse of Kanchenjunga, led me to Bagdogra Airport. Perhaps it was this dazzling sight, which heightened my excitement and tolerance to sit through another 4.5 hours journey to Gangtok in a shared, conventional taxi. Huddled in the backseat of a Sumo with 9 other strangers, it was the green valleys, vast pasturelands and Teesta river that truly kept me company.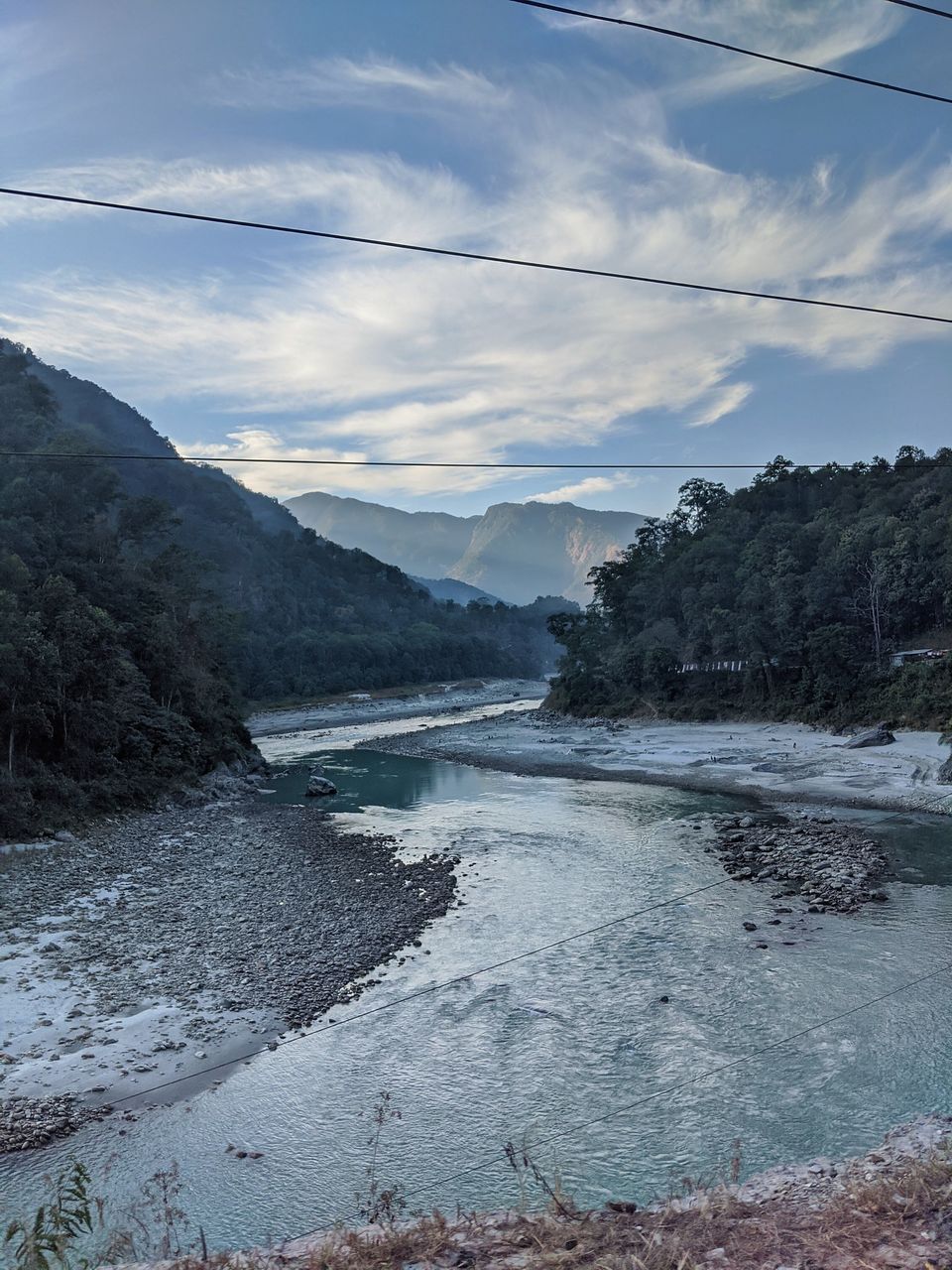 The time difference of North-East India from the rest of the country struck me for the first time then, for it was only after sunset that I checked in to my first accommodation for the trip — a neatly kept Airbnb – House of Meesu. The peaceful yet strategic location of the homestay situated me within walking distance from the bustling MG Marg. I was quick to drop my backpack and head towards the town's attraction and gorge on some local delicacies, before a good night's rest.
Day 2
Before heading towards Gangtok, I had inquired regarding the North Sikkim tour from the local tour operators at Siliguri. Having negotiated for a 3 days tour package for Rs. 2,850 (excluding Zero Point view charges), I booked a seat in the shared taxi with New North Jn. Tours & Travels.
* Tip: If you are planning to visit North Sikkim, be sure to book a tour package at least a day in advance. Tour operators procure permits, without which you cannot enter the said zone. Also, if you prefer luxury travel, private rentals start from Rs. 12,000.
Carry at least 6 passport size photographs and 4 photocopies of a valid ID. Beware that the driver's license is seldom considered in Sikkim.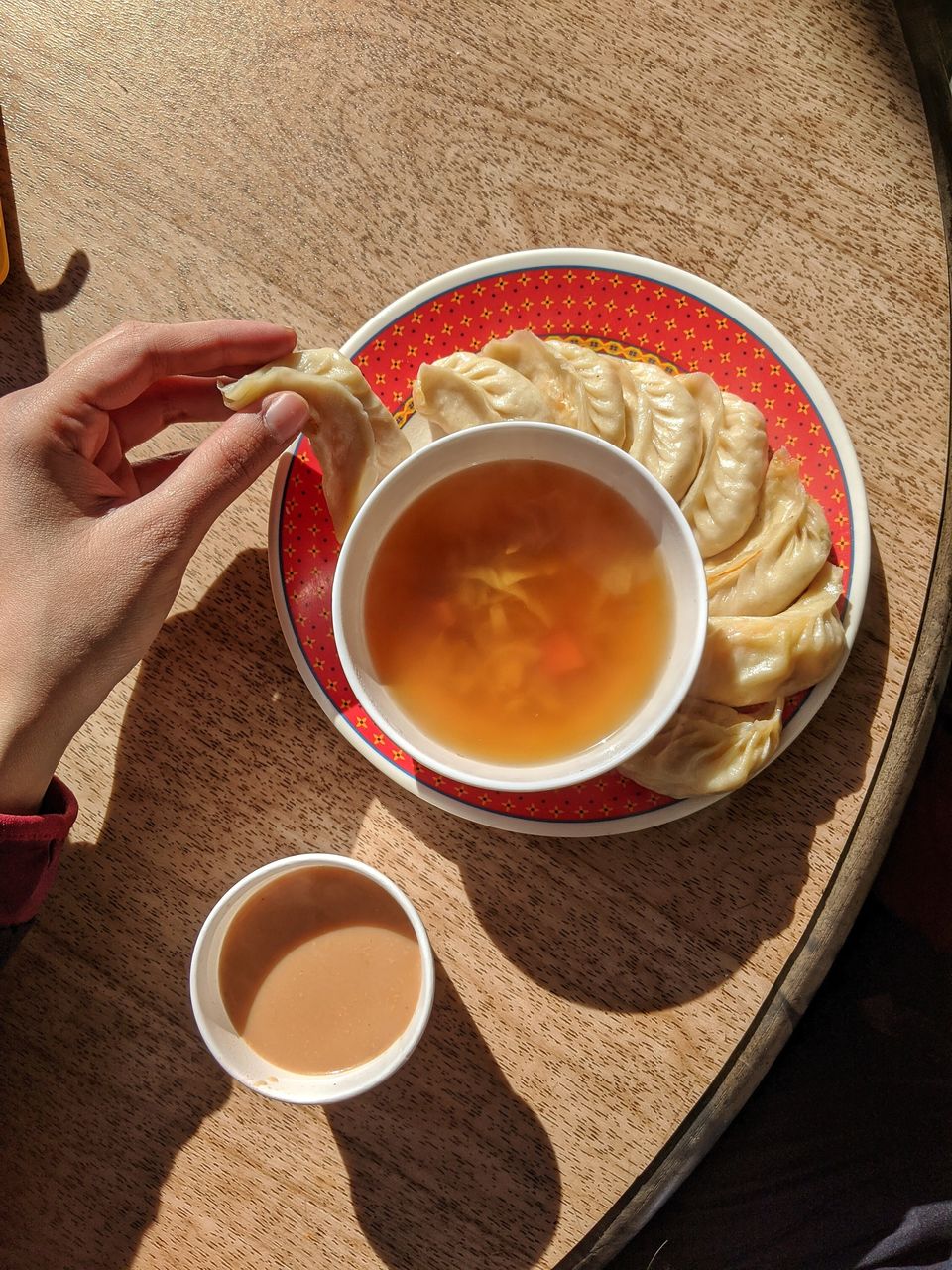 The second day of the trip marked my thrilling journey into the Northern part of Sikkim. With 7 other travellers, I embarked on the road trip a little before noon. As Mt.Kanchenjunga, the highest peak in India, kept its playfulness by hiding and seeking behind tall trees and houses, we drove onwards to Lachung through meandering lanes and rocky roads. The 8 hours' drive was nothing short of a slice of nature's choicest beauty, which was carefully spent marvelling at the spouting waterfalls, enjoying panoramic views from tiny tea stalls, and musing over the undeterred companionship of Teesta River.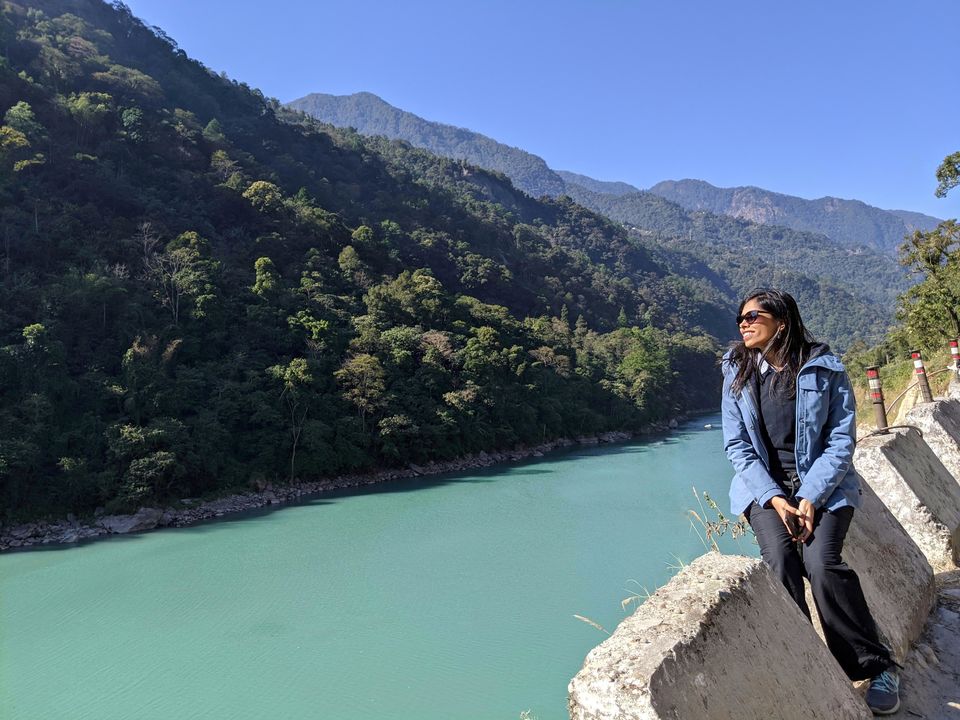 A local specialty – Tongba – awaited our arrival in the hilly hamlet of Lachung.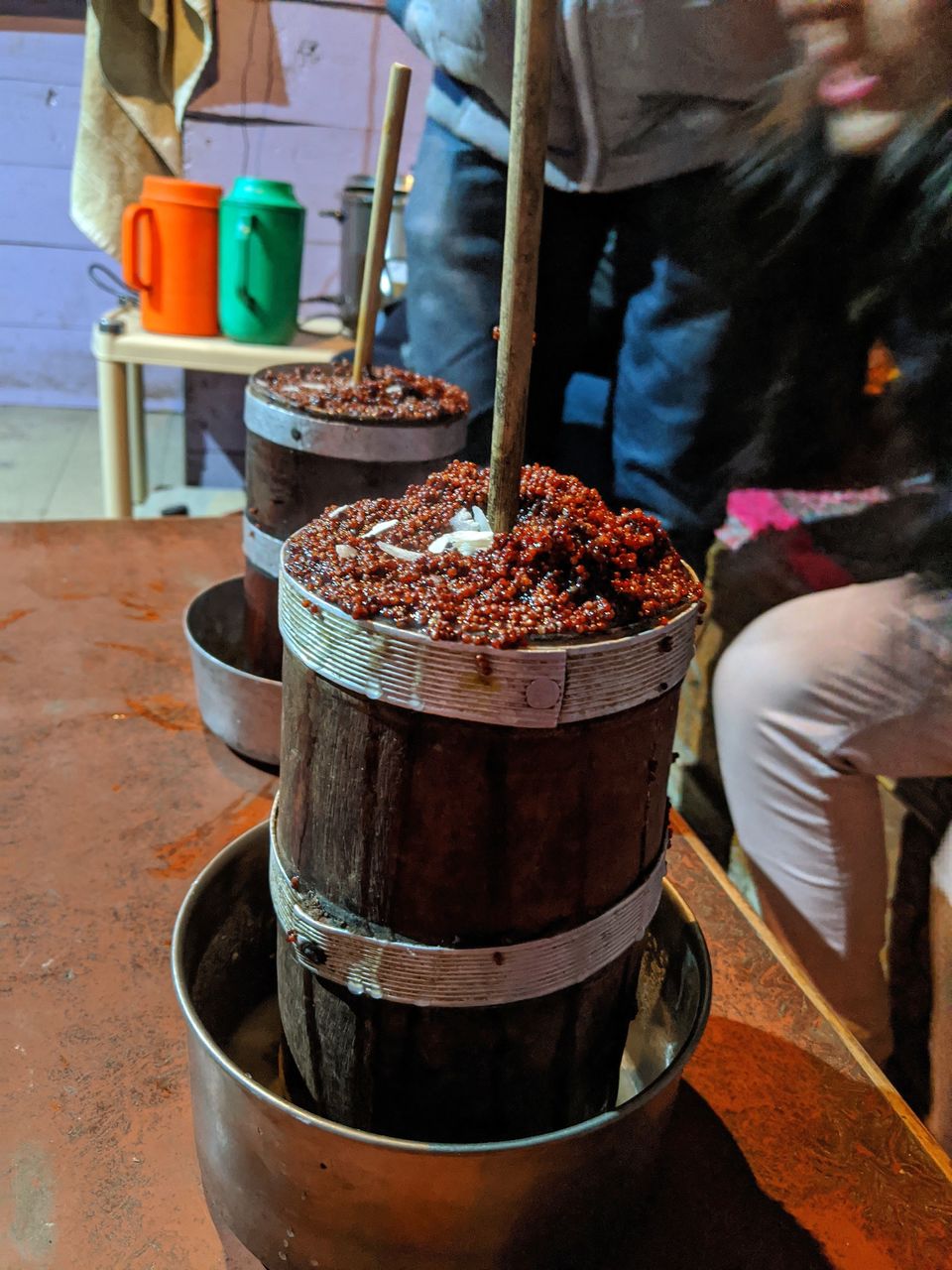 Soon after settling in our hotel, our Sumo driver cum guide took us to the neighbouring shop, where both men and women were busy boiling the water, steaming the meat, and rolling tobacco. The traditional millet-based alcoholic beverage was then served to us in large bamboo glasses. The first sip was enough to make me forget about the chilling cold in Lachung and take an early, tipsy night.
Accommodation: The stay and the meals were included in the tour package. The driver had arranged a room in Blue Pine Hotel in Lachung.
* Tip: Do not expect anything beyond a basic homestay/room during this tour. The rooms have basic amenities like electricity, blankets, a bed, and hot water.
Day 3
A quick steaming cup of tea at 6 in the morning, and we were off to finally visit the first, star attraction of the tour, Yumthang Valley. A (relatively) short drive of 3 hours and we were already witnessing glimpses of Himalayan Glaciers.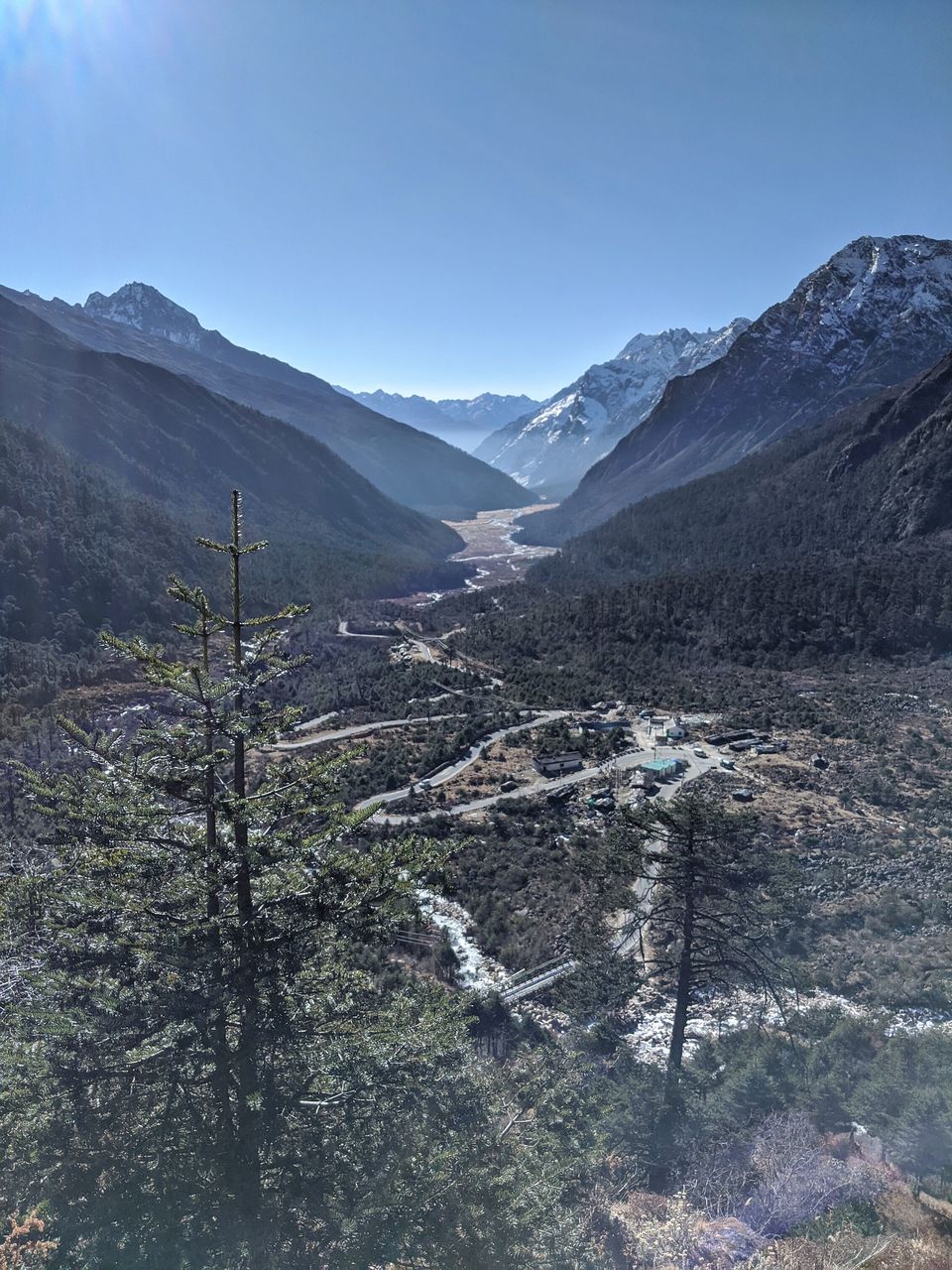 The sinuous roads curled and twisted amidst the snow-capped mountains, so much so, they created an illusory confluence with the flowing glacial river.
We passed through the commercialized village of Yumthang with a decision to visit it on our way back from Zero Point.
'Frozen' – perhaps the one word which can accurately describe Yumesamdong or Zero Point.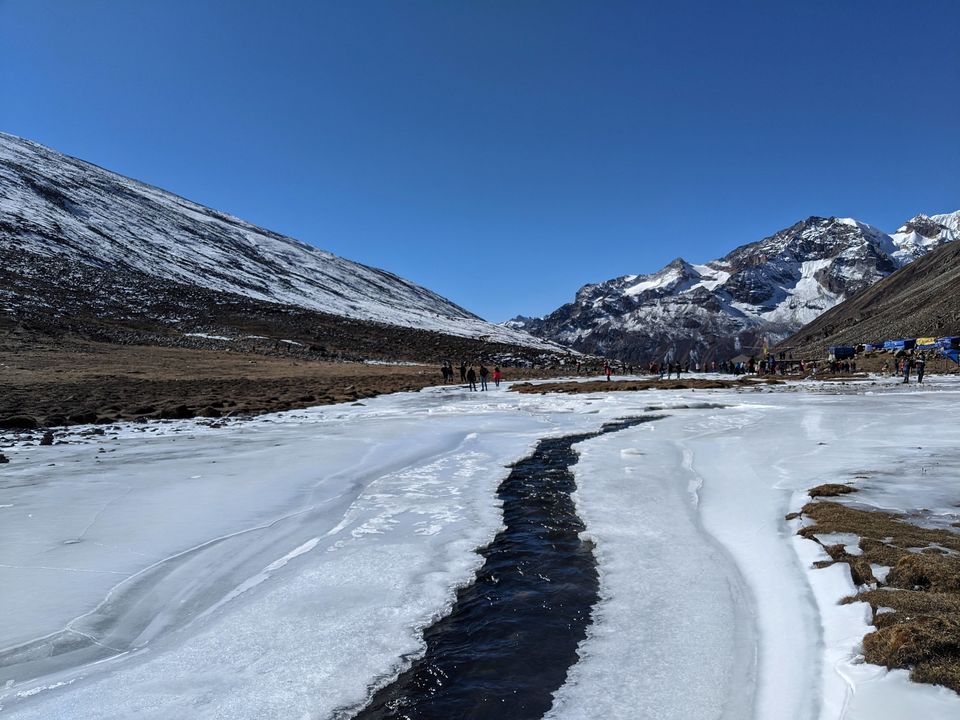 Everywhere we looked, there was nothing but white snow and brown grasslands. Hailing from Delhi, walking on a frozen river was nothing short of a surreal experience. The piercing cold and harsh winds did not deter my enthusiasm to lie flat on the frozen land and slide further.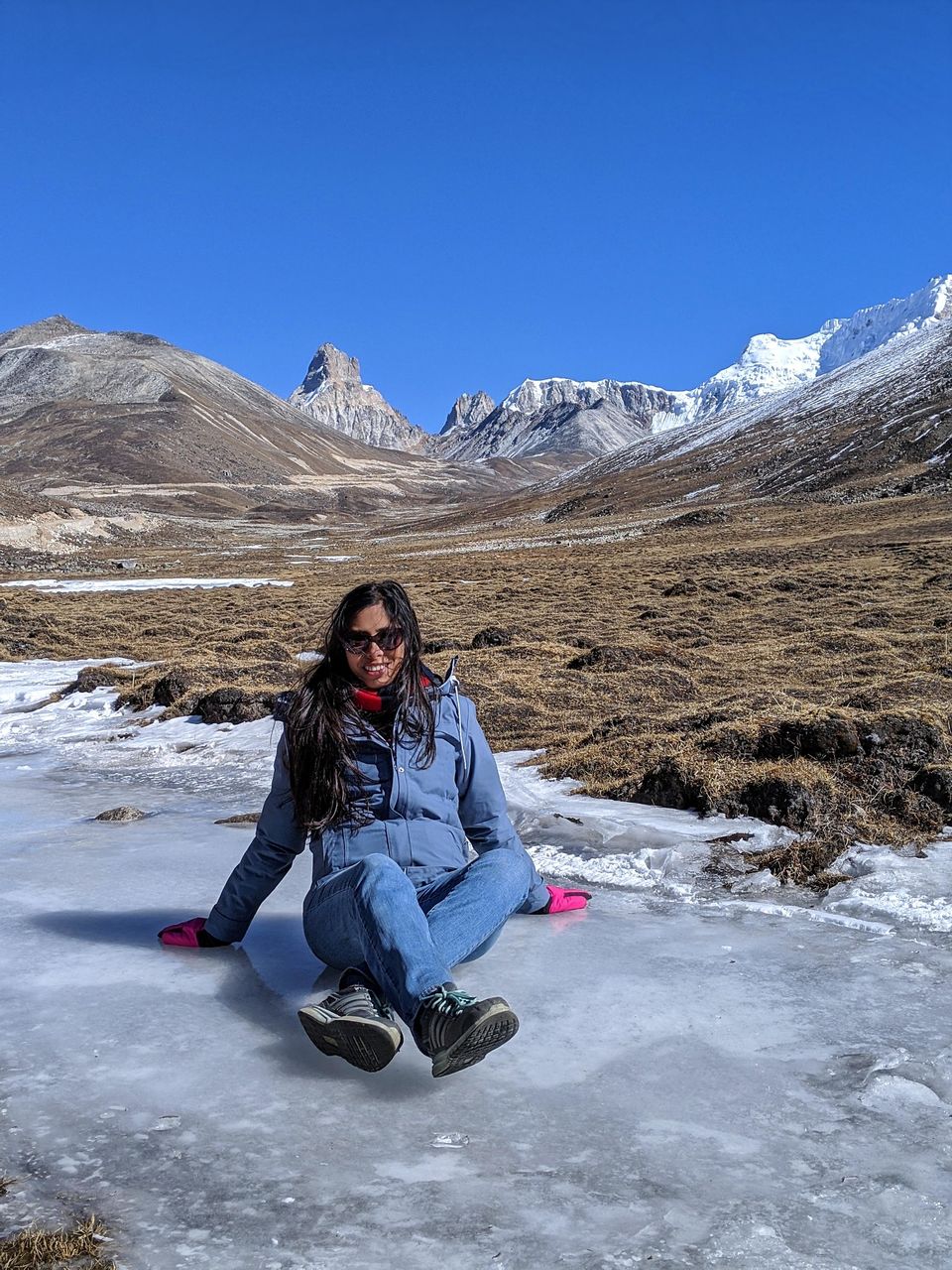 It was then that I wished the time could stand still. My unmindful heart wanted to capture everything that the sunlight touched. However, the cold was soon to catch up, and I rushed towards one of many tiny stalls that served piping hot bowls of Maggi, coffee, and Old Monk to brave the cold. If the rum wasn't enough to revive me from the strong winds, the wood stove burners emitted enough heat to keep me cosy.
At an altitude of 3,564 meters, a trail of vibrant, colourful prayer flags led me back to Yumthang Valley or famously known as Valley of Flowers. With tourists flocking everywhere, stopping in the middle and striking poses, the exclusivity of the attraction did feel jaded. Indomitable and with a perseverance to experience the true beauty and tranquillity that all the blogs promised at Yumthang Valley, I skipped the concrete stairs and started wandering along the river. What met my eyes next is difficult to put into words.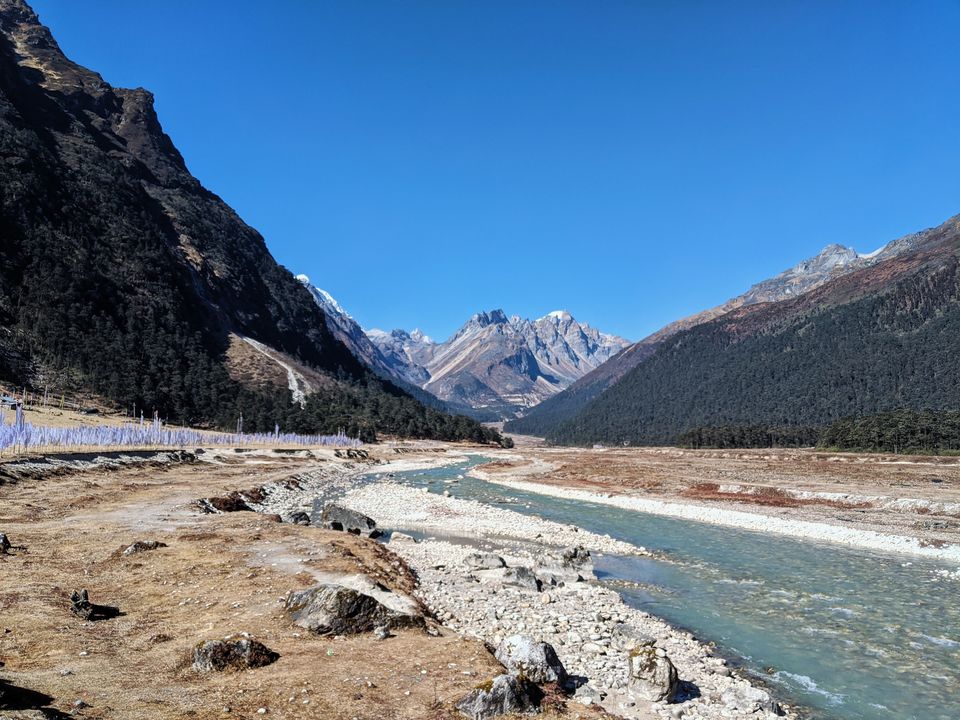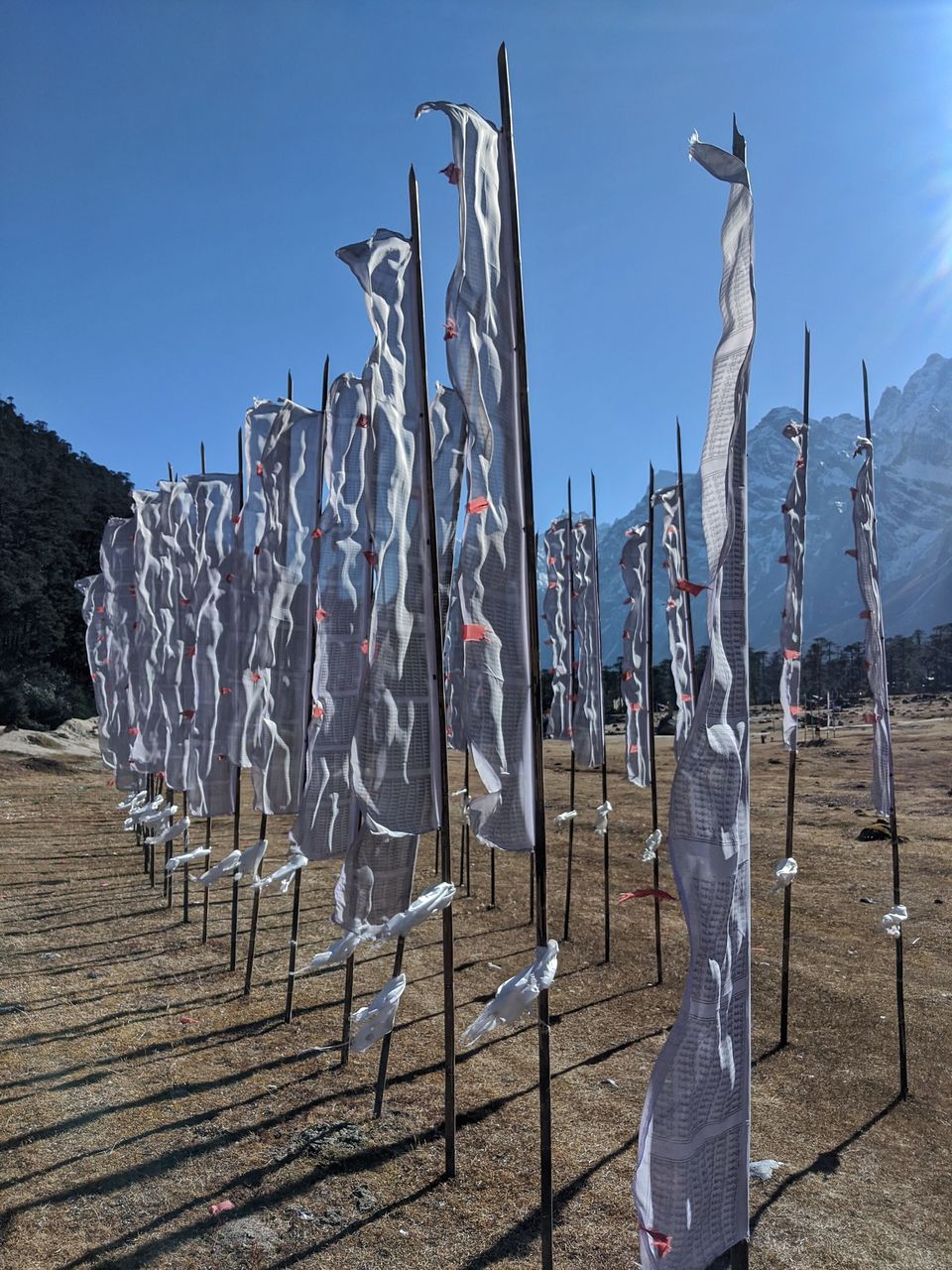 Innumerable white flags were hoisted in a stream line, as if creating a unique, exclusive avenue to walk through them. The strong winds made the flags flap so ferociously that they slyly created a piece of music so peaceful that I couldn't help but smile and lose myself amid nature.
Yumthang was (and remains to be) one of the sacred and sanctimonious places where these white flags were hoisted to invite peace to the deceased souls of prominent Buddhist monks.
It was as if a rendezvous with serenity, the promise that North Sikkim bore and finally, kept.
* Tip: If you want to witness Valley of Flowers in all its glory, plan a visit in late February to mid-June, during Losar festival. You can be witness to the most splendid sights of yaks grazing through the pasturelands, the azure Teesta flowing freely, and blooming flowers all around.
Additionally, if you have enough time on your hands, hike up to the solitary Buddha statue at Yumthang Valley.
With much reluctance to leave the oozing and enveloping calmness of Yumthang Valley, we continued our journey through the glistening icicles and snowy hills to Lachen.
Accommodation
For the second day, the standard of the stay deteriorated, like the weather in Lachen, but the warm, helpful staff of Hotel Lungta Valley made up for the warmth with their hospitality. The room was furnished with 2 single beds, blankets, a narrow bathroom, and hot water.
Day 4
The final day of the North Sikkim tour required our group to be up and about till 5 AM to commence the exciting drive to the second-highest lake in India – Gurudongmar Lake. With shivering limbs, overly layered bodies, and peaking exhilaration, our driver drove us through the dark, sleepy villages, frozen rivers, and ferociously flapping prayer flags.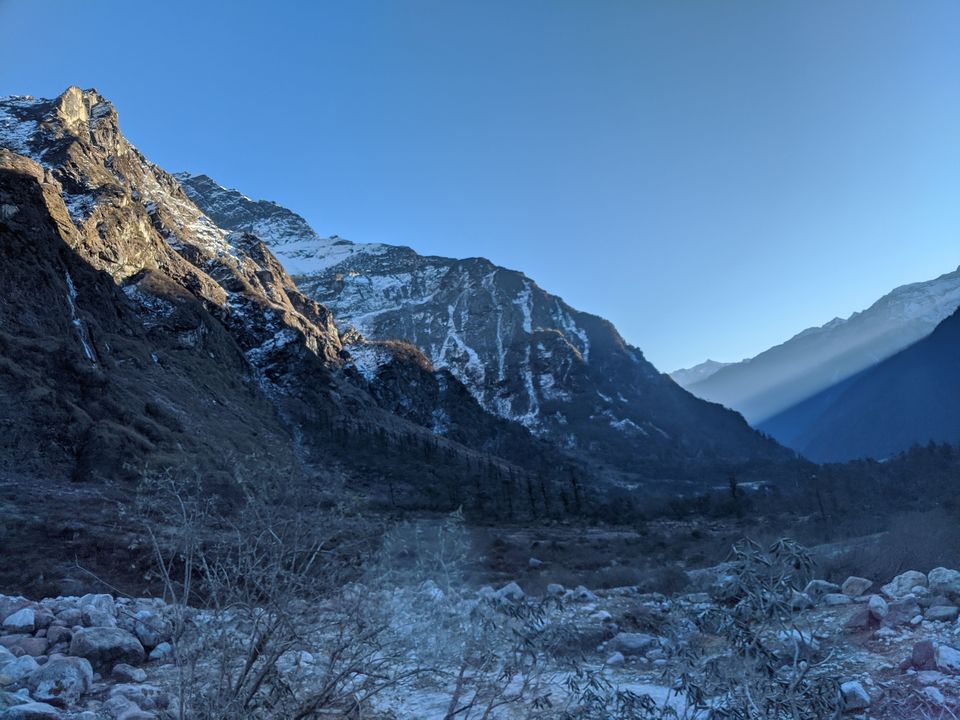 Despite my eyes begging me to take a quick nap, the spellbinding breaking dawn was enough to keep me glued to the windows. The sun began peaking from the cracks of the mountainous valleys and lit the snowy hills running along the roads.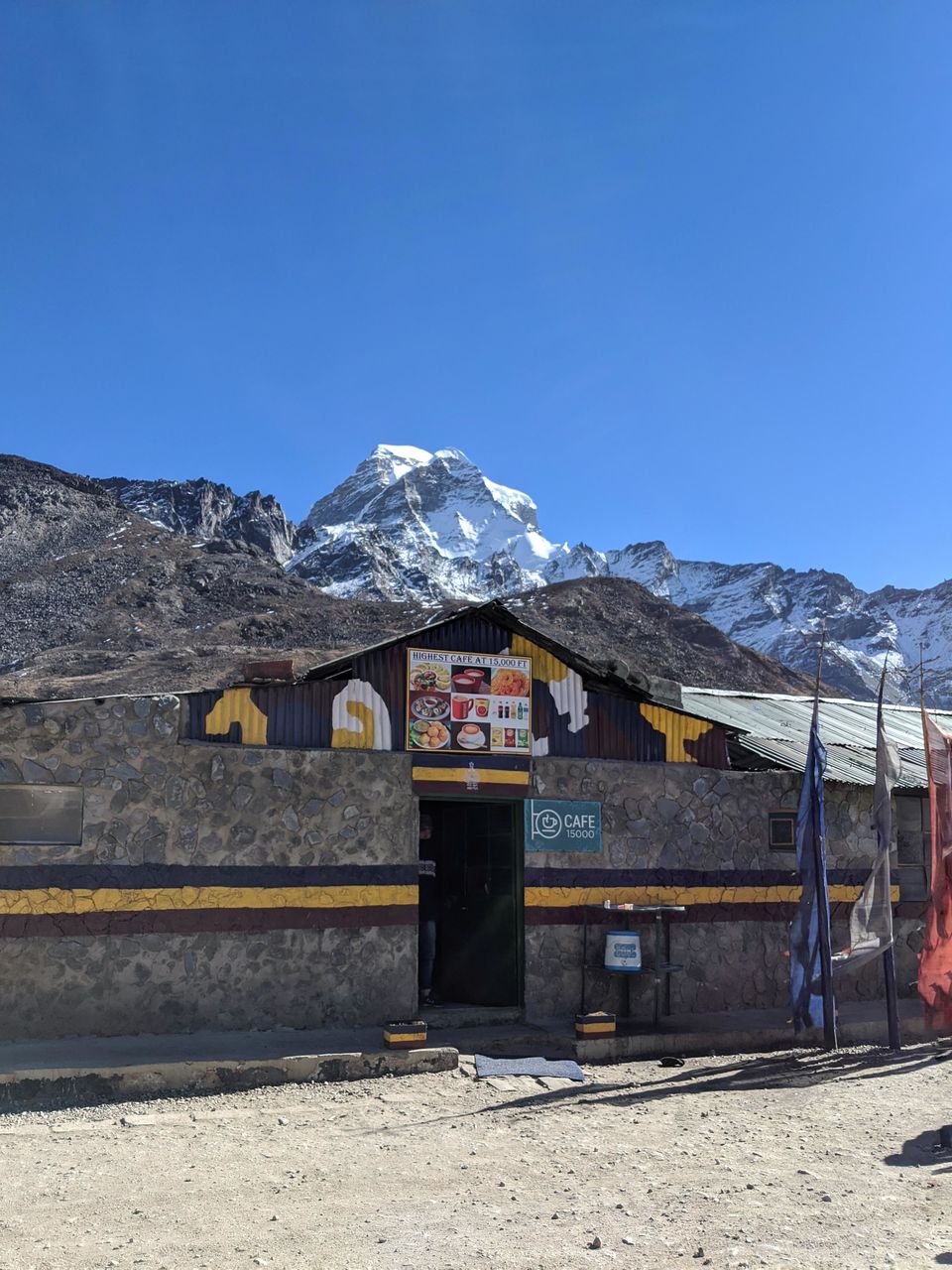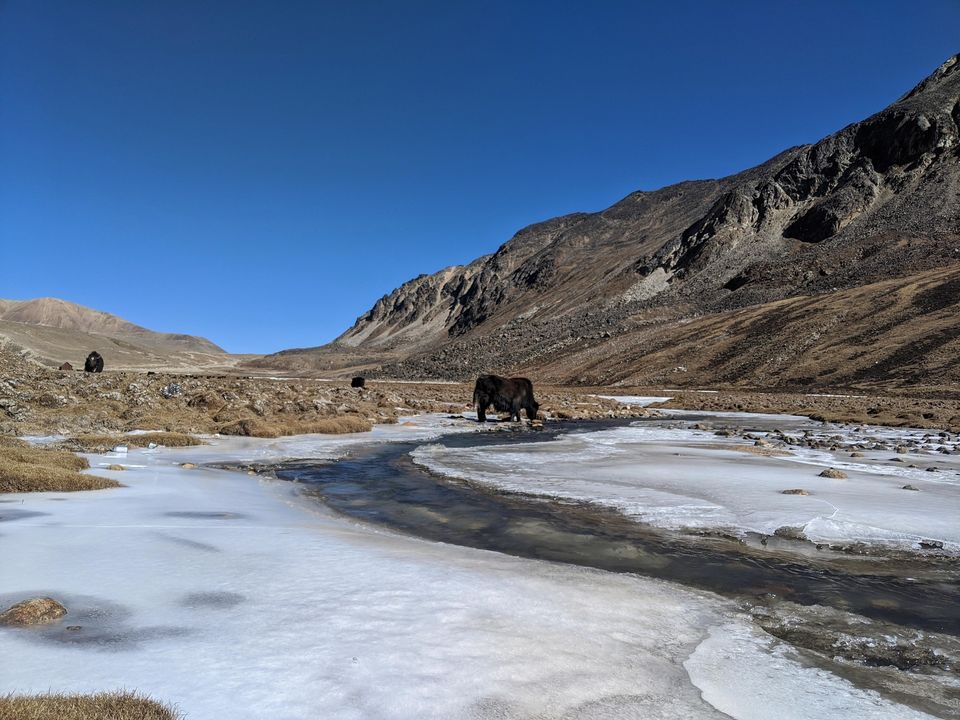 The thinning air, spotless, clear blue skies, and landmarks of "World's Highest Dosa Point," "Highest Café at 15000 FT," only piqued our collective anticipation of inching closer to Gurudongmar Lake. And before we knew it, the uncanny resemblance of the terrain to that of Leh Ladakh with a fare share of off-roading through the rocky paths - laced with pebbles and gravels - led us to Gurudongmar Lake.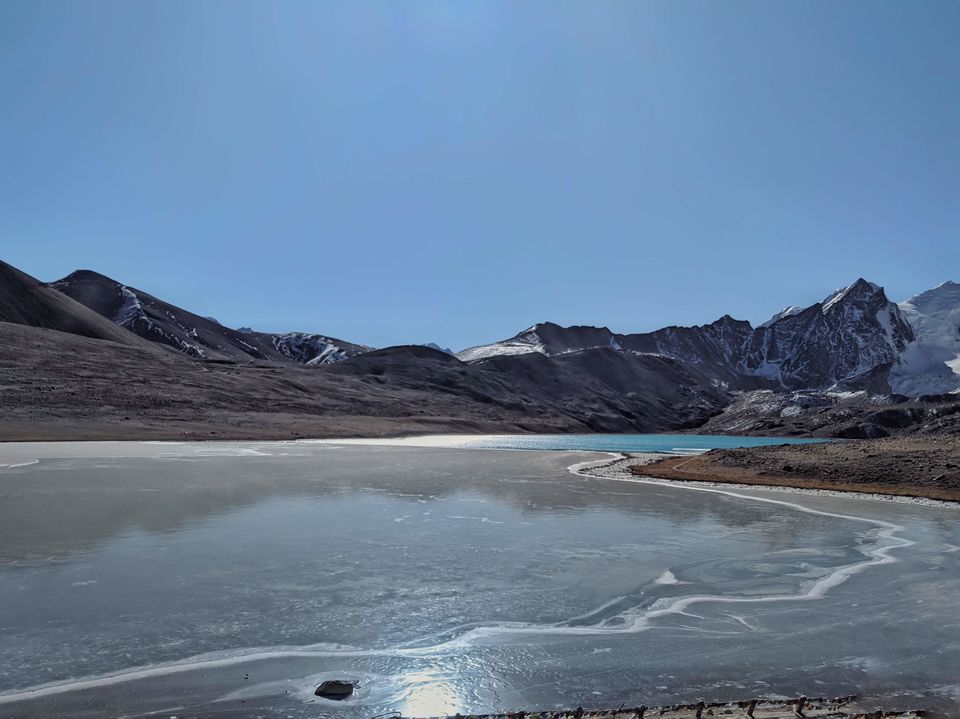 Encircled with mountains and glaciers, the lake shined and glistened as the rays of the sun pierced through the partially frozen Gurudongmar Lake. The bare minimum oxygen at 17,800 ft., and the warnings to not climb down the stairs to the foot of the lake felt unheard as soon as my eyes set their sight on one of the most scenic landscapes I had ever escaped to.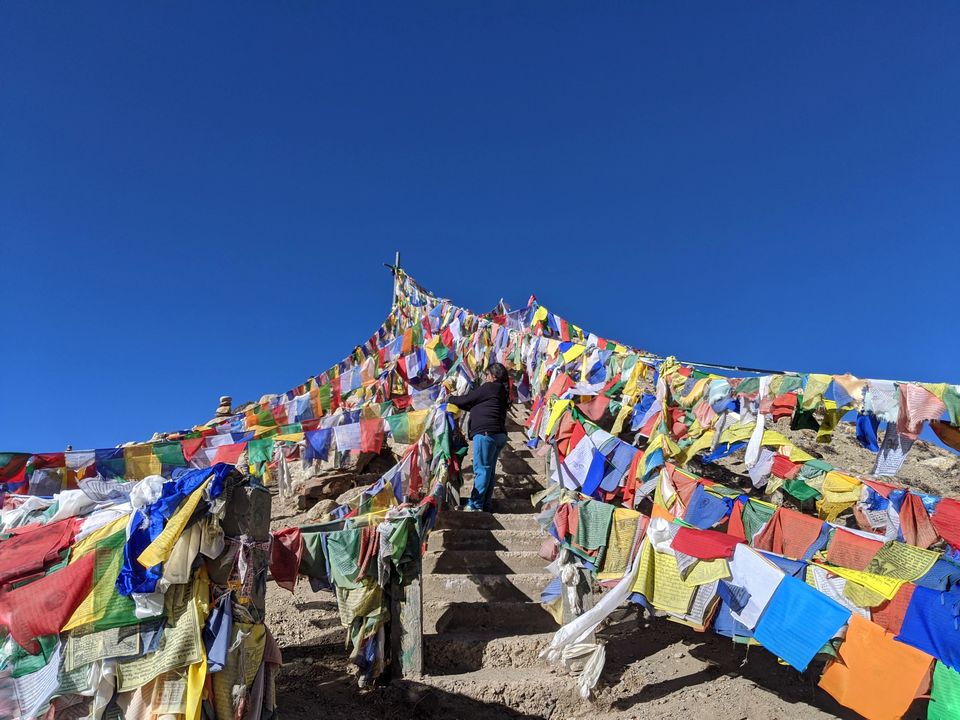 The colourful flags led the way to the stairway, crisscrossing to provide shade and allowing everyone descending to only steal a few glimpses at a time. Perhaps it was the hypnotic beauty of the lake mingled with the presence of only a handful of tourists that all my lips allowed to escape was "WOW"! The sweet babble of the water in freezing cold is enough to make you want to tread further and hop on to the stones only to capture a more perfect view.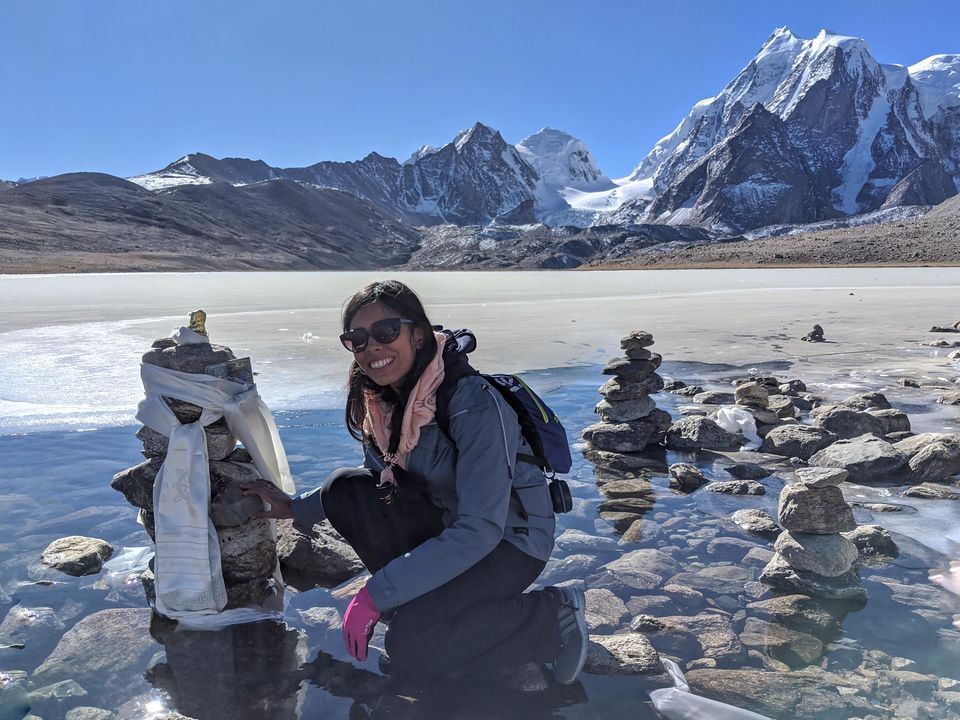 *Tip: Carry hot drinking water, popcorn, and chocolates for a quick recovery from the high altitude. You can experience acute mountain sickness at this height.
The captivating beauty didn't even let us realize that we had stayed at such a high altitude for more than 60 minutes. We probably would have prolonged our stay had our driver not reminded us of the 8 hour journey back to Gangtok.
Travel Tips
Budget the trip and then make the bookings – if you're a budget traveller, you might want to take shared taxis and tours. Staying in lower-lying regions like Tadong can also save you a few bucks on accommodation.
Carry a thermos or a steel water bottle, for the state was recognized as organic in 2016. Tap water has fresh, glacial water, which is safe to drink. Plastic water bottles aren't allowed in North Sikkim.
Hot water bags are a real saviour.
The state is best explored during the summer season and early winter season (till mid-December). It is inadvisable to travel in the monsoon from mid-June – September.
Frequent Searches Leading To This Page:-
itinerary for north sikkim, north sikkim shared tour packages, north sikkim tour for 4 days, north sikkim budget. north sikkim travel tips