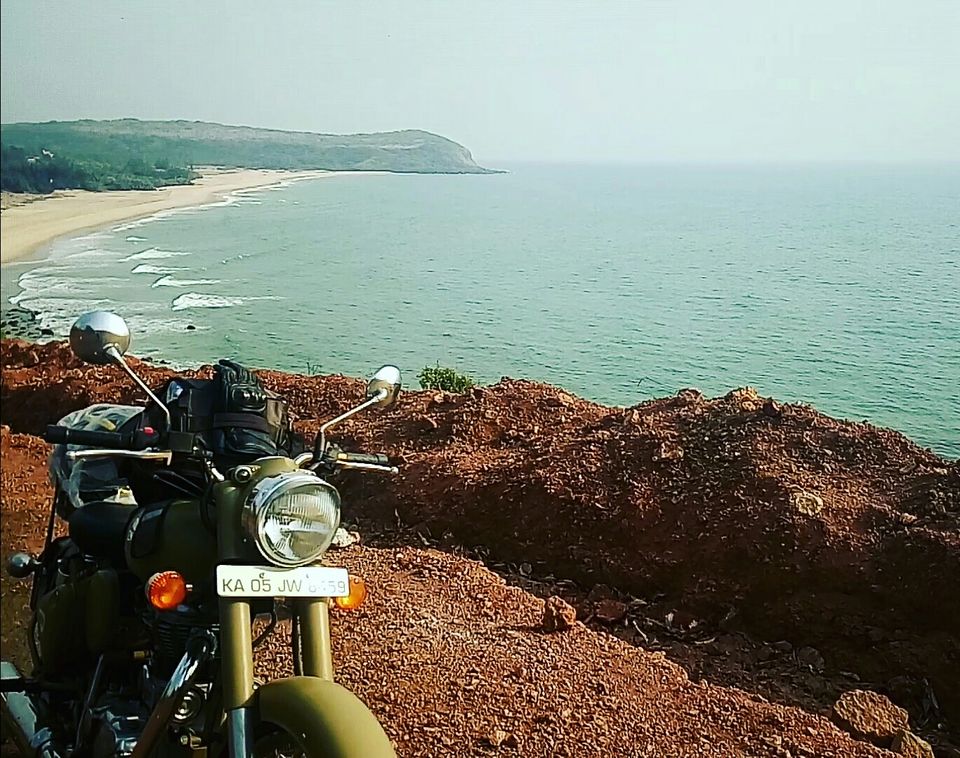 Friend - "Deb…… hey deb!"
"Yes dude"
Friend - "Let's see Bahubali, its releasing this Friday"
"Why? What's so great about the movie?"
Friend - "The movie looks great with all the action sequences, and protagonist doing some breath-taking gravity defying stunts pounding all the bad guys"
"So?"
Friend - "Doesn't it sound exciting?"
My friend asked me this question, and I went into a pause. I started thinking what could 'being excited' actually mean? I went into some thoughts, flashed some visuals, did that little self-talk in my head and exactly after 20 seconds I was more than ever clear of what could 'excitement' mean for me.
The answer was very loud and clear – "Try become a Bahubali, rather than just seeing one on a movie screen"
In my context, being a Bahubali would mean –
"A Bike Road Trip"
It has been 3 years since I have embarked on back to back bike trips, and the love has only grown stronger making it part of my DNA. I have had my share of problems, frustrations and difficult situations, but bike road trips have transcended me to new dimensions making me realize enormity of life and forget the mediocrity of our worldly chores
I have felt it, many have felt it!
So there was not an iota of doubt that I was going to do one.
It was a month that I had quit my day job, and was getting this sense of freedom which every human being on this planet is striving to feel. Those happy jitters, those butterflies in my stomach post quitting my firm where I worked for 5 years were an indication that what I did was right.
And now the time had come to get onto the act for which I surrendered my luxurious comfortable life.
3000 kms solo bike ride on a Royal Enfield Classic 500cc through the landscapes of Karnataka, Goa and Maharashtra coastal belt. It was an impromptu plan for 10 days.

I had my route in place,
Bangalore – Bylakuppe - Madikeri – Mangalore – Udupi - Goa – Malwan – Ratnagiri – Mahabaleshwar - Pune
Time to complete this journey was uncertain, because I wasn't in a rush to get back and report to office. I am glad that I took all the time in the world, stopping at places which were unusual and rustic to the core. One of the most fascinating road trips I have had.
Part 1 - Bangalore to Coorg and Tibet Settlement in Bylakuppe
The plan was to head directly Mangalore, and from there to Goa and Pune. But just one day prior, Coorg got introduced in the proposal. My friend Santo and his wife Shweta pulled me into their plan of day long trip to Coorg. They wanted to see the Buddhist settlement at Bylakuppe and check out several other monasteries there. Wanting to see Bylakuppe for a very long time myself, I was convinced of this slight alteration in my plan. The next day at 6 am, Santo and Shweta pulled their car and started off for Coorg, while I took my own sweet time to wake up, pack my bags and then finally get ready for the road trip that had reached excitement levels sky high.
I was moving like a day dreamer trying to chase his dream, but not quite getting to it. Was riding for I don't know how long. The sun was really getting brutal and each passing second seemed like an hour.
I kept cruising but!
Took me 6-7 hours to cover a distance of 250+ kms from Bangalore to Bylakuppe and alas, here I was. The place showed up like a blessing. Like a chilled water to a thirsty throat. Like a heartwarming hug to a tired soul
I was amazed!
Such a different setup. Every house had prayer flags, locals walking in a carefree gesture, Tibetan restaurents, Yoga/meditation centers and monasteries. Who could have guessed such a 180 degree shift in experience. I mean the whole layout of the place, architectures around, people and the place as a whole seemed a different world. One word - serene!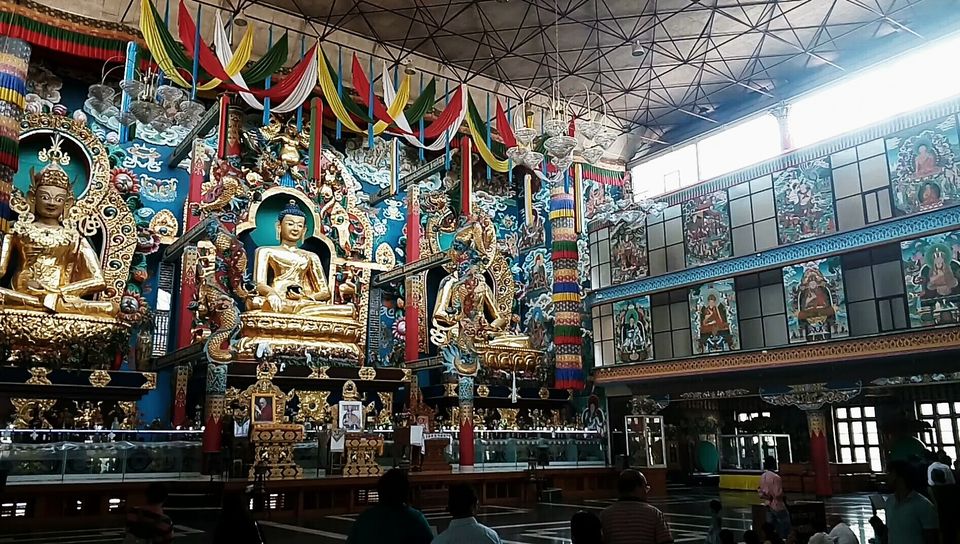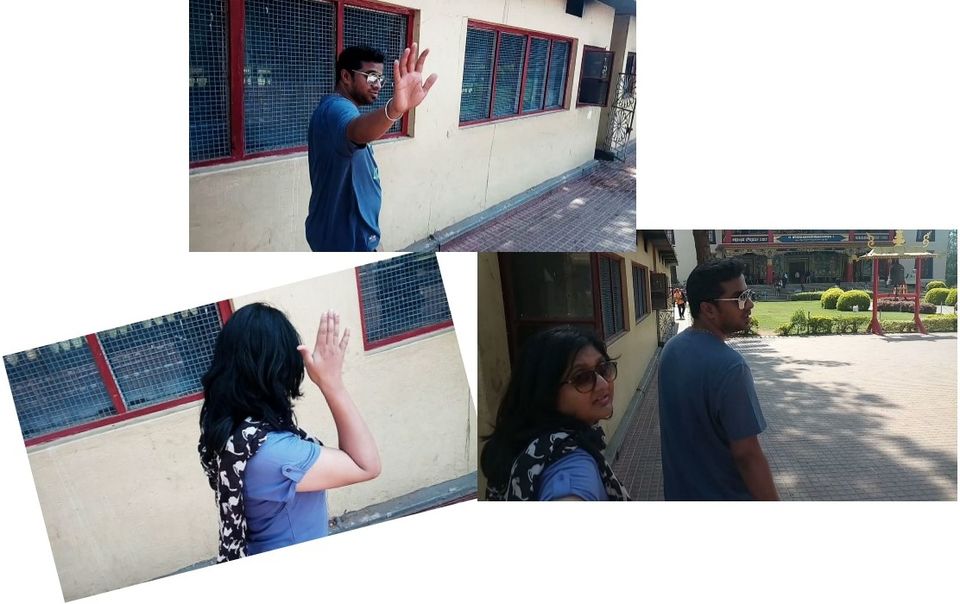 It was prayer time at 3 pm in the afternoon, and I looked onto these enigmatic Buddhist monks and their procedures with awe
It was getting quite hot as the day progressed, and after spending substantial time around the monastery premises, we decided to head out for some lunching and drinks. Santosh and Shweta were supposed to leave by 5 and drive back to Bangalore, where on the other hand I stayed back, spent the night there and was ready to head out towards Mangalore the next day.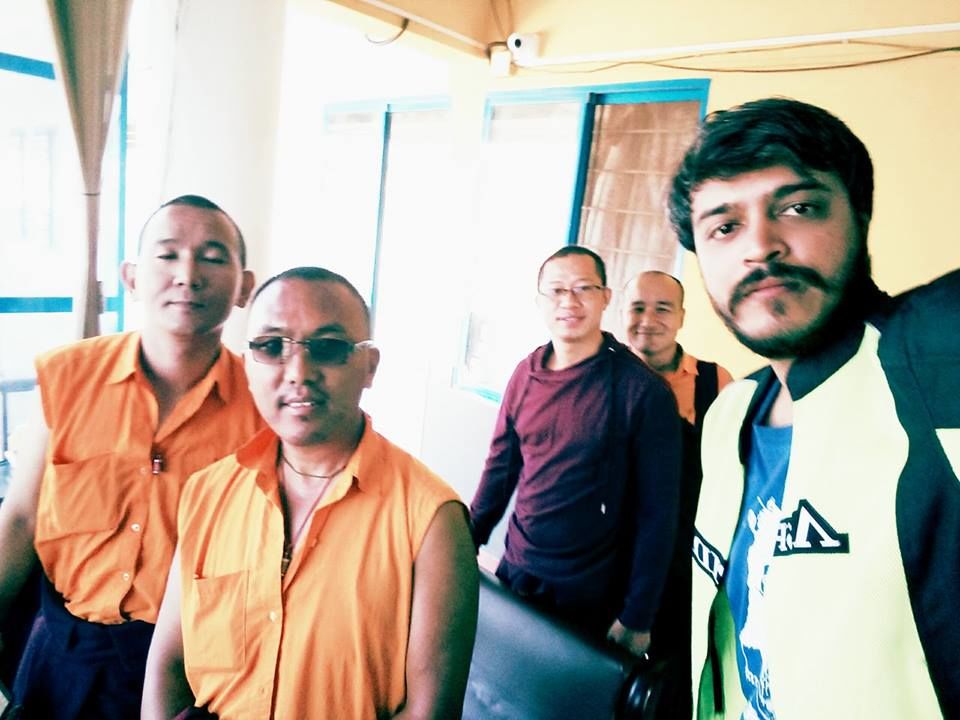 I remember one monk curiously enquiring about my gear and travel plans, and showed his desire to ride long distances. He got quite happy when I gave a mutual desire of becoming a monk for a day ;)
Part 2 – Reaching the Arabian sea port center in Karnataka - Mangalore
The plan was to leave Bylakuppe early in the morning at around 7am and dodge as much sun as possible, but it was 10am and I was still at my guest house. The weather was starting to get hot and I cursed myself.
But maybe not!
The captivating scenic encounters in my road journey made up for the heat. The ride was enthralling, beautiful and filled with twists on the road (one being getting caught by the traffic police for not wearing a helmet which I had just pulled out for 5 mins to get some wind).
After 4-5 hours of ride I reached Mangalore.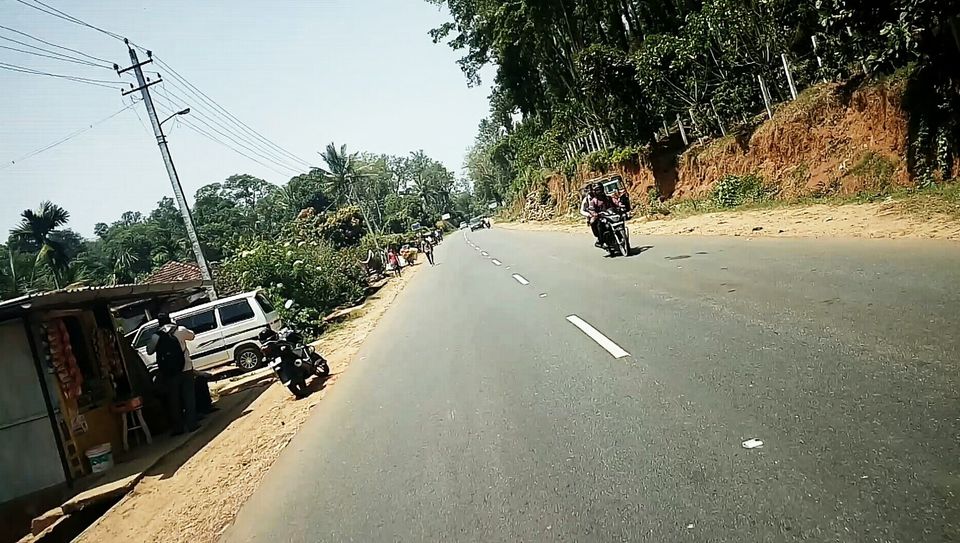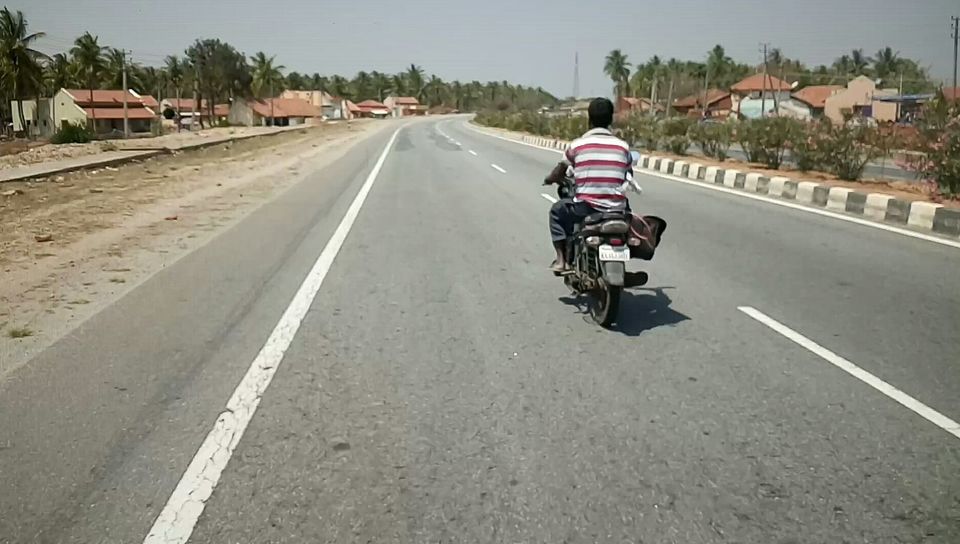 In Mangalore, I started to explore around and ask people about beaches I could go to. Two beaches I was told to go, Tannir Bavi and Panambur and so I headed towards them. I had heard about the famous Kadri Manjunath Temple, known for its bronze statues, and the 9th-century Mangaladevi Temple as well, but didn't quite feel like checking them out in such a heat.
(
At #Tannir Bavi beach (in the above picture) . It comes 7-8 kms outside main city of Mangalore. The road goes through Indian Oil factory and gives scenic pleasure of a giant lake and trees all along the road. There is a gush of heavy wind starts as you come closer to the sea line, and after some 15-20 mins of drive you start seeing road side sea food restaurents and the vast endless Arabian Sea. Silent, peaceful, white sand, hot in the afternoon but sublime in the evenings when the sun goes down. I tried to look all relaxed and calm but to be honest it was very hot and uncomforting. A perfect time is in the evenings, watching sunset at this beach along with some local sea food at your disposal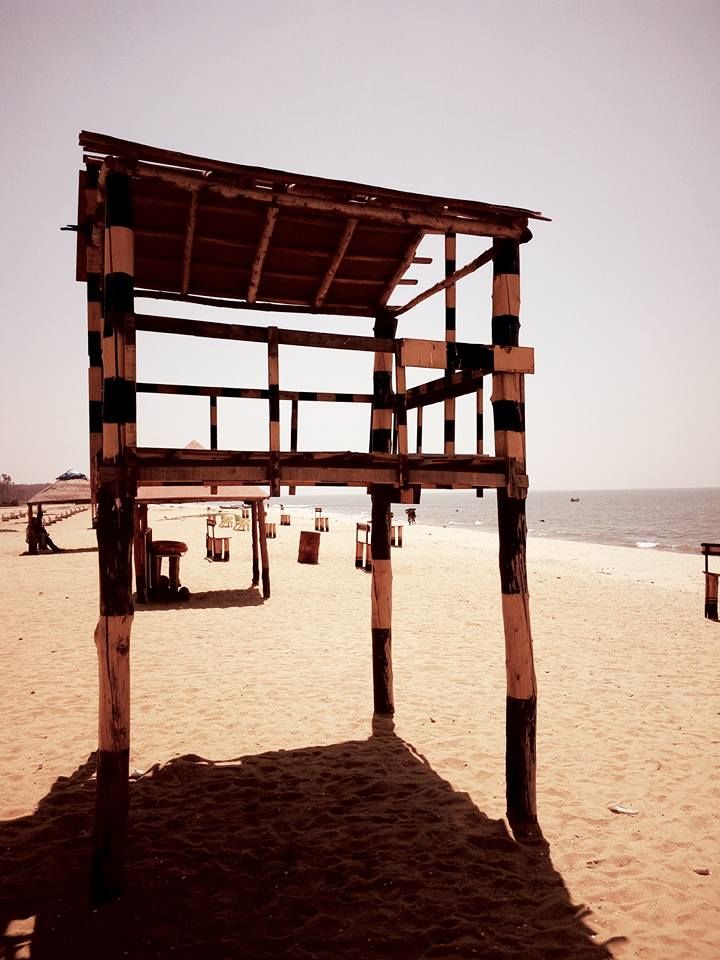 #Panambur beach (above picture), more popular among locals and hence more crowded than Tannir Bavi. Strong wind blasts, shack restaurants and ice cream/juice vendors all around. So basically, you can go there even in a hot afternoon and chill. Perfect place to have a delicious local meal with an amazing sea view. This is what I was looking for in Mangalore and I got it just the way I wanted
After my food at Panambur beach, I stayed back at Mangalore for that day exploring around the main town area, market, food and the consuming sugarcane juice repeatedly in the heat.
My next pit-stop was the popular beach destination Goa, and I was all geared up to leave next day morning. The route which I opted for, was the coastal line of Mangalore- Udupi – Murudeshwar, and then towards Gokarna, Karwar and then Goa. A total of 350 kms!
Part 3 – Coming to Goa, its magnificent beaches and routes less taken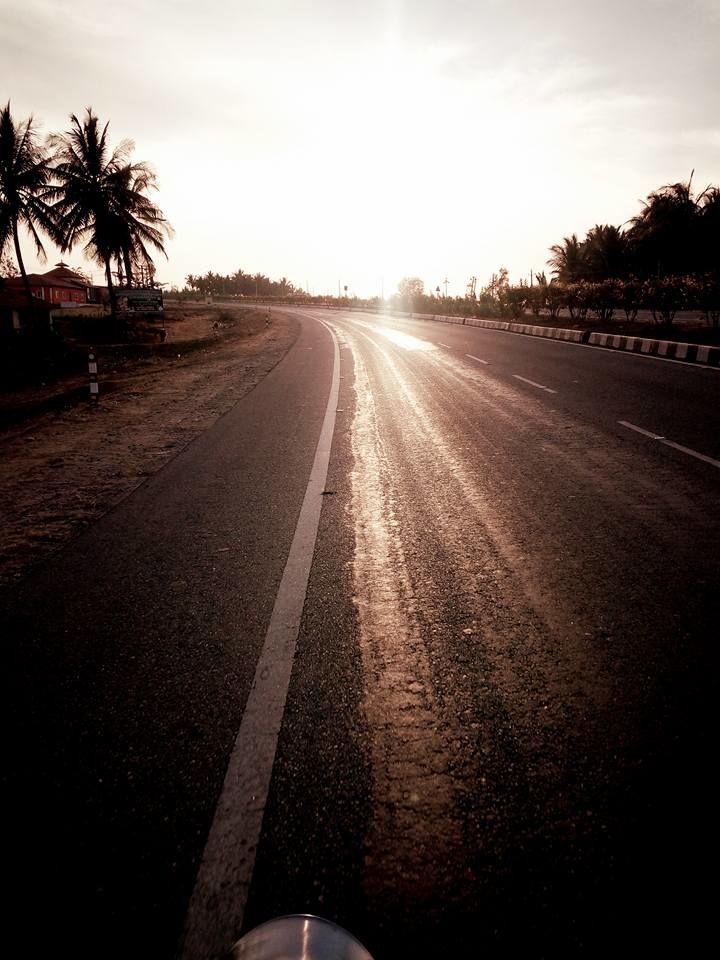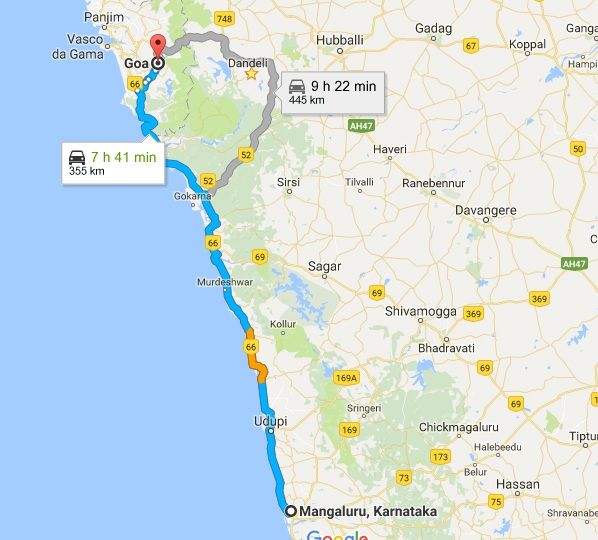 The above was the route I had taken my bike on. A delightful ride on a multi-lane highway, just along the coastal line of Arabian Sea. It took me good 8 hours to enter Karwar (where I had my delightful vegetarian lunch), and then another 2 hours to enter South Goa. The cool breeze was already hitting me by now. I was getting closer to the sea!
By 5 pm, I had entered Palolem, a blissful abode at the Canacona district of Goa. The season was ending as it was close of March, but still could see lot of tourists, backpackers and was getting all thrilled to be a part of the local vibe. Plan was to stay here for couple of days and then head to North Goa.
#Palolem Beach, a very attractive beach location placed at the heart of South Goa. Filled with all sorts of perks and a carefree atmosphere, Palolem is a perfect place to hang around if you want to get that gypsy flavor. An attractive tourist destination especially for foreigners who come over from all over the world. A place not to be missed, if you in South Goa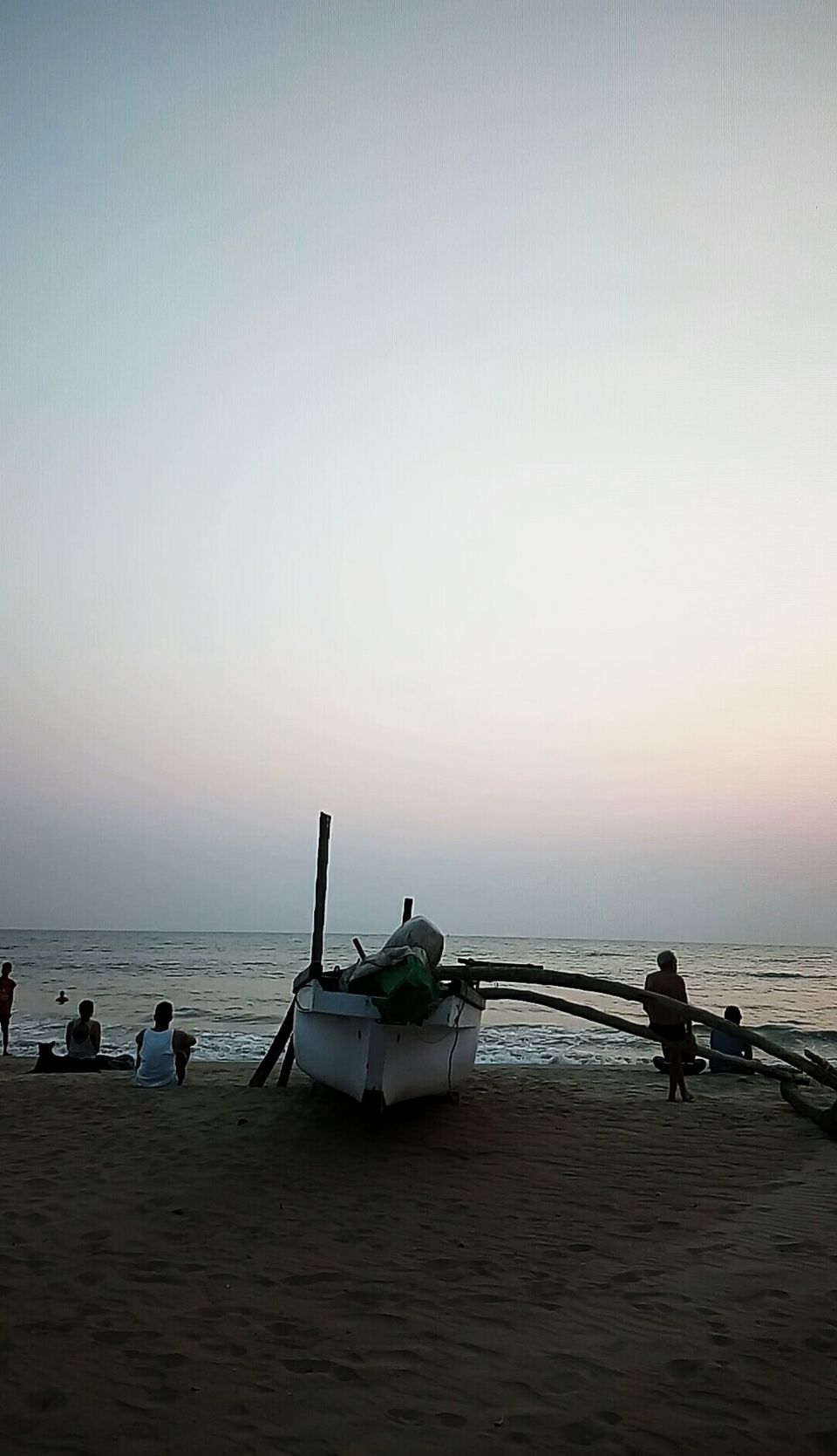 If you are in and around Palolem, you have to check #Patnem beach as well (3 kms from Palolem). Patnem is the surreal and silent version of Palolem. A relatively smaller beach location, and must do if you don't like loud vibes, but prefer less crowded surroundings instead
It was 3 days in South Goa already, and now I decided to move towards main town of Goa. There are many routes to reach Panjim from South Goa. The most popularly used is the Canacona – Margao route. But allow me to introduce this hidden patch of road which is absolutely delightful. The Agonda – Betul – Varca – Colva route which is the closest to the sea line. A road full with forests, rustic village areas, other-worldly hills and flowing rivers with cool breeze. A riding delight!
That night I crashed in one of the lodges in Anjuna. Was looking forward to the next day. The excitement was of Café Curlies. Had heard of it from lot of people so this time I wanted to check it out. Next day I got up and by around 2-3 pm, I was in Curlies.
I did spend considerable time in Goa, exploring numerous beaches. One of them was #Morjim. A paradise in North Goa. Big and less populated. If you plan to go there, don't stay in resorts coz its expensive, rather prefer a homestay which you can get for INR 500-600 /person/night (after bargaining ofcourse).
Goa was almost done in 6 days. A number of other locations that i saw were Aguada fort, Sinquerim, Dabolim, Arambol, and many more. I can put up pictures, but then you will close this blog. Goa is known location among millions, and i am guessing you all have a fair idea of what and how the place looks like.
And i am closing the Goa chapter here, coz i want to show you something which i didn't expect to see and not many people would know about this place. It was the most precious jewel in hiding, and i couldn't believe my eyes when i saw it.
Part 4 – The incredible coastal route of Maharashtra
I was fairly content with my stay in Goa. Met couple of friends, bought some beach wear, ate local food, tasted Goan beer on the beach side, and what not. I was ready now to head towards Pune.
Not quite excited with the coastal route of Maharashtra from Goa to Ratnagiri since had never heard about it from anyone. Never read blogs around it, my friends who stayed in Maharashtra never talked about it, so i was kind of skeptical. And so I couldn't fathom the surprises that the route had it for me.
To be honest, I kind of under-estimated the route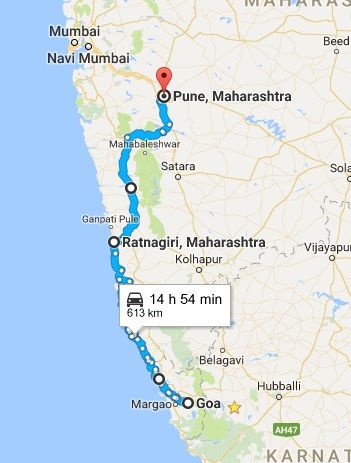 But ....
It was a matter of an hour, that i changed my opinion drastically. Beaches one after other, villages one after other, bridges one after other, flowing rivers one after other.... If I can say this, then the Maharashtra coastal route from Goa to Ratnagiri turned out to be one of my best rides ever.
A total time of 3 days that I took on this incredible route just before entering Mahabaleshwar, I was completely mesmerized with the landscapes and the road. Of all the impeccable places that I crossed, one that impressed me the most was the 'Kunkeshwar – Devgarh' stretch. A place which comes some 50-60 kms before Ratnagiri.
And now, here comes the mother of all scenes ….
Wait for it...
Wait for it.........
....
.....
Kabooooom.......
Oh myyyyy godddddd. #Kunkeshwar for all of you and I had absolutely no idea that I would see something this grand. A road attached to the sea line. Speechless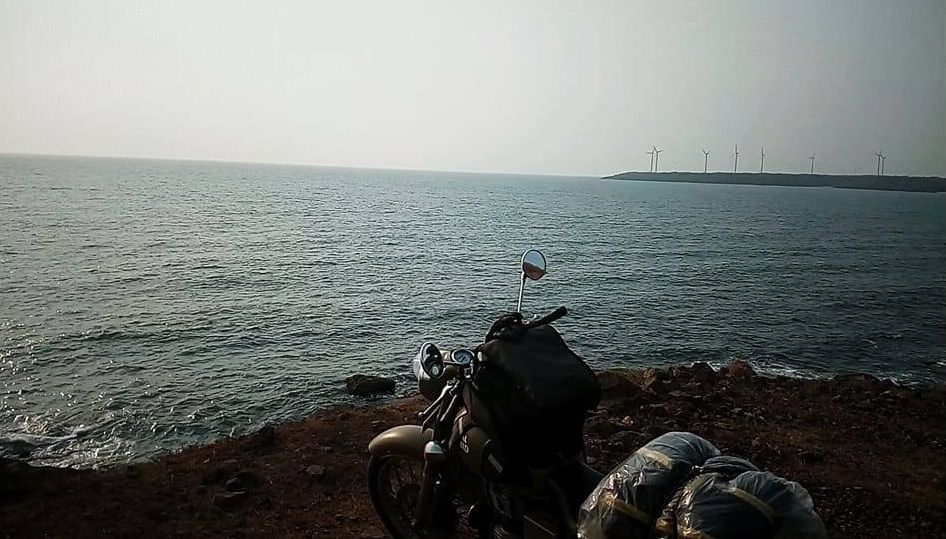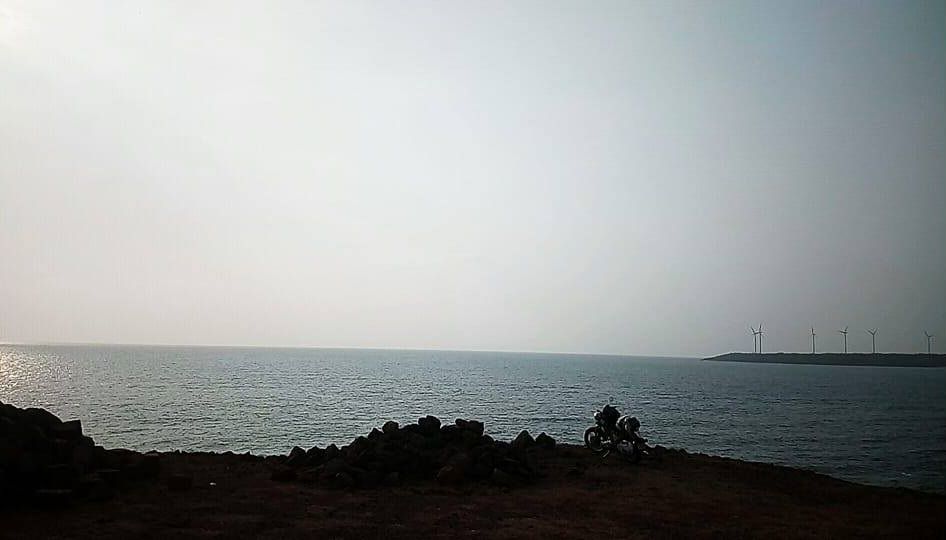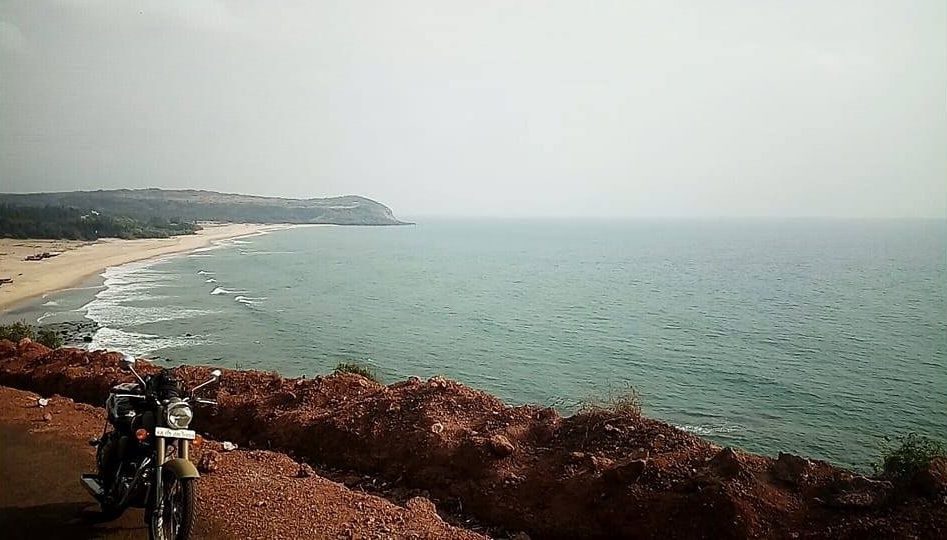 I would have spent 2-3 hours in Kunkeshwar. The place was divine, and another hidden gem among millions of unexplored places in India. I am sure there would be many places like this which people don't know about much. You can't read about them in articles, can't see them in TV or movies, can't hear from people.
The only way to discover such places is to take the drive down the beautiful countryside roads of our incredible country called India.
I took my bike and rode ahead crossing Ratnagiri, Mahabaleshwar and Khandala. In 2-3 days time, i had reached home in Pune where i met my parents after a long time.
My mother was tired from school, and i knew this fatigue wouldn't last long,
After all i had an incredible tale to tell ;-)