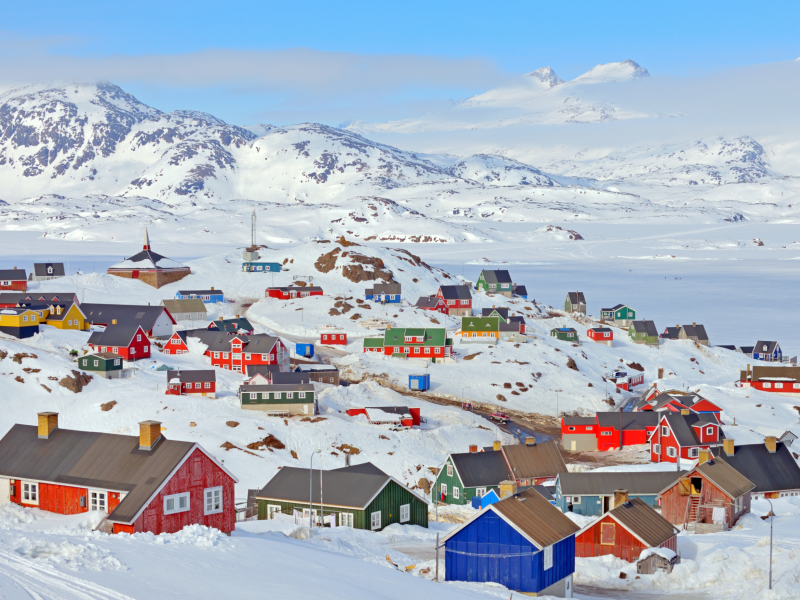 I am sure you have heard about this beautiful island called "Greenland" and must have seen those Northern Lights in many landscapes. It is the world's largest island and attracts many adventure tourists and wanderers for an exhilarating getaway. Greenland received 75,553 tourists in 2016 and expected to increase it to 90,000 by 2027. So after the novel epidemic is over would you pick Greenland to be your next travel destination?
The main tourist activities in Greenland are sailing tours among icebergs, dog sledding tours, ice cap treks, wildlife spotting (including whale watching), iceberg watching, and hiking trips to the mainly Norse ruins. The island has much more to offer than you can imagine.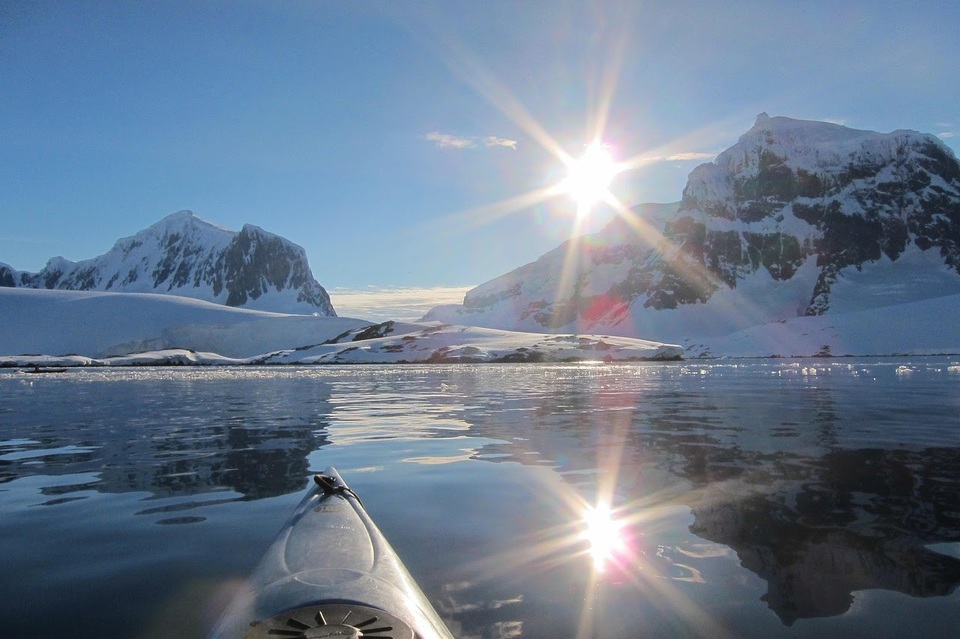 Now many of you might be wondering whether Greenland is a country or not a country? Well If you ask in Denmark or Greenland, Greenland is a country. Why? Because Greenland is autonomous and not a member of the EU like Denmark. Autonomous means defense and foreign affairs are Danish responsibility.
Health care, including how to handle the Corona crisis is the sole responsibility of the Greenlandic Government. Denmark contributes two-thirds of Greenland's budget revenue and rest comes out of fishing. The total population in Greenland is only 57,000.
Greenland against COVID-19
Greenland has become one and the only country to have all the cases recovered from the novel epidemic. There were 11 positive cases found and now there are no active cases. The cases came from the capital city, Nuuk.
At the moment the whole world is practicing a complete lockdown, likewise, Greenland closed all the borders and those who wish to travel in or out will need special attention. We can see their efforts against coronavirus.
According to the report "A grim history of deadly epidemics brought to Greenland in the 18th and 19th century by European colonizers has fueled fears that the coronavirus, if not checked, will fast reach the many small outlying villages, thereby creating urgent and impossible demands for emergency air transport and intensive care in Greenland's small hospitals."
Fun Facts about Greenland
World's Largest Island
Greenland is the world's largest island by area. The total area is 2.16 million square kilometers. And almost 80% of the area is covered by an ice cap. Nevertheless, it is one of the least densely populated countries in the world.
Greenland was once green
Greenland was actually very green when Erik The Red called it "Greenland" in a hope that the name would attract settlers. But scientists believe the island was quite green about 2.5 million years ago.
Autonomous Country
The island is an autonomous country. It means defense and foreign affairs are taken care of by Denmark. Also, Denmark contributes two-thirds of Greenland's budget revenue. Although, geographically speaking Greenland is a part of the North American continent.
Multilingual Nation
Greenland is a multilingual nation since the majority of the population speaks both Greenlandic (mainly Kalaallisut) and Danish. "Kayaking" and "igloo" are the Greenlandic words that have been adopted directly by other languages.
No roads
Greenland has no roads. The main transportation relies on boats and air traffic. Also, you can travel on snowmobiles and dogsleds. Many people have a misconception of movies and believe there are roads across Greenland. They have roads but within the towns.
3 World Heritage Sites
The island owns 3 World Heritage Sites namely Sermeq Kujalleq, Kujataa, and the Aasivissuit-Nipisat. Sermeq Kujalleq is one of the most active and most visited glaciers in the world. Kujataa is a subarctic farming landscape. And last but not the least, Aasivissuit-Nipisat is an Inuit hunting ground located inside the Arctic Circle.
Easy to find hot springs
Hot springs are said to be reminiscent of Iceland but Greenland offers many natural hot springs. On the island of Uunartoq, you'll find springs that are warm enough to bathe in.
Midnight Sun
During your visit to Greenland, you can experience the midnight sun. Sounds bizarre? But, it's true. Every year the sun does not set from May 25th to July 25th and remains visible throughout the day and day. You'll find locals out basking in the sun or enjoying a barbecue out in nature.
Vibrant capital city
The vibrant capital city of Greenland is Nuuk. The city is home to more than 18,000 residents which is one-quarter of the total population. It is the biggest and most cosmopolitan city packed with cafes, fashion boutiques and museums. If you are visiting make sure to visit the National Museum of Greenland, the Katuaq Cultural House as well as the Nuuk Art Museum.
No direct flights
You can only fly to Greenland from Iceland or Denmark. And yes it is true. There are no direct flights from the USA or Europe. The major airports of Greenland are Kangerlussuaq Airport (SFJ) and Narsarsuaq Airport (UAK). They have their own regional airline, Air Greenland.
Fishing and Food
The entire country is majorly dependent on Fishing for their food. And also fishing is a major industry to contribute to the revenue. Although they do not export any meat, it is consumed locally. Also, each area is given a certain quota of whales, seals and fish to avoid overfishing.
Where to stay?
When it comes to stay in Greenland then you are actually on limited choices. Greenland does not have any 5 star hotels, 4 star is the maximum which you will get and plus the prices will be sky-high. Hence, if you are someone who is more of a luxury traveler then you might have only limited choice. And for backpackers, you have budgeted hotels along with hostels, and bread and breakfast. Nevertheless, if you have your tent then you can actually camp anywhere in Greenland although you will definitely need to take care of some precautions. You can opt for Airbnb as well, they can offer you with some good apartments or houses for rent.
Another thing which will be expensive is the internet. You will actually have to pay extra in order to use the Wi-Fi in some hotels. Make sure you check prior to making any booking. So you have all these different sites from where you can easily find your stay like TripAdvisor, booking.com, agoda.com, bargainairticket, etc so we will not be going into that. Rather I would like to share the unique places where you can stay in Greenland, now these can be hotels, igloos, cottages or private cottages. The main reason behind picking these to make your experience in Greenland worth.
So let's get started -
Ilimanaq, North Greenland
In the Ilimanaq lodge you can relax in a bungalow. The cottages are equipped with solar panels that provide energy for electricity. The cottage is a two-level construction and has comfortable furniture and a private bathroom and toilet. On the ground floor, you have a pull-out sofa and on the top level, you can either have a double bed or twin beds. You get a panoramic view of whales and floating icebergs because of the large window section facade towards the sea. You can get the view from both the floors. Whales regularly come close, just like the icebergs pass by outside.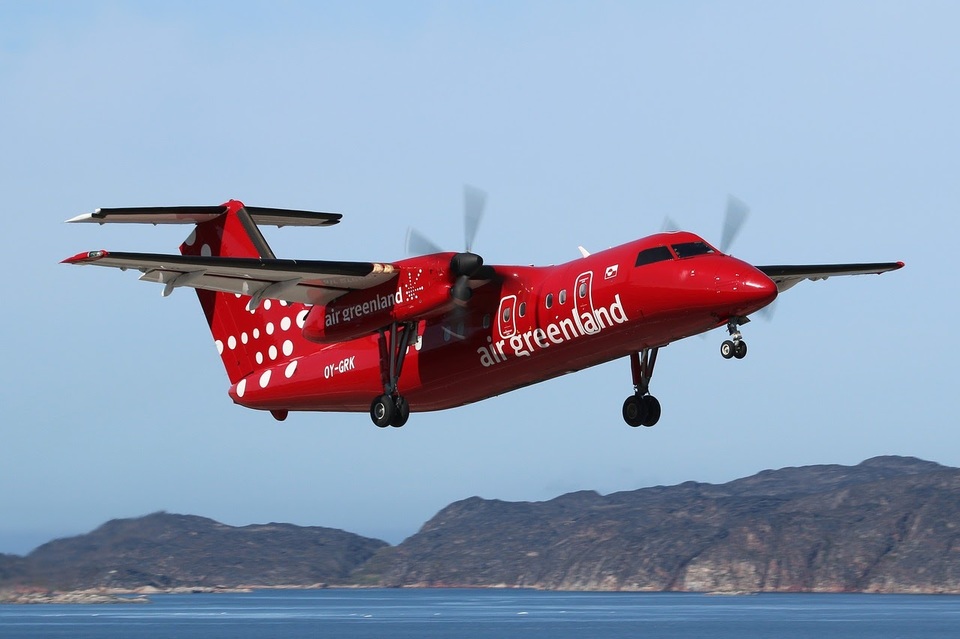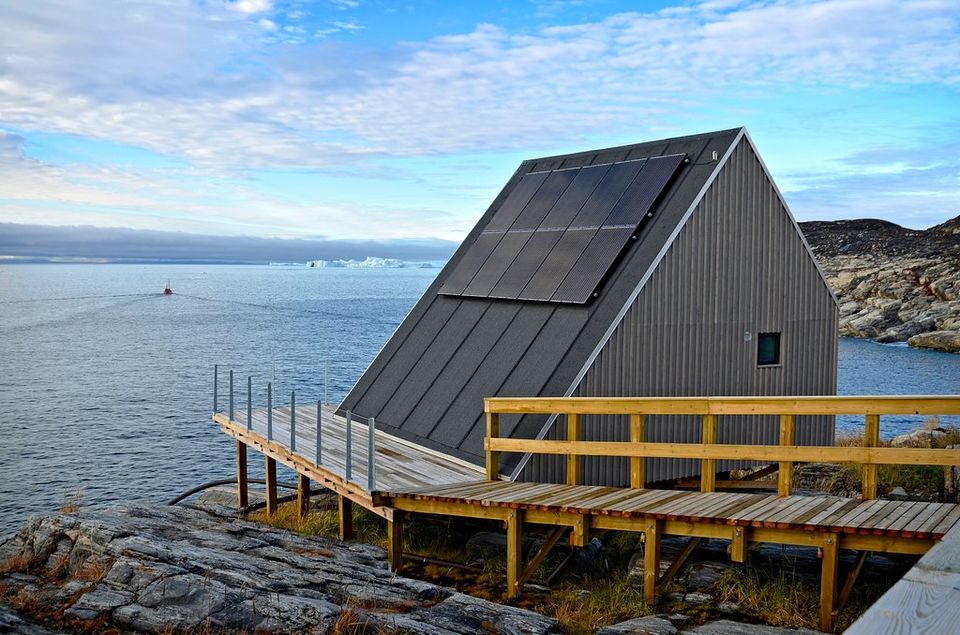 East Greenland Arctic Safari
Now we have the deluxe camping experience in a unique way. The luxurious safari-style camp is in East Greenland right by the Ice Sheet. The camp is created by Natural Habitat Adventures so that the guests can experience a unique nature with modern conveniences. You will be staying in the wilderness with a fascinating view of ice sheets and whales. You can explore the fjords and islands on boat excursions or do kayaking too. The camp can accommodate a maximum of 12 travelers. And the package includes the travel to and fro from Keflavik International Airport. It will be one hell of an experience and that is for sure.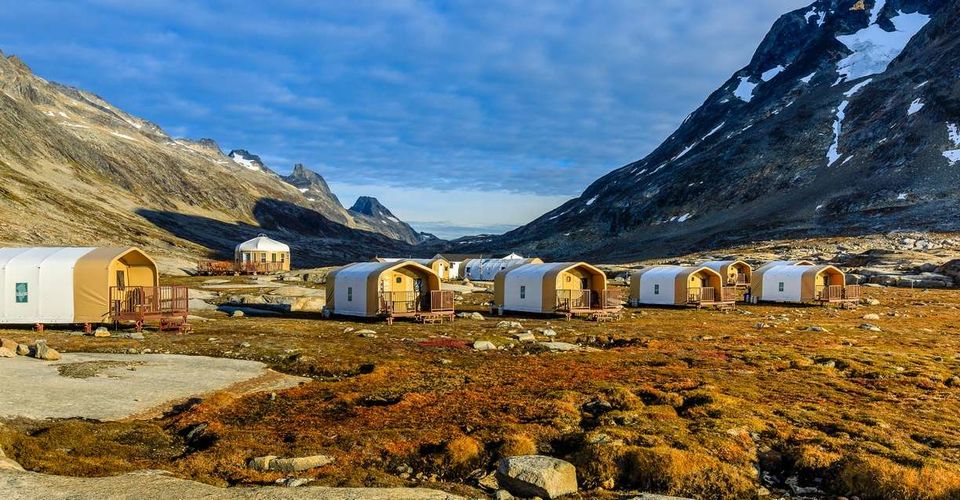 Ilulissat, North Greenland
Ever wondered how it feels to live in an Igloo? Well, it is time to experience the igloo. Hotel Arctic in Ilulissat offers a comfortable and less icy version of the igloo since they have made these igloos of aluminum. Each igloo can accommodate 2 people and is outfitted with fur-covered beds, TV, bathroom, and heat (to keep you warm during winters). The experience of spending a night in an igloo may sound perfect for adventurous travelers. You won't be encased in snow and ice although you will sleep close to the water's edge overlooking the breathtaking icebergs. You can book it between May and October.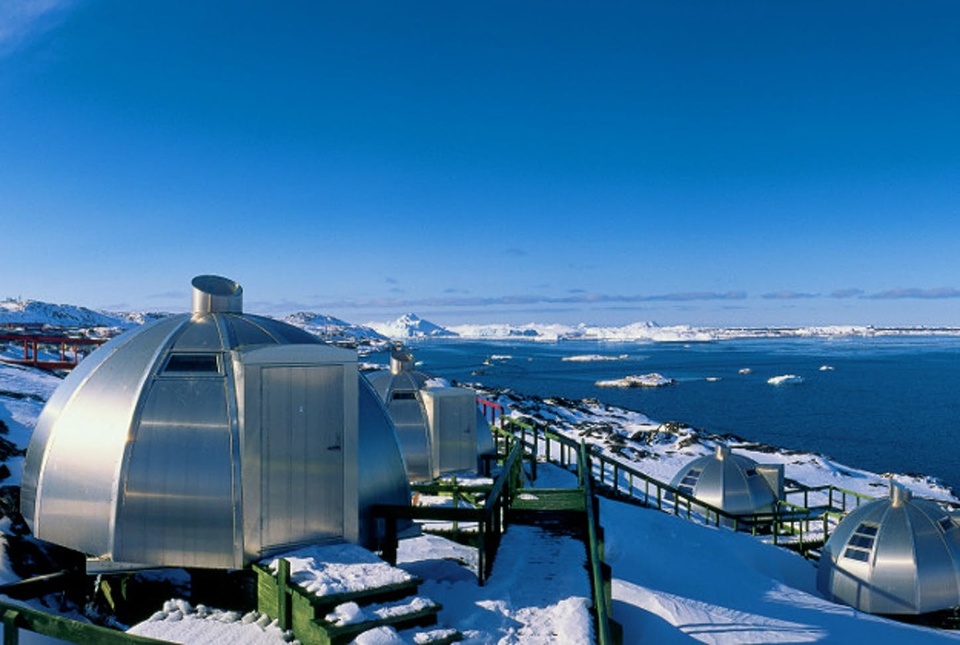 Sisimiut and Kangerlussuaq, Arctic Circle
The Arctic circle is a long 200 kilometers trail that is used for hiking. Along the complete arctic circle there are 10 huts that are placed. These huts can provide you safety from brisk weather and also an opportunity to meet other hikers. These huts are available for free and can be used on a first-come-first-served basis. Although, many hikers go for a mixture of camping and sleeping in huts.
Here are the spots
Hundesø
Katiffik
Canoe Center
Ikkattooq
Eqalugaarniarfik
Nerumaq
Innajuattoq I
Innajuattoq II (The Lake House)
Kangerluarsuk Tulleq Syd
Kangerluarsuk Tulleq Nord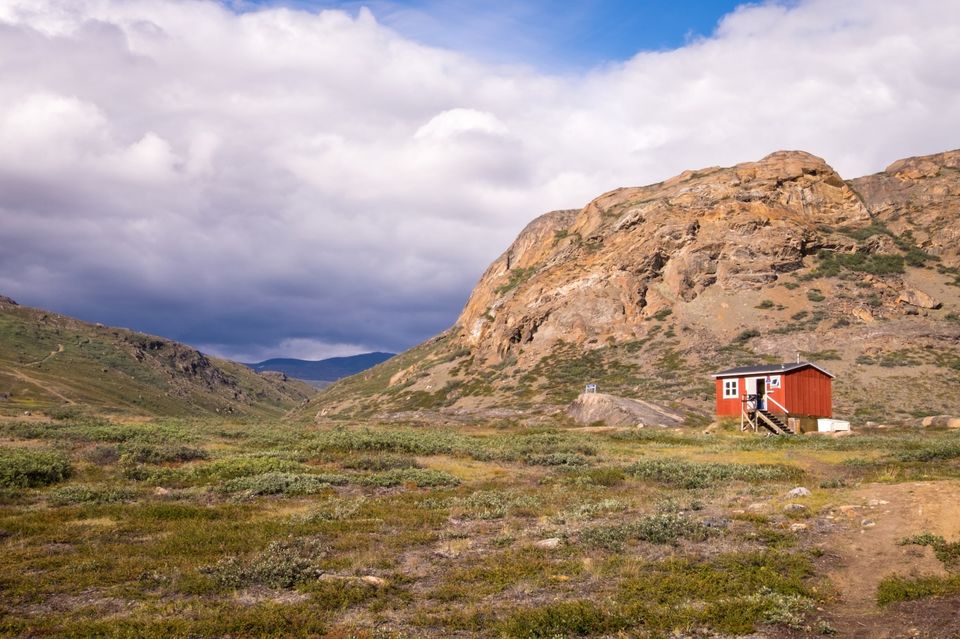 lulissat, North Greenland
The Glacier Lodge Eqi was the world's first one to be in the list of unique lodges in Greenland. The lodge is located 80 kilometers north of Ilulissat. The Glacier Lodge offers three kinds categories to the travelers - Comfort, Standard, and Budget. There are 15 cottages in total and a cafe - Cafe Victor. The comfort lodges are equipped with solar panels to provide electricity. The other two, standard and budget will have no electricity. Also, comfort huts are the only ones which are offered with a private bathroom and toilet, the standard and budget category have shared bathrooms and toilets. Despite these most lodges offer panoramic views of the glacier calving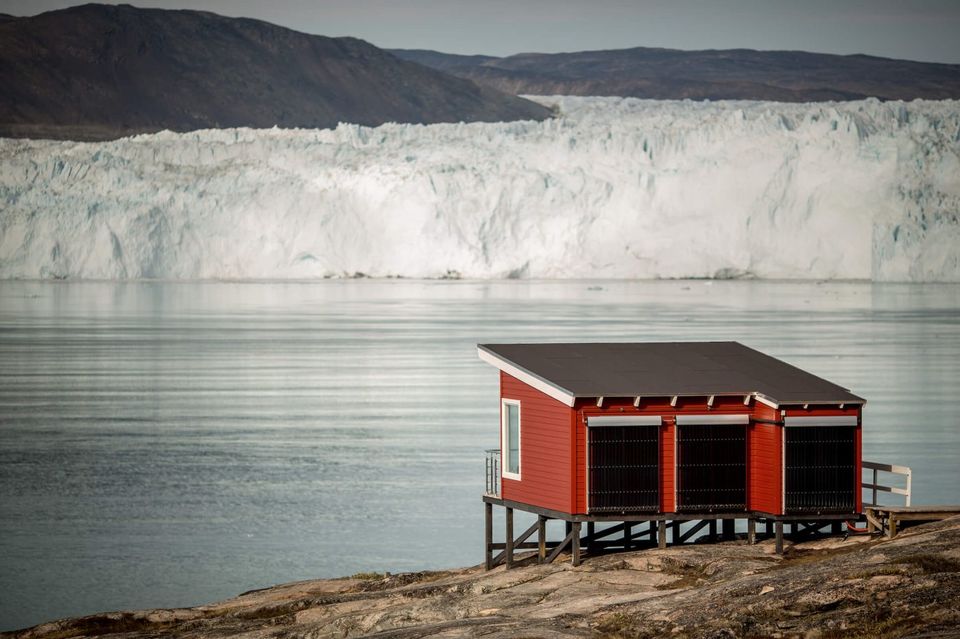 Igaliku, South Greenland
Igaliku is a beautiful village in South Greenland with a mere population of under 30 people. It is known for its green pastures, sheep farms, stone houses, and Norse heritage. You can experience some good hikes and the culture of the village. The Igaliku Country hotel offers you a cosy and comfortable stay and local cuisine in the cafe. The hotel is open from May to September. The hotel has 8 double rooms and 6 cabins with separate toilet and bathroom facilities in the corridor and a service cabin respectively.
Qaqortoq, South Greenland to Ilulissat, North Greenland
Sarfaq Ittuk is a coastal ferry and is a primary mode of transportation in between west coast communities of Qaqortoq in the south to Ilulissat in the north. This will be the perfect stay for those who are adventurous and willing to travel the original way. The ferry offers you various facilities like accommodation, cafe, entertainment and much more. The accommodation in the ferry is of two types - Cabins and Couchettes (bunk beds/dormitories). You also get to experience some good local cuisine on the ferry from Cafe Sarfaq. The cafe serves breakfast, lunch, and dinner. During your time in the open ocean, you can also get to experience some cinema/entertainment systems in the ferry itself. And they do have internet (ofcourse it is paid) and playroom for the young one.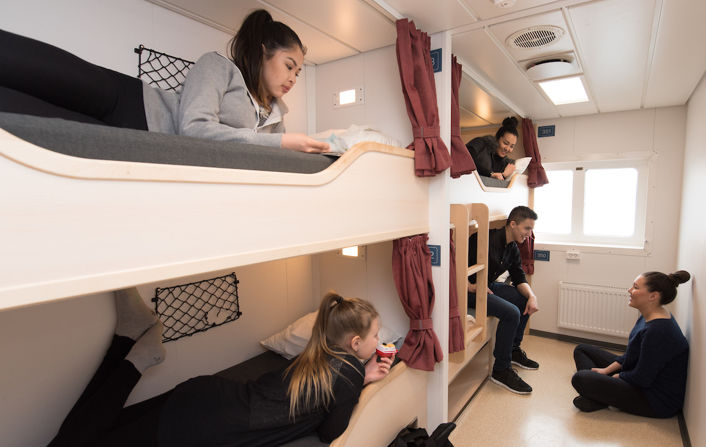 Nuuk, Capital region
Last but not least we have the capital city on my list. The Inuk hostel is located within a walking distance from downtown Nuuk with a magnificent view of the Nuuk Fjord. The hostel has 4 cottages and one large common Cafe Inuk and a garden. These cottages are inspired by traditional Greenlandic turf huts, just with homely touches of sheep furs and seal skins. The hostel provides free Wi-Fi and free parking space. But you will get a shared bathroom and toilet.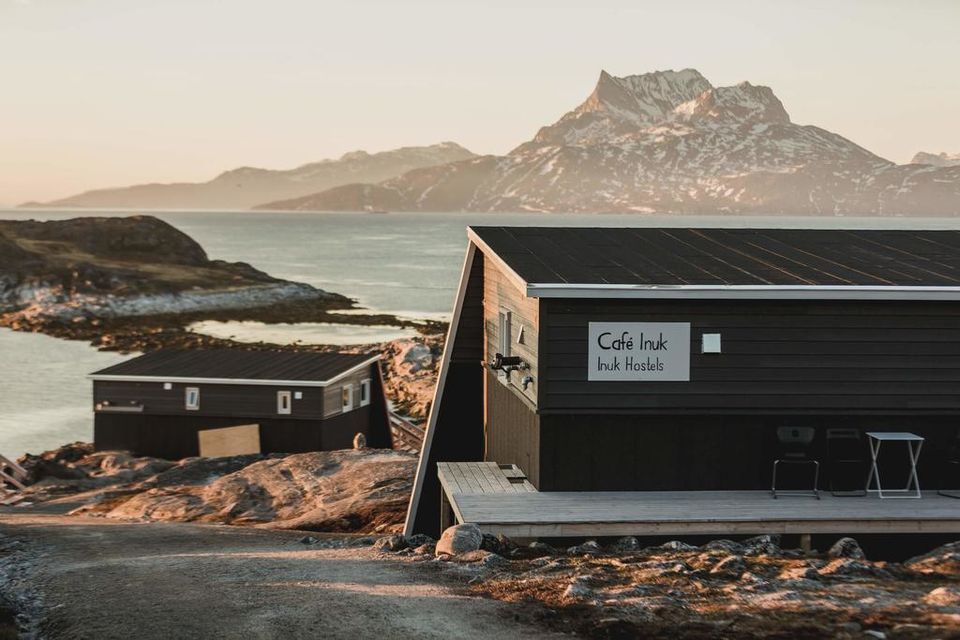 Kangerlussaq, Destination Arctic Circle
Nothing is better than enjoying the night in a tent on the ice. Camp Ice Cap is the one that gives you the experience to camp and wakes up with a view of the Greenland ice sheet. You can go for the 2-day/1-night in the wilderness with a fascinating view of glaciers and nobody else around except your companions. Speaking of facts, there are only 2 ice sheets which exist in the world, one in Antarctica and the other in Greenland. But only Greenland has the upper hand because this is the only place in Greenland where you can literally drive to the ice sheet. Nevertheless, you can also experience the midnight sun or the Northern lights too which ofcourse will depend on the time of your visit.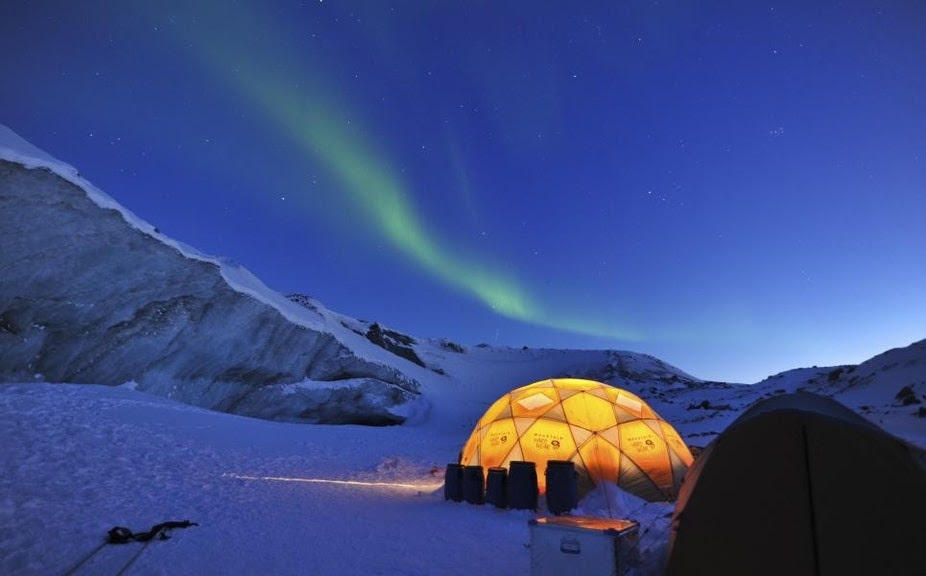 Tourist spots?
Greenland is majorly covered with icebergs and glaciers and becomes the most impressive attraction for tourists. They are the highlight of the country and actually contribute to the eternal beauty of the island. The island is located between the North Atlantic and Arctic Oceans and this makes the bewitch phenomena of Midnight sun and the Northern lights. The capital city of Greenland, Nuuk is the one with the highest population of around 18,000 people.
Nevertheless, Greenland does let you experience the breathtaking serene beauty of green mountains with crystal clear skies, and who would mind those hot springs and the pure and clean air. And not to forget the wildlife which exists both on sea and land, polar bears, whales, reindeer, sea eagles, seals and much more.
Here is a list of my top-rated tourist attractions:
Greenland National Museum
The Greenland National Museum is in the capital city of Greenland, Nuuk. And it is a must to visit the destination for any tourists. The museum holds a collection of hunting equipment, carvings and kayaks. Nevertheless, the museum also hosts regular exhibitions of geology and the arts. Among the many attractions, there is the largest and oldest skin boat, traditional clothes worn by the Greenlanders, mummies from the Northwest part of the country, etc. The museum has preserved 500-year-old mummies of women and children discovered in 1978.
Katuaq Cultural Centre
The Katuaq cultural center was constructed in 1997 after a coalition between the Nuuk Municipal Centre, Nordic Council of Ministers, and the Greenland Home Rule Government. The center is one of the top places to visit in Katuaq. The building structure is an ode to the charismatic northern lights, icebergs and the effect of light in the snow. The center looks like a magnificent piano. It contains two auditoriums. The bigger auditorium can seat more than a thousand people and is, thus, used for showing films or plays and hosting concerts or conferences. The smaller auditorium can accommodate 508 people. You will find art displays, cinema shows, and a cafeteria.
Arctic Circle Trail
The Arctic circle trail is around a 200 km long hiking trail which connects Kangerlussuaq with the village of Sisimiut. The hiking trail takes about 8-10 days to cover the route, crossing through narrow valleys, hills, and ice caps, etc. This is one of the most adventurous tourist spots and plus it's very challenging. Any hiking lover enthusiast would definitely love to spend the time on this trail.
Northeast Greenland National Park
The Greenland National Park was established in 1947 and is the world's largest national park. The national park covers an area of 972,000 square kilometers which is nearly the combined size of France and Spain. The park is home to several diverse species of marine and terrestrial fauna like polar bears, walruses, musk oxen, arctic fox, bearded seal, arctic hare, ringed al, harp seal and more. Nevertheless, the park also shelters several bird species namely barnacle goose, common eider, gyrfalcon, raven, etc. And for thousands of years, various Inuit cultures have lived here and survived.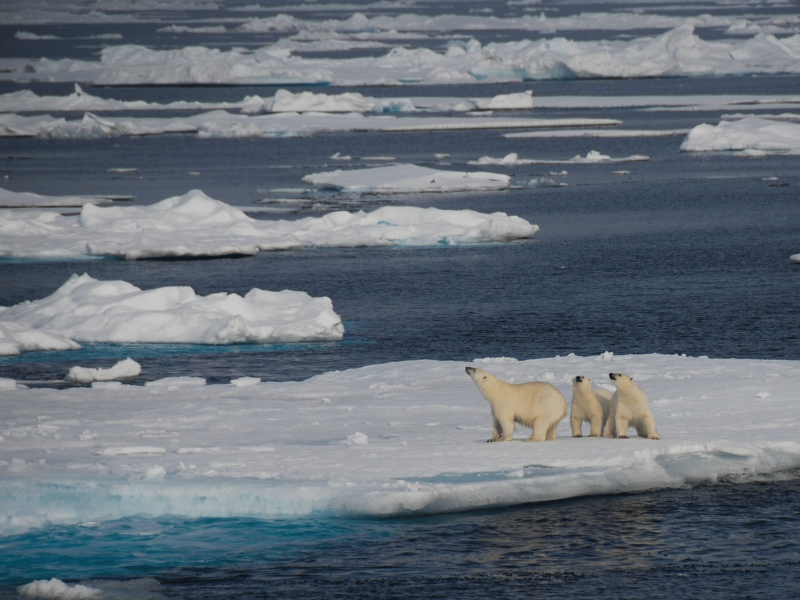 Uunartoq Hot Spring
Greenland is full of hot springs but only one on the island of Uunartoq where the temperature is perfect for bathing. In this hot spring, you will find yourself surrounded by icebergs and stunning mountain peaks wherein your whole body will be relaxing and so does your mind. Uunartoq is a short boat ride from the town of Ilulissat. There are thousands of springs in Greenland, most notably on Disko Island.
Qaqortoq Museum
Qaqortoq is a rock-bound fishing village of brightly painted houses which was built in 1804. The building was once the Julianehåb colony manager's house. The museum displays artifacts from the Dorset, Thule and Norse cultures. On the top floor of the museum, there are two reconstructed rooms named as "Blue Room" and "Red Room," where the explorer Knud Rasmussen and aviator Charles Lindbergh stayed respectively.
Tasiilaq, East Greenland
Tasiilaq is the largest town in East Greenland with about 2,000 residents. The town lies on the island of Ammassalik and the town is surrounded by pristine scenery of mountains and bisected by a small river. The Flower Valley, which is a popular place for short or long hikes is just behind the town. The popular activities are skiing trips and dog-sled tours can be experienced during winters. In summer, activities include hiking, climbing, helicopter rides over the ice sheet and glaciers, sea kayaking between icebergs on the fjord, whale watching, and fishing.
Eqi Glacier
It is one of the most beautiful tourist destinations/spots to visit in Greenland. The main reason is because of the ice breaking off of Eqi Glacier. You can hire a boat or go with a tour operator, and they will take you close enough to experience this amazing event. The fishing boats in which the tours are offered, pass through the cold water right into the shadow of the glacier for you to witness the collision of ice and water.
Knud Rasmussens Museum
The museum is located in Ilulissat in the memory and contribution of Danish explorer Knud Rasmussen. And this is how the museum also got its name. It is also his birthplace. The museum was built in 1917, inspired by the style of English cottages. The name of the architect was Helge Bojsen-Møller.
'Church Of Our Saviour' Or Nuuk Cathedral
This church is a prominent site where most of the population gathers to celebrate National Day and other festivals. The church was consecrated in 1849. The church is painted red which makes its structure simple yet endearing. There is a bronze statue of the organist Jonathan Petersen in front of the church. And on the hill overlooking the church is a Statue of Hans Egede.
Viking Ruins
Viking ruins or the remnants of Eric the Red's thousand-year-old Norse colonies are among the most famous things to see in South Greenland. It is estimated that around 5,000 Norsemen used to live throughout Greenland. A visit to the ruins is an amazing journey back in the time of these hardy hunter-gatherers. There are several Viking ruins found in the region including the Hvalsey Fjord Church, which is the oldest in Greenland and highly recommended and Brattahlid near the town of Qassiarsuk (20 minutes' boat ride from Narsarsuaq international airport).
Things to do?
Greenland as a country and island has so much to offer to all the tourists. It has loads of activities for travelers to get a complete vacation experience. You can book a few of the below-mentioned activities beforehand as well on Viator and Bargainairticket. Here is my top list which you might enjoy.
Ilulissat Ice-fjord
Now this experience tops the list and is also Greenland's most visited area. It has been a UNESCOWorld Heritage Site since 2004. This amazing berg-strewn section of coast in Disko Bay is where huge glaciers calve, which means icebergs break off from the glaciers and float out into the coastal waters. You can say this is the perfect tourist spot and if you are lucky enough, you can witness this awe-inspiring natural spectacle.
The Ilulissat Icefjord is stretched 40kms from the Greenland ice cap to Disko Bay. Almost 20 billion tonnes of icebergs get passed out of the fjord each year after they've melted. You can hire a boat to watch the glaciers calve or hire a helicopter to get an aerial view.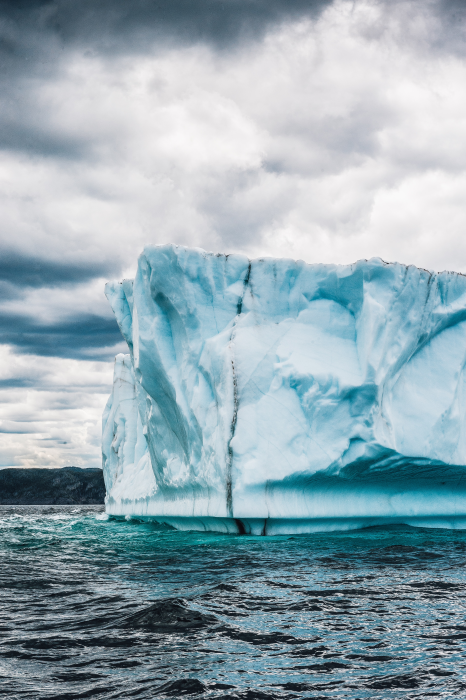 The Northern Lights (Aurora Borealis)
Till now we all have seen those amazing landscapes where the sky is filled with lights like pink, green, yellow, blue, violet, and occasionally orange and white. Well, that's called the Northern Lights and that being said Greenland is the best place to witness. This is one of the biggest light shows on earth and guess what nature offers it for free. Anyone visited Greenland should never miss this event.
Usually, the best time to witness Aurora Borealis is between September to April. These Northern lights are visible across Greenland to provide the best view. It is a must-watch.
Qaqortoq - South
Ittoqqortoormiit - East
Kangerlussuaq - West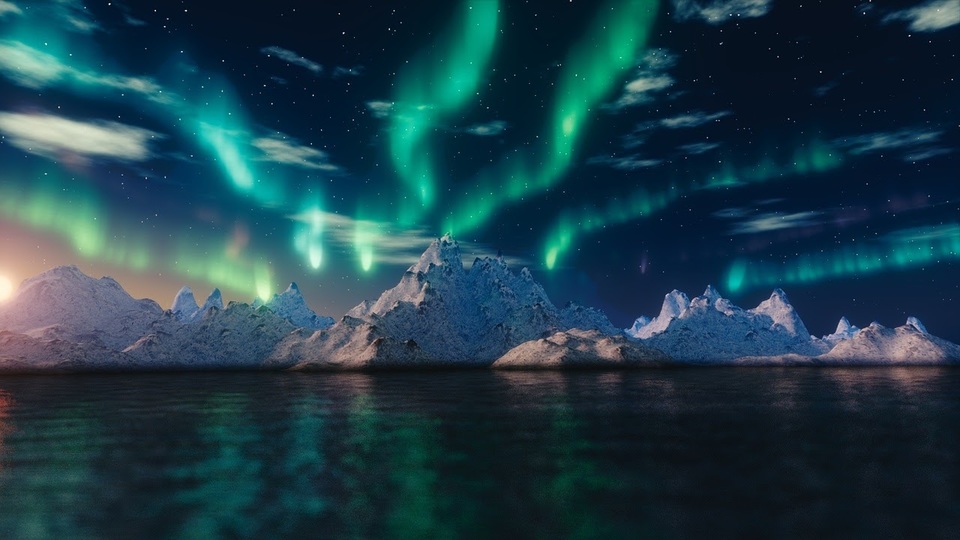 Exploring by Boat and Ferries
Since water travel is most favorable if you want to commute and explore the city. There are many tour operators who can offer you different sorts of experiences, starting from a short afternoon cruise to a multi-day cruise. The mighty walls of ice are actually more visible from the sea and therefore boats and ferries become a good option. The small or short trips are operated by Sarfaq Ittuk which is the local transport also. Moreover, you can also see waterfalls and wildlife too.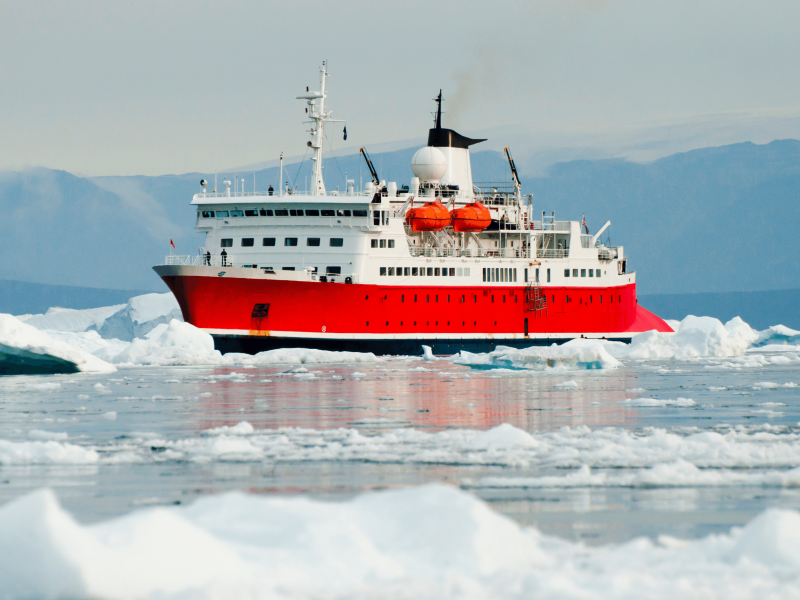 Dog Sledding and Snowmobile Tours
In Greenland, dogs have been used for centuries now and there are about 15,000 sled dogs. Frankly speaking, dog sledding is a part of the transport systems and as well as used for hunting during winters. It is again one of the experiences that every tourist enjoys when he or she pays the visit. The same goes for snowmobile tours as well. They are also in demand and there are numerous tour operators who can offer these trips according to your budget.
Some of the popular destinations to explore are Disko Bay, Tasiusaq fjord, Qaanaaq, and Thule.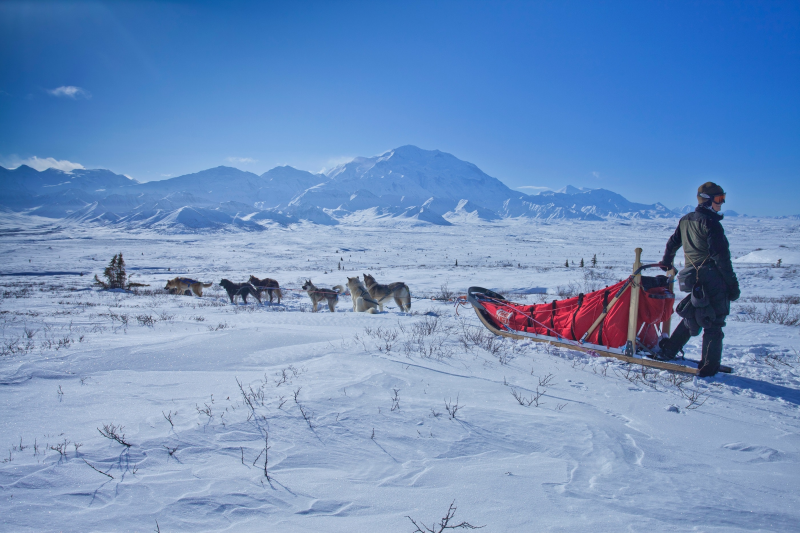 Walking on the Ice Cap from Kangerlussuaq
Kangerlussuaq is a favorite spot for hiking the 200 kilometers Arctic Circle Trail and it also has the closest access to the Greenland ice sheet. Kangerlussuaq is a small town with a population of around 500 people and the above two are the main reasons for tourists to visit the town. It is one of the few places where the ice caps can be reached without a helicopter. This experience is totally different, you can book a half-day tour to the ice sheet and walk on its surface.
Sugarloaf Mountain is another one where you can walk on the ice cap and it is usually preferred by hikers looking for something shorter and easy.
Whale Watching Tour
Not bragging but whale watching is one of the top things which is done by tourists in Greenland. You can experience an up-close encounter with whales. June and July are the best months for cruising and whale watching since most of the fjords melts by May. These tours are operated by Greenland Adventures and Disko Line and depart from Qeqertarsuaq, Nuuk, and Aasiaat.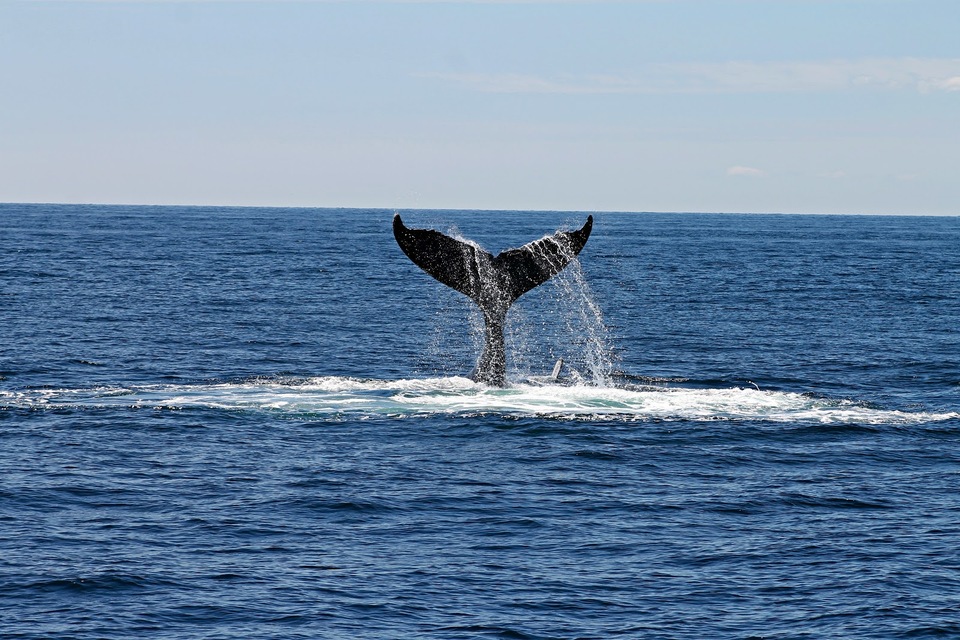 Skiing Adventure
When there is snow, it calls for skiing. And what's better than around 80% of the country covered in ice. I bet even if you have done skiing before anywhere in the world, the experience in Greenland tends to have a slight edge. The most popular skiing route in Greenland is Eternity Fjord. There are many other routes too but this one tops our list. Some other locations for skiing are Maniitsoq, Kulusuk, Kuummiut, Nuuk, and Sisimiut.
Kayaking
Do you know that the word Kayaking is taken from Greenlandic? Yes, it is true. It is said to be the oldest mode of traveling introduced in Greenland to commute for daily mode. Even to date, many Inuits use it. And it is a very common activity among travelers and is accessible from any part of the country. The Blue River is the most spectacular point for kayaking. The river originates from Petermann Glacier.
Cold Water Diving
Sounds a little odd? Well, it is but this is one of the adventure things to do in Greenland. Under the guidance of PADI OWA certified divers, you can experience the underwater dive. With the crystal clear water, you can see the different species in the sea like catfish, whales, lumpsuckers, etc. And you know what, you can actually go close to the iceberg and explore the shipwrecks. Isn't that cool? It is actually best to witness the island between September to April. Nature will definitely surprise you.
How safe is Greenland?
While Greenland is much more wild and remote than any other tourist destination, it still stands out quite tourist-friendly. Also, It is easier to travel and there is more or less no crime. You can walk around everywhere at any time but ofcourse not during the dark.
Make sure you carry extra cash to cover up any uninterrupted or delay in transportation services because of the weather. It can be harsh sometimes. There are no roads or railway systems so you will majorly rely on air and sea travel in order to go from one city to another.
You will require a special permit from the Ministry of Domestic Affairs, Nature and Environment of Greenland to explore glaciers, mountains or the National Park in northeast Greenland. Always travel with a tour guide if going remote.
More on - WorldTravelFeed