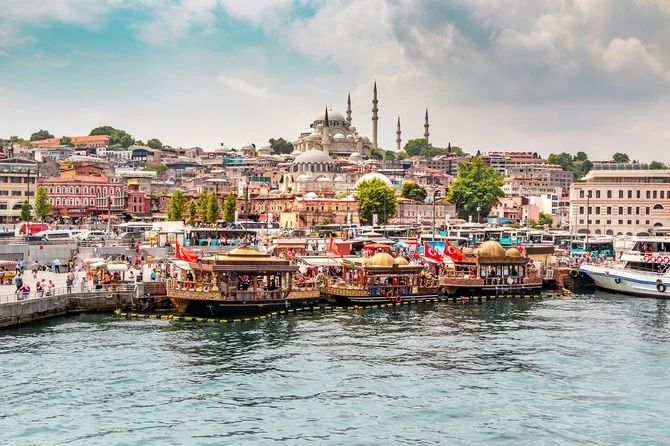 Charming cobblestone alleyways, countless architectural marvels, quaint cafes serving delectable dishes, historical heritage sites and exquisite grand bazaars - this is what Turkey has in store for travellers! Have you been planning a trip to the place lately? Make sure to include these 10 experiences in your Turkey bucket list for the best trip!
1. Hagia Sophia
One of Turkey's UNESCO heritage sites, Hagia Sophia is known worldwide for its historical relevance coupled with its marvellous architecture. The ancient structure that was initially a Greek Orthodox Christian Basilica also transitioned into a mosque and a museum. Since its construction in the 6th century AD, the structure has seen footfall from around the world. For anyone visiting Turkey, this landmark is a structure that is sure to make one experience Turkish history to the core!
2. Hippodrome of Constantinople
The Hippodrome of Constantinople is another historical site in Turkey that served as one of the most significant buildings during the Byzantine era. The region is home to quite a few historical structures that have stood the test of time. The serpent column and the Obelisk of Thutmose III are some of the major structures to experience.
3. Ankara Castle
A historical paradise, Ankara Castle now remains one of the very few last-standing structures of Turkey from the 7th century AD. The castle has been a significant structure in empires ranging from the Romans to the Ottomans. Travel to this medieval era structure and witness styles from different periods of history.
4. Pamukkale Thermal Pods
These thermal pods are one of the best unique must-visit experiences in store for travellers. The area has a white calcareous landscape formed mainly by thermal springs. The pods are claimed to be filled with therapeutic water having healing abilities too!
5. Cappadocia
Known worldwide for its instagrammy hot air balloon photos, Cappadoccia is one of the most romantic places on the list. The hilly topography of the region adds more to its natural beauty. The rich history and culture of the region make it a must-visit for all travellers out there.
6. Turkish Hammams
Turkish baths, locally called Hammams, are one of the topmost things on every traveller's Turkey bucket list. This contributes to a major part of Turkey's culture with its own ancient techniques. Using a combination of steams, scrubbing and massages one is given the option of choosing the style they would like to try out. Run a quick google search to find out more about the best Hammam places in turkey!
7. Ephesus Ruins
The streets of Ephesus are perfect to take a traveller back in time. From the Library of Celsus, and open-air theatres, to the traditional Roman baths, this place is one of the best for history buffs!
8. Archeological Site of Troy
The archeological site of Troy is a must-visit for anyone with an interest in ancient literature and history. Much of what remains today is a part of what once was thousands of years ago. Visit this unique site to get a touch of temples, forts, and structures from an ancient era.
9. Istanbul Grand Bazaar
Istanbul's Grand Bazaar, or as it is locally known Kapali Carsisi holds an array of products for all. Whether you wish to buy jewelry, antiques, or simply souvenirs- this has it all! The best part of this marketplace is that travellers also get the scope of bargaining for cheaper rates!
10. Mount Nemrut
Sunrise or sunset at this summit is another pleasant unique experience to add to your Turkey itinerary. The ancient monuments and statues coupled with the enchanting landscape make this a sight to behold. One can also choose to go hiking to add a bit of adventure to their trip!
If you visit any one of these places during your travels, tell us about it in the comments below, or write about it here on Tripoto!