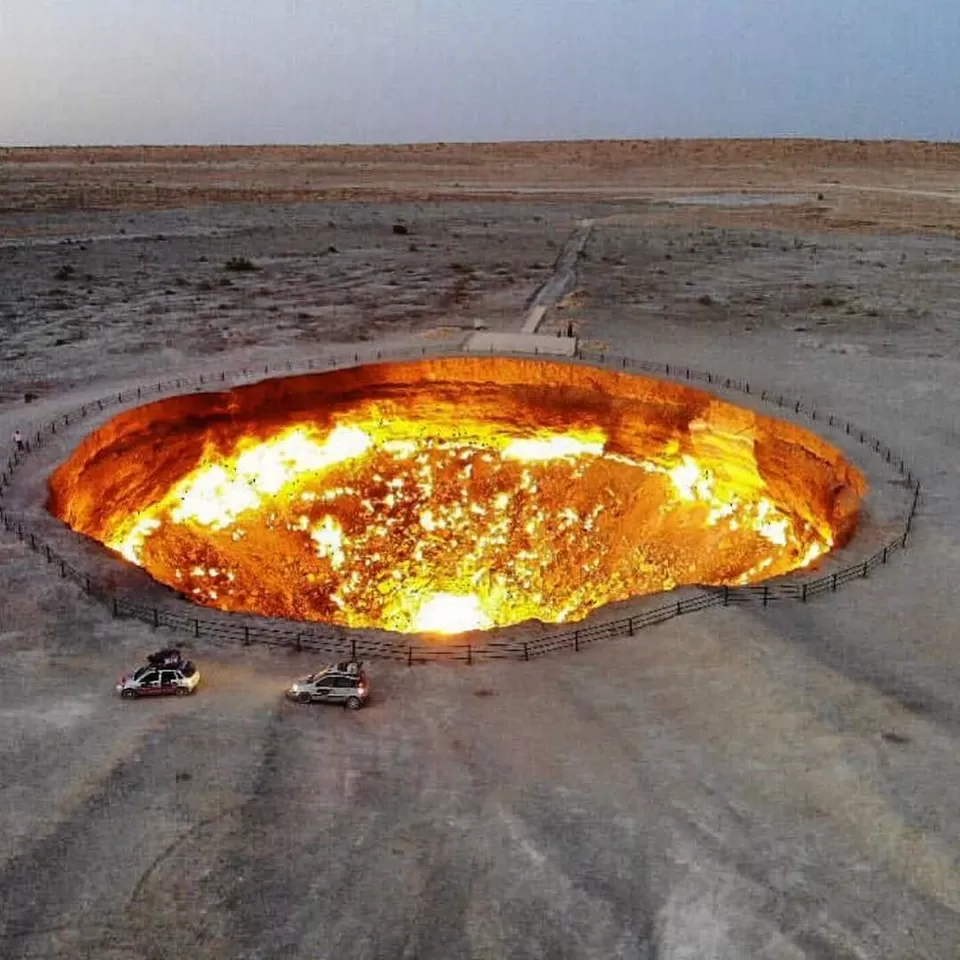 Blasphemous! Isn't it??
Now let's stop our imagination from running wild and thinking of Bolitelli's illustration of "Hell" inspired by Dante's "Nine Circles of Hell" in Inferno. Although looks similar, Darvaza is nothing like it.
Located 270 kms off Ashgabat, the capital of Turkmenistan, in the middle of the Karakum desert, lies one of the largest natural gas reserves in the world which now bears semblance to a "Burning Ground" of fire, boiling mud and orange flames rising from a crater or "Door to Hell" as coined by the locals or otherwise known as Darvaza Gas Crater.
How to Reach "The Gates of Hell"
I thought only "sins" take you there, but it seems these days even a flight will!!
By Air
Fly to Ashgabat International Airport at Ashgabat, Turkmenistan.
Take a bus from the airport that is headed north towards Dashoguz –> Alight at Darvaza village –> Take a guided tour to Darvaza Crater.
Or you can take a shared taxi from the airport for which you have to pay full fare even though you get off half-way.
Story Behind How The Darvaza Gas Crater Formed
According to Turkmen geologist Anatoly Bushmakin, this site was identified by Soviet geologists in 1971 who originally thought that this was a significant oil site. While drilling to check the quality of oil, their preliminary survey suggested of a natural gas pocket. Unfortunately, during drilling the they might have tapped into the cavern filled with natural gas which led to the ground beneath the drilling rig collapsing leaving a gaping hole 200 feet wide and 66 feet deep!!! To avoid any mishap from the emanating gas spreading across the region to nearby towns, the geologist decided to burn the gas off, assuming that the gas will burn out in a few weeks. It has been 50 years and still burning!!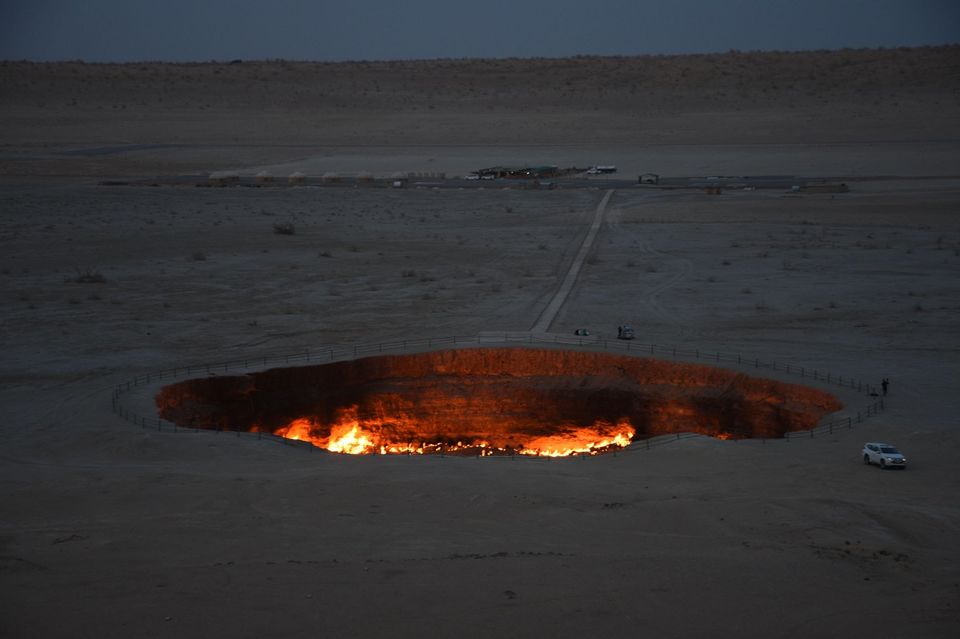 The Geographical Anomaly
Basically a superficial gas pocket that allowed the ground below it to sink into a natural depression while it allowed natural gas from a larger and deeper gas field to escape slowly, which could neither be extinguished by the naturally flowing wind nor be diluted.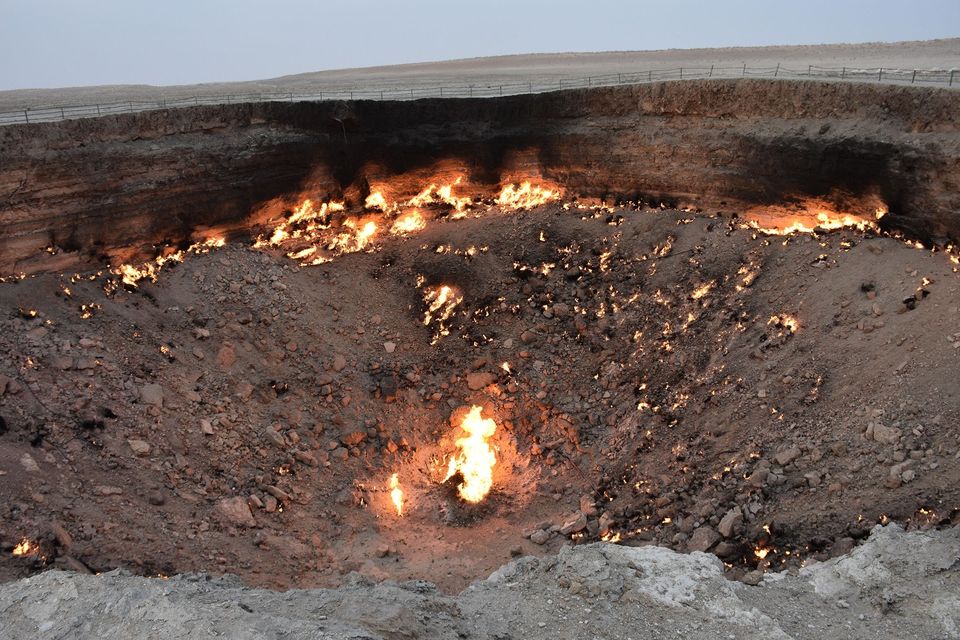 Did Anyone Ever Step Into the Crater
Yes! On 16th July 2014, explorer George Kourounis became the first person to set foot at the bottom to gather samples of extremophile microorganisms (microorganisms which can endure extreme climatic conditions and thrive in it!!).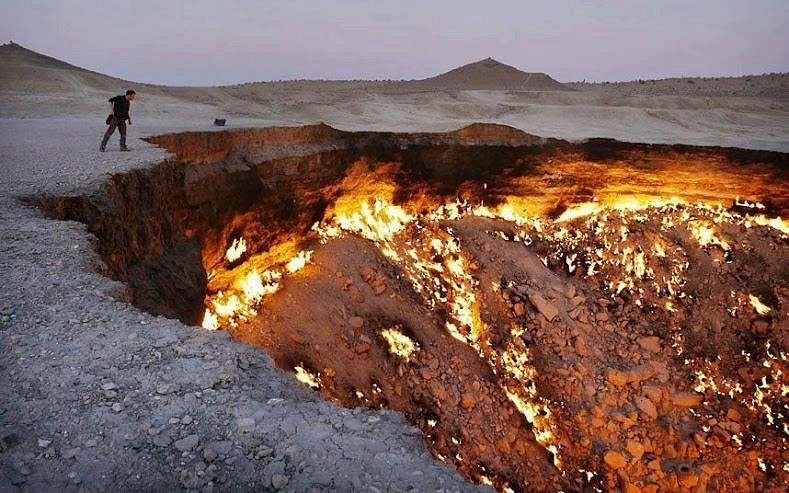 Environmental Hazard
Apart from losing valuable natural resources, the crater is leaking methane which is one of the components of natural gas and is 80 times more harmful that carbon dioxide!!! So, despite being one of the country's biggest tourist attractions, it needs to be put out to prevent environmental hazards.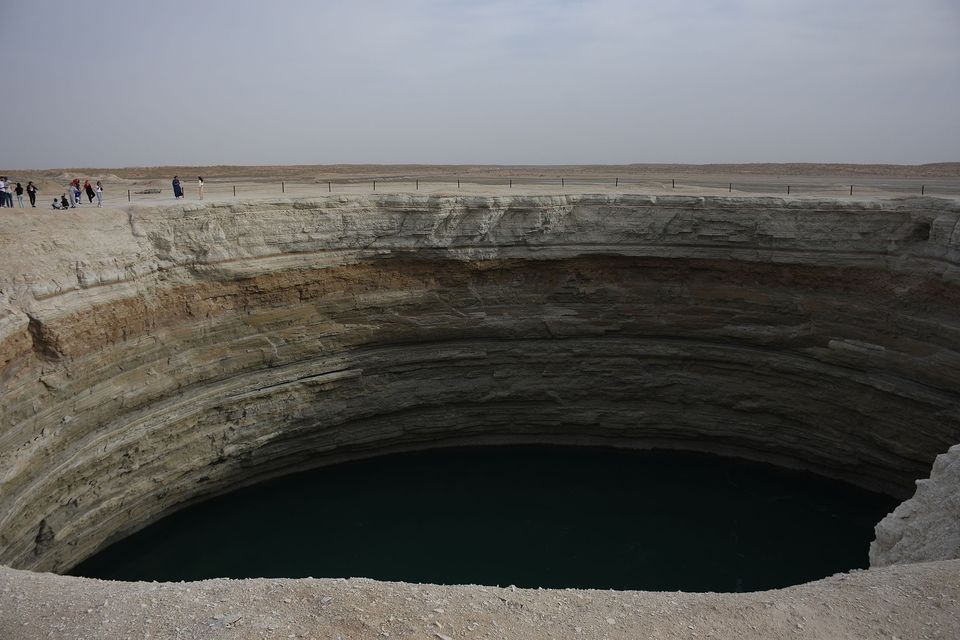 Had you ever in your wildest dream imagined a natural gas pit is fueling fire for more than half a century!! Here we are, with the news of the impossible. And before a method to extinguish the firepit is devised; as publicly declared by President Gurbanguly Berdymukhamedov in 2022, you can plan your visit to this iconic site so you can at least say "Ya, I went to Hell and back"!!!
Be a part of the largest online community of travellers on Tripoto's Facebook page! And watch travel stories come to life with Tripoto on Youtube!