This was going to be our first legit traveling experience. And the first one with our two year old toddler. Our family very graciously offered to babysit, but we really wanted him to share this journey with us. We knew what this would mean. We would have to keep changing our plans and itinerary according to how the baby felt and behaved. It would mean dealing with some cranky and unreasonable moments in public. It would mean a lot of water sports and adventurous treks will be out of question. It wouldn't be all that fair to the couple who decided to travel with us. But they were such an understanding and non-complaining pair . Hence we set out to see a very wet ( it was raining) and therefore a very green Bali . And I must say we had an exhilarating and memorable week with our baby. So here's how we saw the best of this beautiful island and managed to strike a few things off my bucket list.
1. Stay with a local family
We arrived at this beautiful Balinese abode at night. I couldn't wait for the next morning to walk around and see this property. Its hard to outdo the Balinese when it comes to their arts and aesthetics.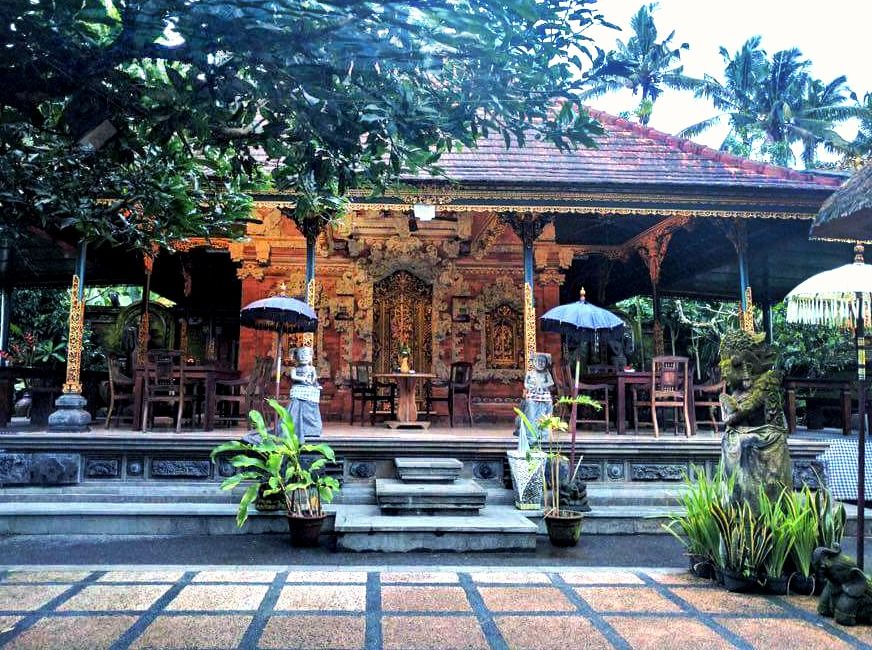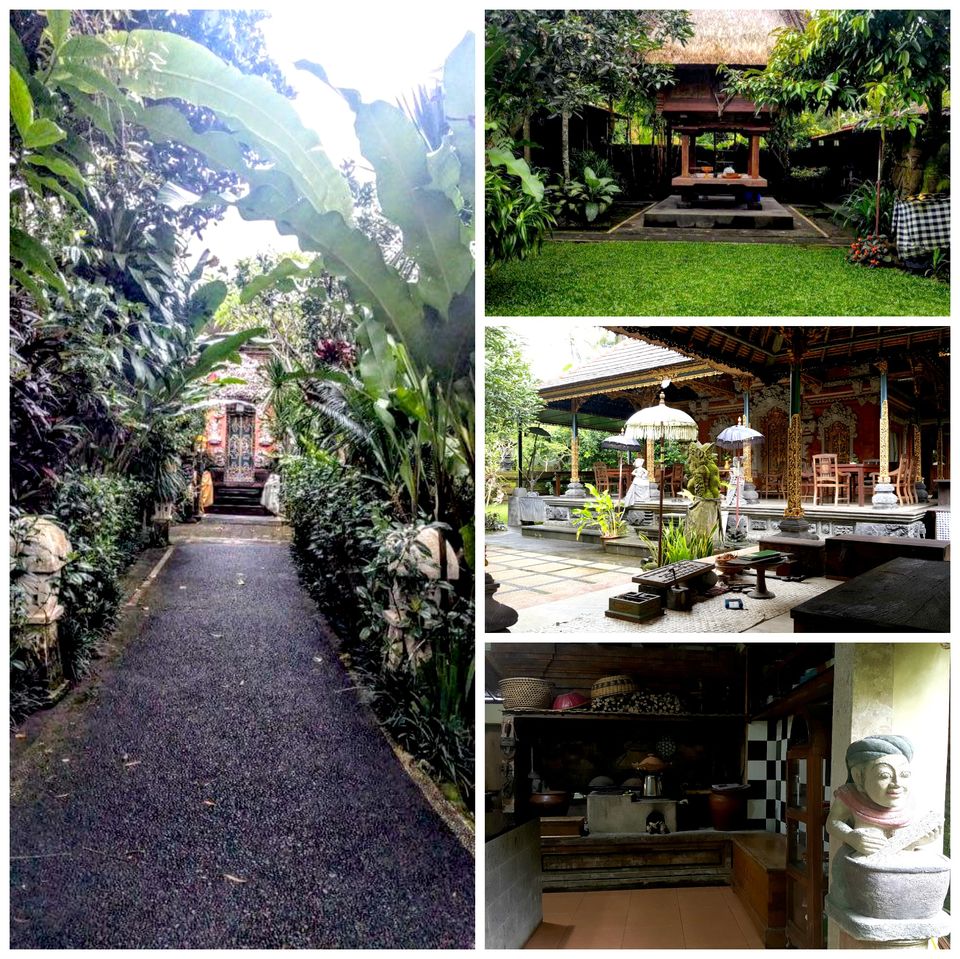 2. Take a cooking class
I always believed that, to understand people it's important to understand what they eat. Our Chef, Mr. Wayan seemed to have traveled a lot himself, and had many stories to share from everywhere along with his recipes. Our baby participated in all the grinding and mixing too.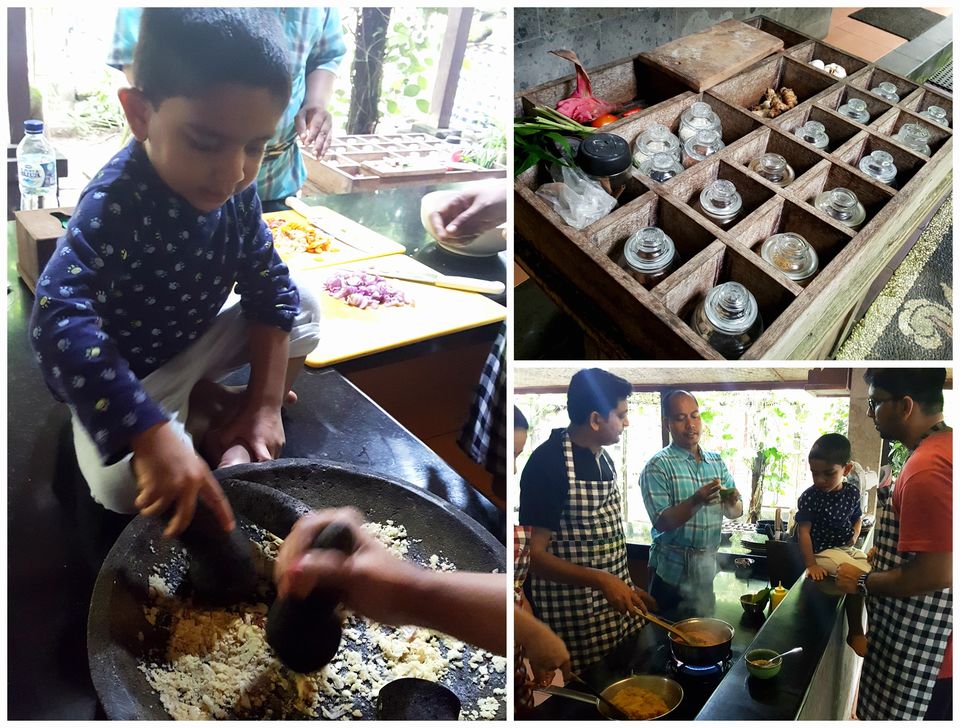 We had an elaborate, heavy, hearty lunch and black rice pudding and Pisang Goreng ( fried bananas) for dessert.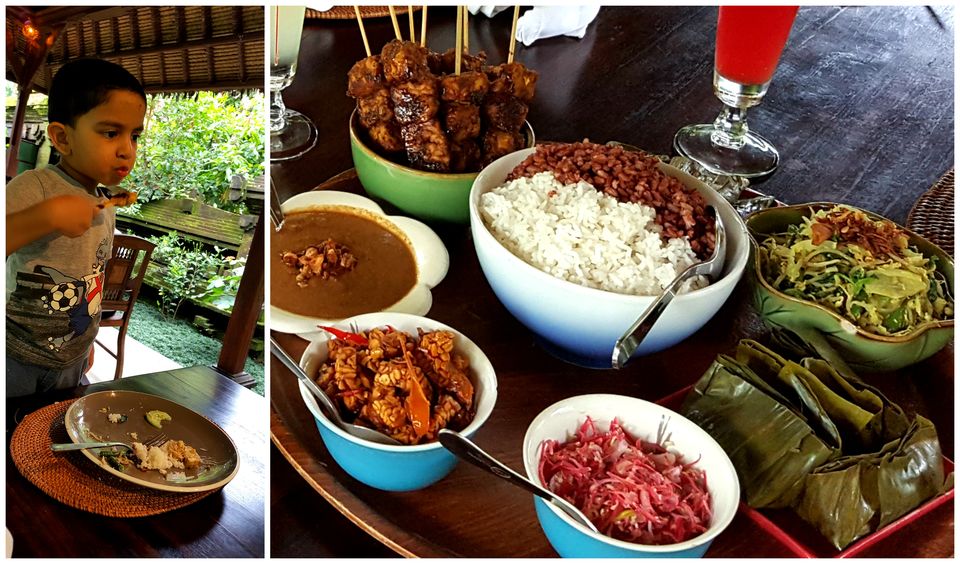 3. Rice Farming experience
And just when we were thinking how to get that meal digested, a staff member came up to us and asked us if we were ready to be balinese farmers for a day. He gave us conical hats, mosquito repellents and took us on a short hike through a thick bamboo forest which led to a beautiful rice farm.
We all took turns to plough the field , and learnt basic commands to control the cattle. This was probably our baby's favourite moment from the whole trip. You will find a lot of rice terraces everywhere in Bali. But its when you stand deep in that slippery soft muddy field and struggle to transplant just a handful of paddy do you learn to respect them a lot more and their wonderful philosophy of harmoniously binding the realms of Gods, Humans and Nature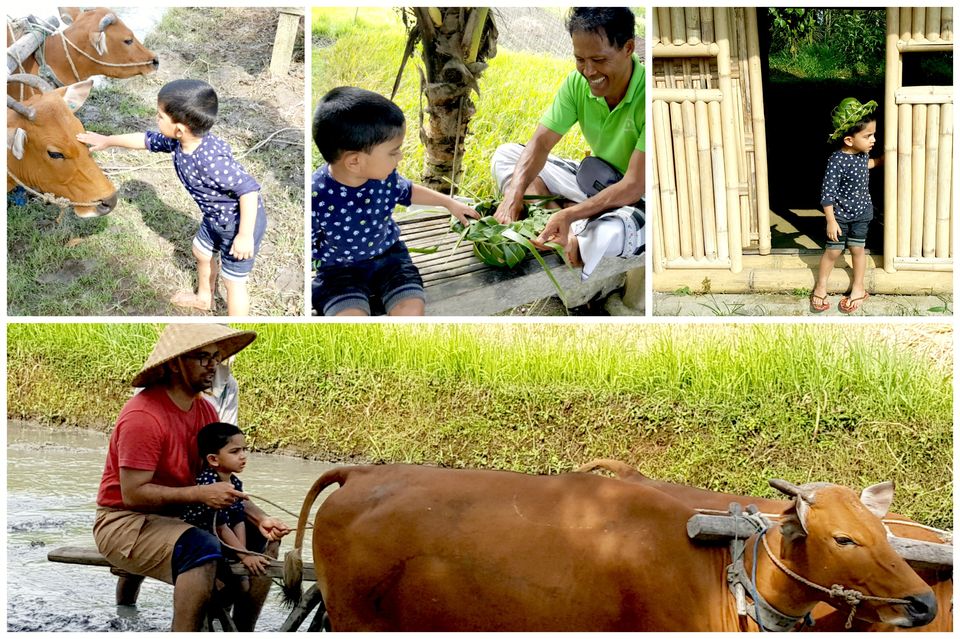 4. Take a dip in a Natural Hot spring
Bali is gifted with so many natural hot springs. We chose the one next to our home-stay and headed there straight after our field trip. It was the perfect end to a lovely day.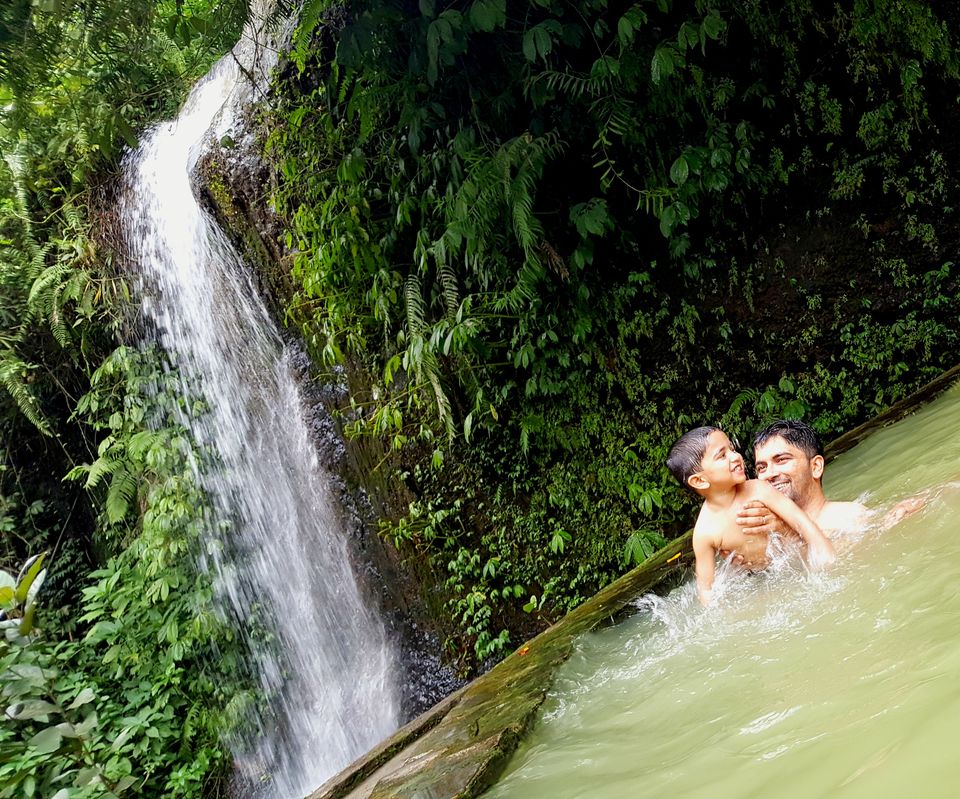 5. Village Cycling
This is one activity we doubted seriously if we could do with the baby. But our host had a fabulous solution for that too. ( see picture).There is no better way to see Bali than on a cycle, especially if you're in a village. You will want to stop and marvel at every marigold farm, and vegetable garden and also return all those million smiles that are undoubtedly saying "Welcome to our island". We rode through the beautiful Pinge Traditional Village and what a ride it was. Never have I seen such a pristine stretch of land . It felt like Utopia. I couldn't find even a piece of paper to call trash anywhere. Every person that passes by greets you so genuinely and encourages you to push the pedals harder when you look exhausted.

6. Witness a ceremony
Do not miss the chance of witnessing a religious ceremony if you are in Bali. Balinese worship everything and anything around them and its most likely that you will get to be part of at least one auspicious day in their calendar. We got lucky too and saw this couple celebrating their anniversary with a Balinese wedding.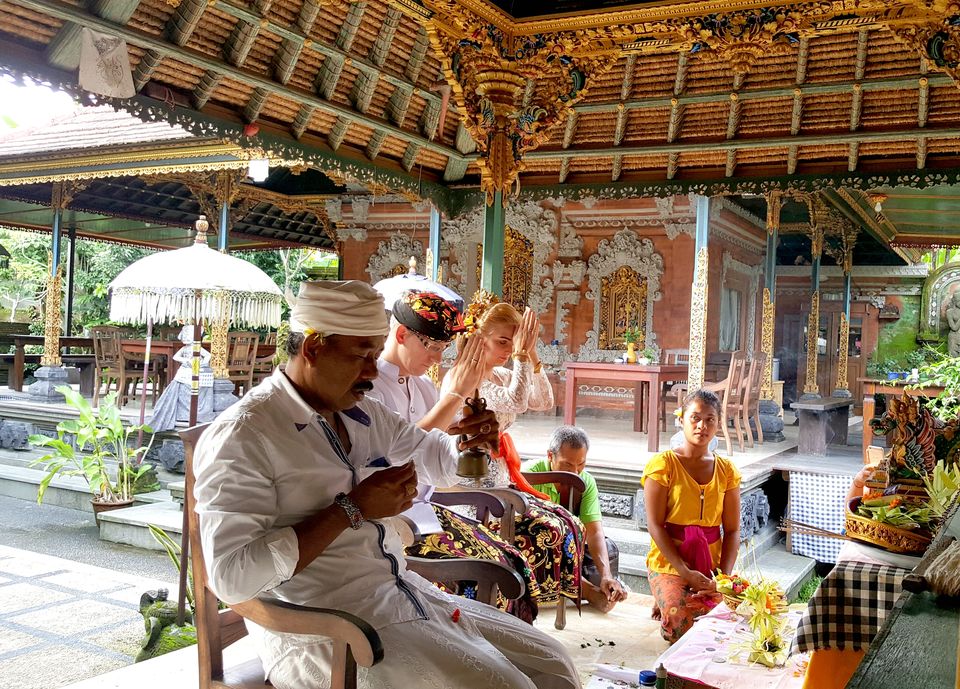 7. Visit one stunning temple.
Anyone who has been wanderlusting for Bali knows that this island is full of remarkable temples. And there is never enough time to see all of them. We had a hard time deciding on our pick. And we finally arrived at Pura Luhur Lempuyang- an ancient mountain temple in the east, and one of the very few where you are allowed inside.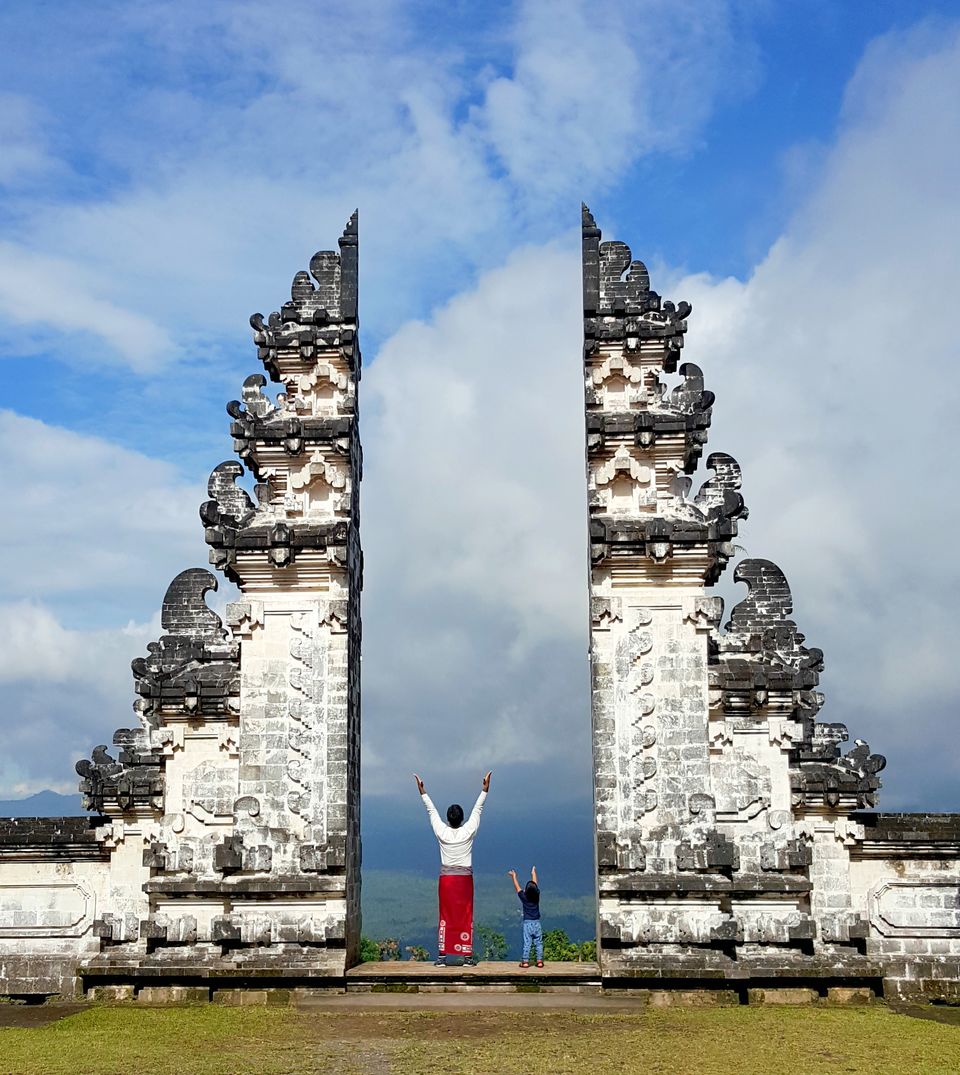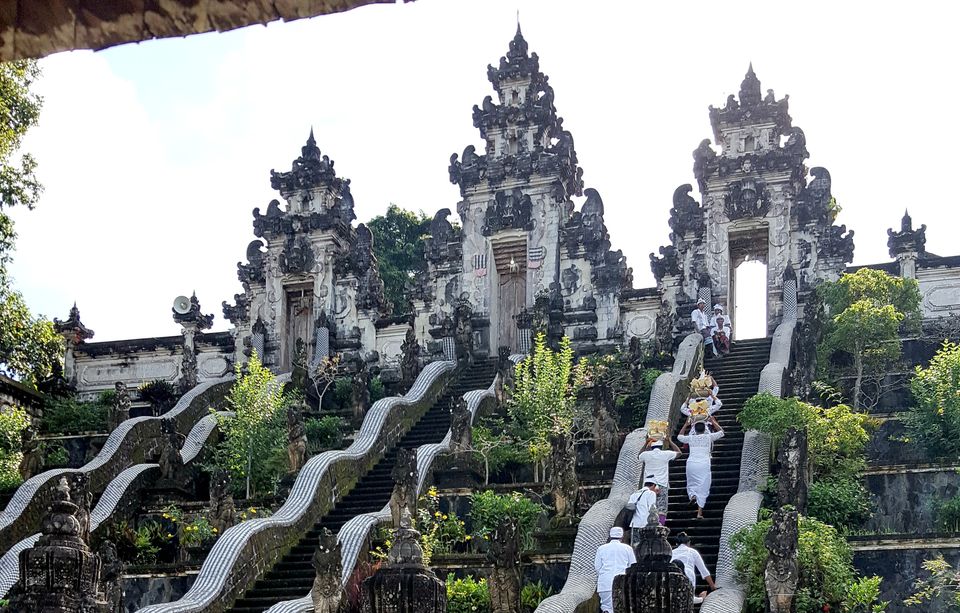 8. Try one water sport/activity
Bali is so blessed with beautiful beaches and its a shame if you don't make time for at least one sport/activity. We settled for canoeing at the Amed Beach. Due to volcanic deposits, the sand around this area is black and beautiful and the water shallow, making it perfect for snorkelling. Our canoe had glasses at the bottom through which we could see and wow at the gorgeous corals and fishes. This had to be our son's other favourite moment.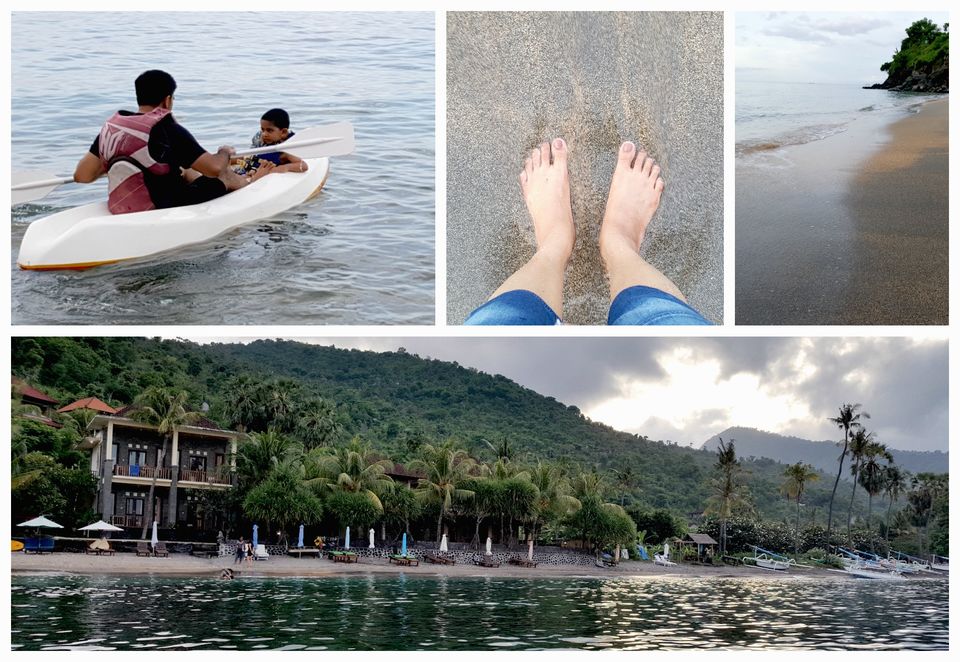 9. Eat at a Restaurant with a view
This is a must do. You will find just about umpteen options in Ubud. Almost every cafe is quaint and unique and offers spectacular views. Of all the meals we had in Bali , most places were beautiful but the food could not always match up with the view. But Bali Asli is neatly stashed away from the madding crowd near Amlapura and opens its deck to the enchanting Mt. Agung. And food is the best we so far had in Bali. Do not miss out on their home made rice beer. The in-house dog, Zorro is a darling and Chef Penelope so charming that you feel at home and would never want to leave.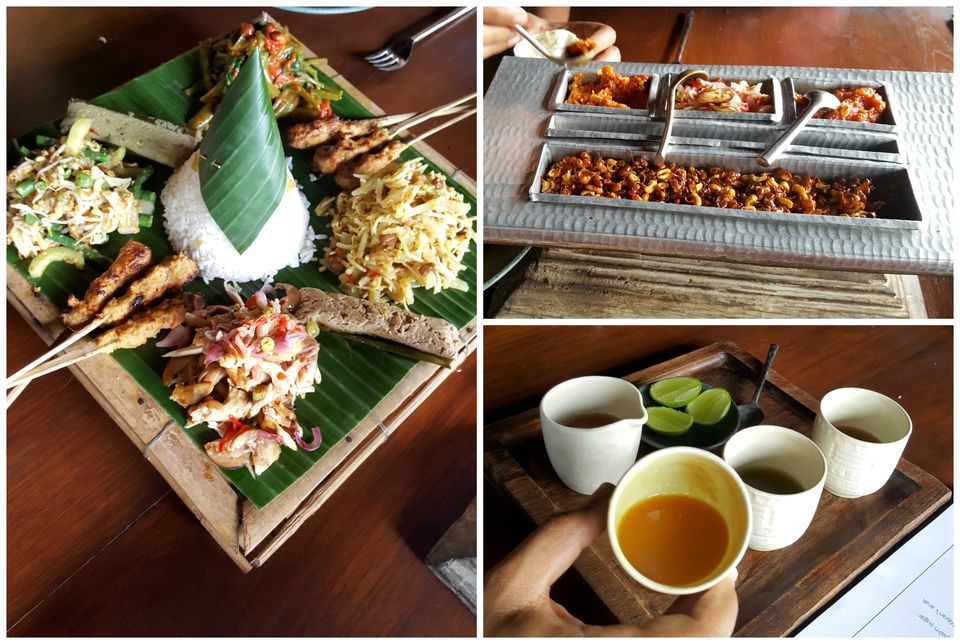 10. Street food Night Market
Oh yes, we were warned about Bali belly and much more, but one has to try street food to know the pulse of any city. So we did too. We tried various fried items, steamed momos and tofu in hot broth and tropical fruit drinks. It was the cheapest dinner we had in Bali. The rain had turned the streets really mucky that night; else, that long stretch of stalls at Pasar Gianyar is quite bustling and happening.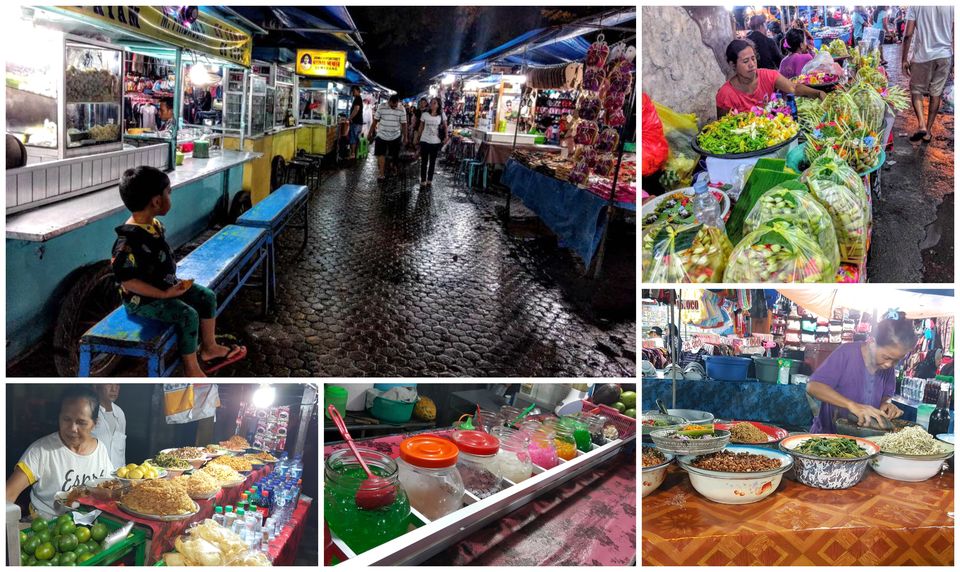 11. See a traditional dance
You've got to watch at least one dance performance if you're here. We watched two- a Barong Dance and a Kecak dance . We watched Barong dance at the Batubulan village , with a scenic backdrop . These performances might have been heavily diluted for the understanding and appreciation of tourists in my opinion and yet is quite enjoyable. Our son peacefully slept through the Barong dance but he was very vigilant during the Kecak dance at Uluwatu Temple and thoroughly enjoyed the antics of the White Monkey ( Hanuman).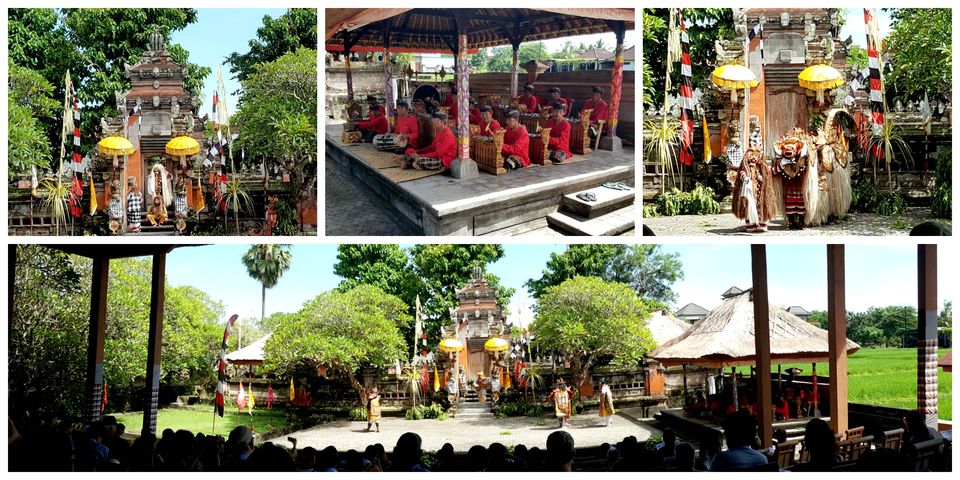 12. Take a workshop
Ubud has plenty of them on offer. ARMA museum and the Pondok Pekak Library and learning centre has something for everyone. So while the ladies went on to do a Health and Herbal product class, the boys decided to take up a wood carving workshop with ARMA.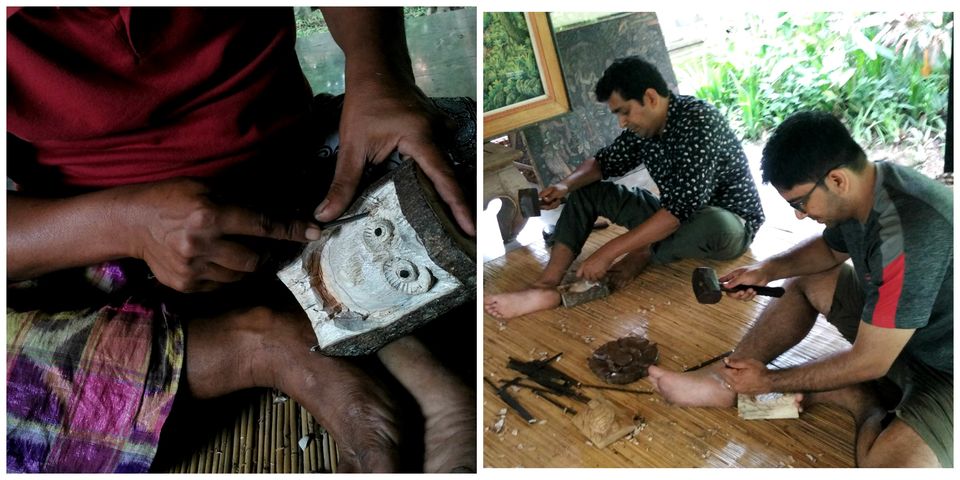 13 . Eat what a local suggests.
From the night we landed Bali , we were told more than once to try Babi Guling ( The suckling pig)- a local delicacy made famous by Anthony Bourdain. The ladies being vegetarians just had Sayur (salad) and drinks , while the boys gorged on the pork dish. Both agreed that may be Mr. Bourdain must have never had Coorgi Pandicurry and felt that the dish was good but over-hyped.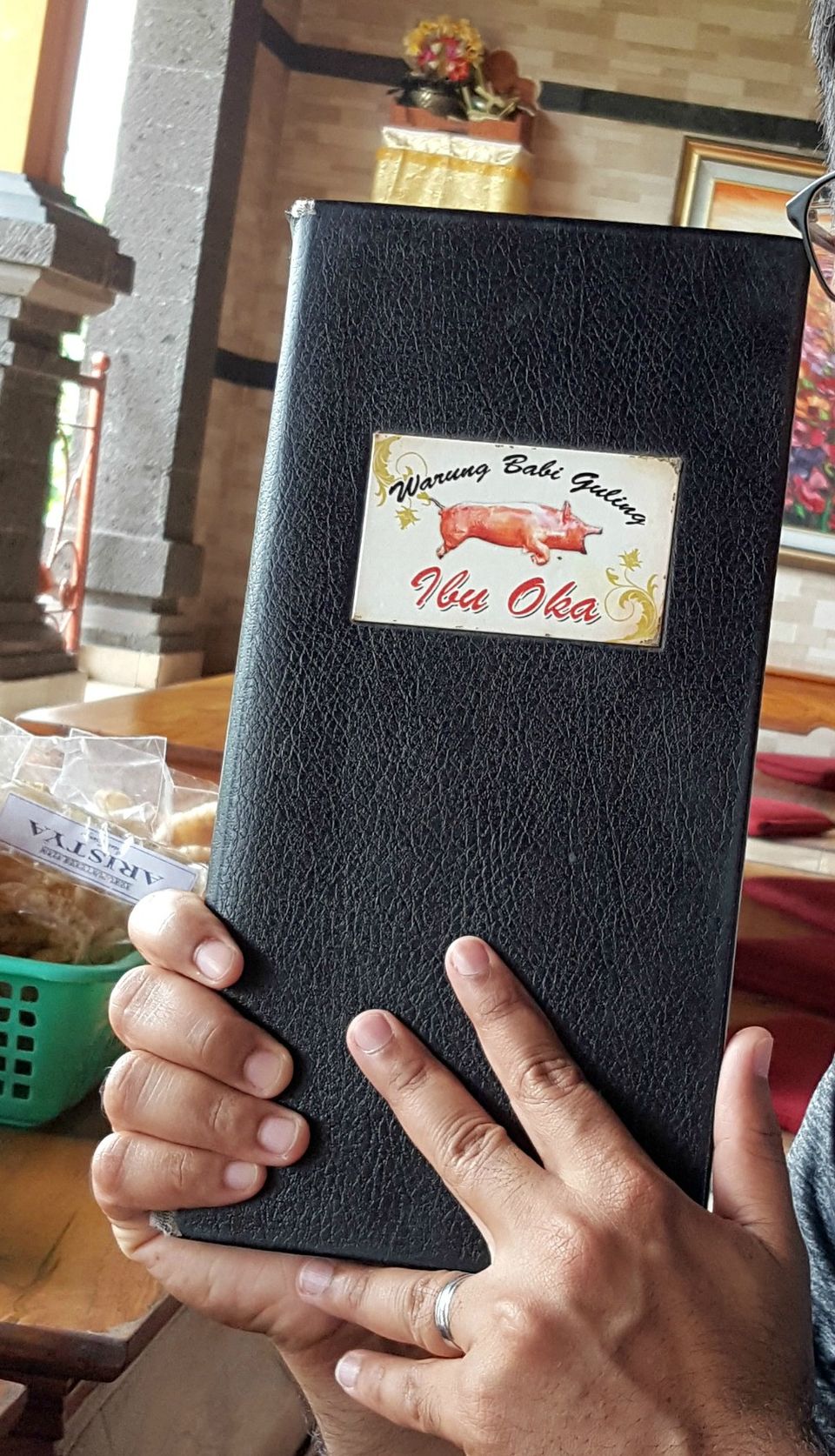 14. Do at least one trek.
Though the best treks are to be done at Kintamani to Mount Batur , or if you're a much experienced trekker then, to Mount Agung, we opted for a much relaxing, and free of cost ridge walk in Ubud to Bukit Campuhan. It was totally doable with our toddler and fit our schedule as well. We ended this delightful walk with a fresh young coconut at Karsa Cafe and a much needed foot massage at the Karsa Spa.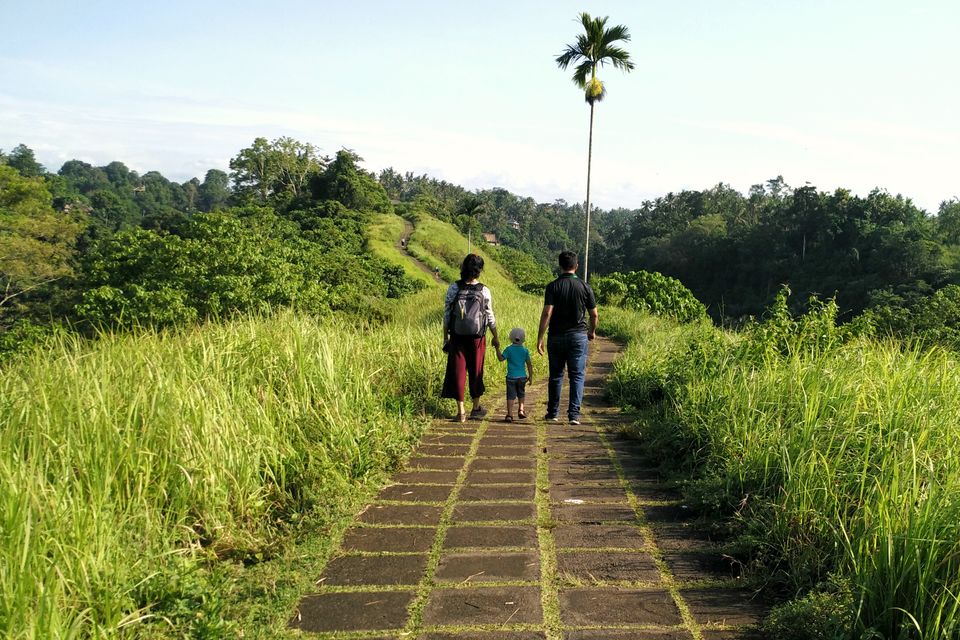 Though we all had a lot of treasured moments to bring back from the trip, we left Bali craving for more. For another gobsmacking pizza at Warung Enak, Amed, for another risky road adventure drive to Lempuyang temple, for another sunset in the canoe, for another relaxing massage at Kayma Spa, and for many more evenings with friends, chatting up on the beauty of Bali and the beauty of traveling.