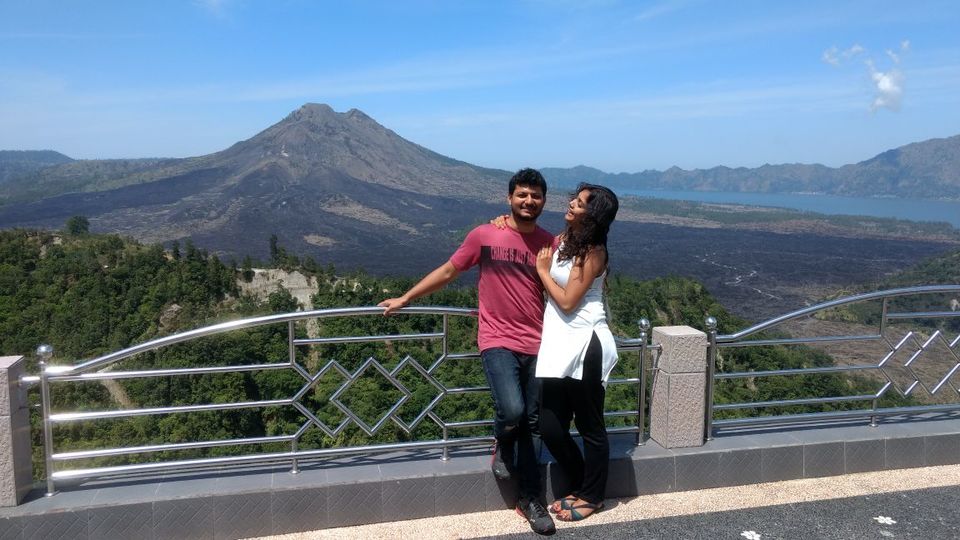 Yes I had the best days of my life with my love in a wonderful place called Bali, Indonesia.
It was like a perfect dream.
I cannot pen every experience, but just a few facts and bests.
- We met our chauffer of our sedan for the whole trip named Komang, a very polite and a lovely person.
Communication in Bali: Understanding their accent of English or making them understand in your accent of English is an awesome challenge.
- Our first food encounter for lunch was in an awesome hotel Komang took us to. The bamboo shelter was floating in a pool which had colourful fishes in it. There were cushions to sit with a table where the dishes would be served. We ordered a combo which had the most common Balinese dishes… Nasi Goreng, chicken and Pork satay
Food in Bali: You get to taste a more sauce dominated food. Their staple food is rice which they call NASI, but unlike Indians the curry is served more and rice less. Few must eats: Nasi Goreng (Fried Rice), All Satays (All non veg barbeques in a stick), Babi Guling (suckling pig), shrimp crackers (chips)
Note: All food are saucy, sweetish, you just get one chilli sauce for spice!! Spice lovers not for you all Chinese cuisine lovers will definitely like Balinese Cuisine
- We next headed to our villa Alam Puri in Ubud. It is probably like outskirts of the town, a wonderful place the cheerful staff with their "Hellooooo Welcoooooome" and "Thank youuuuuu" in a wonderful tone will give you all the positive vibes in addition to a spacious decorated room, bath and private pool for yourself
Villas in Bali: Since it is a tourist destination, you get to book the best of best villas you need based on your requirement and budget
- The two days of sightseeing, we mostly visited temples but each and every temple is so uniquely built. Every temple you go there is that calm nature which by itself will give you all the peace in the world. A lake temple with a vast lake and a breath-taking green mountain for its background. A temple in the sea shore, that feeling I had while sitting on a rock with my man and watching the waves, temple, people and sunset just can't be explained.
Tourist attractions in Bali: Bedugul Lake Temple, Tanah Lot, Tirta empul, Kintamani volcano with Lake view, Monkey Forest Ubud, Uluwatu Temple, Rice terraces, Twin Lake.
- The cruise and the beach, this is a must when you visit Bali. It was my first in a cruise 2 hours of to and fro journey in it was awesome it felt like I was part of the sea waves. Once in the resort, a lot of water activities involved. The white sand beach with wonderfully blue and green mixed colour water is a joy to our eyes!!
Activities to do in Bali: Apart from food porn ;) Cruising, all water sports like snorkelling, banana boat rides, semisubmersible View, underwater walking, Parasailing etc. etc. Of course you shouldn't miss the original Balinese Spa, the best relaxation one could have.
Tip: Know swimming you can enjoy more.
- The art what I saw, each and every village is famous for something or other like wood carving, silver ornament making, Painting. And from the work what I saw, I can just say Balinese people are truly blessed and talented. The LIVE Balinese dance show on Barong which I saw was so picturesque. As an artist what I could see is the purest form of love and respect to the art.
- The people I met, personally we met very few Bali people but looking at their lifestyle, communication what I can conclude is they are happy with what they have and enjoy the smallest of small things whole heartedly. Humble, Polite, Peace lovers is what I will use to describe. You don't hear horns/ honks from any vehicle unnecessarily like in B'lore though there is no rule as to not to honk. They just feel its noise pollution, such minimum common sense exists in the common man out there.
- For the shopaholics
Things to buy in Bali: Luwak coffee, Spa Baskets, Wooden carvings, Silver ornaments, Sarongs (shawls with good painting)
A wonderful experience of Nikhitha with Arun
#Bali #Balinese #art #travelgram #instatravel #vacation #Balinesecuisine #love #peace