Balinese Vibe
It is no secret that Bali vibes are infectious. Your experience starts at Denpasar airport with Balinese wood-carven gates greeting you, and a few steps ahead being showered by floral installation of orchids and ferns that will have you mesmerized before you even step out into this beautiful land.
The airport is a couple of hours drive from Ubud although the roads will draw your attention as you see sculptures based on Hindu mythology, beautiful architecture that adorn houses and stores, and more surprises throughout the way. You know you have arrived in Bali!
Where to stay
Villa Aruna: A 20-minute drive from Ubud, filled with lush greenery, local stores and hidden waterfalls led us to Villa Aruna. Tucked next to a rice field, this property had two bungalows - one larger than the other. We walked past the small garden and water installation, into our villa. Our bedroom view opened to rice fields on one side and our gorgeous bathroom, with an inviting bathtub and an outdoor shower, on the other. The photos on Instagram were indeed real! Cost: INR 4500 a night
Villa Pecatu: Located in the heart of Ubud, right next to the monkey forest, is Villa Pecatu. With a long corridor of rooms, they invite you to a cozy, comfortable space with gorgeous architecture at your doorstep and a nice garden and sit-out across the room. Their eggless pancake was probably the best version I ever had. You will be spoilt for choice when it comes to restaurant, tattoo studios and bars in the area. Cost: INR 2000 a night
Commute in Ubud
The best way to experience Ubud is by renting a two-wheeler bike or motorcycle. Ubud can have a lot of traffic congestions and traveling within Ubud by car can be an extremely painful experience. There are many local stores that will let you rent bikes for INR 500 a day.
Where to eat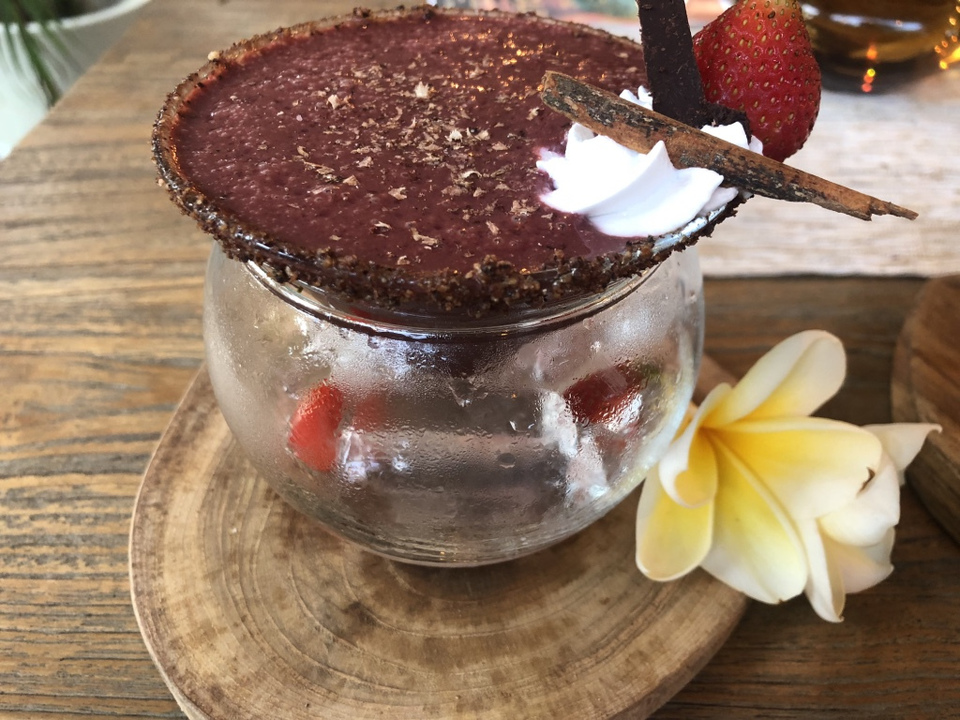 Gastronomy was at its peak when we were in Ubud. The average café or restaurant serves great food and unless you spend a long time in Ubud it's hard to sniff out all the local gems only because they are so many in number! Let me also add that this is a haven for Vegans and Vegetarians (aka me!).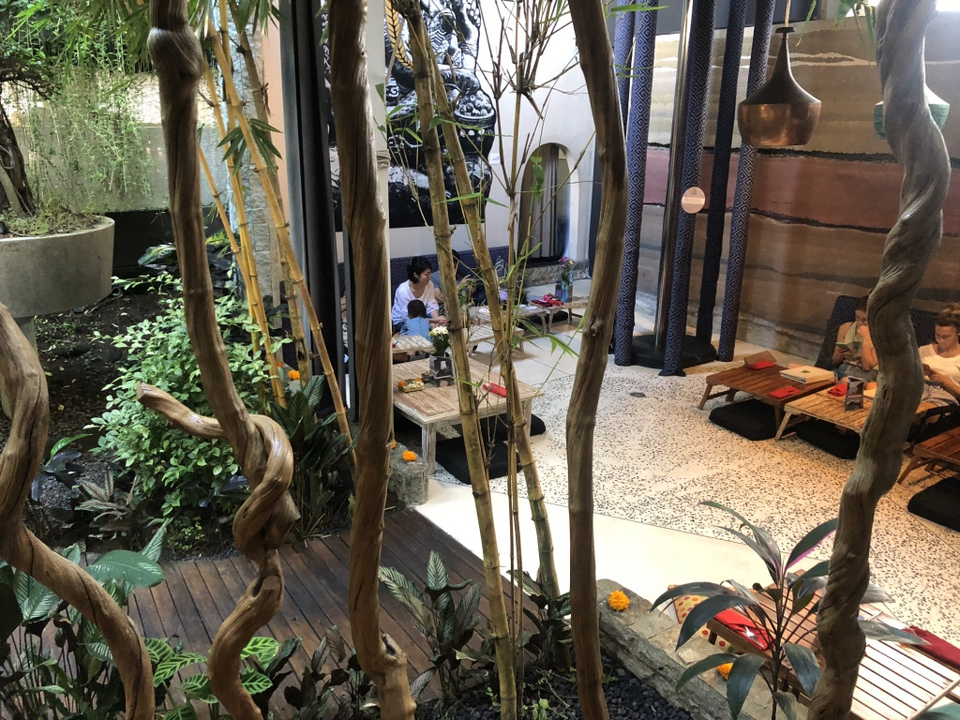 Some of our favorites included Café Zest, Clear Café, and Hujan Locale. Café Zest has an all-plant based menu which even my meat-eater partner loved; Clear café is a chain of cafes across Bali that serve delicious multi-cuisine food; and Hujan Locale is a high-end restaurant serving local Balinese cuisine.
What to see
Neither did we visit the temples in Bali nor the rice terraces, so what did we do?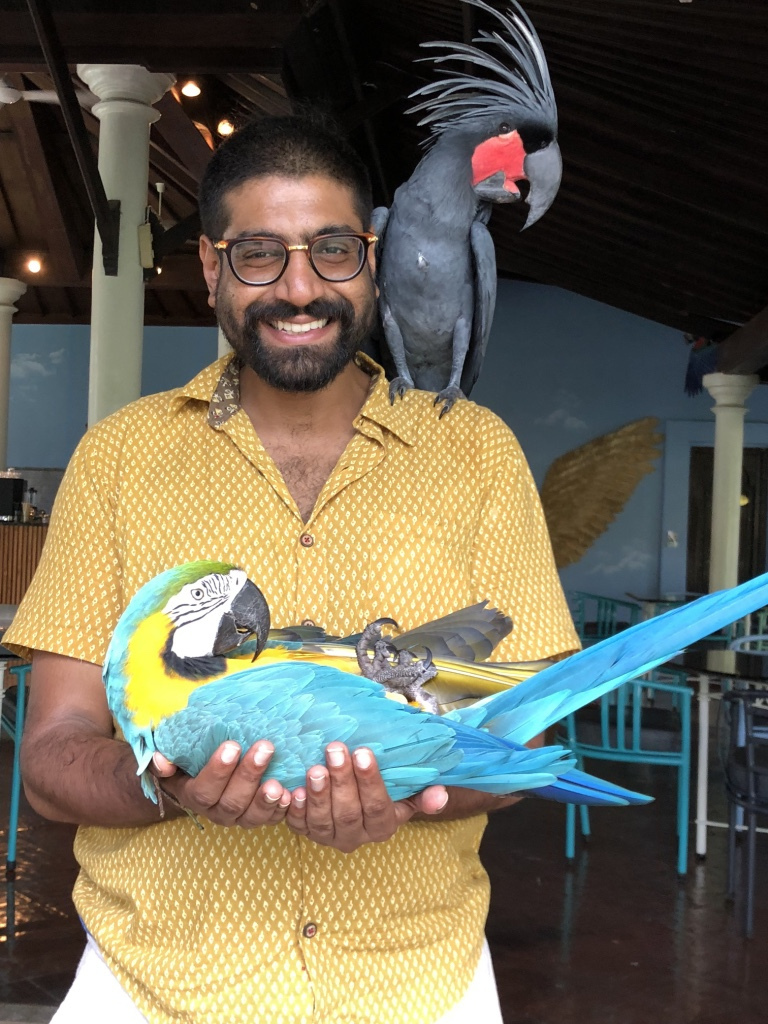 Bali Bird Park: As nature and bird lovers, we spent more than half the day at the Bali bird park. Spread over 2000 sq. meters and boasting of more than 250 bird species, this aviary was a delight. They had bird shows, feeding locations, open areas to chill with different species, and enough to keep you on your toes throughout the day. Favorites included the section with Birds of Paradise and Lori feeding. Least favorite was being bitten by a Rose Cockatoo (but don't let that stop you)!
Saraswati Temple: Also known as the Lotus Temple due to hundreds of lotuses that adorn the walkway to the temple. We could not enter the temple but only admire the façade. However, every day at 6:30 pm they have local dance performances or acts from Hindu mythology. Balinese architecture is so mesmerizing that you don't need to be religious to explore the temples, as long as you want to admire some intricate carvings and art from centuries before.
Tegunungan Waterfall: So much fun! Don't get intrigued by the crowd - once you make your way to the waterfall you will realize that the majority of people are on the sidelines and very few in the shallow waters of the waterfall area. We spent more than a good hour chilling with this huge waterfall spouting and spraying its aqua powers. As you make your way around Ubud you will encounter numerous small waterfalls, so prepare yourself for a hop on, hop off journey.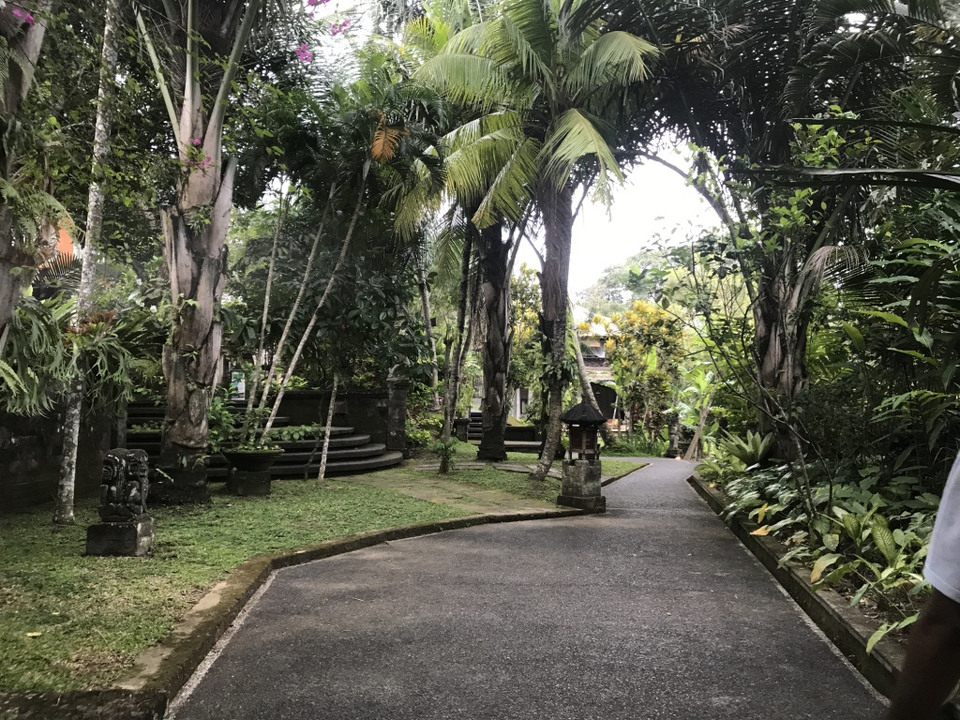 AMRA Museum: You cannot see enough of Balinese art and architecture. Every carving, every art piece, and every corner is so aesthetic that you will be drawn by the universe. Walking around AMRA museum's courtyard and property will transport you to the land of greenery, playground of different levels, sculptures and picture-perfect frames. We did stop for a bite at their restaurant which had a beautiful ambience, but I must admit we weren't impressed by the flavors.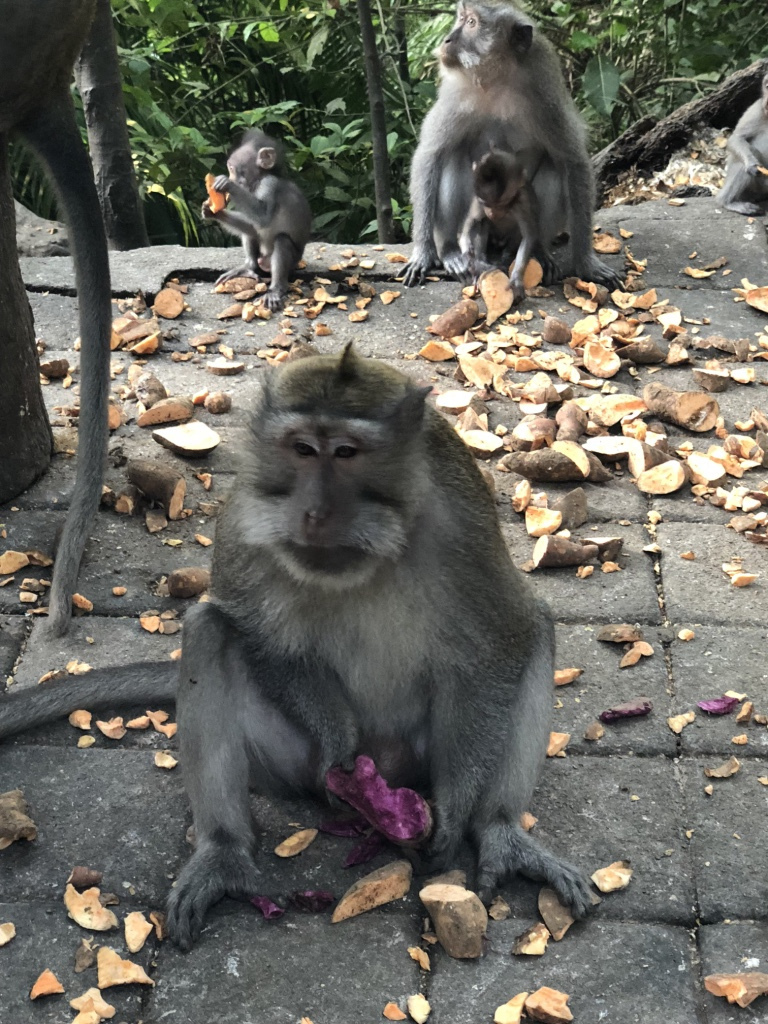 Ubud Monkey Forest: If you are from India, you are probably striking this off your list but don't! Set in a natural habitat with old, tall trees, beautiful terrains and monkeys that look like royalty, you will not be disappointed. The Balinese long tailed macaques sport a handsome moustache and beard (females as well) and as long as you don't tease them they will be civil to you.
What you should know:
Kopi Luwak: Bali is filled with coffee plantations where they serve you different varieties of coffee including the most expensive coffee in the world, Kopi Luwak. Unlike some other countries, Indonesia allows for civet cats to be kept in captivity and they are often kept in terrible conditions, with the tiniest of cages, unhygienic conditions with civets strutting full of anxiety. If you still cannot resist the temptation, Kopi Luwak packaged as "wild civet coffee" is the better option to choose. On a lighter note, we loved the mangosteen tea powder and returned with a couple of bags of this instead!
Birds in captivity: Tropical lands equals the most exquisite birds and Bali is no exception. To our disappointment, as we walked the streets of Ubud we saw many house and store fronts with beautiful birds in captivity. Even outside Ubud, we learned of traditional practices where hornbills and other exotic birds were captured and killed to make costumes which has led to extinction of certain bird species in different parts of Indonesia.
Visiting Temples: As you visit different temples, you will notice signs and rules operated around how you should dress, when you can enter, when you cannot be permitted etc. that it may almost seem uninviting. Be aware of these cultural quirks and don't let them dampen your spirits as you enter the world of architecture and beauty. Also, carry a sarong - this will be required in almost all Bali temples.
Parting notes: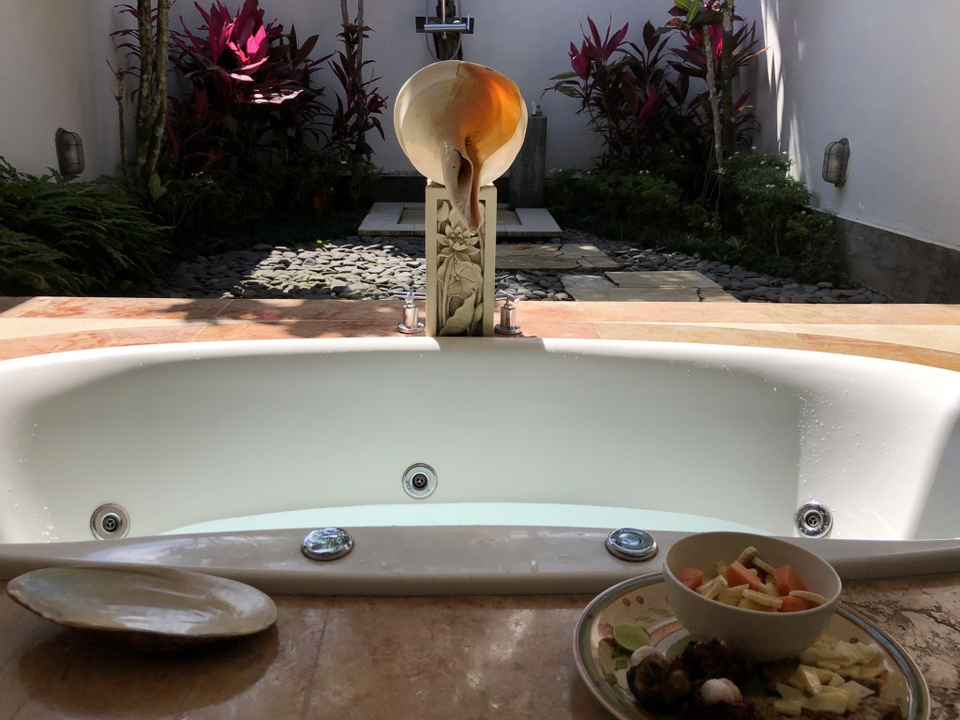 Spas: Spas and Ubud are synonymous. Make sure you check for options at your stay or google your way to some fantastic massages in natural settings, with waterfalls or rice fields or flowers to soothe you.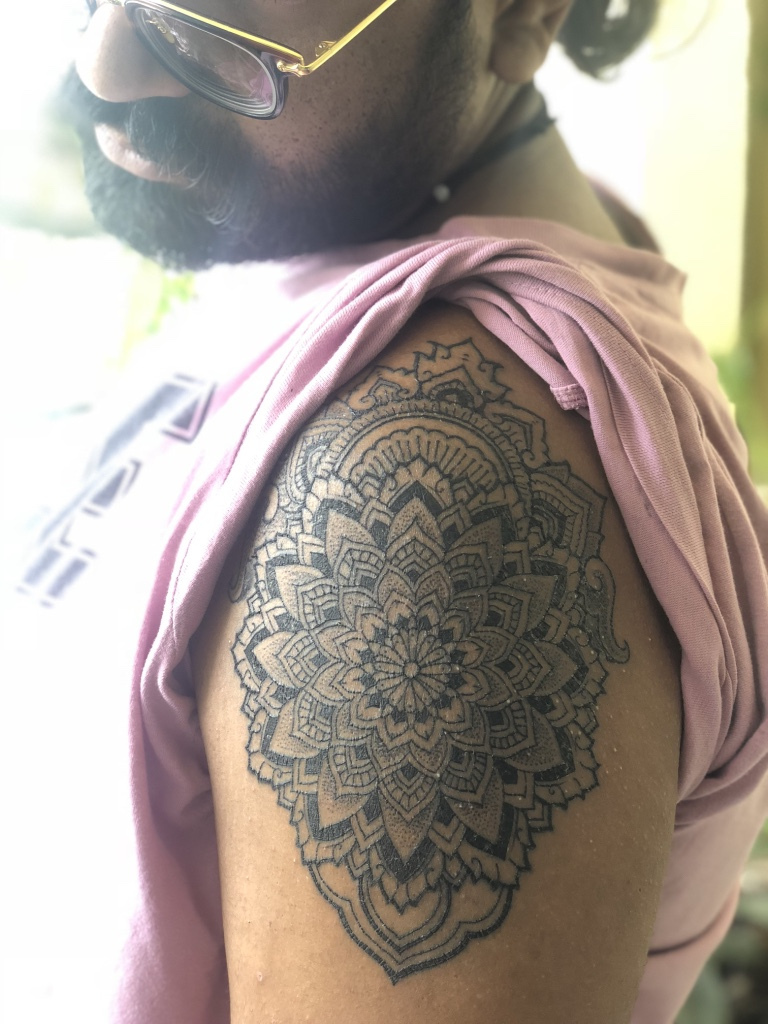 Tattoos: Both my partner and I got our first tattoos, and we were delighted! We would highly recommend Bali Bagus Studios who has one of the best tattoo artists in Ubud. Very close to that is another studio, Conscious Arts Tattoo, that uses vegan ink as well.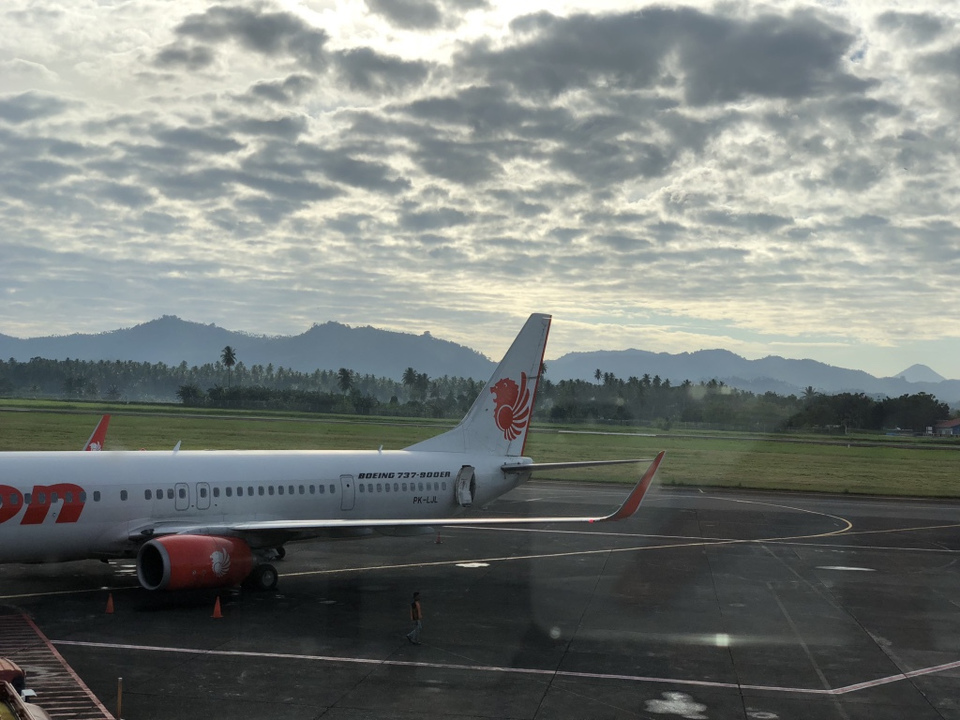 We loved Ubud for its nature-loving, architecture-obsessed, clean and conscious living values. If all you can dream of is great food, tropical vibes, greenery and waterfalls, coupled with an inexpensive holiday then get yourself to Ubud for you will not be disappointed.
Frequent searches leading to this page:-
Bali honeymoon package cost from India, Bali honeymoon packages with private pool, 4 days 3 nights Bali honeymoon package, best places to visit in Bali Indonesia for honeymoon