When you've had an ordinary year and December has already arrived along with your vacation, it is only normal that your expectations are as high as a mountain peak in the Himalayas. Not only did Bali reach my expectations safely to the Everest, it also gave them helium balloons so that they could float along the mountains and enjoy the breath taking view. No exaggerations.
I landed at Ngunh Rai airport, greeted by a smiling Nyoman (our guide) and cloudy skies. We set forth for Ubud and the landscape changed from city life to quaint houses with temples, mesmerizing stone work and lush greenery. My abode for 2 nights in Ubud was the gorgeous Umae Vilas – complete with a private pool, friendly staff and a small rice field of its own. Bali decided to test me on the first night, with thunderstorms and power cuts, immediately leading me to question my decision of going in December. But the next morning I opened my eyes to sunny skies and a delectable breakfast laid out by the pool. What followed was a typical touristy day in Ubud. The day began with a stunning view of Kintamani and Mt. Batur – a view I will remember for the rest of my life. A majestic volcano, a gorgeous green lake and a magnificent mountain standing proud beneath the clouds. You can also trek up to the mountain to enjoy the sunrise – this is definitely on my list when I visit Bali again. We then drove through fields and tiny roads to the Tegalalang Rice terraces. You can climb down the rice terraces to see how the workers harvest the crop or you can take a seat by the fields and enjoy the silence the place has to offer. I chose the latter and soaked in the greenery, all the while wondering how calm this place made me feel. There are many cafes by the terrace that offer a gorgeous view and some great organic food, if you wish to spend a few hours in Tegalalang.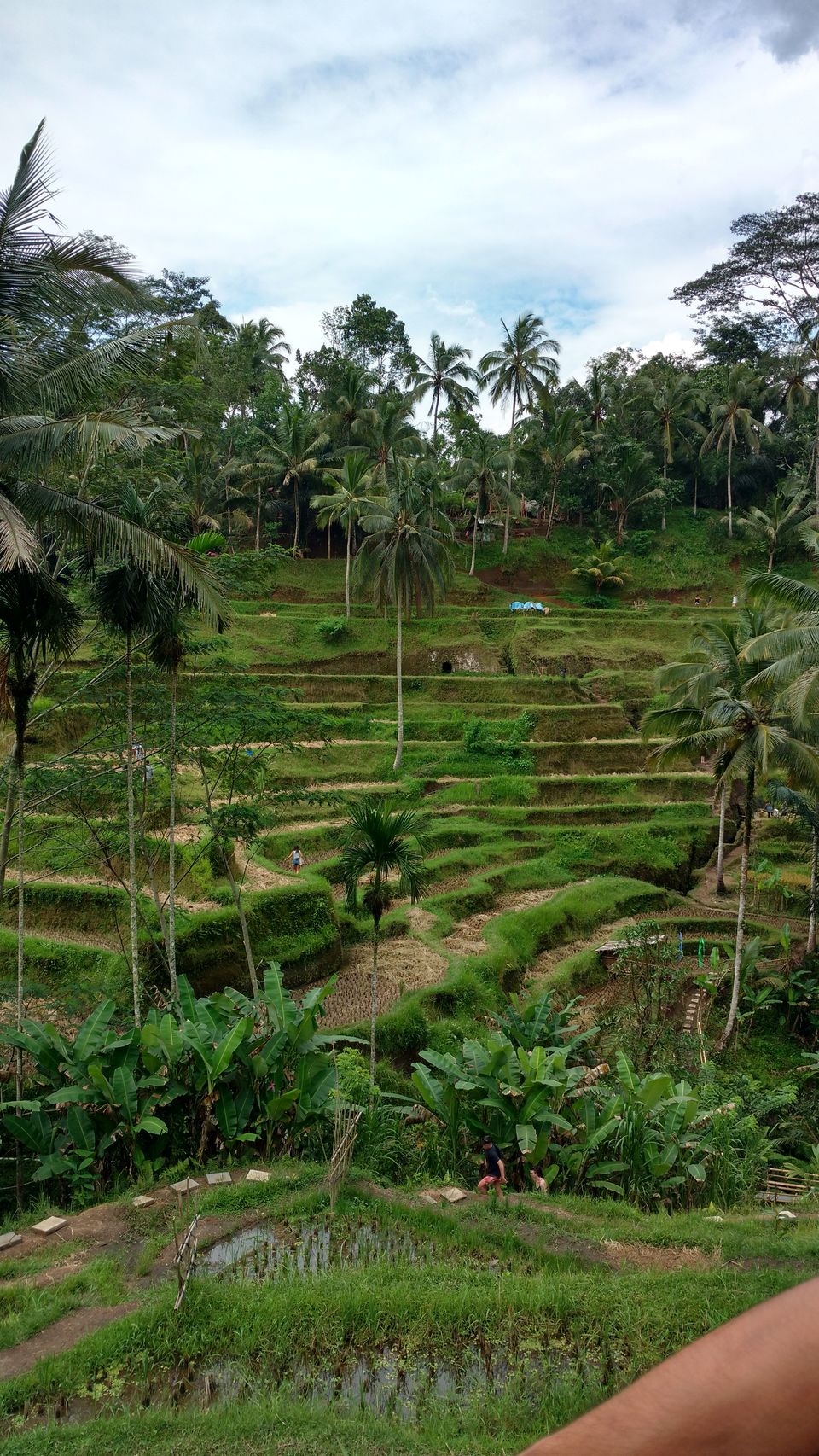 Our next stop was the sacred Monkey Forest, a few minutes away from Umae Vilas. I must admit, I was slightly panicky right from the start and didn't carry a camera (for which I wanted to kick myself later). The forest houses centuries old temples and more than 600 macaque monkeys; and it is a central part of the local communities' religious, spiritual and social life. It is open to visitors during the day, however entry into community the temples is not permitted. (The Balinese have 4 temples – family, village, profession based and public temples). We walked through acres of lush, green trees, majestic old vines and small waterfalls. The forest is dotted with intricate stone carvings and of course the temples have a quaint charm of their own. There are large open spaces where locals have put up stalls and for visitors to take a breather. The forest's inhabitants did not seem to mind our intrusion – and were even eating bananas off the backs of some daring visitors. One can spend a good hour getting wonderfully lost here, and one certainly wouldn't mind!
On the way back to the hotel we walked through the bustling lanes of Ubud market, awing at the handicrafts and haggling with the sellers to get a good deal. With tired feet and emptier wallets, we returned back for a dip in the pool. For dinner we chose an Indonesian restaurant nearby, and I had a sumptuous meal of roasted veggies, polenta and sangria. 2 talented singers serenaded us with their renditions of some English classics. After filling our stomachs to the brim, we spotted a massage parlour to give out feet some much needed relaxation. Side note: Massages in Bali are extremely cheap, safe and relaxing.
The next day we set out to Seminyak, about a 90 minute ride from Ubud. We decided to rent out a scooter and ride out to Rock Bar near Uluwatu. Rock Bar is Bali's most famous cliff side restaurant with a seating capacity of 700 people. It is literally located ON a cliff and is accessible only by a special elevator. The sea waves dance beneath the restaurant and sometimes might even wash out a few tables if the weather gets rough. One comes to Rock Bar not for the food but for the sunset and the unique cocktails. Unfortunately it was a cloudy evening and the sky chose only a few colours for its palette that day, nonetheless, the view was worth the journey. We had a few drinks and rode back to Seminayak, to the warm comfort of our Ibis room and some delicious cup noodles (Bali will spoil you for choice with its well- stocked supermarkets).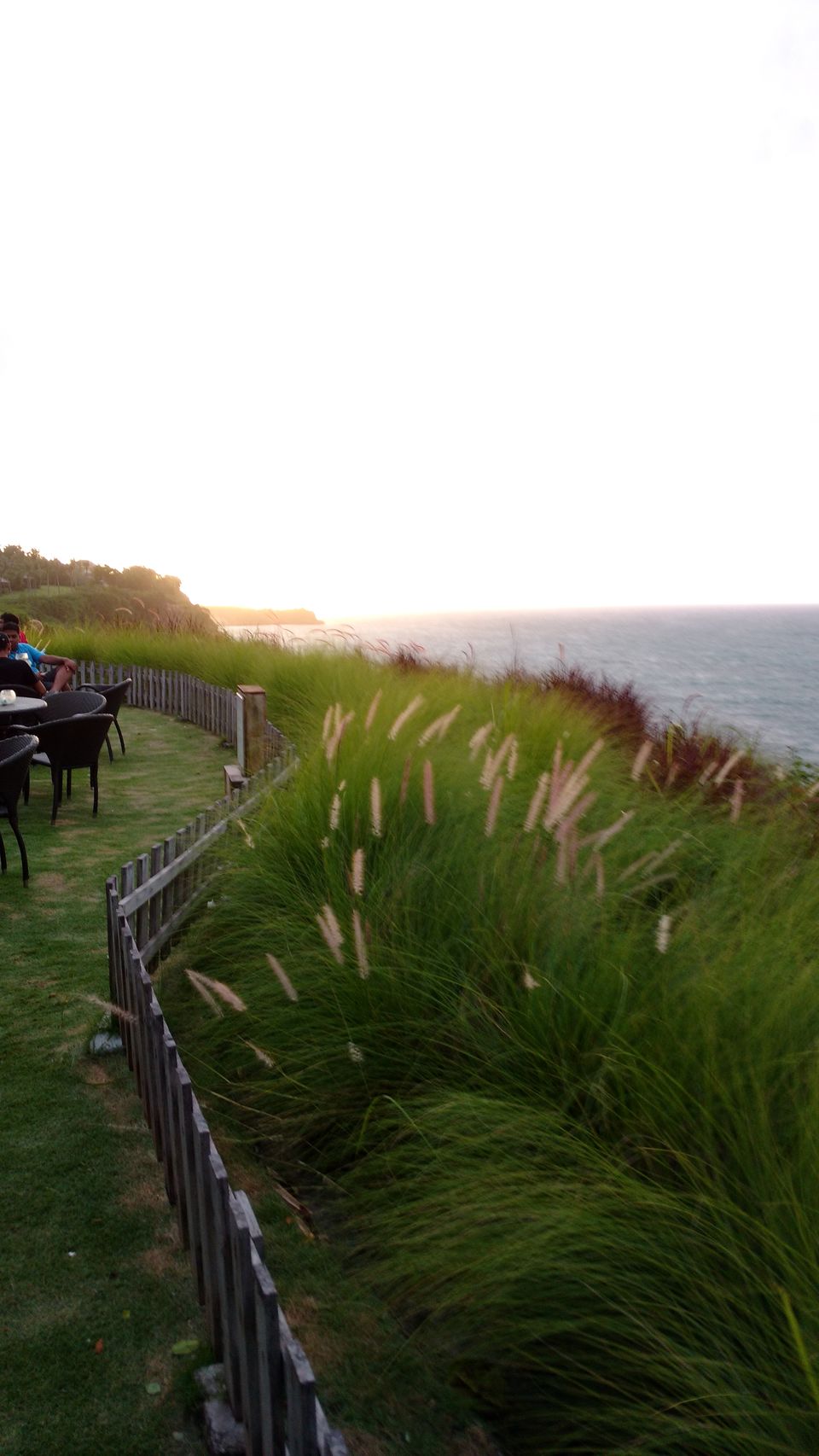 The next morning I woke up with butterflies in my stomach as we drove to Nusa Dua for water sports. I have never been so jittery as I was about to go scuba diving for the first time in my life! My instructor's name was Jackie, and he was extremely patient and calm. He taught the basic signs, breathing techniques and walking in the pool before taking us out to sea. The jump from the boat into the ocean took only a second, but one second was enough to make me think – what the hell am I doing?? As we dove deeper into the sea and I walked among corals, tiny fish and sea weeds I forgot all about my panic attack a few moments ago. I do admit, there were moments when I was caught off guard as I had an instinct to breathe through my nose – but Jackie, calm as ever, would show me a clown fish hiding in an anemone or feed a school of angel fish around me and I'd forget all about it. By the end of the dive, I was so glad to have done it. To have literally experienced another world, a calmness in the blue of the sea and to have seen some sights that make you feel glad to be alive. I will not get over this experience for a long, long time. I wasn't even tired when we drove back to the hotel, just happy. And very hungry, of course.
If I could, I'd write an entire article on the food I ate in Bali. As a vegetarian! Burritos covered in tomato and cheese at Taco Casa, Bibimbap at Ling Ling, Spaghetti Aglio at Mozarella. I could just go on. It amazes me how an island so brazenly non vegetarian and rooted in its Balinese cuisine can have such a large number of lip smacking vegetarian dishes to choose from. It would be injustice to try and explain the tastes I tasted – they have to be savoured for themselves. But kudos to the chefs for nailing almost every cuisine right from Indian to Vietnamese to Texas barbeque steaks.
On my last day in Bali, while struggling with the depression of having to go back, we made a final stop to Tanah Lot. We rode through lush green rice fields, bustling villages and gorgeous family temples with the wind gently caressing our faces. It was such lovely weather for our last day there. Tanah Lot is a marvellous stone structure standing strong in the sea, and it cannot be accessed during high tide. The carving and architecture is splendid, and during sunset it is supposed to be one of the most breath taking views. Unfortunately we visited the temple during noon, however a trip to Bali would definitely be incomplete without a visit to Tanah Lot. Note: you cannot actually go inside the temple, only locals use it for their ceremonies.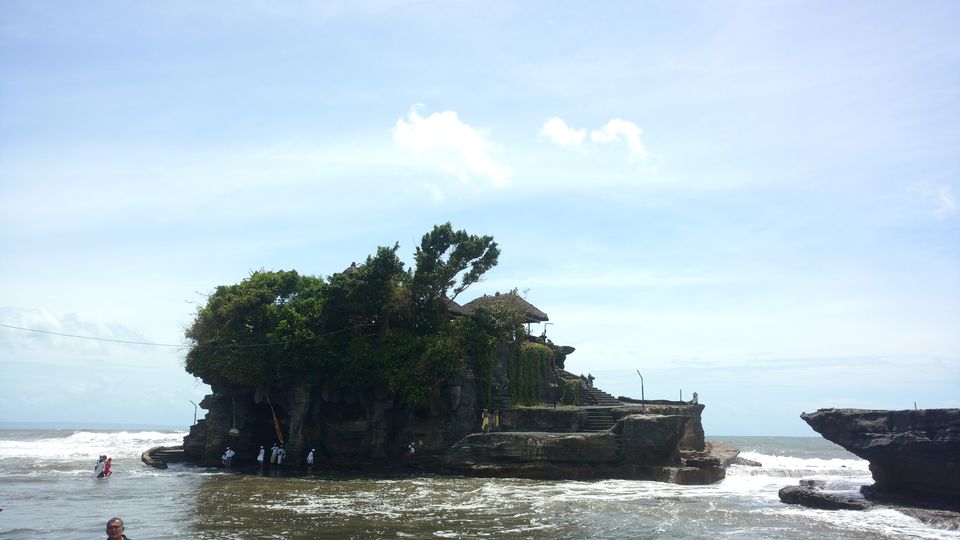 And before I knew it, my blissful stay in Bali had come to an end. I cannot wholly describe what Bali does to you – but you will not return the same person. It refreshed my mind, taught me calm can be found in chaos and most importantly, the warmth of the people just touched my heart. They are so kind, so generous and so welcoming that you cannot help but smile the whole time that you're there. I'm not done with you yet Bali, because you have a piece of me and my heart 