Hello Peeps!
We visited Bali and it is one amazing destination especially for honeymooners! Yes, I went there for my honeymoon and I would love to share the beauty of the island. Bali is an island in Indonesia which is known for its breathtaking beaches, scenic rice paddies, temple architecture and the volcanoes. Did you know that Bali is also known as Island of Gods? Well, why won't it be called so…after all the beautiful things it has! This island is surrounded by the incredible coral reefs. The beaches located on the southern part of Bali have white sand while the northern part has black sand. According to BBC Travel released in 2011, Bali is one of the World's Best Islands, ranking second after Santorini, Greece.
Let's get started with what to do in Bali to make your holiday memorable…along with the points, I would also love to share some bits from my honeymoon.
So we got our airlines and hotel bookings with Flamingo Travels and flew down to Bali on the 21st December 2016. Being a festive season, many travellers were seen in Bali mostly from Australia. Celebrating my wedding with my soulmate in the festive season at Bali was totally an awesome experience. We were awestruck when we saw our magical landing at the Ngurah Rai International Airport! We flew over the crystal blue sea, the majestic Bali Mandara Toll Road, a forest lookalike place and in a blink of an eye, the airport arrived! And this was how Bali had welcomed us!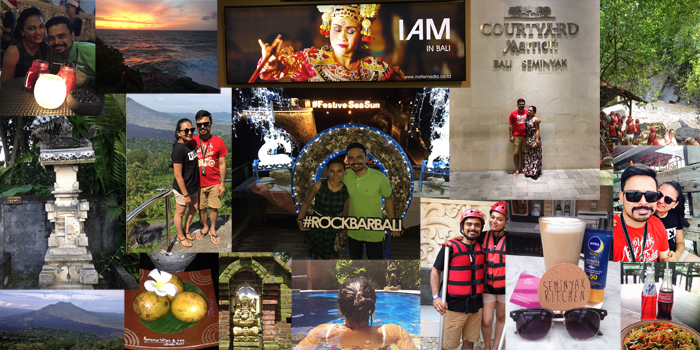 At the airport we got a warm welcome from our tour guide Mr. Mustangadi from Pacto. On the way to Ubud, we met with enormous He took us to Furama Villas & Spa located in Ubud. Ubud being a cultural city, it is famous for its traditional dance and craft. Remember Julia Roberts walking down the streets of Ubud, cycling through the rice fields, visiting Ubud Market in the movie "Eat, Pray, Love" in her search for balance and harmony? The book and the movie have made Ubud one of the major tourist attractions in Asia. Furama Villas & Spa is located between the rice paddies and rich greenery. Balinese are generally warm and happy people. We got welcomed by the front office staff with ice cold hand towels, welcome drink and a small traditional styled flower bouquet. Once the formalities was done, we were taken to our deluxe pool villa. Never having stayed in a private pool villa, the emotions I had at that time are still fresh! We experienced the amazing white water rafting in the Ayung River unfortunately we were unable to complete this adventure as the river was flooded two days back due to heavy rainfall. We later opted for a tour to the Kintamani Volcano and the Batur Lake. The panoramic view of the volcano and the lake was just spellbinding! The next day was a leisure day and hence we explored the property and came across the rice paddies between our villa and the exclusive villas. We spent time in our private pool and had a relaxing time at the complimentary spa we were given. Checking out from the villa the next day, we packed our luggage and treasured the amazing time we had.
We now get a warm welcome at Courtyard Bali Seminyak with a refreshing welcome drink. As we had arrived before the check in time, we spend time by the poolside where we get mocktails of our choice at a discounted price. Once we get our room, we unpack and get a quick shower and start exploring this happening and colourful place and the Seminyak beach at a walking distance. This day is a leisure which we spent in street shopping and walking to the Seminyak beach. The street shops are so vibrant that I stopped at nearly all the shops and those bohemian stuff actually caught my eyes! My my, I really loved all the colourful dream catchers. What a multicoloured day we spent! The next day we left for Benoa Beach where we had our water activities. We did undersea walking, banana boat ride and jet skiing. Being a windy day, we were unable to do activities like parasailing. Undersea walking was totally an amazing experience. Something near to out of the world…it was a mesmerising and unbelievable experience. After all the activities were done, our guide, Mr. Mustangadi picked us up from our hotel and we went to Tanah Lot Temple. Seeing this temple in the waves with a sun set backdrop was pure bliss. No tourist is allowed inside the temple. This temple is frequently seen on post cards from Bali. The name of the rock on which the temple is Tengah Lod, means 'in the sea', hence the temple is called Tanah Lot. Large waves near the rocks are hazardous, therefore always take extreme care and obey warning signs. The sunset and the high tide was amazing to see. After such a happening day, we had so many memories with us to carry us. The next day was a leisure day and we decided to go to Kuta Beach. Exactly opposite the beach is a Beachwalk Shopping Mall which has got never-ending stores and cafeterias. After shopping and window shopping, we took a taxi to Ayana Resort and Spa, Jimbaran where we went to the mind blowing Rock Bar! Wow, this is one place you should definitely visit when you are at Bali. The waves crashing on the cliff sounded horrifying as the sea water would sometimes splash on us too. We had an amazing Christmas evening at this place. Never miss out on this. You will surely miss this place the most when you return back home. The next day we checked out from Courtyard Marriott and flew back home. We miss you Bali!
Here is a list of things which you should not miss out while your stay in Bali:
White Water Rafting in the Ayung River: Craving for some adrenaline rush? This is one water adventure which you can enjoy and leave your fear behind. Professionally trained and experienced guides will brief you about the Ayung River and the basics about how to raft. Rafting is one sport that you should never miss out on!
Goa Gajah Elephant Cave: This cave will definitely take you back to the 11th century. This cave is an archaeological site because of its importance in the past. Inside the cave there are three stone idols that are wrapped in red, yellow and black clothes. Tourists have to wear a sarong and a waist sash which can be easily available for rent.
Rice Paddies: Strolling in the rice fields and nearby villages can be so relaxing and detoxifying. Remember seeing Julia Roberts cycling through the rice field in the movie "Eat, Pray, Love". Seeing her gave us a calm feel so I am sure you can imagine how it really feels if YOU are there.
Kintamani Volcano and Lake Batur: An excursion to this volcano and the lake will be calm and relaxing. The scenery is beautiful and you would not want to leave from there early. You will find some local people fishing in the lake to earn for their livelihood. The cool breeze will make you feel relaxed and cool.
Temples: Tanah Lot and Uluwatu Temples are mysteriously beautiful! Bali being a Hindu and religious island, it feels amazing to see the temples. Sunset as the backdrop and high tides as the music is a blissful experience.
Massage and spa: Indonesia is known for its spas and massages. You should definitely get one done. When we stayed at Courtyard Marriott in Seminyak, there were many spa and massage centres after every 5-6 shops. You can inquire about the best one with the hotel you are staying or you can ask your tour guide and if you get mixed reviews, you can always rely on the internet to find out the best one.
Visit the local homes: Every local home you see may seem the same…this is because every family have their own temple inside their home premises. They have a temple inside the house too and that too in all the rooms! The exterior of the houses is to mysterious that you get lost sometimes. The architecture keeps you glued and curious.
Coffee Plantation: Kopi Luwak is the most expensive and famous coffee in the world. The Philippines, Indonesia, and East Timor are the only producers of Kopi Luwak coffee. Being in Bali, you should definitely not miss the chance to visit the coffee plantation. And if you are a coffee lover, you get to taste different varieties of coffee too! Ain't that amazing?
Shop at the local market: You can get anything you want. You name it and it is here. From clothes, sarong, paintings, souvenirs and all things bohemians! The market is really big and colourful. You will love every bit of it. And don't forget to bargain!
Rock Bar: This is one place you should not miss out. It is located in Ayana Resort and Spa, Jimbaran. Rock Bar is one of the most popular sunset, cocktail and entertainment destination. You will be mesmerised by its beauty. A bar and dining lounge set up on the cliff! Can you imagine that? There is no land…just the wide Indian Ocean open in front of you. Don't miss out on seeing the spectacular sunset. It is something you will cherish forever.
If you've visited Bali, I'd love to read your story :)