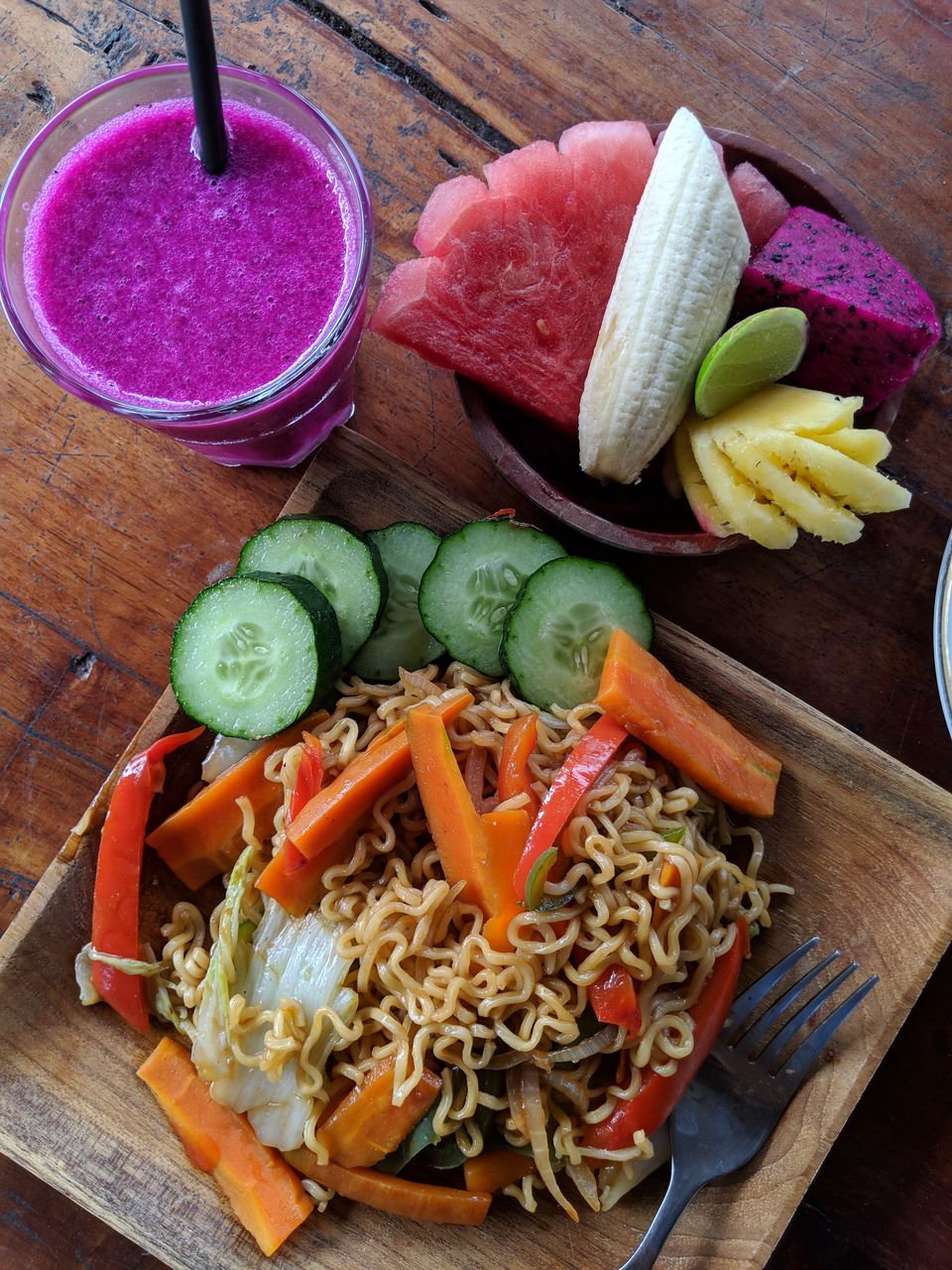 We visited Bali in March 2019 and I have actually shared a lot of details of my trip in another post here.
This post is all about the amazing food places we went to and the scrumptious food we had in Bali - all vegetarian. A must-have food guide if you are looking for one. So read along!
The first place I would like to recommend is Suka Espresso (photos below). If you happen to be in Uluwatu, Suka is a must visit. It's a quite popular eatery and was suggested to us by someone in our resort so we decided to check it out.
The place had a chill vibe with lots of youngsters sitting and hanging out, having their lunch. Most of the people there were foreign tourists and the food was fusion having a few Indonesian dishes along with a few things to cater to the global audience. Plus coffee.
We had Sweet Potato Fries, and Indonesian Curry and an Iced Latte and all of it was super yummy!
And all thanks to Suka Espresso, I'm now a Sweet Potato Fries junkie for life!
The next must go to place is Cafe Outside Corner in Uluwatu only.
We had first seen this place hunting for dinner the night before but they had just stocked out and so had to close their kitchen. But we really liked the look & vibe of the place.
So we ended up here the next day for lunch and actually spent some time here playing TT and chatting up with the owner of the place.
We had a veggie burger, a salad and an Iced Latte again and believe it or not, this was enough for the four of us (we had also had a huge heavy breakfast).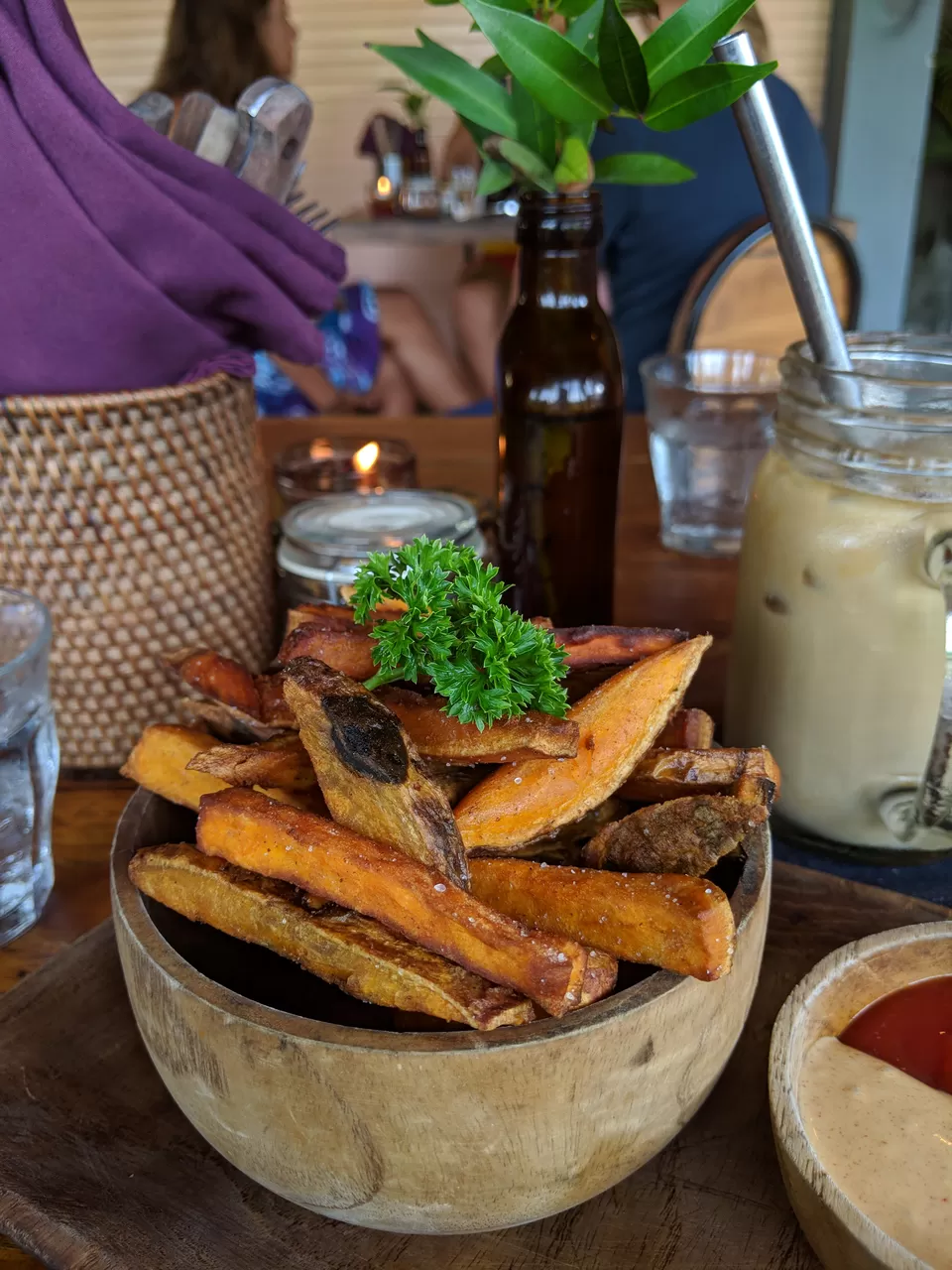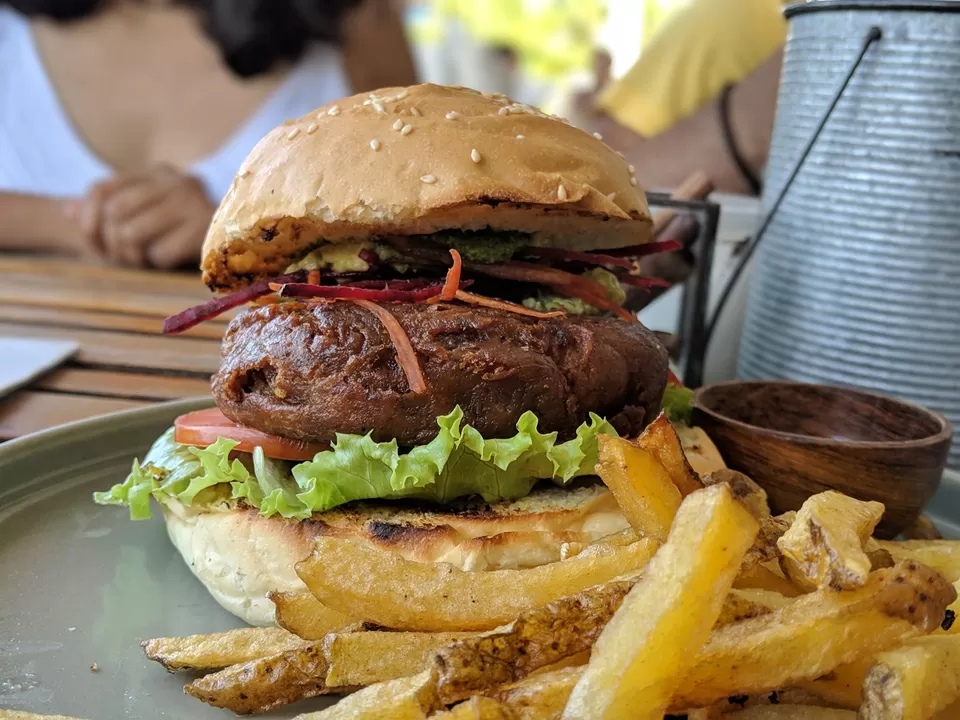 The first authentic Balinese food we had was at Warung Lokal in Ubud. Warung in Balinese means a small establishment - restaurant or cafe sorts. This is the place to be at if you want to eat regularly in Ubud.
Lots of tourists flock Warung Lokal and you would find it to be highly recommended on TripAdvisor. And rightly so.
Its a small place and you sit overlooking the street which gives it a different feel than any other place I have been to. In fact it became our goo to place for the time we were in Ubud and we ate there as much as we could!
We had traditional curries like Gado Gado & CapCay with rice and it was surely a delicious dinner to end an eventful day. Plus the prices are really low - I remember we all (four of us) ate our hearts full in about Rs. 800.
Unfortunately though, since all of us were busy stuffing food into our mouths, no one took pictures!
Seniman Coffee Shop & Roasters is one of the most popular coffee places in Ubud. We were searching for good coffee places in Ubud when we saw Seniman in a few list of recommendations.
Incidentally, it was quite close to where we were staying. So we knew we had to give it a try. And as soon as we entered, a whiff of coffee aroma welcomed us, and we felt at home immediately! Yes, we're crazy about coffee!!
We tried Tipat Goreng there (which is basically rice cakes stir fried with a lot of veggies) and an Iced Coffee (started seeing a pattern yet?!?). Apart from that they were trying out a few new brews of coffee and we got to try a couple of them.
Goreng actually means fried and is generally referred to the stir fried method of cooking. Nasi Goreng, Mie Goreng and Tipat Goreng are all very popular foods in Bali.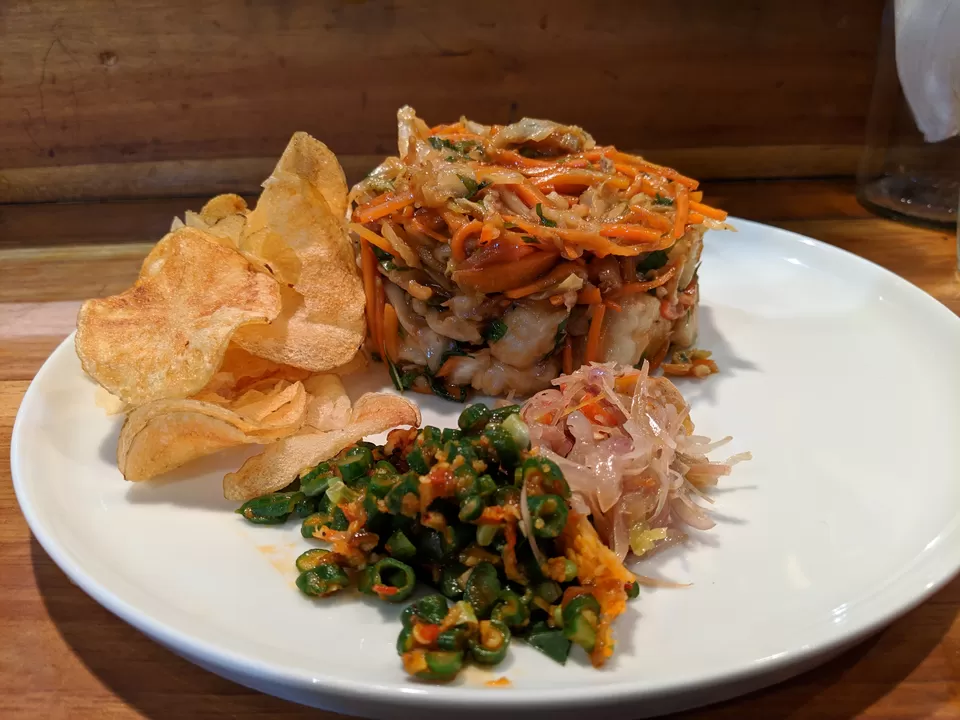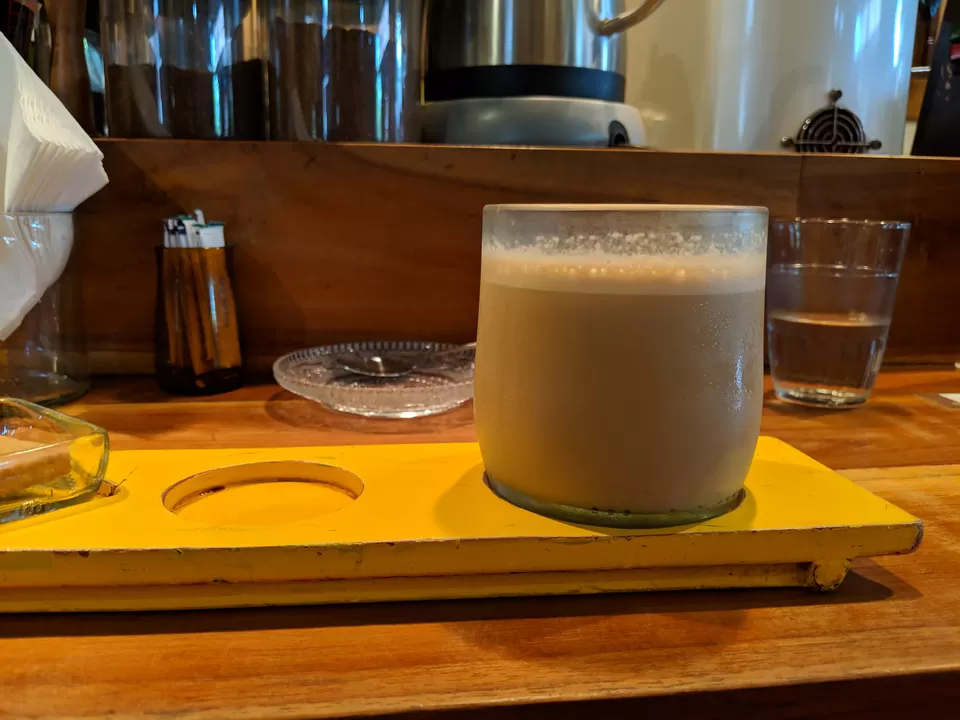 I love the fact that Balinese food is not bland like the food from a lot of countries. In fact chopped green or red chillies are very commonly served with food here. The chillies are freshly seasoned with salt & lemon juice and compliment the dishes nicely.
If you have been to Bali and have not tried the Coconut Ice-cream from Tukies, I'm sorry but you will have to go again.
We tried it the first time by chance - because our friend Ruchika was not feeling very satisfied with the food we were having and wanted to have something special.
Tukies was just there at the right place at the right time - and we gave it a try. But God, was it good.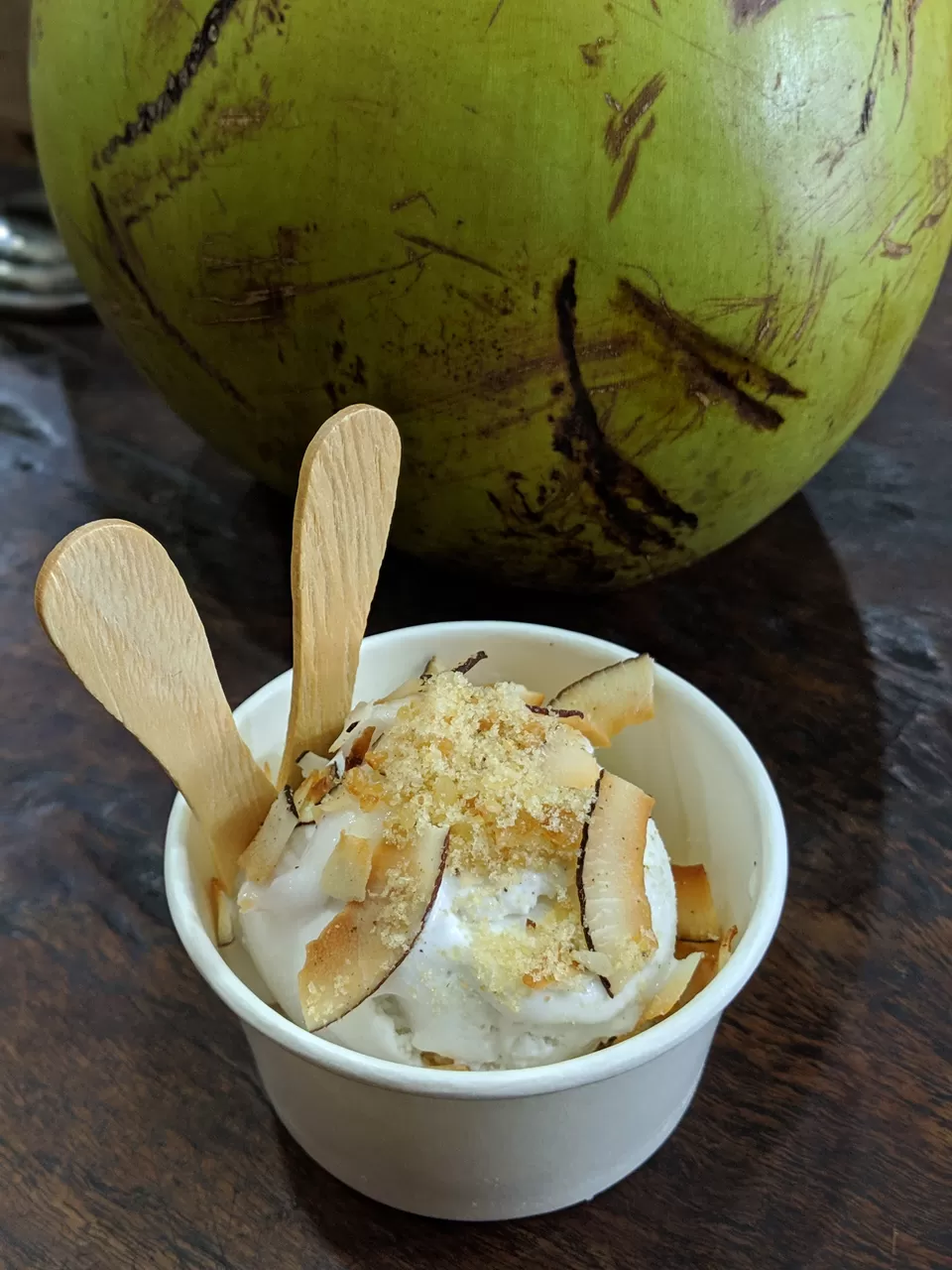 It's basically ice-cream made entirely with coconut having coconut chunks embedded into it, topped with roasted coconut flakes, and coconut sugar. And if you buy the bigger size, they serve it to you in a coconut shell bowl!
And I think it was one of the best ice-creams I have had. You just have to try this one!!
Another mind blowing thing we tried in Bali was Cauliflower Tacos at Cantina, Ubud Market.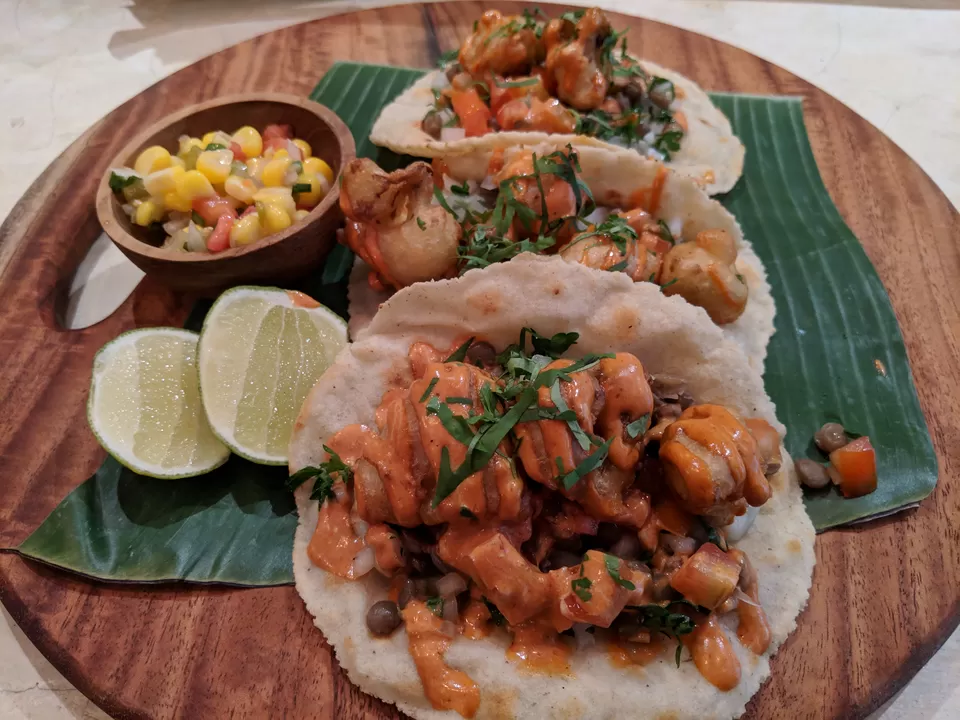 It was made of batter fried cauliflower florets kept on homemade soft tortillas, topped with a lentil salad and a dash of spicy sauce. It was served with fresh corn salad.
It was the perfect evening snack! Wasn't too heavy, and at the same time it didn't feel like we ate nothing. Fried, freshness, tangy, spicy all flavours were on point.
We originally went inside this place because we really needed to rest our feet while exploring the market but we were so delighted by what was presented to us that we gobbled it up in no time!
On Day 5 of our trip as we left Ubud, our friends were bidding Goodbye to the beautiful Bali and flying back to India that day and we were going to Kuta for the last 2 days of our trip.
On our way there, our driver heard us talking - wondering where we should have lunch. He so graciously asked us if we wanted to visit a pure vegetarian Balinese restaurant.
We all said yes in unison!
And hence we landed in Hare Krishna Balinese Veggie Restaurant.
It was a simple place amidst a lot of greenery. And the food was also simple yet incredibly tasty. We ordered a veggie campur which is basically rice accompanied with an assortment of dishes in small quantities. Our plate had stir fried tempeh, soy satay, veggie curry and various salads.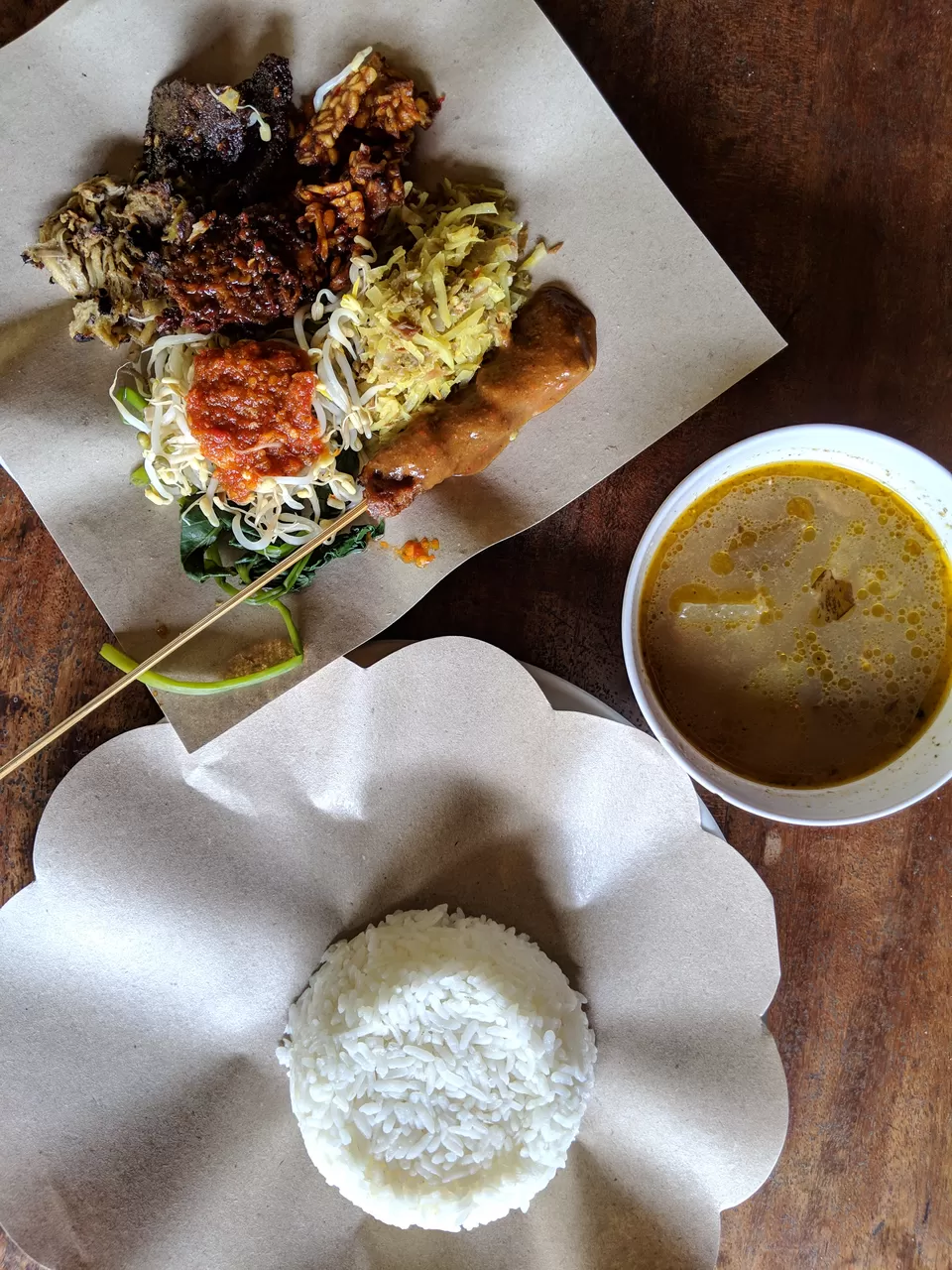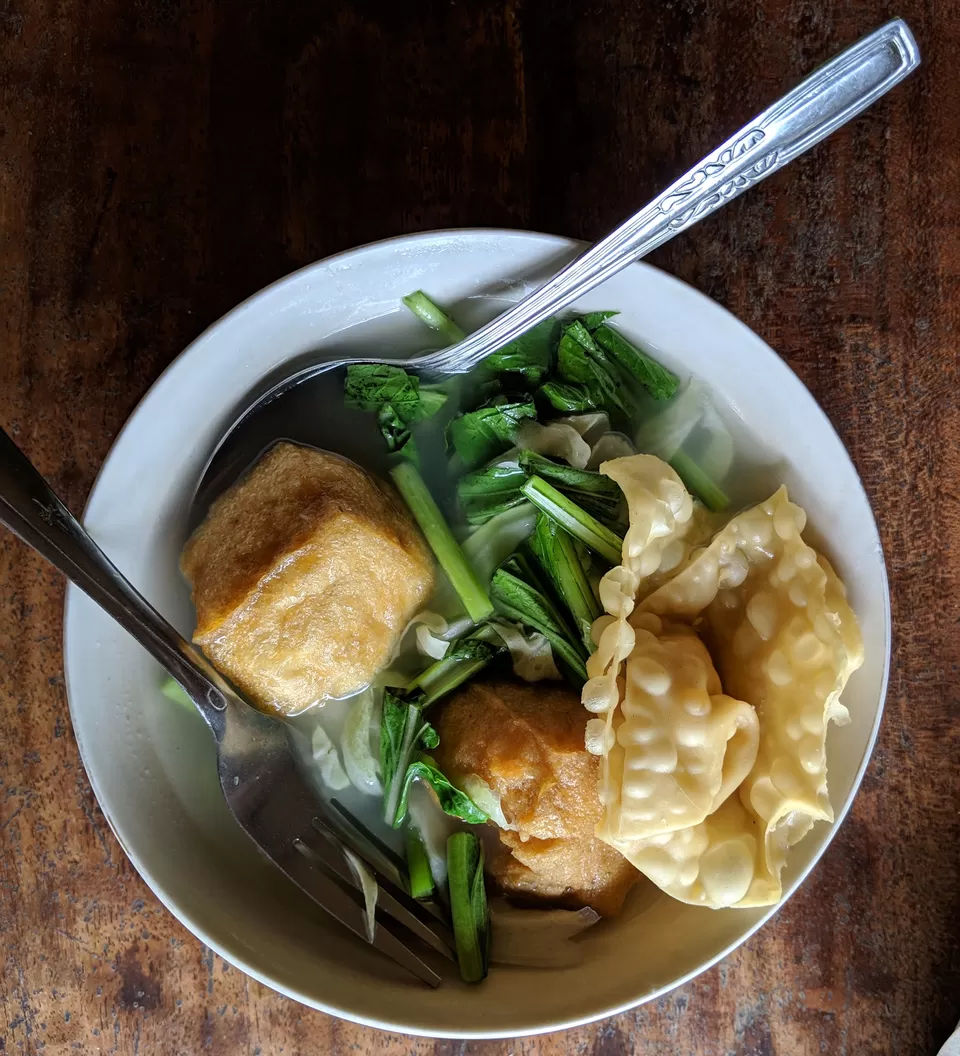 We also tried a Bakso which is a soupy Balinese street food having fried tofu chunks.
I know I have said this before, but I'm sorry somehow we actually landed at some of the best places to eat in Bali. And Old Man's would definitely compete for the top of the list.
Roaming around Canggu beach, we came across Old Man's and it looked interesting. So we decided to go inside. It was a different world all together.
It was full of youngsters partying their hearts out, playing beer pong and dancing. It was like a giant house party!
And the thing about such places is that mostly the food there sucks. Because hello, who goes to eat there.
So I was surprised as hell when our Aglio Olio came as perfect as it was. We had also ordered Garlic Potato Bites which was insanely yummy as well. I mean I have special admiration for people who ace the simplest of dishes with perfection, because that's where most people would falter.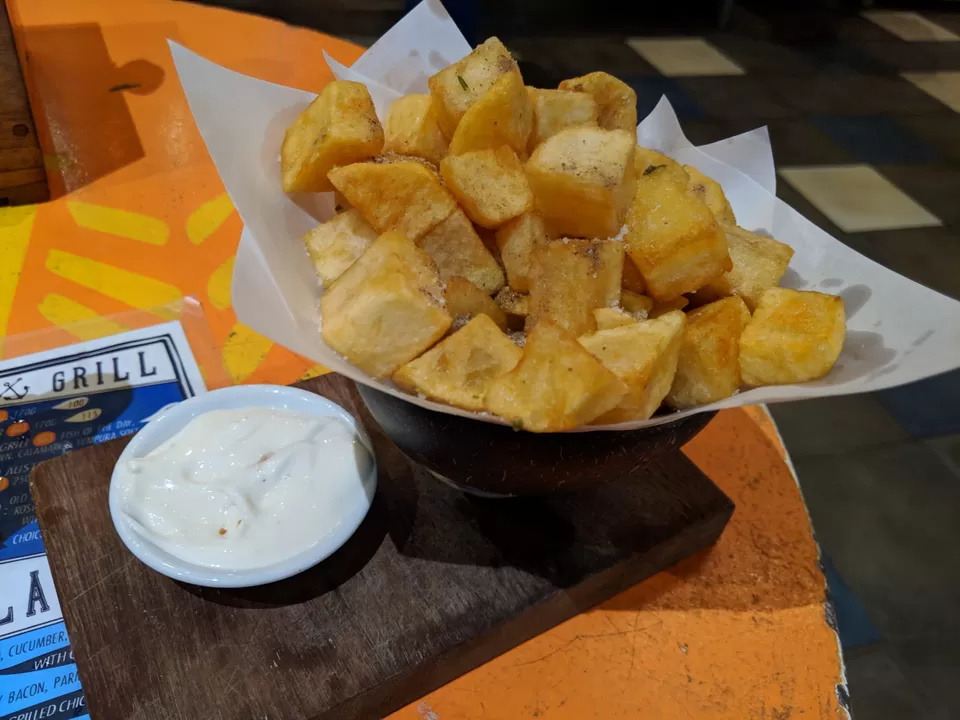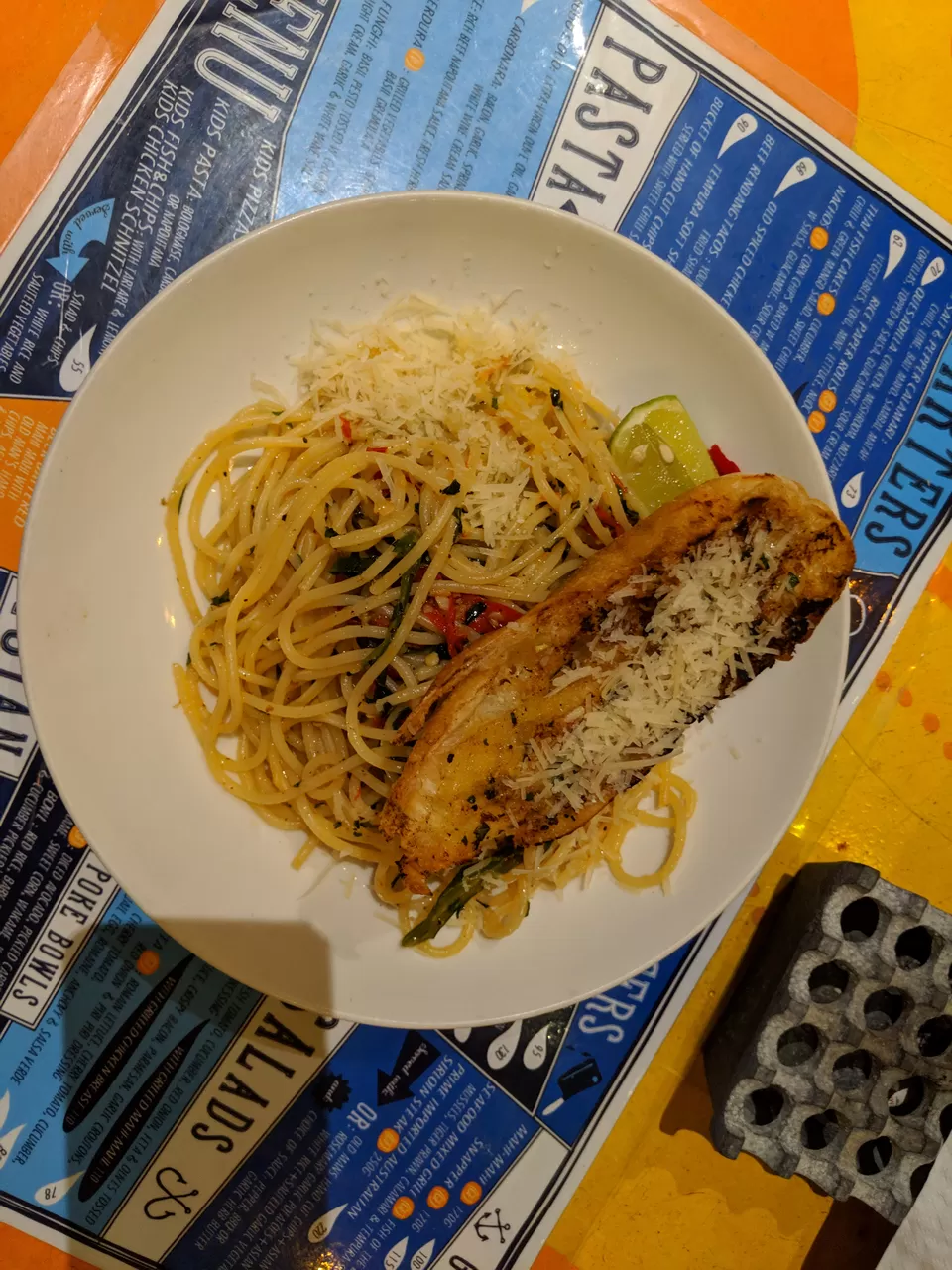 The last place on this recommendations list is Coffee Cartel. If you love coffee as much as we do, or even half as much, you need to go to Coffee Cartel.
It's one of the cutest coffee shops I have been to - the design of the place is spectacular and the coffee is splendid. We also tried a vegan burger which we loved. But this was also one of the most expensive places we went to in Bali.
While we were there, we also saw the owner of Coffee Cartel sitting there so we struck up a conversation with him. It is amazing how people from different continents can bond over something so simple as a coffee.
Their speciality is a Pink Latte but since it was super hot when we went to Bali, we stuck to Iced Latte everywhere.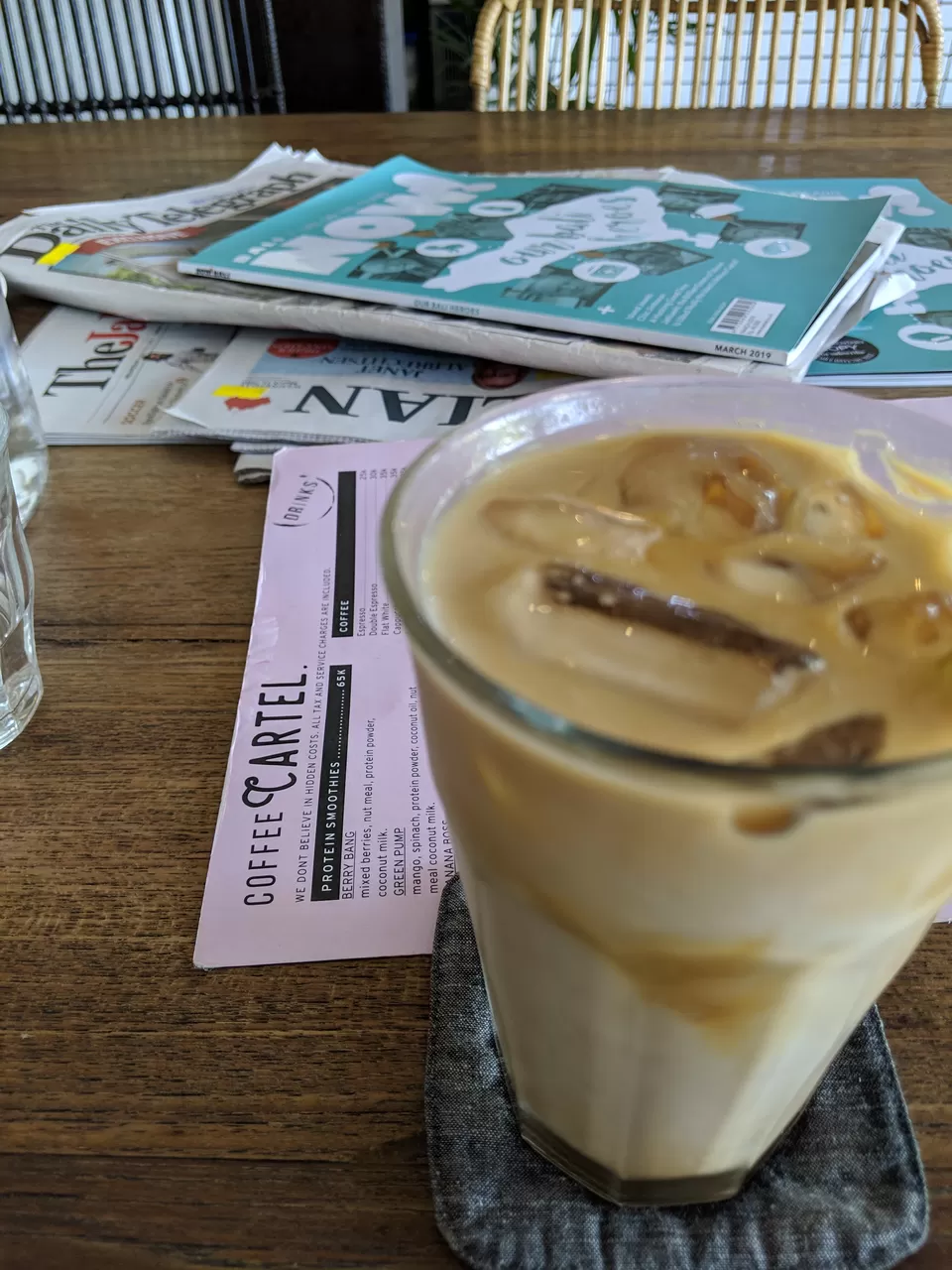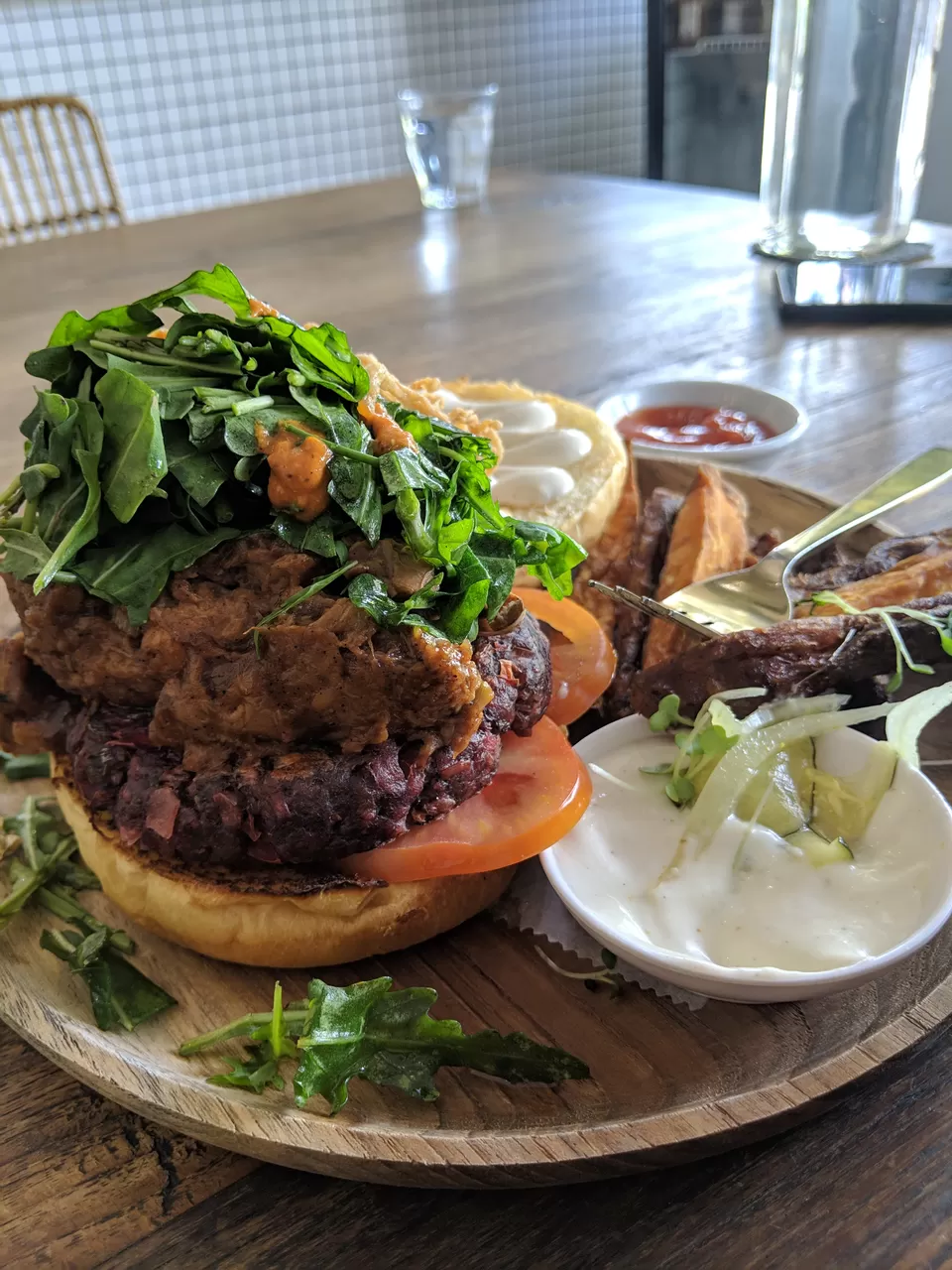 Though the location showing here is Ubud, we actually came across Kulo Coffee takeaway store somewhere near Seminyak. We were actually roaming around the streets on our scooty and had stopped to look some cute stuff in one of the shops next door.
We decided to pick up the coffee before continuing our wandering journey across Seminyak. The coffee was great, even better because of the spill proof way in which it was packed.
You can give it a try if you happen to locate one of their outlets somewhere and need something refreshing to drink.
It's a popular Indian restaurant in Ubud and if you're looking to have Indian food, you can surely visit this place.
The food is also pretty decent, it seems like they have got their menu and recipes right. The only downside to this place is that it's too expensive. Plus the portion sizes were considerably small.
THE PLACES WE DON'T RECOMMEND
After a successful dinner at Warung Lokal, we decided to give more Balinese restaurants a try and this one came highly recommended on TripAdvisor.
I don't exactly remember what we ordered - but the food was fine. What was not fine was that the place was full and was obviously doing well so the servers did not pay attention at all.
The communication was bad, they did not make any suggestions for the food even after we asked and they charged us for a glass of water even after us communicating that we didn't want bottled water. What was the point of not taking bottled water if the same amount was charged for a glass of water after that.
Plus on top of that they did not have card payments and this information was not displayed anywhere. In fact Biah Biah was the only place we found this trouble. And they became even more noncooperative after that!
Overall, the experience turned sour and I wouldn't recommend this place to anyone.
We went to Spice Mantraa on our last night in Bali. And that too out of sheer frustration. Both of us were craving familiar food and while wandering aimlessly, we stumbled upon this place.
The problem with Indian places in Bali is that they're too fine dining. Which means expensive with minimal portion sizes and basically half filled stomaches.
So again, this place is not recommended from my side.
Frequent searches leading to this page:-
Bali honeymoon package cost from India, Bali honeymoon packages with private pool, 4 days 3 nights Bali honeymoon package, best places to visit in Bali Indonesia for honeymoon