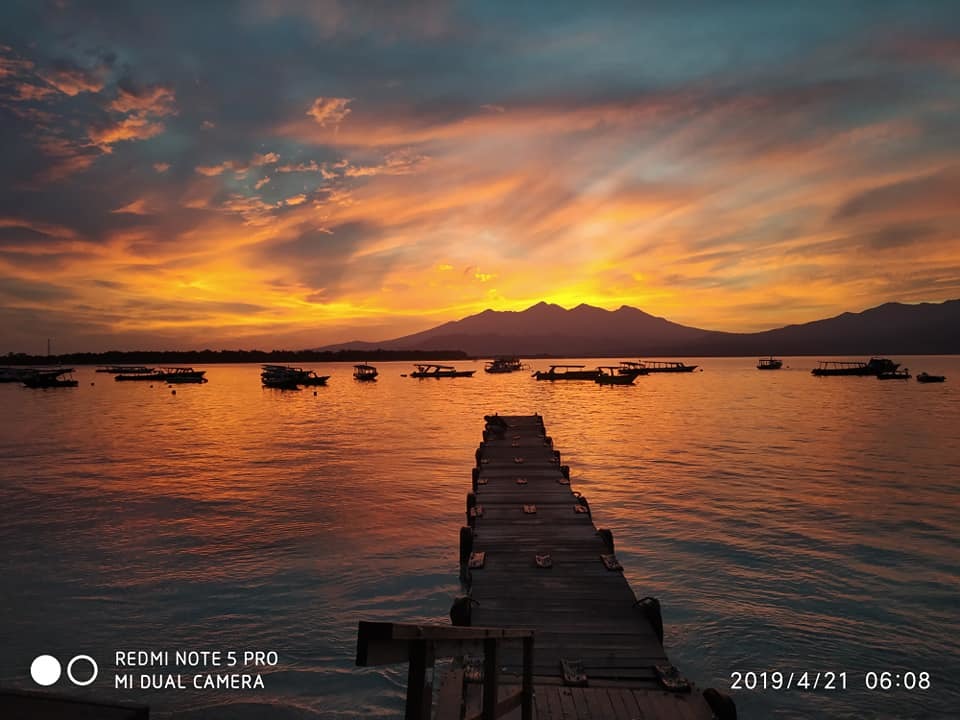 And if all else fails BALI IS!! As true to the quote Indonesia is incredibly a beautiful country. To escape from our materialistic life we all need a vacation and that's how we planned for this vacation along with our close friend's family. With kids anywhere and anything is an adventure, still we went ahead to plan for BALI!! So we were totally 8 souls heading up to the escapade :-).
The kick off:
As everyone does we did planning for the trip. We booked our tickets well in advance, nearly 6 months before. And we did get a good deal for the tickets as we booked in advance.
Well!! it was a fine sunny (SUMMER) day in CHENNAI. Yes that's where we started our journey from although we reside in BANGALORE that's because of the cheap rates. The flight departed by around 8.15 AM in the morning and we reached KL by mid noon. And after killing the waiting time of 4 hours (KIDS were super energetic) we finally landed our flight to BALI.Though it was night still we can figure out tiny islands before 15 mins to land the flight. We reached DENPASAR (NGURAH RAI International Airport) by 9.30 PM (BALI time).YAY WE ARE IN BALI!!
Day 1 in BALI:
So its our day 1 in BALI.....we stayed in a VILLA called GARDEN VILLA in Seminyak. Seminyak is a beach resort area at the southern end of BALI. This area is a 30 mins drive from the airport. I really have to give a word tour about this VILLA. This VILLA is a private VILLA (only for us ???? )which has three rooms (really big) and a living area with attached kitchen which is kind of open area type. They do have a really nice pool. The wonderful part is that we would get two maids who would come and prepare breakfast for us with a choice of either American or Continental.
After our breakfast we headed to Garuda vishnu Cultural park in Ungasan. Totally a worth visit. They have traditional cultural and art events performed in their amphitheaters and this area has gigantic Garuda and vishnu statue. Its a vast area where we can roam around, they do provide a iced tea (we have to get tickets) which is very tasty. Here we can find lots of eatables and Souvenirs to buy!!
Our next destination for day 1 is ULUWATU temple. This is a BALINESE sea temple located in ULUWATU 70 meters above sea level. And this is one of BALINESE nine key directional temple. They say it is constructed in 11th century. Here the way to the temple is too greenery. We could spot monkey's over here and they are too naughty!! They would just grab anything they find attractive in your hands. Be careful about your coolers. I would say this just looks like a abode between earth and heaven. You should go there either during sunrise or sunset. It is insanely beautiful!! We were only able to catch the dramatic sunset. And one attraction not to miss in uluwatu is the traditional Balinese dance called KECAK dance. They usually perform this after sunset. This dance was too entertaining I would say mainly because of the HANUMAN character. The monkey character was a true entertainer. They depict the Ramayana story where the musical background sound is made by a group of 75 men's only through their voice. Skill full isn't it!!
So that's for day 1 and we ended our day with family party with NASI GORENG and CHICKEN SATAY. I just loved the SATAY and the peanut sauce!! Yummy!!
Day 2 in Bali:
Our day 2 was a kind of buffer day where we really do not have any plans. We do want to explore different parts of shores so we thought of vacating the GARDEN Villa and move to a new villa named VILLA AVIYA in JIMBARAN. JIMBARAN is a fishing village and coastal resort south of KUTA. This area is very calm and had really good beach side restaurants. On the way to villa we has a quick visit to the seminyak beach. This beach reminded me of GOA.
After checking in to AVIYA we headed out for lunch and we spotted a Indian restaurant INDIAN TANDOOR and had a nice lunch there. Then we headed to KUTA beach which is just behind the DISCOVERY SHOPPING MALL. One more sunset to spot :-). After spending some good amount of time there we went for the next plan of having coffee and founded CAVIER CAFE on the Jimbaran beach. We had our dinner there. Its a sea food dinner with prawns, lobster, squid, fish, crab and ofcourse live music band :-).
Day 3 in Bali:
DAY 3!! This was the day I was expecting for, as our plan is to do a day trip to NUSA PENIDA. This is a beautiful island which is southeast of BALI. I was so excited about this day trip!! The best way to get to NUSA PENIDA from Bali is by speed boat from SANUR beach. I would say it is better to catch the early morning boat so that you will enjoy more time and cover all places there. We were able to catch 10.30 boat, i would say it is early for us with KIDS :-). We got some refreshments and headed to the boat. It is 40 mins ride to the island. I am in mid of sea, first time though. And the combination of Indian and pacific ocean is very overwhelming.
We were able to sit at the bow of the boat to catch the views. Oh!! we reached the Island. My gosh!! does beaches are really this clean, I wonder!! Its a turquoise water!! After stepping down we grabbed a cab which will take us to the four destinations as per the trip plan and they provide us a free lunch.
Kelingking beach:
Our ride in the car started, intially it was a smooth ride which turned out a bit uncomfortable due to the road quality. I cannot complain as we cannot expect more on a developing island. So after our exhausting ride finally reached the kelingking beach. We have to walk a bit distance to capture the site of the beach. It is a spectacular view of the beach from the mountain. we could see two mountain cliffs out there. No words to describe, the beach is crystal clear and its insanely beautiful!! We can actually walk down to the beach from the top which would take 2 hours for to and fro. We didn't do again because of kids.
Angels Billabong:
Again after a ride of 30 mins in our coaster we reached Angels Billabong. This is a remarkable formation . The crystal clear water allows you to see the patterns and textures beneath the surface. If you are a water person you can go down for a little dip. Based on the time and the position of the sun the water color changes and the so the tides. Mother nature!!
Broken beach:
The next part is the broken beach which is a walk able distance from angels billabong. The highlight is the archway that wraps around the bay allowing the water to flow which makes it unique. This place is great for photography. After this we has our free lunch which was really great. All the sites are unique and beautiful in its own way. We couldn't make it to crystal bay as we ran out of time. Yes!! we are very late to catch our last boat of the day :-(. Our driver was kind enough to rush to the ferry bay, the moment we reached the speedboat has already left a few feet's ahead. Thanks to the driver who quickly shouted and boat returned for us.....kind of historic!! Else we would have stranded in the ISLAND for that night with no other option until the next boat.
Day 4 in BALI:
So that's how our NUSA Penida trip ended. For day 4 we had plans for UBUD. After a nice sleep we started our day to UBUD. UBUD is known as uplands of Bali. It is famous for its traditional crafts and dance, nonetheless Balinese massage!! On the way to UBUD we visited a temple. I would say the temple's in BALI are of Eat, Pray & Love experience!! And upto some 30 Km's till UBUD there were only arts and craft shop. It was really beautiful and worth for the work, but considering the size we cannot carry all the way to India so we didn't buy!!
After the temple we went to Tegunungan waterfalls. Again a beautiful place to relax and spend time. Next we headed to a coffee plantation. Here they give a tour about the coffee they make which is none other than LUWAK coffee. The worlds most expensive coffee!! But it is made from cats Pooo. Yes i am right!! They show how they do the fermentation of the coffee beans from cats. I was actually reluctant to drink LUWAK, after the explanation I made my mind to drink the coffee. Yes it was good and tasty!! If we pay to taste the LUWAK coffee we get a complimentary shots of tea and coffee of different flavor. We successfully tasted all the flavor's.
Now we are refreshed and went for the visit of Rice terrace. Here we found the famous BALI swing and nest swings meant for photography. Swing was nice. To roam around the rice terrace we have to do a mini trekking. The views of the rice paddies are wonderful. After the mini trek we headed to our resort in UBUD known as SAGITTARIUS. This resort is built in traditional BALI style which makes it unique.
UBUD is kind of a town where we find shops in all directions. They have hotels of partying style. After our tired visits we were in search of Indian restaurant. We walked, walked and walked and finally found a Indian restaurant (Queen's of India). I felt, Indian food is very much tastier in BALI than in India. Then all went for Bali massage except me as I planned to go the next day.
Day 5 in BALI:
we had good nap and the next day started with the pool area in the resort as kids were eager to swim although they did swimming in our previous villa's. After our breakfast had plans to cover three places today. First is the Monkey forest. This forest is of too greenery and the monkeys are very sweet. Not like the uluwatu monkey's. Then we went to Kintamani to visit the Mount Batur Volcano. It is said to be active but we could see the dead lava down the mountain area's. It also has a lake next to it which is known as Batur lake which makes a pleasant scenic to our eyes. People also do trek down the mountain. We didn't spend much time here and we quickly headed to the Tirta Empul.
Tirta empul was build in 960 AD. This temple is famous for its holy spring water. The water source is located within the temple.It is believed that the 13 spouts are meant for the purification baths. We did a bit of shopping here. Then we headed back to our resort and went to one more Indian restaurant (Ganesh Ek Sanskrithi) for dinner which was too yummy!!
Day 6 in GILI:
Here we go..... to the most romantic part of the trip, yep its the GILI ISLAND!! We have to get the speed boat from PADANGBAI to reach GILI which is nearly a two hour ride from UBUD. This ride really sucks as we booked a common transport. Better to go for a private one. GILI is a group of three tiny islands(Gili Trawangan, Gili Air, Gili Memo) in Indonesia near the coast of northwest Lombak. It is famous for coral reefs, turtle, and a sunken ship at a wreck point.
Our choice of Island is Gili Trawangan. This is the largest of the three and it is a party island. You should take the upper open deck for the good feel of the sea. After a 2 hours of ride in the speedboat we finally reached GILI T. Our stay was in the beach resort SCALLYWAGS. This resort is located just near the beach and the rooms are well designed with a mini garden and everything is related to nature in this resort. They have a very gorgeous pool.
After a small refreshment we again headed out to have the feel of the Island. Vehicles are restricted in GILI to perceive the nature. Only bi-cycles and horse carts are allowed. We hired cycles and went some distance and tried local street food for dinner. You know it was a full moon day in GILI!! The moon, sea, lights, music and food what else you need to get mesmerized!!
Day 7 in GILI:
Being the last day in GILI this day should be utilized to live up to the memories. For today we planned water sport's and some cycling activity. First we did snorkeling and had a late lunch in INTAN INN RESTO. Their fried noodles are too tasty!! Last activity of the day is to get the glimpse of sunset in GILI at the sunset point. The sunset was gorgeous you can see the picture below. I really don't want to miss the sunrise for next day.
Day 8 the end:
We woke up early to watch the sunrise. I would say it was totally different feel. You should feel that on your own. Insanely beautiful!! Today we have to leave GILI :-(. After having breakfast we got our return boat. And after a really long travel we reached KUTA and did some last minute shopping and headed to the airport. With heavy heart we left BALI :-(.
Physically I am here , mentally I am in a pool in BALI ordering my third mojito!! BALI really lives upto the quote!!
Some general facts:
Food: Balinese food is really tasty. You should try their soup's , NASI GORENG and SATAY's. They eat lots of rice even for breakfast. Their rice is of sticky type but very tasty. Thumb's Up!! They also make delicious Indian food.
Country: BALI is very clean and tidy. I don't find any dustbin anywhere in their places. The house is constructed in their traditional style. And temple is must in each and every house. They totally follow Hinduism. They worship Shiva, Vishnu, Brahma, Saraswathi and more gods. But in GILI and Lombak its ISLAM.
Shopping: You get everything in BALI right from Branded to local shops. Their specialty include arts, Crafts and dresses. They mostly have fixed rate of 1 LAKH RUPIAH for many item's. Although I am not a good bargainer still I tried my luck where I went till 40k to 30k Rupiah. And got the deal!! 1 LAKH RUPIAH comes around 480 Indian rupees.
That's for BALI!! Meet you in my next trip!!