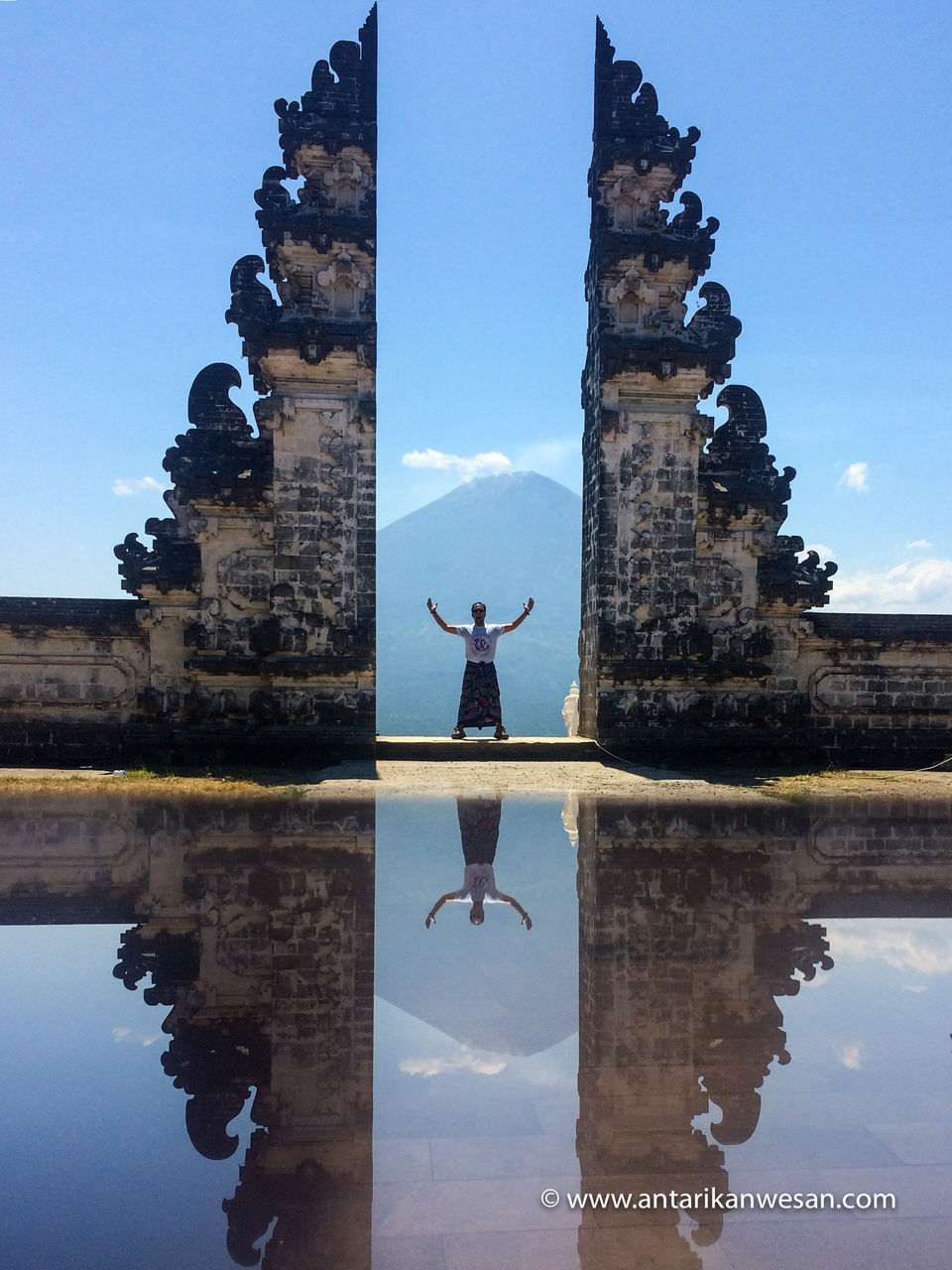 It's insane how much effect social media has on the places we want to visit as travellers. I went on a 3 week backpacking trip across Java and Bali islands of Indonesia last September and at least a few of the locations I put on my itinerary were thanks to youtube videos or Instagram photos that I had seen including the Malang Rainbow Village, Blue flames at Ijen crater, Tumpak Sewu waterfall and the famed Gates of Heaven in Bali.
We have all seen those magnificent gates at some point on our Instagram feed- the huge ancient gates looking into infinity, with a mountain in the background or just some clouds, a person posing at the centre and the entire thing reflected in a puddle of water in front of it. Let's be honest, that is a dreamy picture indeed!
So during my stay in Ubud in Central Bali, my dorm-mate and I decided to hire a scooter and head to visit the Gates of Heaven located at Pura Lempuyang or Lempuyang Luhur Temple in East Bali, a distance of about 70 kms from Ubud. We started around 9.30 AM. Apart from a flat tyre in the middle of the highway and a very steep approach road to the temple, the 3 hour journey was mostly uneventful.
On reaching the temple around noon, we were given the traditional sarongs (it's mandatory to wear a sarong to enter any Balinese temple) and were briefed about the place. There are 7 temples in the complex which is located on a hill top and to reach the top most, you need to climb 1700 stairs. It takes around 3-4 hours to see it all. The Gates of Heaven, thankfully, are located at the first temple itself and serve as its entry gates.
If you wish, you can go inside the temple for praying but you should be a Hindu and you should be willing to make an offering. I, personally, was in no mood to climb all the stairs down to the parking area, buy some offering, and climb back up to enter the temple in the afternoon heat.
As it turns out, almost all the people aka tourists there seemed to be visiting just for a picture at the Gates of Heaven. There was a two-hour long queue for the photograph.
Now here comes the funny part.
I saw the gates and there was no water there. Probably the reflection thing works only when it is raining and there is a big puddle of water on the ground? I didn't care much about it right then. I was just looking forward to a nice photo at the gate with the incredible background.
By the way, that's not just any other mountain that you see in the pictures; it is in fact Bali's highest active volcano- Mt. Agung- which last erupted in November 2017, and we were super lucky to be there on a clear day.
Finally it was my turn. Just like everyone else, I handed my phone to the camera guy who had been sitting there and clicking pictures under an umbrella in the heat for at least the last two hours now. He didn't ask for a payment but you can make a donation if you wish.
I went to the gates, stood there and got my photos clicked in '5 different poses including a jump shot'. In less than a minute, it was done, and it was the next person's turn. As I got my phone back from the guy and swiped to see the pictures, I was stunned!
All of them had a perfect reflection of me and the gates in the water in front of it. What sorcery was this?
It didn't take me long to decipher the truth. The secret was in the photographer's hand. All this while he had been holding a small mirror in front of the camera lens while clicking the photos. No instant Photoshop or fake photos. This was trick photography at its best. I was impressed!
You can watch the video for my entire experience here:
Surprised? Well, I definitely wasn't expecting that!
Expenses for the day trip:
Scooter rental- 60k IDR (Rs. 300)
Fixing a flat tyre- 30k IDR (Rs. 150)
Petrol- 35k IDR (Rs. 175)
Parking- 2k IDR (Rs. 10)
Sarong rental- 10k IDR (Rs. 50)
Lunch- 30k IDR (Rs.150)