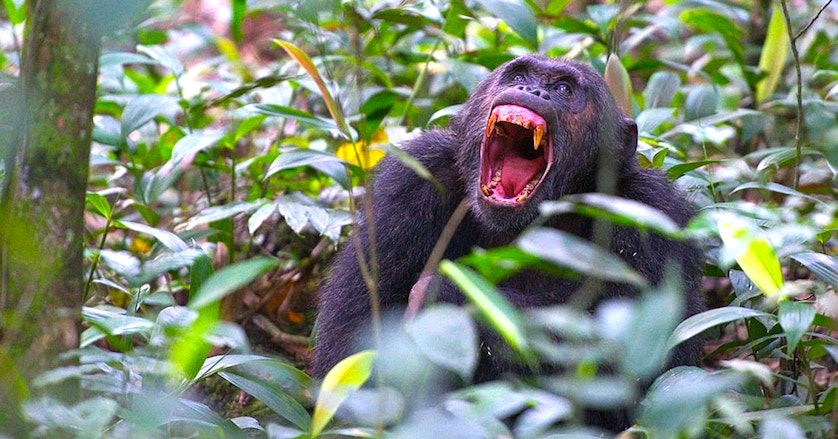 Kibale National Park is top chimpanzee tracking destination. The Park contains one of the loveliest and most varied tracts of tropical forest in Uganda. Kibale National Park is home to a total of 70 mammal species, most famously 13 species of primate including the chimpanzee. Kibale National Park also contains over 375 species of birds. An estimated 500 elephants are present, along with buffalos, leopards, warthogs, bush pigs, golden cats and duikers as well as a colorful variety of over 250 species of butterflies.
During your Tour of Kibale National Park, look out for resident bird species like, Lizard Buzzard, Blue-spotted Wood Dove, Great Blue Turaco, Blue-breasted Kingfisher, Black-and-white Casqued Hornbill, Woodland Kingfisher, Pygmy Kingfisher, Hairy-breasted Barbet, Double-toothed Barbet, little Greenbul, Winding Cisticola, ZittingCisticola, Green Crombec among others.
Kibale National Forest has one of the highest diversity and concentration of primates in Africa. It is home to other primates that include the red colobus monkey considered Endangered and the rare L'Hoest's monkey that are considered Vulnerable. The park is also home to over 325 species of birds, 4 wild fellids, 13 species of primates, a total of at least 70 other species of mammals, and over 250 tree species.
Chimpanzee tracking is Kibale National Park's main tourist attraction although forest walks and chimpanzee habituation experience can be arranged and booked at any time of the year. Tourists wishing to track chimpanzees must first obtain a permit. Contact our Customer Service Team to reserve a chimp tracking permit. Chimpanzee tracking Safari in Kibale is done in two shifts including the morning and afternoon shift.
You can choose between the half day tracking experience - or a full day chimp habituation adventure. As you search for Kibale's resident chimpanzees, keep an eye out for other primates such as grey-cheeked mangabeys along with l'Hoest's, red colobus, red-tailed and blue monkeys. Our expert guide will share the secrets of the forest's flora and fauna, ensuring that the trail is both informative and enjoyable.
Kibale National Park's population of elephants travels between the park and Queen Elizabeth National Park. Other terrestrial mammals that are found within Kibale National Park include red and blue duikers, bushbucks, sitatungas, bushpigs, giant forest hogs, warthogs, and buffalo. The carnivores that are present include leopards, African golden cats, servals, different mongooses and two species of otter. In addition, lions visit the park on occasion.
Bird life in Kibale National Park is so prolific, boasting over 375 sited species of birds, including the western green tinker bird, olive long-tailed cuckoo, two species of pittas (African and green-breasted) and the African grey parrot, Imperative to note that the ground thrush (Turdus kibalensis) is endemic to Kibale National Park. Below is our four day Safari to Kibale National Park and Queen Elizabeth National Park
Learn More about Chimpanzee Trekking, visit http://www.primatevacations.com/chimp-trekking-in-kibale-forest-national-park.html