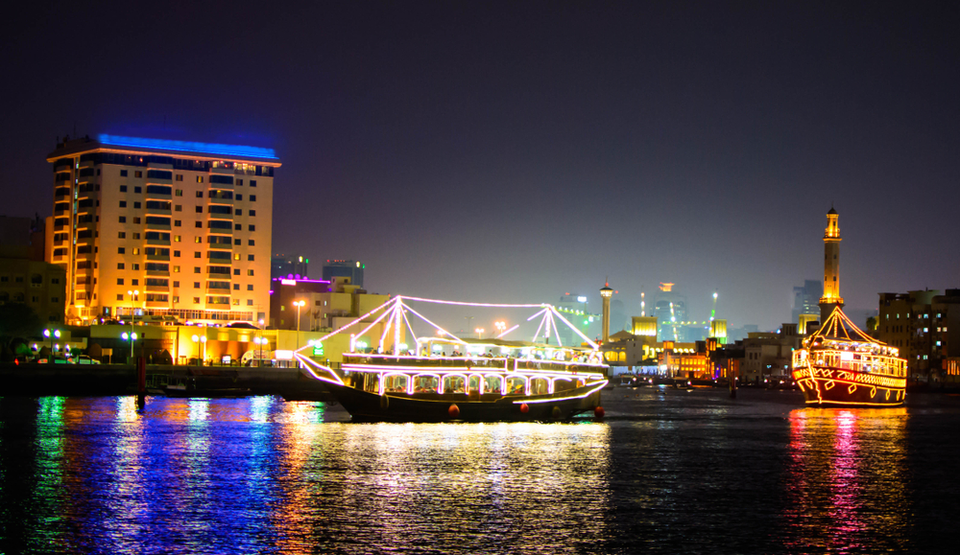 The amazing skyscrapers and glittering dunes have totally changed the perception of the old Dubai for many decades now. Once, Dubai Creek was considered as the only place where people could enjoy cruising and fishing in the warm shallow waters. However, after the Dubai Marina was built as an artificial canal, the dhow cruise industry has totally evolved.
Dhows are an integral part of the Arab culture, and cruising is the favorite thing there. Dhow Cruise Dubai Marina takes you to a luxurious ride on the waters of the Marina canal city and it is one of the best and most sought out activity of the visitors there. If you're looking forward to go to Dubai Marina for a joyous ride, this guide will let you know about the whole experience.
What does the Dhow Cruise Dubai Marina look like?
Dhows are wooden boats that were used for trade and transport in the old days. Those were actually ships that were sailed in the Indian Ocean and the Red sea for shipping purposes. Now, in the modern Dubai, these dhows are used for cruising, sightseeing, and entertainment. Dhows have two floors that are called as the upper deck and the lower deck. The lower deck is covered with glass windows and is air conditioned while the upper deck is good for open-air sightseeing.
Dhow cruise Dubai Marina is actually a large boat with upper and lower deck and seating arrangements. Most of the Dhow cruises are same if we talk about the looks and structure, however, they differ in their services. Some of the dhows are decorated more with colorful lightings and they are well furnished inside. There are separate washrooms for ladies and gents and a buffet arrangement is made for dining in there.
Dining and entertainment options:
Dhow Cruise Dubai Marina offers an excellent opportunity to the visitors in Dubai to stay relaxed and entertained. Now days there are many entertainment options offered by dhow cruises such as puppet shows, DJ, and dances. There are local artists on the dhow cruise that perform belly dance or Tanoura which is loved by all. These artists have dresses that are fully decorated with colorful lighting and when they dance and spin, they create an amazing scene. When you enter the dhow cruise, you'll be welcomed with drinks, dates, tea, and coffee that are mostly complimentary.
The waiters on the dhow cruises are very helpful and cooperative and they'll try and entertain you in the best way possible. The waiters will also let you know about the important landscapes for sightseeing and will tell you the details. For dinner you'll get to enjoy a wide array of international cuisine that include Italian, Asian, Thai, Chinese, Continental, Mediterranean, and Arabic dishes. There are veg and non-veg dishes and there are plenty of fruits and salads too. Some of the popular food options include grilled fish, marinated lamb chops, beef stroganoff, fried fillet hamour, steam rice, Daal, sabzi, and more. There are a wide variety of desserts and sweets offered along with assorted home baked breads.
Sightseeing:
Dhow Cruise Dubai Marina offers amazing sightseeing opportunities to the people. Dubai Marina is built along a 3 km Persian Gulf shoreline and it has promenade on sides where people walk, jog, take rest, and sit in cafes and restaurants. Cruising in Dubai Marina is an extraordinary experience as you get to view the beautiful and mind-blowing architecture that includes skyscrapers, high rise buildings, luxury hotels, fashion brands, and more. You will be able to view some of the greatest and most magnificent architectures of the world such as:
• Rolex Twin Towers
• Burj Al Arab Hotel
• Sheikh Zayed bridge and other bridges
• Atlantis hotel
• Villas of the Palm
• Burj Khalifa
• Beach Resort
Seeing the boats and yachts sailing in the peaceful waters of Dubai Marina is also a great sight. You can view the cars and trams passing over the bridges over you and enjoy the serenity around you. Dubai Marina is a very impressive place to visit if you're interested in sightseeing and enjoying the modern and luxuriously built structures.
Best time for cruising:
If you are willing to go for to Dubai Marina just for sightseeing, you must go in the day time or afternoon. Some people intend to view the architecture only and they want to see the beauty of the skyscrapers and other structural elements in broad day light. To see the modern city and its beautiful architecture, you can also visit at night when all the buildings are light up and the whole city is glimmering. At night, it would be more of a breath taking and serene view with beautiful ambience. Most of the people prefer cruising at night because of its charm of serenity and ambience.
There are many dhow operators that can guide you accordingly about the best time to go for dhow cruise Dubai Marina. Some of the companies also provide pick and drop service from the hotel to the cruise terminal.
Total cost:
The best dhow cruise Dubai service will take you to a world of fantasy where there will be peace, entertainment and a scrumptious dinner. You can pick a tourist company or dhow cruise operator of your choice according to the services you want. There is a huge variation of prices and obviously the higher the cost, the better the service is.
You can get a dhow cruise for price as low as 60 AED per person and as high as 450 AED. Most of the dhows are almost the same in structure and looks, but the variation is among the services. The services can be luxurious and very hospitable and that include an international buffet dinner, catering, and live entertainment. The live entertainment sessions include belly dance and Tanoura and even magic shows. Some Dhow cruise operators call DJs for a live performance. Also, throughout the trip, background music is being played to add to the ambience.
Frequent searches leading to this page:-
places to see in Dubai, Dubai honeymoon packages from India price, Dubai holidays deals December 2020, Dubai trip from Delhi for couples, Dubai travel packages