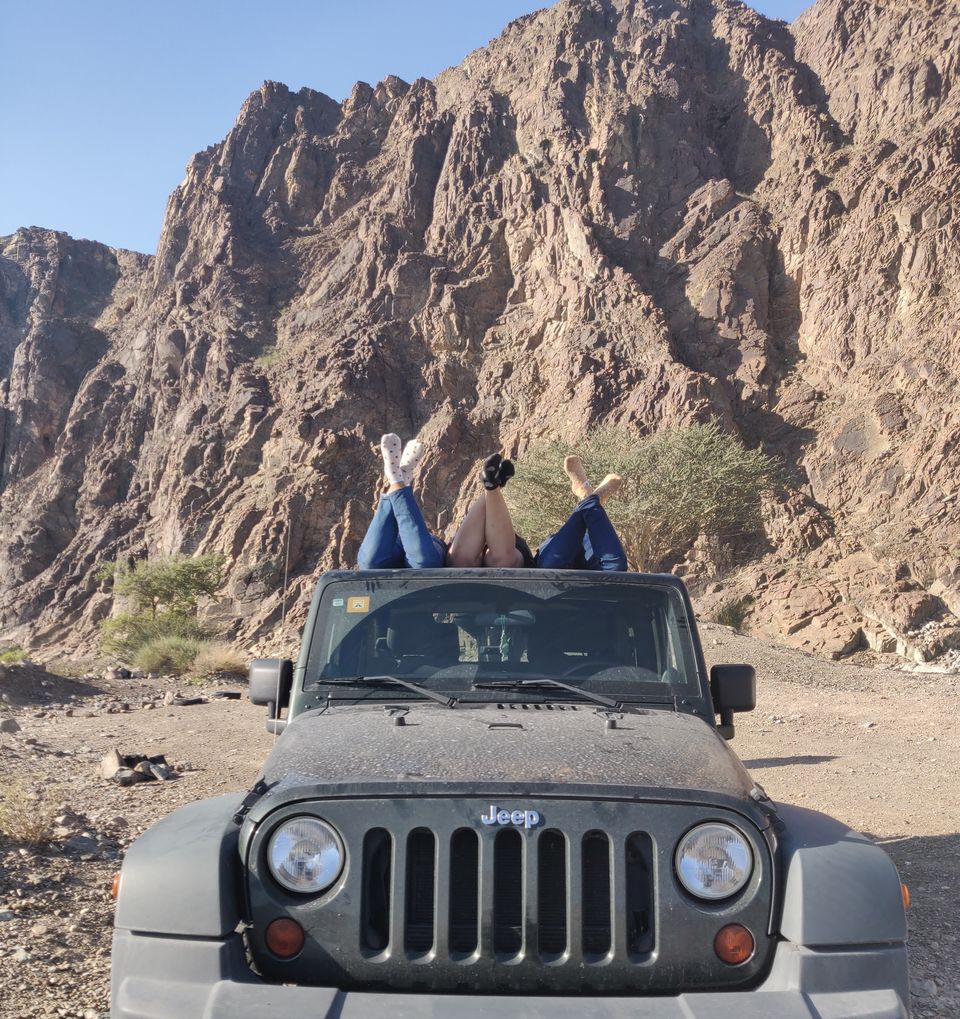 Dubai was on my travel list for quite a while, specially because it tends to be one of the first destinations for most Indians to travel internationally. But, I'm glad I waited so that I could travel with my sister and make a fabulous girls trip out of it. Here are few details about the trip.
Type of trip: Mid range
Duration: 5 days
Season: February [post winter]
Safety: Dubai was a really safe destination from a girls perspective. We traveled freely and safely across the city and didn't have any awkward episodes.
Day 1 - Dubai Festival City, Souk Madinat Jumeirah
My sister and I arrived the previous evening and relaxed with my cousin because we traveled from different countries, one of us from Toronto and the other from India. It was a long time since we met our cousin who lives in Dubai. Allowing ourselves an evening to chill and unwind was ideal to beat the tiredness.
Our official day 1 started with a late morning visit to the Dubai Festival City where we embarked on a fancy Abra boat ride, the one with air conditioning. It gave us some beautiful city views and was a perfect slow start to the trip.
The best part - we went on a weekday morning and were the only ones on the Abra ;)
After a leisurely boat ride, we decided to head to Souk Madinat Jumeirah. Souk Madinat Jumeirah is a re-creation of a traditional Arabian Bazaar with shops selling spices, cloth, artifacts and more. It's quite amazing to see a resort in the middle of the city but then hey, oasis were found in the middle of deserts and they were just like this. Here, we rode in an Abra that sailed in the meandering canal all around the resort. If you ever hear a reference that says 'Venice of the middle east', it is Madinat Jumeirah they're talking about.
We spent enough time walking around and taking in the well designed resort. We also ended up staying back for drinks and dinner at a restaurant that overlooked the Burj Al Arab and ended the night there.
Here's a view of how beautiful it looks at night.
Day 2 - Road trip to Hatta Dam
We started our drive early morning on empty stomachs. Since we all held Indian passports and didn't have Oman visas, we took the longer drive to Hatta and had to pass Ras Al Khaimah en-route.
The best part about road trips is the luxury of stopping wherever you want whenever you want and we did exactly that. About three quarters of an hour's drive later, we stopped somewhere near Shawka and decided to pull out the portable stove. We had carried small frying pans and made some quick dosas and ate it for breakfast with the multiple chutneys we brought along. Since no Indian brekkie is complete without tea, we pulled out our vessel, some milk, water and tea bags and in a few minutes were sipping on pipping hot tea.
There we were, surrounded by the Hajjar mountains and the sound of water from the small wadi nearby. Nothing and no one was around. We could sense the expanse, and heard the sound of silence. If mountains would speak, we would have had a long conversation right here.
After our quick breakfast stopover, we continued the drive to Hatta. At Hatta, we opted to explore the dam in kayaks and spent a better part of the morning chasing each other and exchanging pleasantries with the others who were in the dam. The best way of getting a sense of the dam reservoir surrounded by mountains is by getting into the water [in a boat, of course].
Tip: Make sure you leave early morning to get to the Hatta Dam in time for a peaceful experience without crowds
Day 3 - Dubai Desert Safari, Dubai Marina
This day began with us walking around the JBR - Jumeirah Beach Residences and the Dubai Marina, taking in all the chill and casual chic vibes. People were chilling with friends/family at cafes, bars and the feel was very easy going. We didn't take a yacht ride but preferred walking in and around the marina marveling at the marina and the boats that were sailing.
Walking around the marina was a leisurely start to our day because we had booked a Desert Safari for the afternoon. It's great that the Desert Safari peeps come pick you up from wherever you are in the city and take you about an hour into the desert. This was the first time two of us were stepping into a desert. Our excitement levels were pretty high.
I must say that the desert safari did not disappoint! It was such a thrill dune bashing and being tossed all over in our Toyota Cruiser. It's common to see safari vans turned over and rescue operations underway during dune bashing. We witnessed one too. I'm glad that we were the ones watching the rescue operation rather than being the ones that needed rescuing.
A customary stop after dune bashing is a stop to watch the sunset in the desert. This is when it's ideal to bring out your camera for spectacular shots of the setting sun gleaming on the desert sand.
After admiring the sunset, our next stop was about 20 minutes away where some Arabian entertainment and dinner awaited us. We were greeted with a shot of Arabic coffee and dates followed by some delicious appetizers and barbecue dinner. Entertainment included performances by a belly dancer, fire show and a traditional Arabian dance.
Day 4 - Dubai Mall, Burj Khalifa
Spending a day at the Dubai Mall is how you will be able to walk around most of it. We coupled it with our visit to the Burj Khalifa and booked tickets for a weekday afternoon when there's not much crowd flocking to the top floors. Here's the view from the top.
Spending one full day at the mall is ideal and exhausting, both. When we were tired of walking around, we stepped into the Souk Al Bahar which is next to the Dubai Mall and then headed towards the steps of Souk Al Bahar for a spectacular view of the Dubai dancing fountains and the Burj Khalifa.
Day 5 - Al Fahidi Historic District, Old Abra, Old Souks
Our last day was to dwell in and explore all the natural and historic places in Dubai. To get the best experience and make the most of it, I pre-booked this tour experience on AirBnB - Heritage Old Dubai, Souks & Hidden Gems and considering how amazing it was, I would book this again when I visit. The best part - since this tour was booked on a weekday, and nobody else booked the tour for that day, it was a private tour for us! Here's a glimpse of one part of the tour - the private traditional Abra boat ride across the Dubai creek.
Our tour included historic stories and a walk-through the historic district of Dubai & the traditional souks from where we picked up dates and saffron to take back home to India and Canada. All in all, Dubai was amazing! Exploring all day and snugly sleeping all night is what some trips are made of and Dubai was one of those.
Accommodation: Full disclosure - We stayed with family and friends while we were in Dubai. It helped us spend valuable time with family and friends while we were there while also helping us save on some cost.
AirBnB's are pretty common and affordable while staying in Dubai. Use my link to book and get CAD 70 [equivalent of INR 3000 or USD 40] off on your first booking. Once you complete your reservation by using this link, I get CAD 38 in my AirBnB credits. Click here to redeem.
Terms & conditions apply.
If you're looking for mid range accommodation, try out Rove Downtown Dubai.
If you're looking for a trip that's more luxurious and adventurous, opt for one of the amazing hotels in Dubai. I would have opted for Shangrila Dubai if it was a luxury trip. You can also spend a night at one of the bespoke hotels in the Arabian desert.
Meals: We picked up Shawarmas, burgers, and other local foods from local spots. I wish we had planned in advance to have a meal at the Arabian Tea House.
Travel/Transport: Rental car, Local Taxi service, Uber, Dubai Metro. The Dubai Metro was very convenient. If you can spare some more cash, opt for the local taxis.
Other places you can visit in Dubai: Dubai Citywalk, Global Village, Wild Wadi Water park, La Mer Beach - for the LA beach vibes, Dubai Miracle Garden, Palm Jumeirah Islands
Be sure to plan in advance for an epic sky dive experience over the Palm Jumeirah island.
Don't forget to tell me all about it through a message/shout-out on Instagram.
Before you go: Read more about my adventurous experiences and travel adventures on The Nicologue. Feel free to message me via Facebook/Instagram/TikTok for any additional details you might require.
Safe Travels!