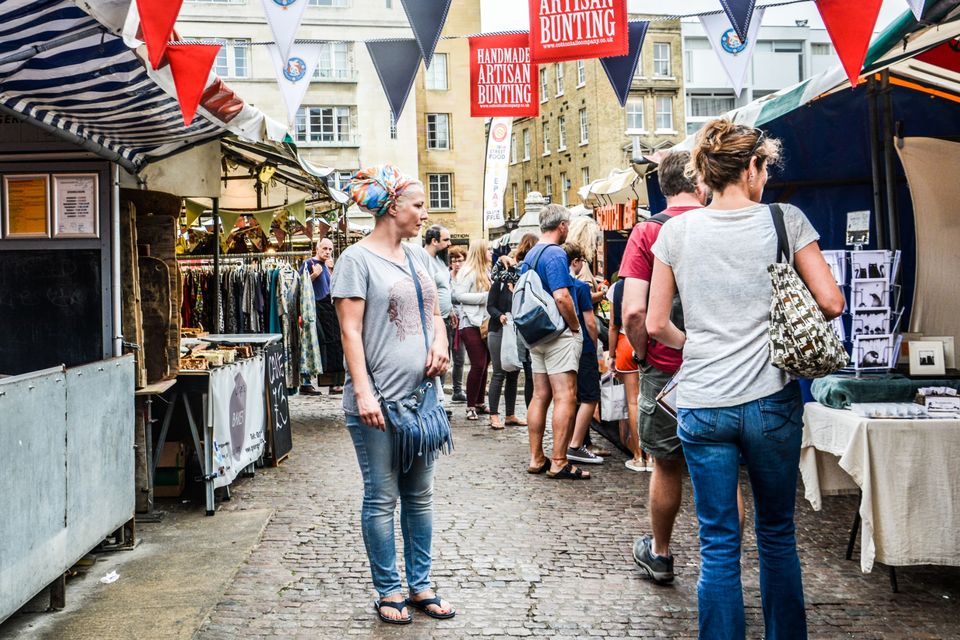 From exploring the many old colleges to Punting on River Cam, there is something so Romantic about Cambridge, that I absolutely fall for. If you are looking for some of the best things to do in the city, here is my experience of the ultimate day trip to Cambridge.
What to Do and See in Cambridge.
Go on a Free Walking Tour
One of the best things I like about Cambridge is – It is a small and easily explorable by foot. There are a number of paid tours or hop-on and hop-off tours to take you around the city however the best and cheapest way to explore is to go for a free walking tour. After walking in the city for 2 hours I realized I saw everything but Do I know the History – Oh No !! and hence I chose to join this free walking tour run by knowledgeable local guides. My guide Mike was a student, who brought the city to life through his stories and passion to explain the history pretty well.
Though these tours are free, please leave a tip at the end of the tour if you enjoyed, as these guides don't get paid otherwise.
One of the most celebrated seats of learning in the world, Cambridge University was established in 1209 when some scholars from Oxford University fled after a dispute with the townspeople.
The university, its students its many beautiful college buildings are now the heart of the city. Oh and yes – be ready to hear some derogatory comments on Oxford from tour experts !! Nothing serious here 🙂
If you plan to explore the city all by yourself (walk or cycle), below is a list you must cover:
University Colleges
The 31 colleges at the University of Cambridge were founded over its 800-year history and each has unique histories, architecture, and stories. Indeed all 31 cannot be covered in a day but the three most famous are King's College, St. John's College and Trinity College. You can visit all three with a small admission fee worth paying.
To note, it is possible to visit and tour many of the colleges year round although restrictions often apply in 'May' when students are sitting for their final exams
Notable Alumni – Issac Newton, Stephen Hawking, Charles Darwin, Mahatma Gandhi, Jawaharlal Nehru, Manmohan Singh, Indira Gandhi, Prince Charles, Tom Hiddleston etc
Punting on the River Cam
You can't come to Cambridge and not go Punting. You have seen it in the photos, in the movies and indeed it is as good and more as it seems.
Yes, I am talking about those long wooden boats pushed along with the long wooden poles and take you to see behind the main facade of colleges, see the back gardens, Bridge of Sighs, Mathematical bridge and a lot more of picturesque beauty of the city.
You can hire your own punting boat however it is not as easy as it would seem when you look at the professional punters doing it. I saw few of those who hired a self-punting boat struggling and swirling and falling in the river, that is when I chose to take rather a guiding tour 😛 However, I don't deny the fact that practice makes a man perfect – but on a day journey – chose wisely.
In my opinion, the best time is either Spring or Autumn on a nice day for Punting. Although you're more likely to have sunshine unless you relish chaos punting in the summer can be ruined by crowds. Try and pick the quietest time with the best weather – if only you have a choice. Otherwise, the good news is, you can go punting anytime throughout the year 🙂
The Round Church
One of only four remaining medieval round churches left in England, The Church of the Holy Sepulchre (known as The Round Church) is an important landmark in Cambridge and the second oldest building built in 1130.
Well worth the small fee of £3.50, the round shape is unusual and the storyboards are interesting taking you through a history of Christian influence in education and social change and the development of Cambridge in general.
The Corpus Clock
The Corpus Clock is one of the most distinctive public monuments in Cambridge and has been admired by residents and tourists since its inauguration in 2008.
The face of the clock is plated in pure gold and the radiating ripples allude to the Big Bang, the central impact that formed the universe and could be considered as the beginning of time. Sitting atop the clock is an extraordinary monster: the 'Chronophage', meaning 'time-eater'
Time passes and we all die, a fact further represented by the Latin inscription underneath the clock, mundus transit et concupiscentia eius, meaning 'the world and its desires pass away'.
Tower at St. Mary's Church
As soon as I got down the train, I started walking to explore the city and that is when i met a generous woman guiding me on how to explore the city and to ensure I go to Tower of St. Mary's church which offers the best view of Cambridge, never seen before. However, if you are a heart patient or differently able, they currently do not have any other facility to reach up the tower.
The tower is only open when the weather does not constitute a hazard. The last admission in the tower is 30 minutes before closing time at 5:00 pm in Summer and 4:00 pm in Winter. Worth paying £5.0, if you don't plan to go to a rooftop restaurant ( like I did :))
A Traditional Pub Lunch
Stop for lunch in one of the many Cambridge pubs. While I met one of my British friend who took me to a Rooftop pub with a beautiful picturesque view of Cambridge where the words came to life – 'the beauty breaks in everywhere', there are numerous options to chose from. I was also advised to go to 'The Punter', 'The Anchor' and 'The Old Bicycle Shop'. Always a next time right 🙂
How to reach Cambridge from London?
The beauty of the town and its proximity to London has made Cambridge an extremely popular destination, resulting in a significant number of tourist traps around the city.
Train
The main station in London, which caters for Cambridge, is King's Cross.
The London to Cambridge train is serviced by Great Northern from King's Cross and take around 45 min on the direct train. Return tickets cost £16.50 if booked a few days in advance. I purchased ticket night before I had to leave and hence costed me £25. Trains also leave from Liverpool Street and are served by Greater Anglia. The trip from Liverpool Street takes around 1 hr 30 min. Return tickets cost £16.40
Bus
National Express has routes to Cambridge, but the price is not necessarily cheaper than the train and it takes over 2 hours to get to Cambridge. If you're lucky, you can buy a cheap ticket in £3.00 like one of my friends have got 😛
However, I do not recommend the bus, as the train is much faster and depending on the time you want to travel, the bus prices go up quite a lot.
Car
Driving from London is easy too via the M11 motorway. I recommend parking in the very central Park Street car park on the corner of Round Church Street.
Explore the streets
I also got some time to explore the streets and also moments to just sit, do nothing but observe…as you know the best thing about solo traveling is 'Observing and Learning'
To be honest, it was just a day in Cambridge and I still have stories to uncover. Follow upcoming blogs 😊
Thanks for reading, have an amazing trip to Cambridge.
Disclaimer: All the pictures are taken with people's consent