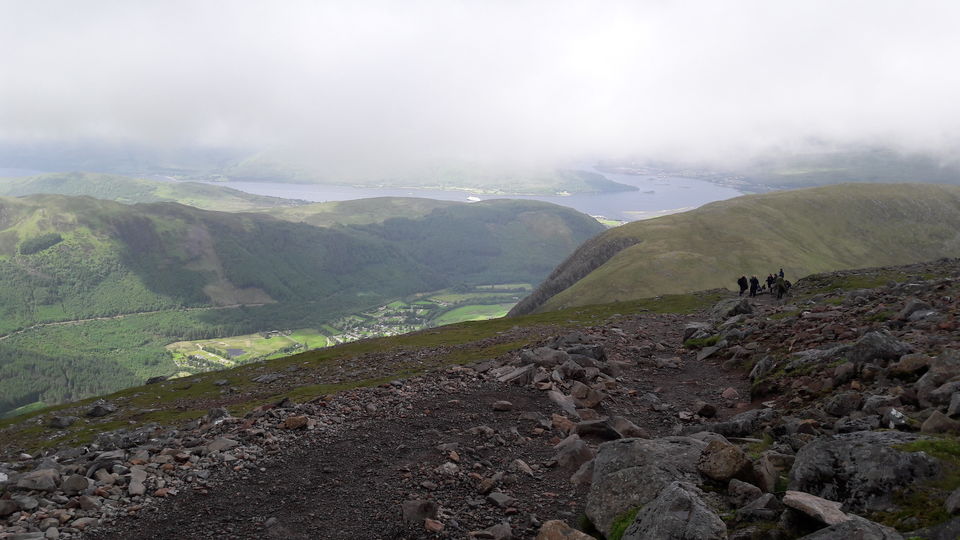 This is the story of how I completed a solo climb of Ben Nevis, the highest mountain (at 1345m/4411ft) in the United Kingdom. With this, I set a new record of being the first south Asian woman (possibly Asian, yet to be confirmed) to ever achieve this feat. Why should YOU read it? After all, your time is precious and limited, right? :)
Well, if you love to experience all that life has to offer -- good AND bad, face challenges that test you mentally, physically, emotionally and morally; if you happen to travel halfway across the globe, end up meeting your former 'oppressors' in new bodies and realize they were as much a 'victim of circumstances' as you were, if you face a storm-a-month and STILL try to recognize the good in almost everyone you come across on a cold, misty island far far away..... then you MUST read this story.
And what has all this got to do with my solo ascent of Ben Nevis, you might ask? The thing is, my climb of this treacherous mountain located in Scotland's Grampian Mountain Ranges began not in the UK in June 2017 but in New Delhi in early 2016. * New Delhi? You read it right!
(Please skip the next 05 paragraphs if you would rather get straight to the details of my solo ascent.)
LEARNING THE ROPES
Before arriving in the UK for a journalism course in September 2016, I had been working freelance as a journalist, blogger and content writer for online retail majors. Living alone in a 'barsati' near Uphaar cinema in New Delhi, it was a tough time in many ways. The job scene was not very exciting, the family wanted me married, again, but I believed it was my decision to make. I am what they derogatorily call a 'divorcee', my ex-husband was a third generation Army officer who married the same girl he was engaged to before marrying me, within 3 months of the divorce. Go figure! So, because most Indian parents believe their family's 'honour' resides in their kids' genitalia (hahaha!), I was under A LOT of pressure to get married. The family employed all kinds of pressure tactics -- from quietly cajoling me to being physically violent and mentally abusive, to trying to buy over my friends and colleagues, from coercing me to see a psychiatrist to forcing me to visit sexually-abusive and criminally-accused 'babajis', from being harshly-critical of my decision to stay single to sending a policeman to scare me into submission. The last straw, though, was when they put sedatives in my food, to 'convince' me to get married again.
'Post-sedatives', I made the decision to leave their so-called sphere of control for good. My father is a retired civil servant, and India was proving to be too 'small' for me in trying to escape their nefarious zone of influence. I had tried to settle down in hippie-haven Manali between 2012-2014 but ended up losing my two incredibly-innocent and loving pet dogs to poisoning and was forced to return to the plains.
THE TRIAL RUN
So, in the autumn of 2016, bidding New Delhi adieu forever, I arrived in the UK on a student visa for a journalism course. I now live and work in Australia. The Glorious Down Under !
I have always loved to travel and had been going to the mountains in India -- beloved Himalayas, misty Sahyadris, sparse Aravallis, magical Satpuras -- from a very early age. Armed with an 'A' grade in Basic Mountaineering Course from Nehru Institute of Mountaineering, Uttarkashi, I had always wanted to be a world-class mountaineer. As with all things, in India, you need 'contacts' in high places and ought to be 'willing to compromise' if you want to 'achieve success'. Since all this sounded deeply-suspect and full of exploitative doublespeak, I had said 'No, thank you' to 'compromise' and 'contact-building skills' long ago.
But you know what they say? If you REALLY want to do something, you ARE presented with a window (or a main-gate) of opportunity to one day be able to achieve that goal. The only thing is, are you ready when 'chance' presents itself and when destiny calls out to you? In my case, I knew Fate was saying 'Knock, Knock' :) when I decided to make the most of my limited time in the UK by attempting to climb Ben Nevis on June 15, 2017.
While starting out on my 21-day solo tour of Scotland, Ben Nevis had been figuring in my plans every single day, as I moved from enchanting Edinburgh to fortuitous Fort William, which is a few miles away from Glen Nevis. In Scottish/Gaelic language, 'glen' means 'a narrow valley' and Nevis is the river that forms this valley. 'Ben' is another word for 'mountain'.
In a super-synchronicity, (I believe in synchronicities, serendipity, happy coincidences, call it anything else), the mountain path to Ben Nevis summit starts right opposite Glen Nevis Youth Hostel, where I was staying!
Ben Nevis is a dangerous mountain to climb and recent incidents have proven this over and over again. I knew it was a huge risk to attempt a solo climb of this forbidding mound of rock and earth that rises from sea level near Fort William to the impressive height of 1345 m/4411 ft at its summit. My years of trekking experience in Himalayan terrain, solo-camping training and height gain upto 18,000 ft in the Sikkim Himalayas gave me the confidence to have a go at it.
THE RECORD-SETTING CLIMB
June 15, 2017 dawned with an overcast morning and the weather forecast for the rest of the day was not very promising either. I started out from the Youth Hostel just after 9 am, with a packed lunch, protein bars, chocolates, dry-fruits and 02 litres of water in a daypack. While it's great to have like-minded travellers for company, over the years I've realized that there's nothing quite like walking/climbing/hiking at your own pace. That's why, more than anything else, I was setting out to enjoy my day out in the Highlands wilderness of Ben Nevis. A total distance of 17 kms, the route from Glen Nevis to summit and back takes between 7-10 hours to complete. It has three distinct stages:
Stage 1. Glen Nevis to the wooden bridge Stage 2. Wooden bridge to the big waterfall Stage 3. Waterfall to Ben Nevis summit plateau
Stage 1. Glen Nevis to the wooden bridge
This first stage is a 2-hour climb and takes you from the near-flat Glen Nevis settlement to the end of the tree line. On the way up, you first cross a dense forest-like stretch of alpine trees to your left and then come to the spot where two mountain tracks meet (this one I'm on that goes down to the Youth Hostel, and the other that takes you to the Visitor Centre). From here, it's a long, steep, zig-zag climb that seems even more taxing as the path is narrow and rocky. The views to your right, looking out over the Nevis valley (Glen Nevis) are magnificent and that is NOT an exaggeration. My favourite spot here is a white wild-rose tree, that grows at a 45-degree angle to the valley slope and seems fragile but is most likely very old and a hugely welcome sight when you are on a taxing trudge like me today. I finally reach a sturdy wooden bridge that seems recently-built and makes for a super photo opportunity.
Stage 2. Wooden bridge to big waterfall
From this bridge, the path gets steeper still and now it is full of boulder-sized rocks too. The tree line is well and truly behind me; the path stretches on ahead and if you look up to your right at 1 o'clock, you can see ant-like figures in bright reds, blues and oranges. These are climbers, not ants, I soon realize and decide not to look too far ahead anymore, just at the next few yards in front of me. This way, you can keep walking and not worry about how much more distance there is still left to cover. But now it's raining heavily and my yellow poncho is proving inadequate for the downpour. It is also disobeying me by flying all over the place and wants to join the company of a couple of sheep grazing in the bottom of the valley sharply to my right. After another hour-and-a-half of keeping my head down and following Johnnie Walker's advice, I reach the big waterfall on the left of the path. Time for a quick bite from a protein bar and a big slug of water, no long breaks... keep walking.
Stage 3. Waterfall to Ben Nevis summit plateau
Once you cross the waterfall, the climb adopts a zig-zaggy :) character once more. The path is wider and so it seems easier but it really isn't. This bald, rock-strewn stretch of the ascent, with mist closing in and swirling around, with wind blowing so ferociously it nearly threw me off-track, this stretch with its 'cairns' -- cairns are stacks of rocks and stones, apparently to aid mountain navigation, is easily the toughest part of the ascent. About 15 minutes before I reached the summit plateau, I noticed a strange sight in the heavy mist. To my right, about 50 metres away, was what looked like a 20-25 ft-long rectangular passage through a massive pile of rocks. It made you think of a crossing, leading to what seemed like white space. But on taking a closer look and with the mist clearing up a little, it turned out to be an innocuous patch of snow, that had somehow escaped the sun. It was totally disconcerting and mildly hallucinogenic (and no, I wasn't remotely high, on Anything !) May be this is what they call 'the mind playing tricks on you'.
And I went on walking, the slope not-so-steep now, a few hundred more exhausting steps, with my mind becoming increasingly foggy, the visibility getting poorer and poorer, almost everything around me appearing surreal....until there were about 10 people who appeared to be climbing no more but were either standing or resting or wandering around taking pictures. This was the summit plateau of Ben Nevis. I had done it! This was the first-ever solo ascent of the UK's highest mountain by a south Asian woman. The time was 2.52 pm on June 15, 2017 and I was by myself on the summit. But I was not alone. For, among those climbers still on the summit was a woman with a kind voice and a real smile who said, "Well done, well done" and meant it. A friendly couple helped me out by taking my pictures standing against the summit plaque; soon I took some selfies, more pics of the summit cairn and of the fog-heavy surroundings, then went across to the nearby 'Trig Point' and took another selfie, just for the record. On the plateau stood remains of a Meteorological Observatory or of the Observatory Hotel, which was closed down in the early 1900s. The entire atmosphere at the summit was eerie, ghostly, sinister and forbidding. There was darkness; there was fog so thick it seeps through your multi-layered weatherproof clothing and threatens to cloud your critical thinking; there was mist that swirls and circles around you like you were the prey and it the stalker; there is wind that whistles, groans and growls.
At first, I wanted to rest awhile at the summit and took out my packed lunch of cheese and tomato sandwich. Only a couple of minutes later, I felt a mild wave of panic and a sort of dread (don't know of what) encroaching upon me and jumped up from the long, flat stone that had been my bench and started to walk back down, the sandwich still in hand. I still cannot explain away that feeling.
Near Gardyloo Gully, one of the climb's most dangerous stretches, which was on my right now, I saw a young, friendly seagull flying just above my height level and glancing toward my lunch, who seemed to be saying, "I want a bite out of that too!" So off went one slice of tomato in Jonathan Livingston Seagull's direction, who despite being 5 ft away, caught it in his beak like an expert mouth-frisbee player and gulped it down in no time. At the same moment, I took a bite out of my sandwich and enjoyed a 'meal for two' with a difference.
Down, down, down -- past the 15-odd cairns that kept appearing and disappearing in the mist -- I kept walking back down the path that had seemed so challenging on the way up. The challenge was still not over, though. Climbers on their way to the summit would ask, "How much farther?", my thighs began feeling the strain of the hike, my calves too, my left shoe skidded a couple of times on tricky stretches, knees became a bit wobbly, legs started to shake just a little and fatigue began setting in. But when you are on a mountain, you think only of the next step and relegate thoughts of fatigue to the Antarctica of the mind. Another half-a-litre of water, some more raisins and down, down, down I climbed -- past the rocky stretch, and the big waterfall, leaving the wooden bridge behind and so on, till the Visitor Centre.
It was nearly 7 pm before I walked back into the Youth Hostel. While starting out from here in the morning, I had not let myself believe that I could script climbing history. I had not allowed my mind to indulge that glorious thought, for though I knew I could do it, I also knew when to turn back, keep a close watch on my fitness levels and put safety first. I was a 37-year-old solo woman climber from Asia, taking on the geological might of the UK's highest mountain. Who would have thought it? It was not easy, not easy at all. But then, an easy climb, much like an easy life, would be pointless, wouldn't it?