Holidays are the most exciting times for everyone who is planning a vacation with their family, partner or friends. It is always thrilling to know that you are on the way to an unknown place and are always looking forward to explore everything that comes by. Unlike the usual and endless flight journeys from one country to another, opting for a cruise to take you around seems different and is so much more exhilarating. Cruises are a vacation in themselves, with so many activities to keep one engaged as well several services to enjoy at an unlimited pace.
Personally, having been on a Star Cruise to Singapore and Malaysia around 2010, I knew what to expect from a cruise vacation. Thus, we booked our week-long trip on Harmony Of The Seas by Royal Caribbean that takes you to the Eastern Caribbean Islands. As my husband and I drove through the dock and towards the cruise terminal, our cruise was much more than what we had imagined it to be! It was probably the biggest vehicle that I have ever been on in my entire life and its magnitude and size was nothing but stunning which left us spell-bound. With our prior online check-in being done, the immigration process and journey towards the cruise was easy and non-hectic. Post immigration, we were engaged with the usual poster pictures being clicked by professional photographers and then escalated towards being welcomed by the cruise staff inside the cruise. Only upon entering the world's largest cruise, one only tends to realize why its been termed as the 'Largest'! With a total of 18 Decks, 24 Guest Elevators, 2747 Rooms, 1957 Balconies and 6780 Guests along with 2175 Crew, we were just left amazed to take in these exorbitant numbers and grasp at the vastness of how big a Cruise could be?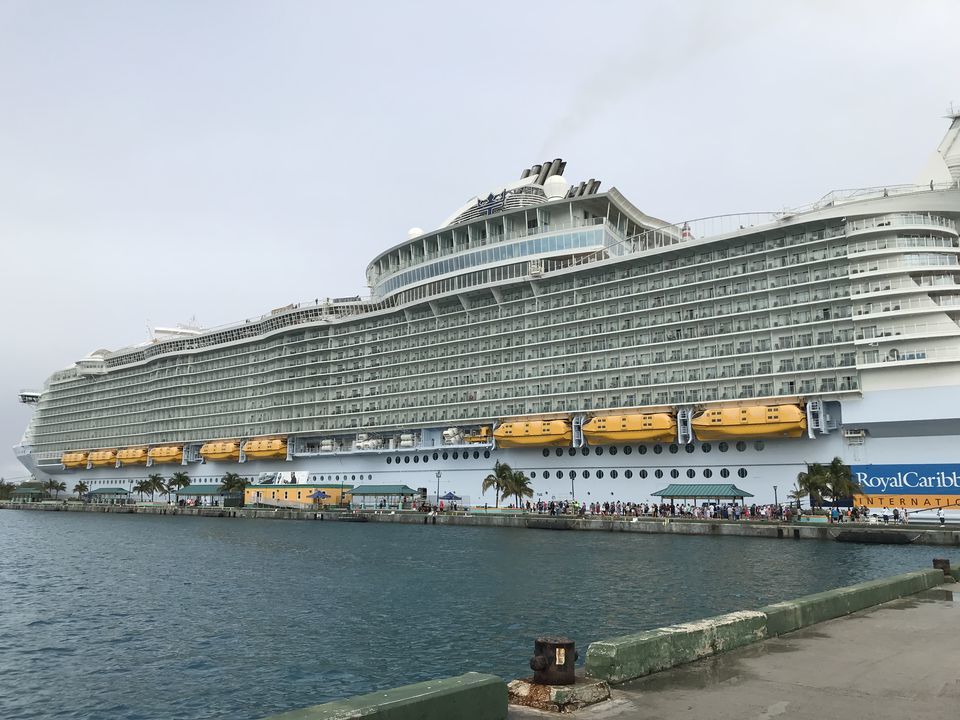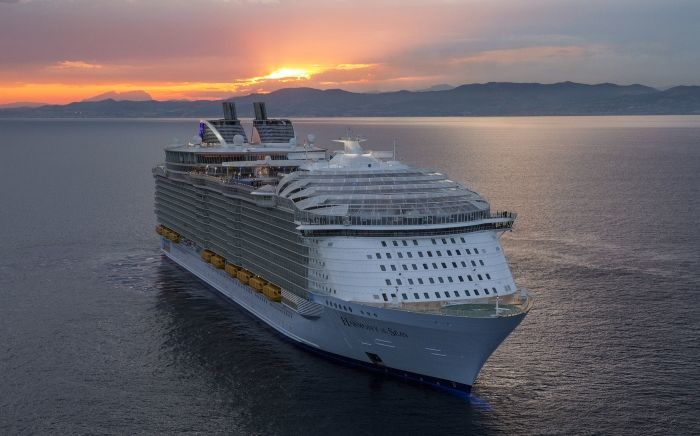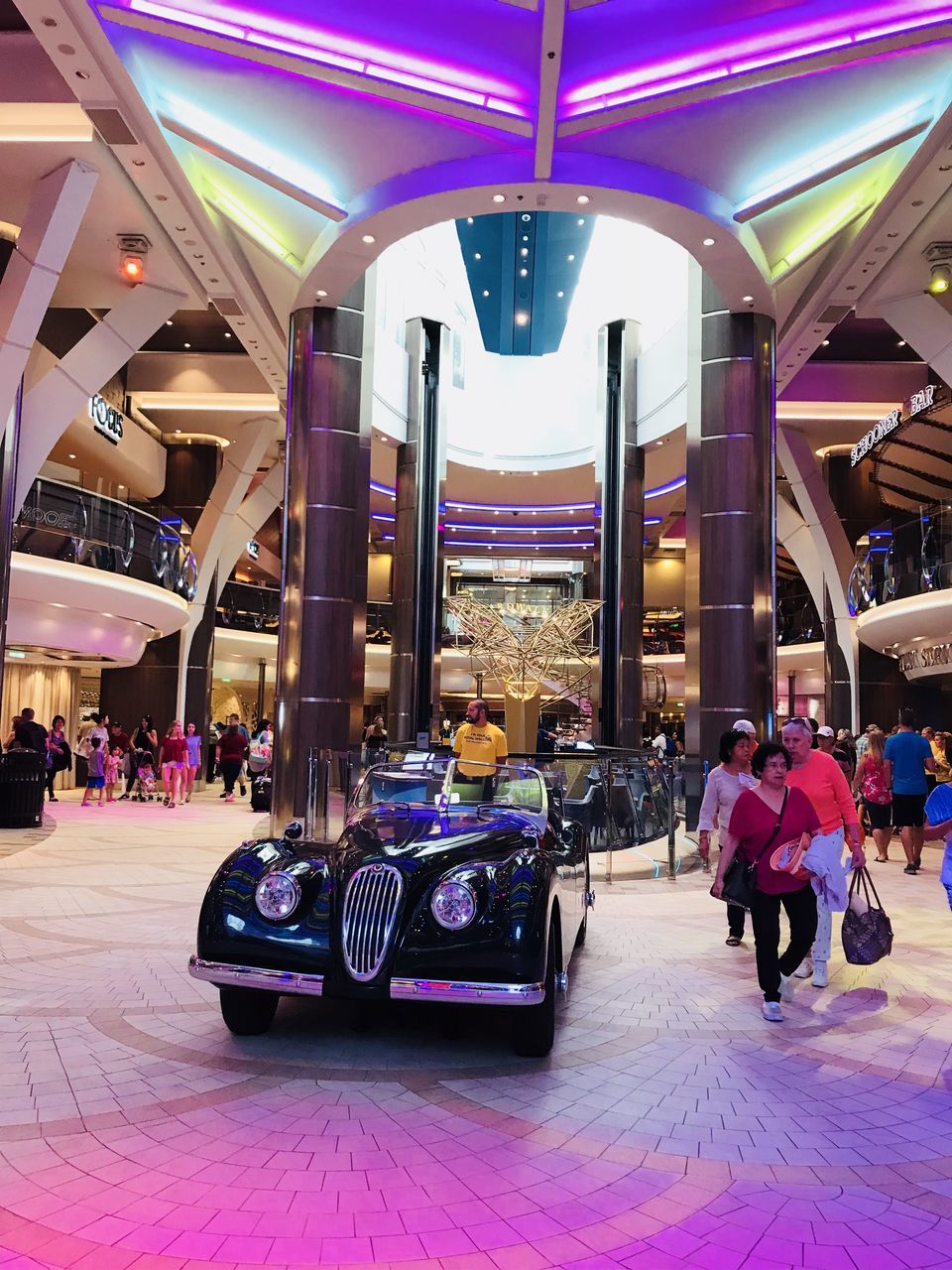 Cruise Amenities
Accommodation On-Board:
Harmony of the Seas has a wide range of options to choose from while selecting room categories. There are four types of rooms: The Basic Room, The Ocean-view Room, The Ocean-View with Balcony Room and The Royal Suite Class, all spaced around different parts of the cruise and priced differently.
The Basic Room
Starting with The Basic Room, it is an en-suite room with a double bed and attached bathroom which is quite spacious for two individuals and is priced at Rs. 43,818 per person plus taxes.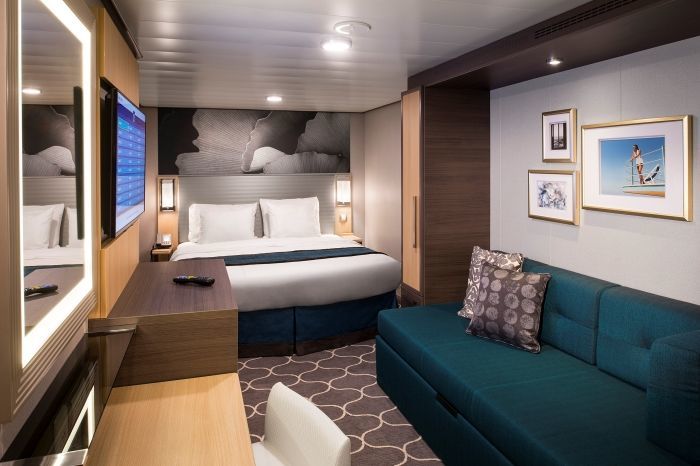 The Ocean View Room
The Ocean View Stateroom is one which includes a beautiful window where one could see the vast sea and views of each island as the cruise docks and is priced at Rs. 50,397 per person plus taxes.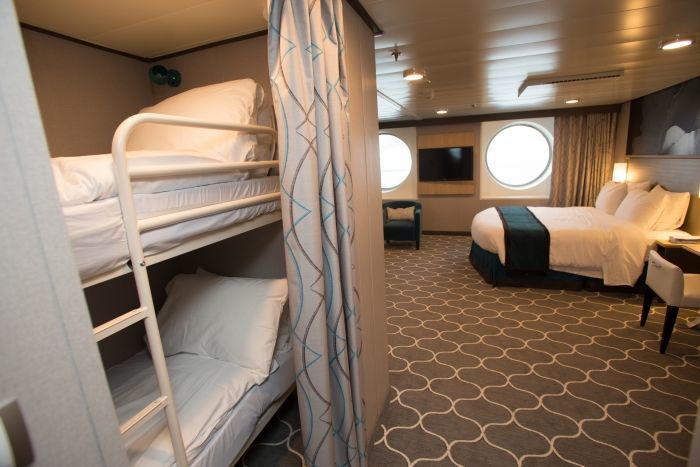 The Ocean View Room with Balcony
Moving onto the third category, The Ocean View with a Balcony is more thrilling as it comes with a personal balcony outside the room where vacationers can sun-bathe, sip on some beer, enjoy the sun and take in some of the best views at sea and is priced at Rs. 59,723 per person plus taxes. We opted for the this one and had the time of our life!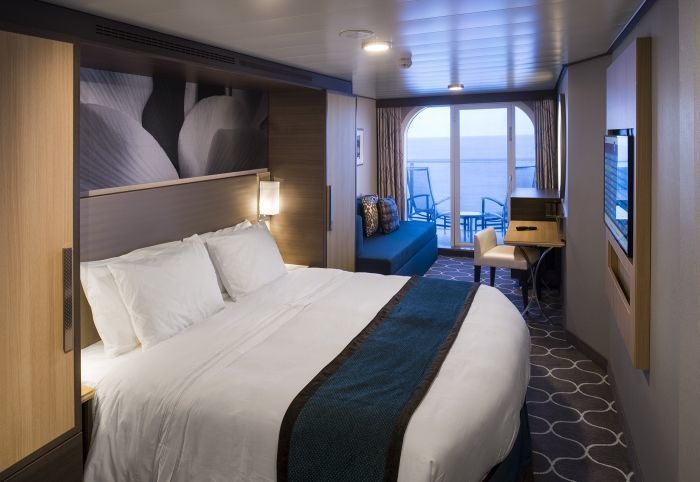 The Royal Suite Class
The last and most expensive categories remain to be the Royal Suite Class which includes many more facilities like an en-suite kitchen, VOOM Internet and many more luxuries that would be worth every penny! The room is priced at Rs. 1,14,847 per person plus taxes.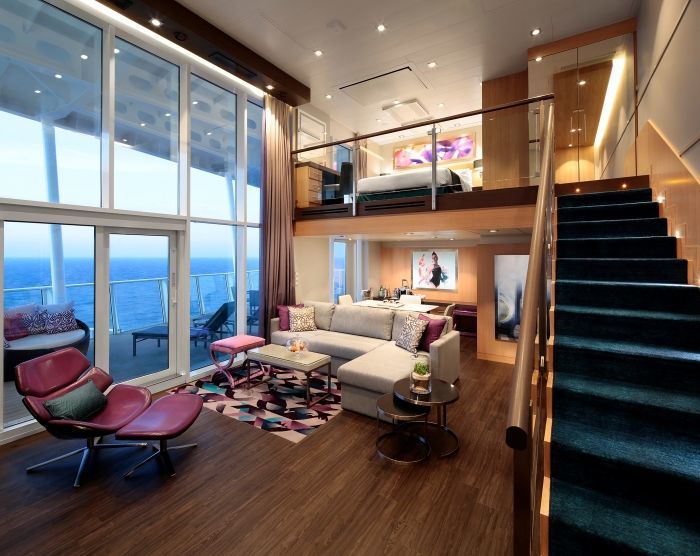 Restaurants & Bars On-Board
One could only expect a wide palate of eateries along with places to drink on the cruise. With 17 different restaurants and coffee shops offering global cuisine that suit all genres and nationalities of passengers on the cruise, there are also 11 different bars which offer the most delicious cocktails and mocktails catering to everyone's taste-buds.
Harmony Of The Seas caters to everyone and thus offers global cuisines like Chinese, Asian, Mexican, India, Italian, Lebanese, Japanese, American, British and many more! Some of the best restaurants and bars to try out are:
Sorrento's: Specially known for a quick take out or a cheesy bite into delicious pizzas, head to this laid back cafe where you could enjoy your meal and the view of the Royal Promenade.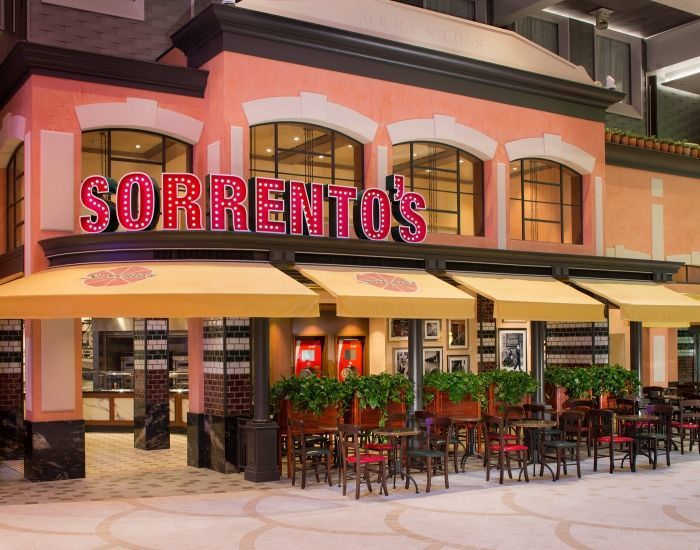 Wonderland: If you are someone who loves exploring unique food preparations, head here! Interestingly based on the five element concept - Wind, Ice, Fire, Water, Earth and Dreams— each with a selection of small or shareable fantasies, the menu is a niche in itself.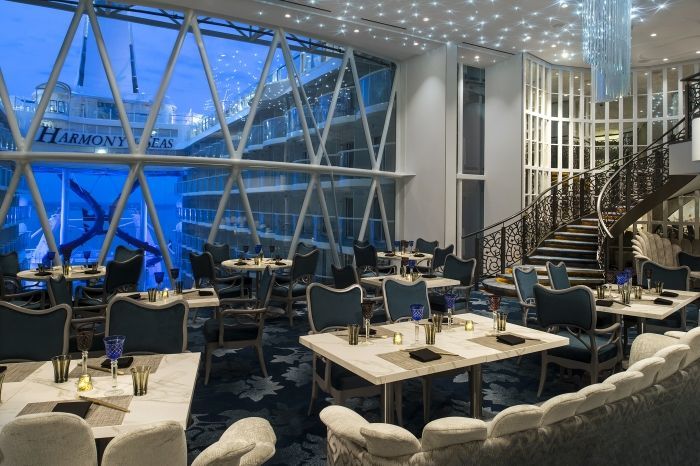 Jamie's Italian: Who hasn't heard of Jamie Oliver? He is one of Britain's most famous food experts and drives the menu at Jamie's Italian. Go ahead and gorge on pastas, pumpkin panzerotti, grill meats and tempting desserts.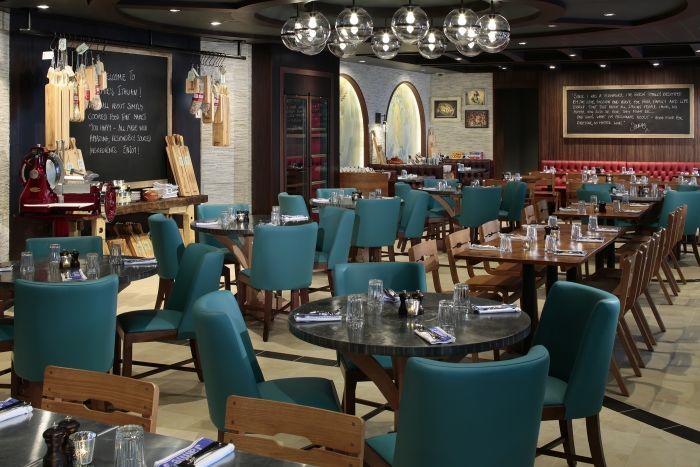 Izumi: For all those Sushi lovers who loved fresh rolled sushi with intense flavors should book a table at Izumi. From hot and cold appetizers to appetizers and to desserts, everything is freshly cooked and is presented by food art.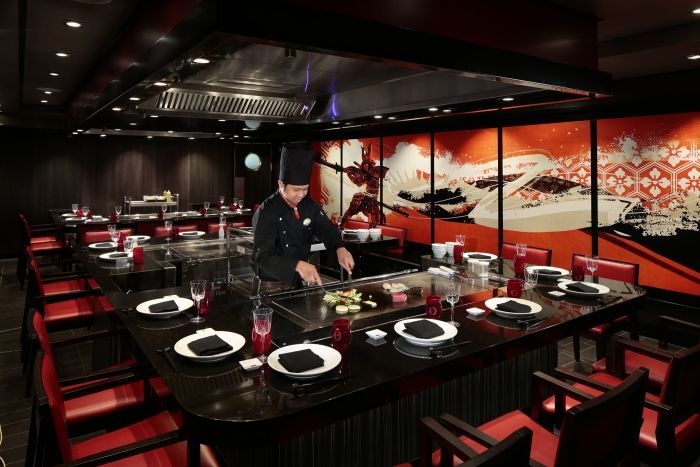 Schooner Bar: Do you love the piano? Head to this bar to hear some of the best soft piano music and enjoy some delicious cocktails (depending on your beverage package) and while your time away with your friends and family.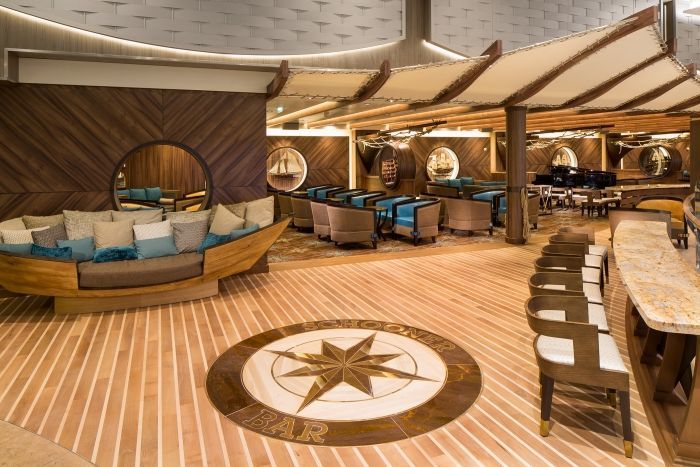 Bionic Bar: Want to get the perfect mixed cocktail made by two robots? Yes, you heard that right! You could meet two robotic bartenders who are designed and powered by the minds at Makr Shakr and who diligently brings you the best mixed drink ever.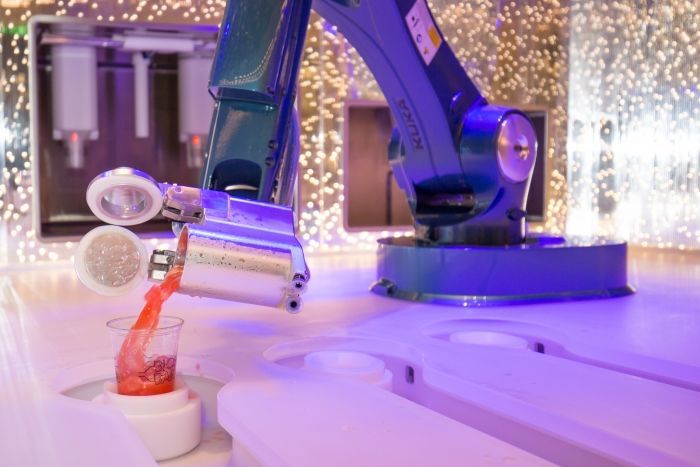 Entertainment & Recreation
Knowing that you are on the biggest cruise in the world assures you that you are in for the time of your life. Being a host to multiple entertaining facilities, the brand takes care of all age groups and their interests. With events lined up every day and a daily itinerary that is placed in each room, everyone can plan an exciting schedule for themselves on an everyday basis. From adventure sports to salsa classes and musical shows to relaxing at the spa or hitting the gym, Royal Caribbean has carved a niche for every single passenger!
The Ultimate Abyss: This adventure ride is the highest (ten-storey high) and most thrilling ride at sea. For all those who dare to try their luck is definitely in for a joy-ride. Literally!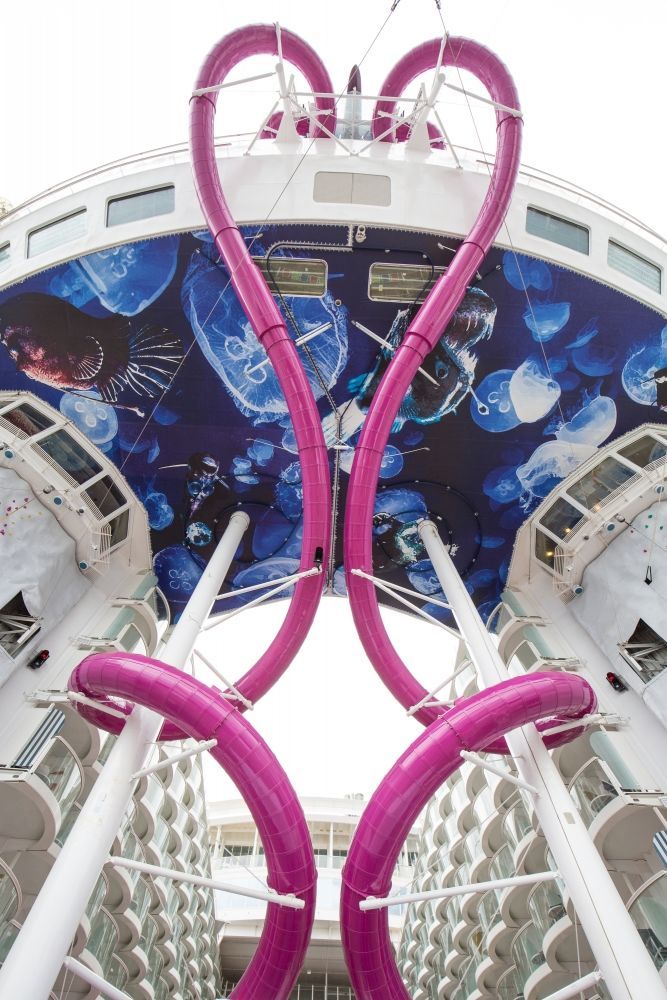 Flow Rider: All the surfers are in for a competition with the Flow Rider at sea. Try your hands at it even if you haven't ever done it before. It is priced nominally for personal tutors and freely available if you could manage yourself.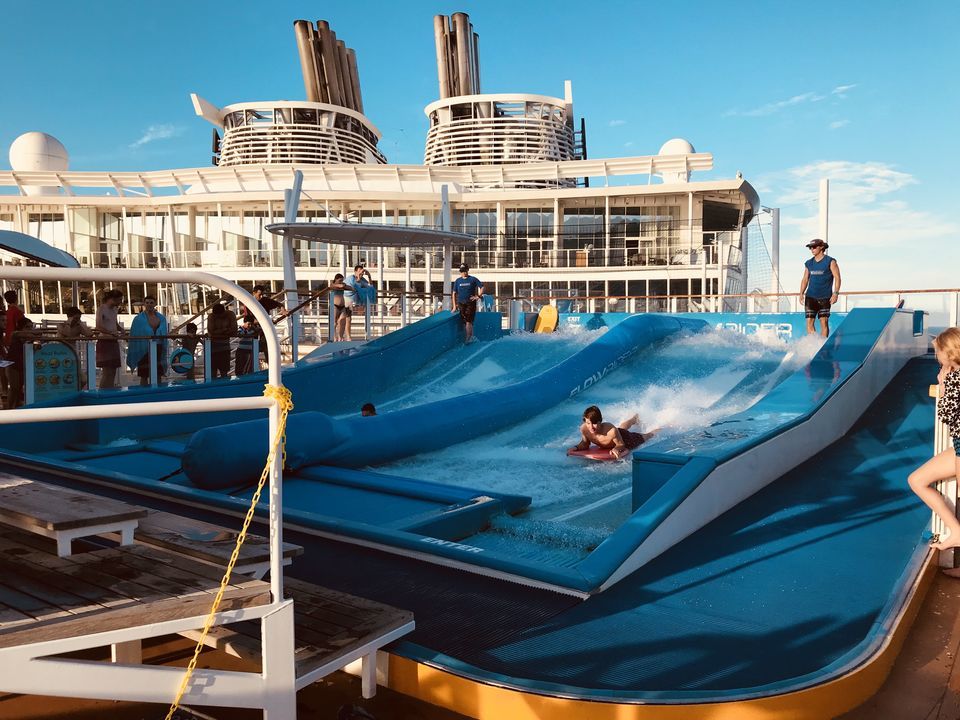 The Perfect Storm: Revisit your childhood with this long and winding water slide where you would go swish-swash and dive into white foamy water at the end.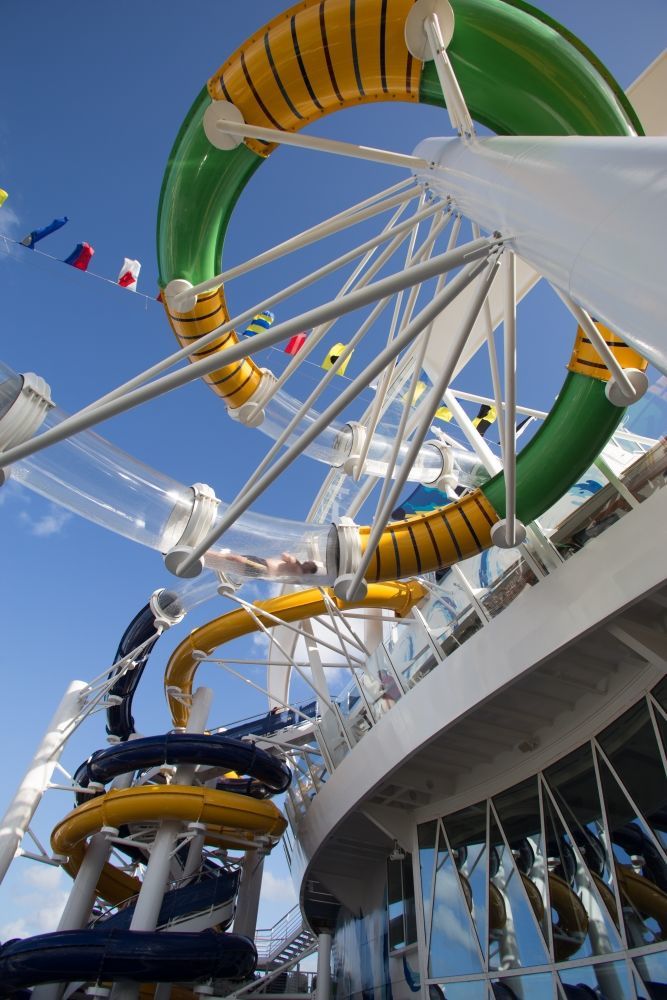 The Rock Climbing Wall: Test your strength and rock climbing skills at two different walls, one for kids and one for adults included with all the safety gear under the supervision of experts.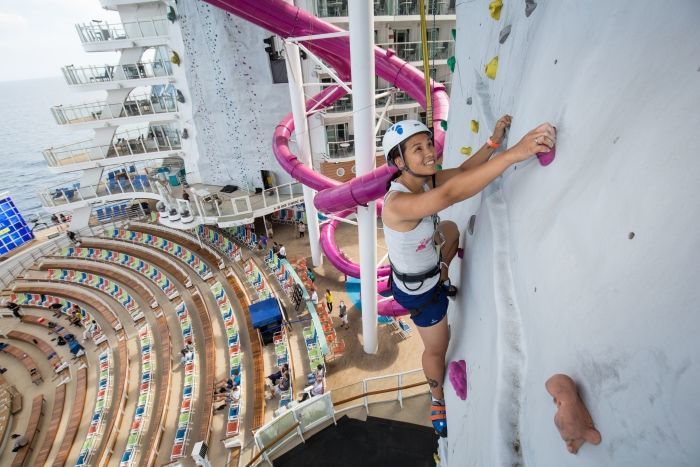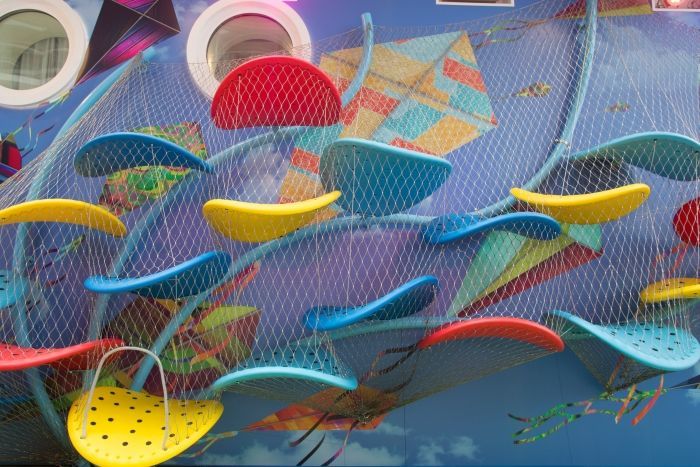 The Broadway Musical: One of the best shows to view while cruising would be the musicals that are played by some fantastic actors, dressed in an old-world charm that woo you off your feet with every single performance!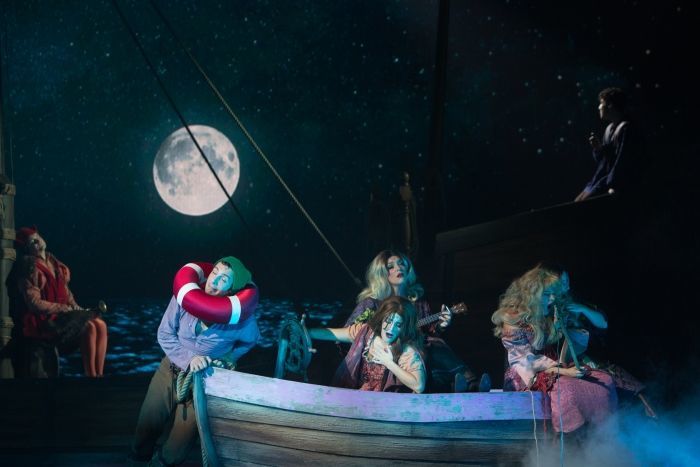 Vitality Spa: Who doesn't love a relaxing body massage? One could book an appointment for massages, facials, nail care, hair services at the globally renowned spa at sea. Dip yourself in luxury!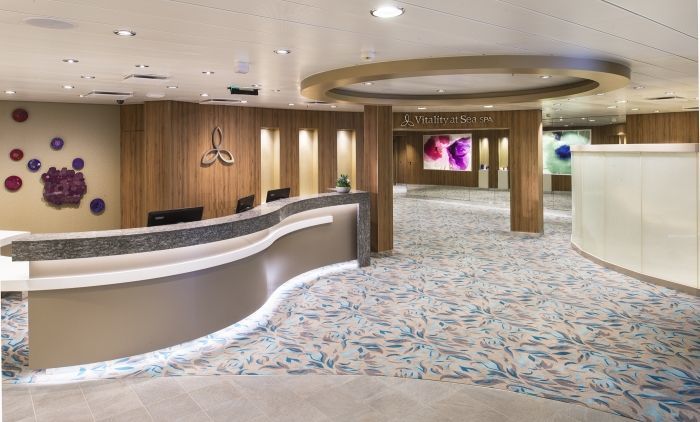 The Fitness Center: The widely spaced multi-purpose gym houses equipment of all kinds. From cross-trainers to treadmills and weight-training material. One could also enroll themselves for fitness classes such as Yoga, Pilates, Spinning and much more!
Shopping: Housed with some of the best brands, shopping seems to be the best form of cardio! Priced at the best cost and with a completely new collection, Royal Caribbean offers the best deals for a steal price.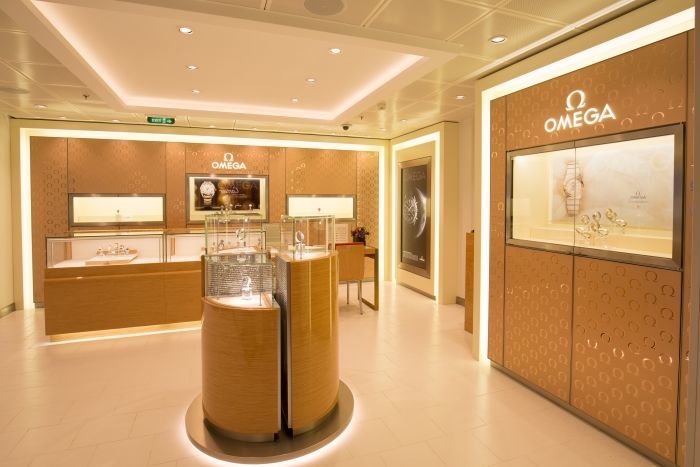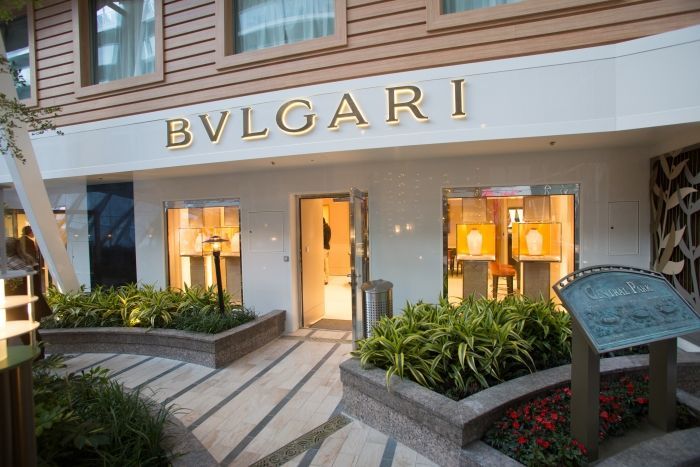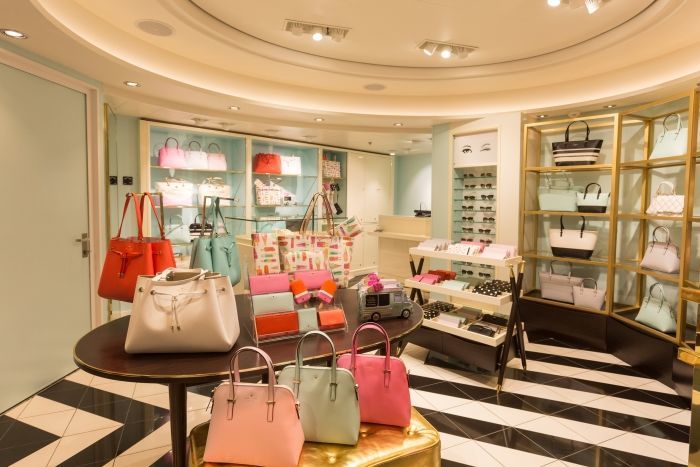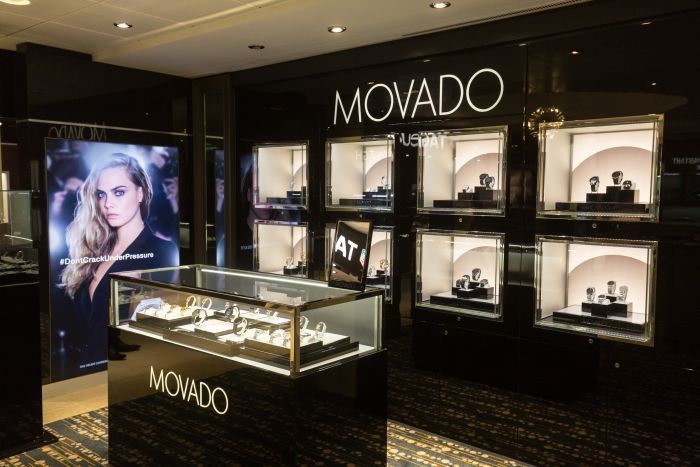 The Week-long Itinerary
My husband and I chose to extend our Caribbean trip with Royal Caribbean by choosing to explore the Eastern Caribbean Islands which covered interesting islands like Fort Lauderdale (Florida), Charlotte Amalie (St. Thomas), Nassau (Bahamas) and Labadee (Haiti).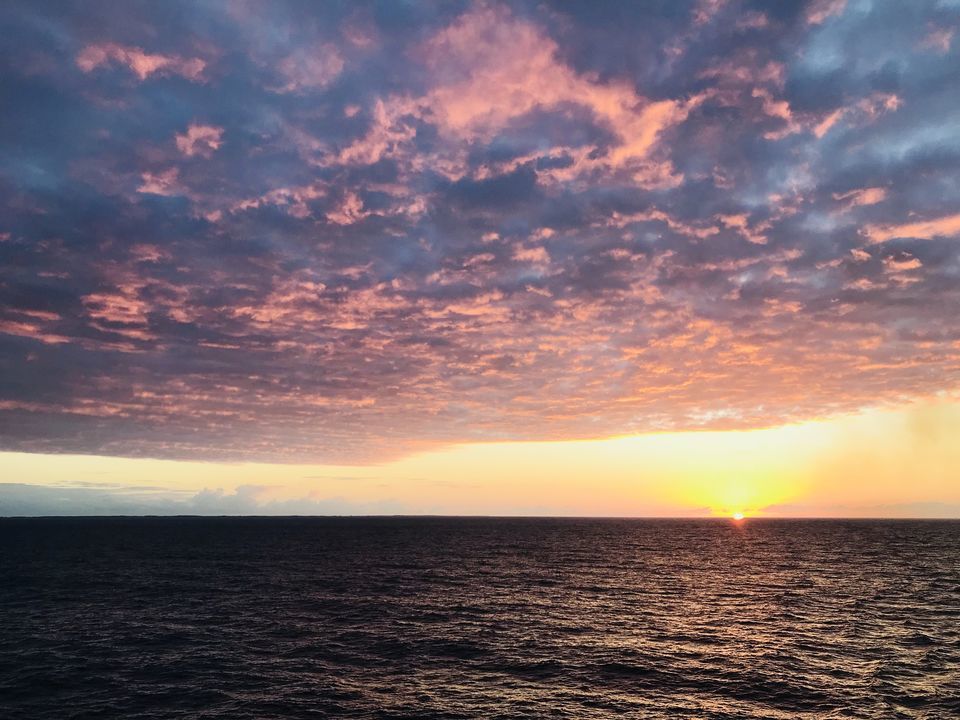 With time slots to choose from, we boarded the cruise around 01.00 pm and ventured into the cruise, reached our stateroom to drop our bags and freshen up. As we explored parts of the cruise, we chose to buy our drink packages that last for the entire trip and offers unlimited beverages of all kinds (depending on the package you choose). As we geared up for the departure process which is exhilarating, it was fun to wave out to strangers at the port and boardwalk and venture into the deep ocean which is nothing but vast and beautiful!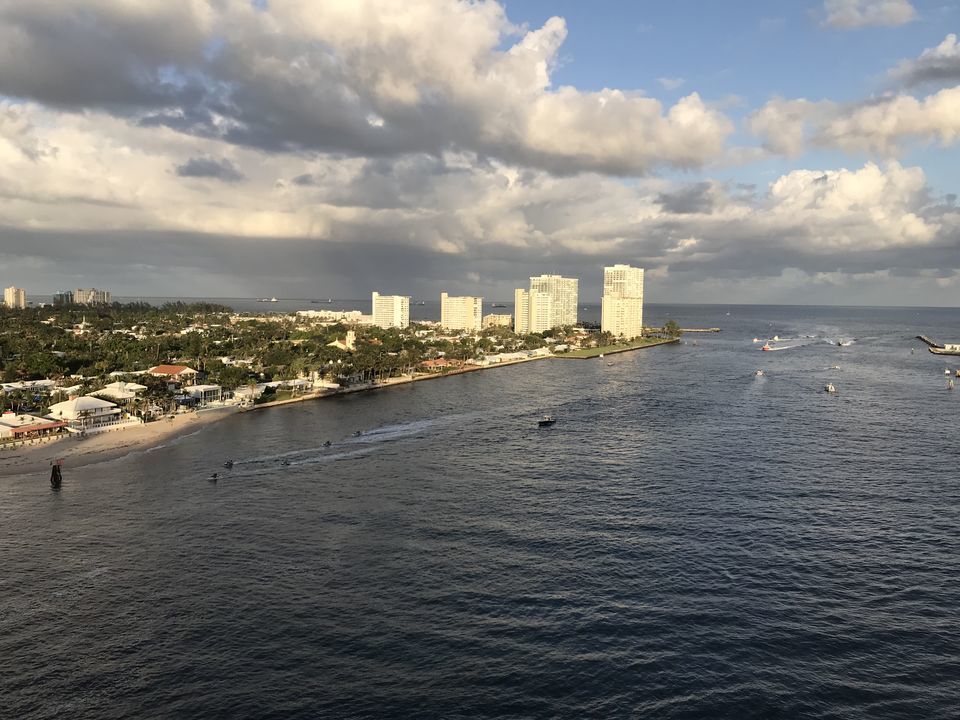 Commencing from Fort Lauderdale which is the starting port, we cruised all evening and night to reach Nassau, Bahamas the next morning. Having different activity options to choose from for all the islands, we resorted to opt for The Atlantis Hotel Tour which had a pick up and drop service from the cruise and then takes tourists into the hotel to do a show-around of the property and most splendidly the natural aquarium which they have preserved and built around the exquisite resort. Having completed the tour in two hours, we chose to walk around the streets and markets which housed the best international watch brands that were offering the best products at comparatively lower prices. Also, local shops making candles and hand-made jewellery caught our attention and we happily boarded the cruise with our hands full of shopping bags with local goodies!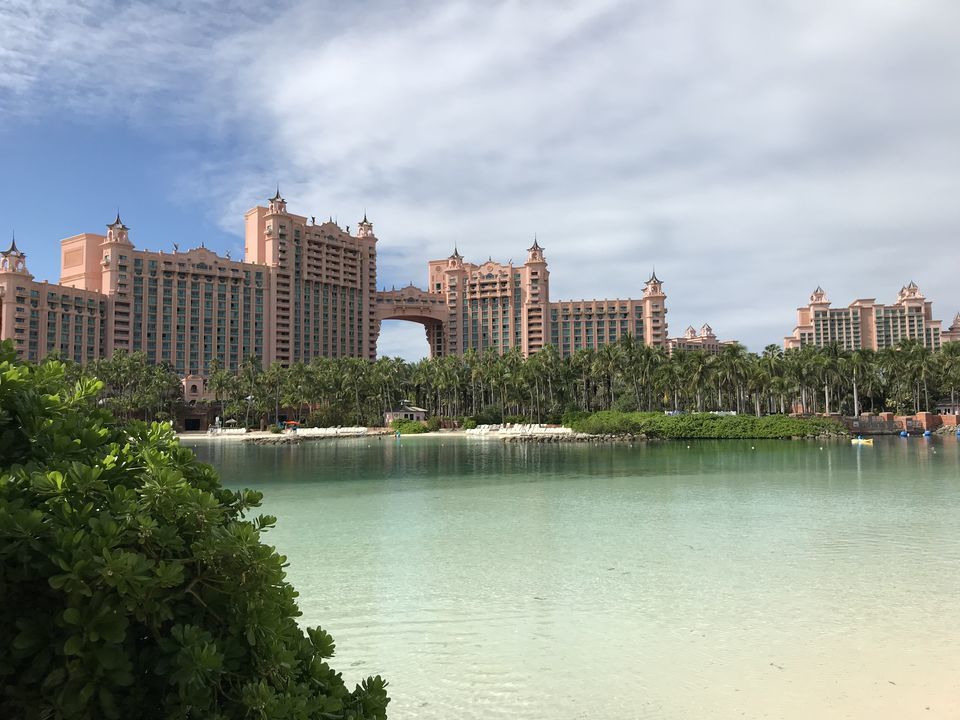 With the third day of all-day cruising, we enjoyed the pools, casinos and gaming arena and resorted to relaxing. Moving on to the fourth day, where we halted at the beautiful Charlotte Amalie, St. Thomas where we chose the City Tour which was a five-hour long. From pick ups and drops in buggy-shaped vans that are open and leave you with mesmerizing views of the city and sea, we stopped at the main market location where we were given time to shop from fancy as well as local brands. We chose to look around and then opted for a cute local Mexican restaurant that served us the yummiest nachos and local beer. Our next stop was the beautiful Magen's Bay which is a very famous beach with crystal blue waters and recliners to relax! We ended our tour with driving to the famous view point where the island looks impeccable!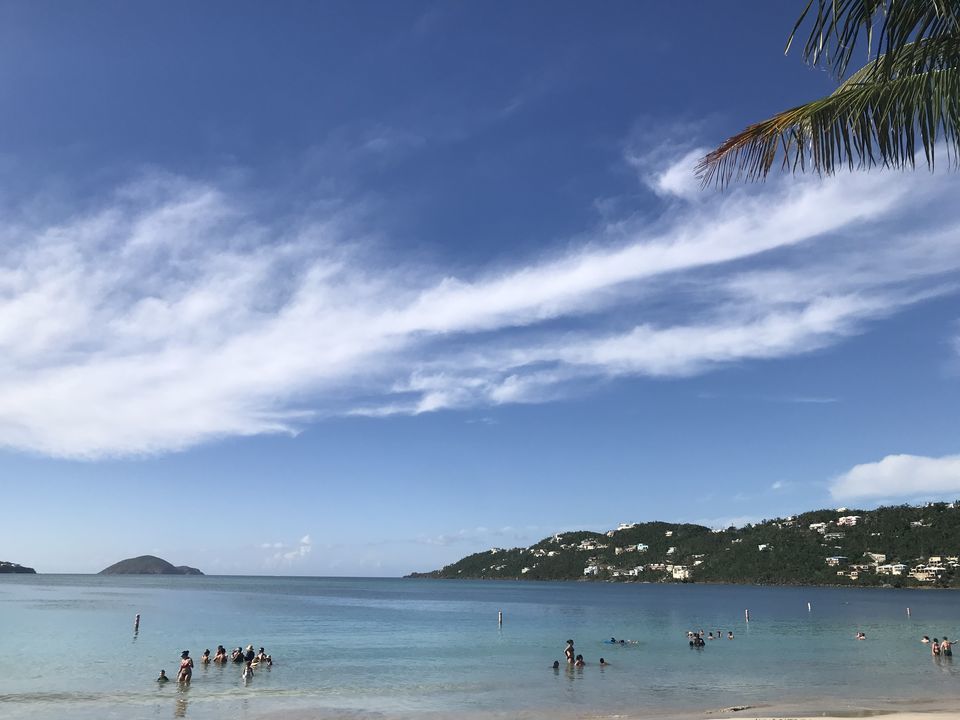 Further on, with our fourth day of cruising we geared up for Labadee, Haiti where we docked on our fifth day! Our last island being the most beautiful one, we chose an Adventure Jet Ski Tour where we skied ourselves on a guided tour to different spots on the island. The ride was exciting but very scary for non-swimmers like me that had to drive through the mid-ocean with tall and rough waves. Post-tour we continued to try our hands on the Zip-Line Tour which is super fun and thrilling and then after being completely drenched and hungry, we binged on our free lunch and boarded the cruise with a happy and fulfilled heart!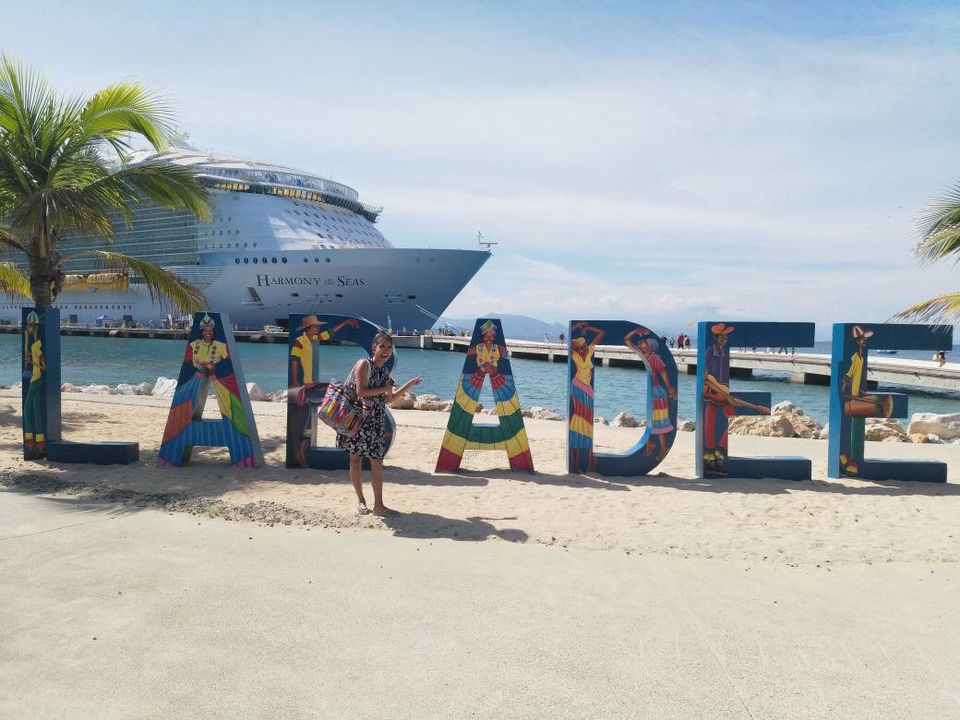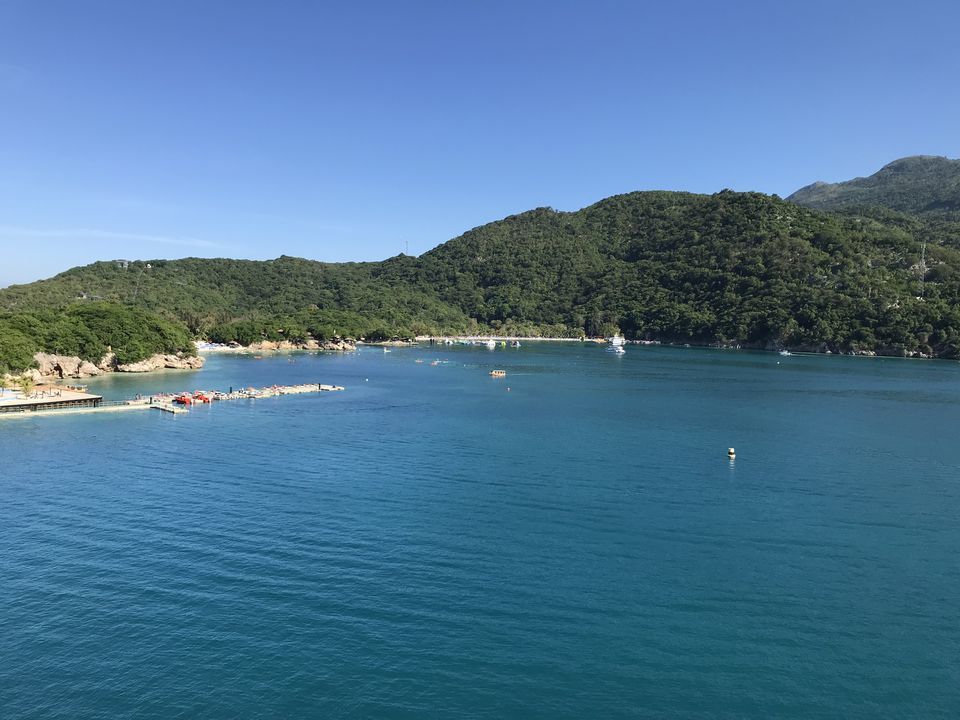 All in all, there is no better way to put it across. I could only say that Royal Caribbean Cruises are a class apart as compared to most other cruise brands. The quality of the cruise, the services and the staff - they all work towards one motto and that is customer satisfaction at all levels. Priced at a slightly higher rate but with the best on-board services, one could be worry and hassle-free when they choose Royal Caribbean.
What are you waiting for? Go ahead and book your cruise vacation this year!