There are tons of things to do in Athens Greece! And Linn and I took advantage of as many of them as possible. Don't stay too long though, we ended up spending more time in Athens even though we had seen everything we wanted to see, much faster than expected. Below is a nice list of our trip, summarizing the main points. If you're just interested in things to do and sites to see, then feel free to skip the "Arriving to Athens" and "Lodging and AirBnb" sections.
Things To Do In Athens Greece:
Arriving to Athens
Getting to Athens Greece is really a matter of preference. It's not a secluded city that is hard to reach, so there are plenty of options to choose from based on your preferences. We personally try to settle for something budget friendly, but not so inexpensive that it takes us days to get there. That perfect in between for us was to fly into the Athens International Airport or "Eleftherios Venizelos". As with most flights from anywhere, try to with at least one to two months in advance.
After flying in, we had some trouble getting around the airport since there was construction and the detours weren't the easiest to navigate. Thankfully, we eventually reached the taxi area and took a taxi to our as it was the fastest. Like most foreign countries, there may be a language barrier (if you're American like us) between you and the driver, so it's best to be prepared with the address and map to show the driver.
Also! Don't fret too much about how they drive in Athens. Yes, they fit 4 cars into 2 lane roads, but it seems to work for them. Personally, I was on the edge of my seat, but we never had any issues with any taxi drivers.
Lodging and Airbnb
Once you get to Athens, it's obviously best to have a place to stay. Linn and I have pretty much fully converted to staying at Airbnb's instead of hotels. We've found you have a much wider range of options regarding our budget, proximity to the sites we want to see, and proximity to cheaper public transportation. We managed to find a perfect place that wasn't exactly city center but did overlook the city, and it was right up the street from the local tram station. That was perfect as we've come to notice that trains and tramways are the cheapest option for local travel.
That's my opinion on lodging, as there are options for hotels, they were a bit too pricey considering we were only going to be in them to sleep. But it's all a matter of preference and if you'd prefer a hotel closer to syntagma square, then there are a few nearby.
Local Transportation
Options for transportation in Athens are similar to most places, there are taxis, ubers, metro, trams, and buses. While the buses did reach a few places we wanted to see, the trams usually got us there with only an extra 5 minutes of walking. So it was our preferred way to get around the city as we were able to get week long tickets (ahead of time online) that were very affordable and all major sites are near a station.
If there are specific sites that you want to go that are a bit too far for your walking distance, the taxis are easy to call and aren't expensive for short rides.
Things To Do
Now we get to the meat of the trip, the reasons we went. I'll show a map below of all the sites we visited on where they are in relation to each other. You'll notice that they are all close in proximity and that's why we were able to see so much and had days to spare. The places are also listed in chronological order that we visited them but we didn't see them in this order for any particular reason, so feel free to explore in what every order you prefer.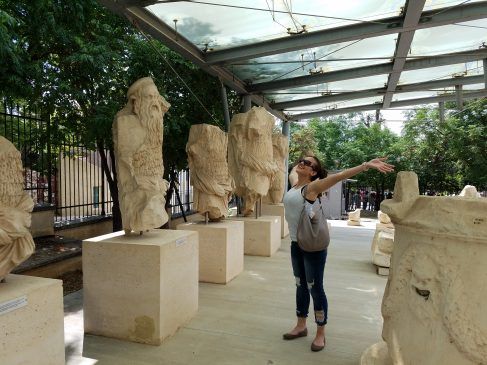 Map Legend:
Dark blue - Ancient Agora
Pink - Hadrians Library
Orange - Acropolis, Parthenon, and Theater of Dionysus
Green - Mount Lycabettus
Light Blue - National Garden
Red - Temple of Zeus
Yellow - Panathenaic Stadium
White - Syntagma Square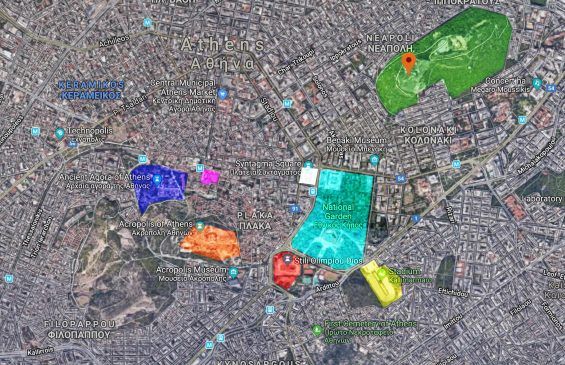 1. Theater of Dionysus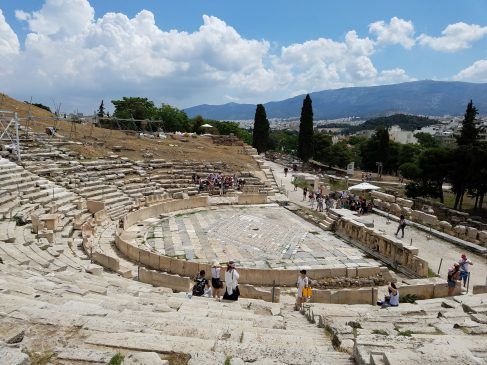 This was a part of the Acropolis, so we were able to see it before walking up the acropolis to the Parthenon. I highly recommend booking your tickets in advance, as we didn't and were stuck waiting in a long line on a hot day for roughly an hour! The theater itself is a short walk around as are the grounds around it. It's a nice place to snap a few shots and prepare for the short trek up the hill.
2. Acropolis and Parthenon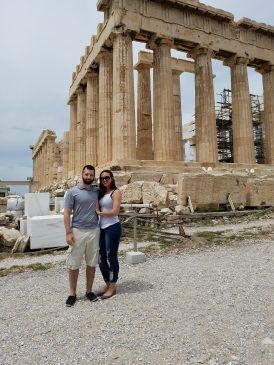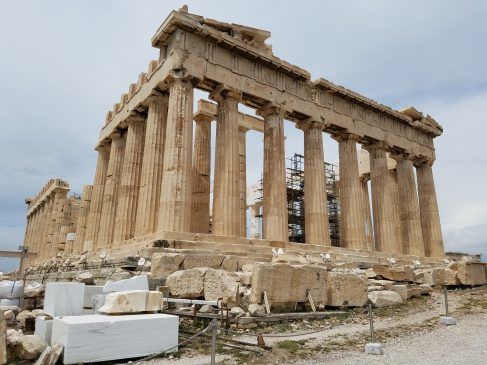 The main site of Athens, the central point with so much history and such a beautiful site! The Parthenon was a perfect start to our trip in Athens as we're serious buff's when it comes to historical sites and this is one of the best. Sadly it was a bit cloudy when we went, but that didn't stop us from taking it all in and enjoying a 2,400 year old architectural relic! It was also pretty crowded even for what was supposed to be the low time, but thankfully there is plenty of room on top of the Acropolis, so it wasn't cramped while we were up there.
There are also plenty of smaller sites scattered around the Parthenon with their own rich history and placards oh what their significance is.
3. Ancient Agora of Athens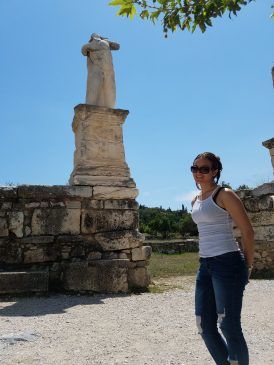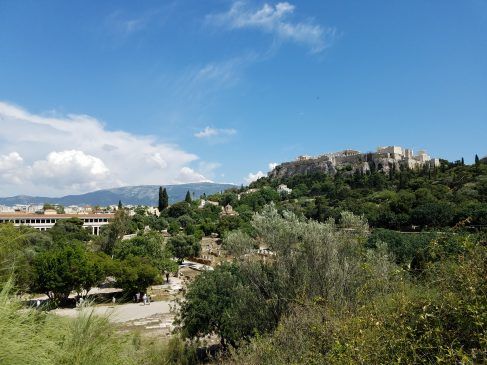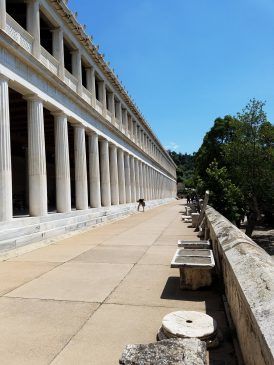 The agora was the gathering place in Athens and later became a commercial place (marketplace basically). It's also very well preserved so you get a much better sense of the architecture. On top of that, it was very spacious and much less crowded, we walked around the agora and barely ran into anyone and weren't rushed at all while we were trying to take photos.
Also, there was a small museum and rest area located in the Agora. It was a large building with pillars lining the front and inside containing relics from multiple time periods.
4. Temple of Zeus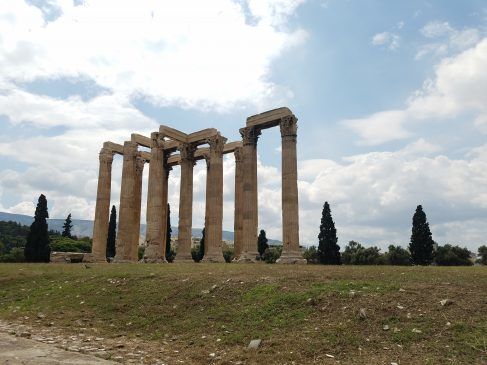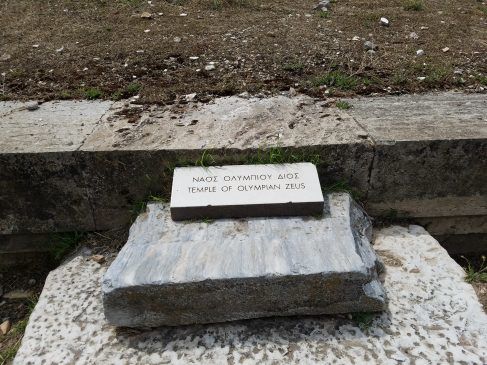 The temple of zeus was a mix of astonishment and slight disappointment. Looking back I would still go see it and still highly recommend it, but it's a little upsetting how much is left. I can't complain as it's been standing for over 2,000 years, but quite a few pillars are missing as it has taken a beating over that time.
That being said, there are still smaller ruins around the site and even the 10 or so pillars of the main structure are still standing and still have such amazing craftsmanship.
INTERMISSION:
I want to stop and take a second to mention that after all of the sites I've listed so far, it only took about 2 days to visit them (including lunch breaks and taking it slow). These historical sites in Athens are very close together, which makes sense as 2,000 years ago people didn't really have cars to "get to the other side of town", so it helped making the main points close together. I just wanted to point that out though so you know that to visit all of the sites in here will only take 4-5 days MAX.
5. National Garden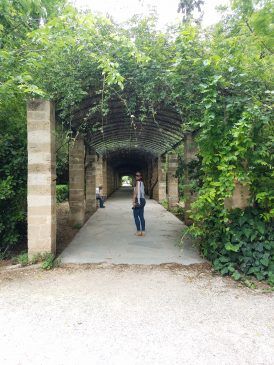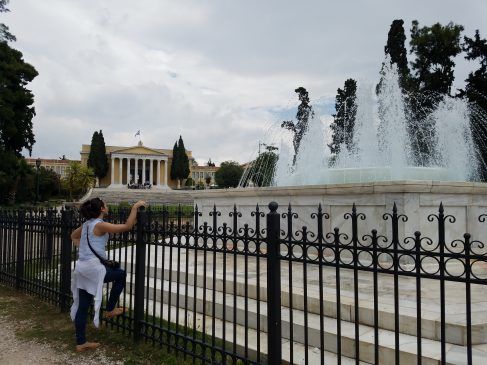 We decided to visit the national garden in Athens as a spur of the moment thing. It actually wasn't on our list on the way there but I'm glad we decided to go. It wasn't as extravagant as the Acropolis or Ancient Agora, but we're both avid lovers of hiking and nature walks so it was a nice break and there was no stress in getting around.
6. Panathenaic Stadium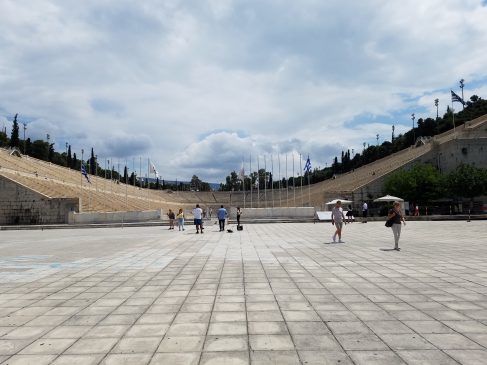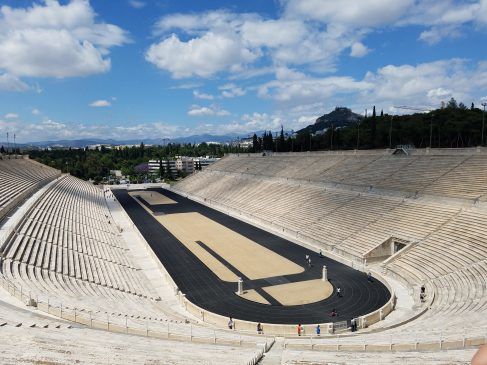 This was a happy accident we stumbled on. We were actually just walking around outside the national garden and saw a large stadium. We kind of decided to check it out and see what it was. As we got closer it got bigger, and not only was it a stadium, but we got a quick intro to its rich history and how it once hosted the Olympic games.
I think one of the best parts was that you were allowed to walk around the track, in the stands, and even go underground where the athletes were (which was now converted into a small museum of sorts).
7. Mount Lycabettus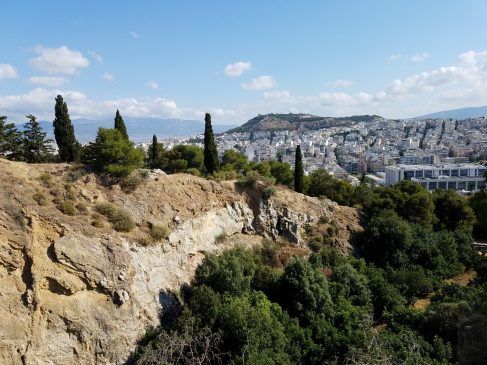 This was another spur of the moment decision. We had a day left in Athens with no plans so we decided to go for a hike to get a nice view of the city from a different angle. Honestly it was a great hike and I loved the view, but if you're not into hiking then this isn't something that you have to see.
8. Hadrians Library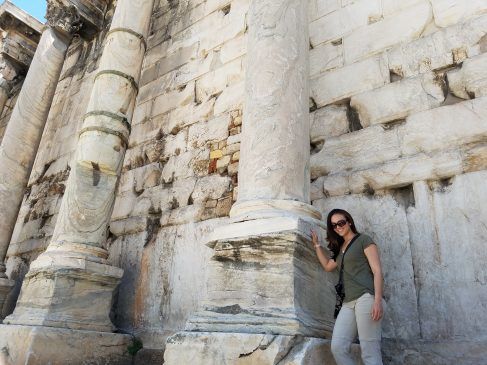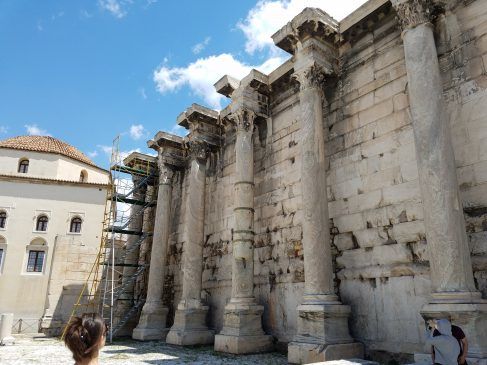 This was our last destination but it was interesting to walk through and experience. I'd recommend doing this one during your Acropolis trip as it's not too far from there. It's also a quick visit with some nice history and would be a great site to see to end a day.
Athens Overall
Athens was a phenomenal trip! The only thing I think we could've improved about our trip is if it wasn't as long. Not because Athens wasn't a great city, but because we were still going to two other places and it would've been better to have more time in those places since we were able to see everything in Athens in the first few days.
Overall though, I highly recommend you visit Athens at least once and especially if you're into rich historical sites!