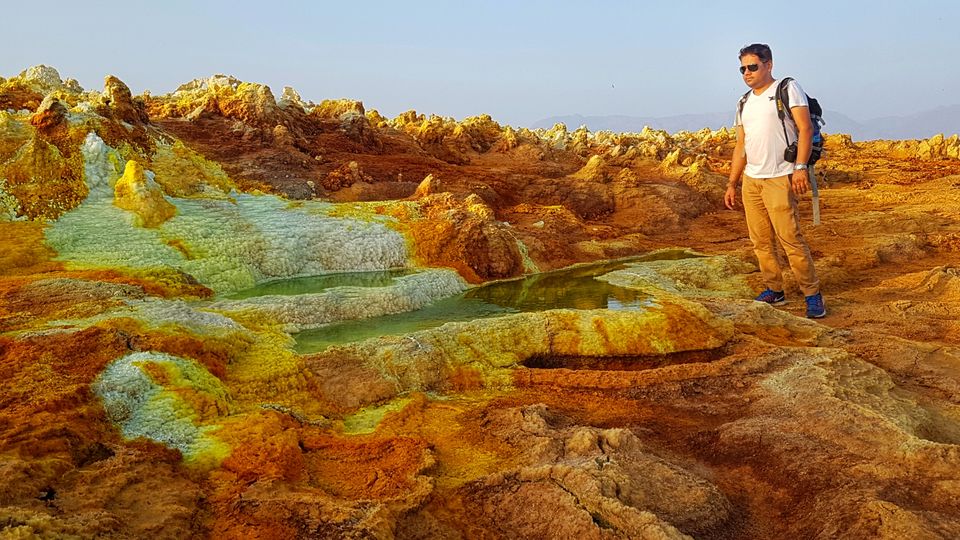 The classic and the most common answer for the question "what pushes you to travel more and around the world" I heard is - love fore exploring local culture, food and understanding the ways in which people live around the world. That's my reading and perception!
When someone asks me what you like the most in my travels; for me it is though such a wide range that I struggle to answer this. However, one of my favourite part of travels is exploring the natural wonders of the world and I always keep searching for such places as that is something which always leaves me yearned to travel more!!!
And, Danakil Depression in Ethiopia is one such a destination which was in my priority list from last 3 years. However, everytime it used to take a back seat because of various reasons like, off the route destination, security issues, a bit of cost to reach its Danakil depression because of its remoteness etc. The country is still not a big tourist destination and can easily be counted in one of the offbeat destinations to visit.
For me, having seen pictures from its Dallol Hydro-Thermal fields, which seemed to be something I have never seen in my vast travels so far, I was desperate to go and witness it by myself!
So, finally it happened recently and I am glad that I did that, it completely lived up to its expectations, even more!!! You really should visit this place in person to believe this. Pictures definitely doesn't do the justice.
Dallol Hydro-Thermal fields
Dallol is a region in Ethiopia, which is known as one of the most remote and hot places on the earth with an average high temperatures around 41 degree Celsius. The reason of it being the most hot place is because of the fact that it has an elevation of 130 meters below sea level.
This is one the few places which exists below the sea level and the third one I visited so far, after the dead sea and death valley in the USA. Each one of them have some similar characteristics like salt flats around, yet so different in the terms of other geothermal activities happening in each of these regions. Must say, true wonder of the world!
We drove for approx. an hour on salt flats, and landed to a hilly and quiet an unusual terrain – officially start of "Dallol hydro thermal fields".
After walking for an hour through a unreal landscapes, we have finally reached to the vast hydro-thermal fields, and boy what I saw is one of the most unusual and unbelievable things of my life!
Clusters of pools and terraces of bright colors and mineral patterns with the very acidic fluids discharging from the hydro-thermal springs, bubbling earth, hissing sound of gases, salt pools, bright yellow sulphur mountains and fields left me completely speechless! This place is much more beautiful than what you see in the pictures on the internet for sure!
Please ensure to wear full sleeves cotton clothes, a cap and carry enough drinking water as it gets really hot even very early in the day!
So, rather than writing anything further, I will leave you with browsing the pictures of this place now. And mind it, I am no where close to a professional photographer. I do have a dslr but prefer clicking pictures through my normal mobile phone most of the times. Moreover I beleive more in experiencing things rather than just focusing on captures ☺️
So here presenting some pictures from my mobile camera. Just imagine what wonders your dslr would do 😀