Tired of the jostling crowds and the same old touristy fare?
Easily accessible to the public, these strange places in the world are home to towns and islands comprising yellow landforms and pink waterscapes, geographical wonders named after mythical Norse gods, eerie villages with more cats than humans, alleys with whale-bones and valleys full of goblins.
Here's the list of 11 strange places in the world you must visit

Tashirojima – One of the 11 cat islands of Japan
A ferry ride away from Miyagi, Japan, this quiet fishing village is a Nekojima or Cat Island, where you will find an army of furry cats, casually lounging by the harbour embankments or strutting about in alleyways. The cat population, which is currently larger than its human counterpart, is thriving due to the local belief that feeding cats will bring wealth and good fortune. No wonder we've chosen to put it right at the top in the list of strange places in the world.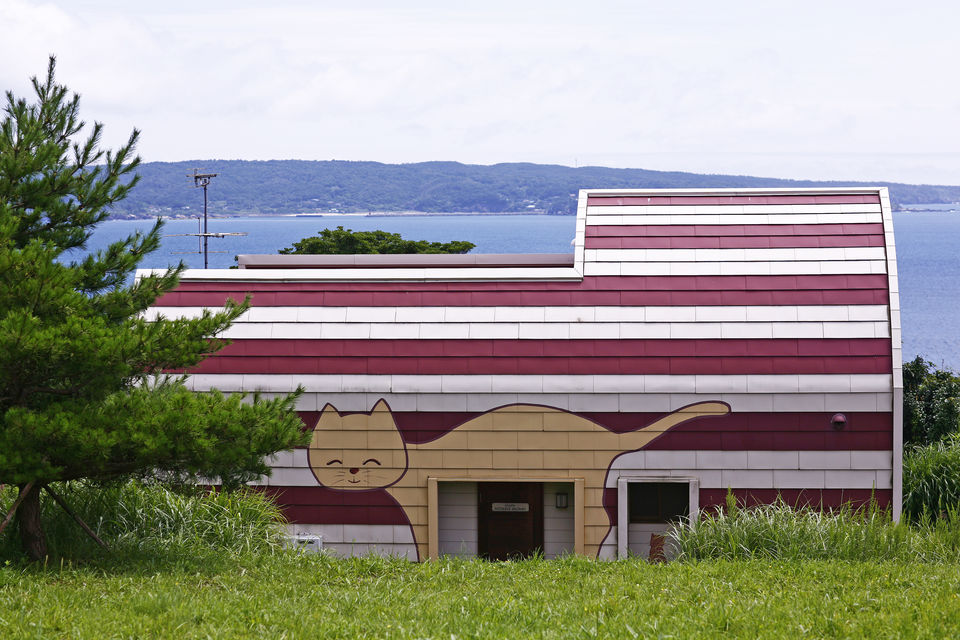 It began to be referred to as the Manga Island when the illustrious Japanese manga artist, Shotaro Ishinomori, decided to move here. Manga-themed lodges resembling cats, are scattered throughout the island.
Bohol Island – Philippines' wondrous chocolate hills
An aftermath of rainwater erosion and elevation of coral deposits, these 1700-odd conical hills of the Bohol Island of Philippines, are known for its chocolaty look, when during the dry season, the foliage turns from green to brown.
Much folklore surrounds this place. Legend has it that in a fight that lasted for days, two giants hurled stones and earth at each other, until they were exhausted and became friends, leaving behind the mess, that today, are these hills. The fantastical oddness is surreal when the hills are awash with waves of light and shadow, orchestrated by the tropical sun and clouds.
Socotra Island – Yemen's sci-fi production set
The Soctora Island of Yemen seems to be a photograph, sourced out of a sci-fi movie's production set. This outlandish island, separated from Africa boasts of unique biodiversity, such as the bulbous bottle tree and ancient and upturned dragon's blood tree, a creation of long geographical isolation. A little over 200km from Somalia, this lost-world archipelago flecked with sandy beaches that give way to limestone plateaus, full of caves and towering mountains is one of the most enchanting of all the strange places in the world.
Pamukkale – The cotton castles of Turkey
In Turkish, Pamukkale literally translates to cotton castles. Located in southwest Turkey, its is known for its thermal pools, formed by the shimmering white travertine terraces (terraces of carbonate mineral). The ancient Greek-Roman spa city of Hierapolis was built on top of this calcite city, the ruins of which can still be seen from the town of Denizli.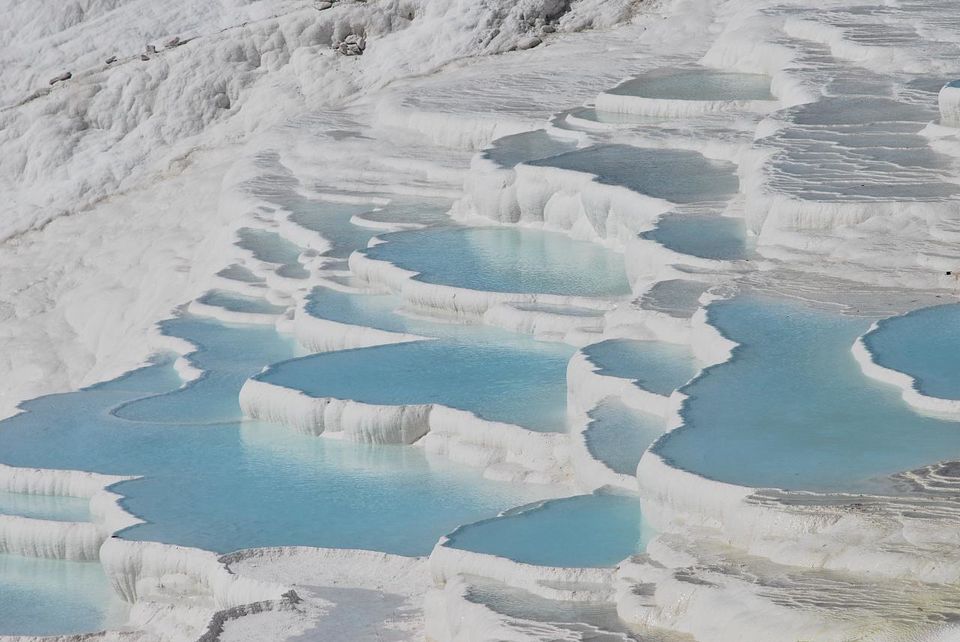 The castles are believed to have been created by giants, who left heaps of solidified cotton (Turkey's principal crop) out to dry.
Salar de Uyuni - The only place in Bolivia where you can see objects fly
One of the most weirdest places in the world, this serene salt lake of Bolivia will leave you in awe with its tall cacti islands, stone trees, geyser flats and active volcanoes, all shrouded in a thick haze.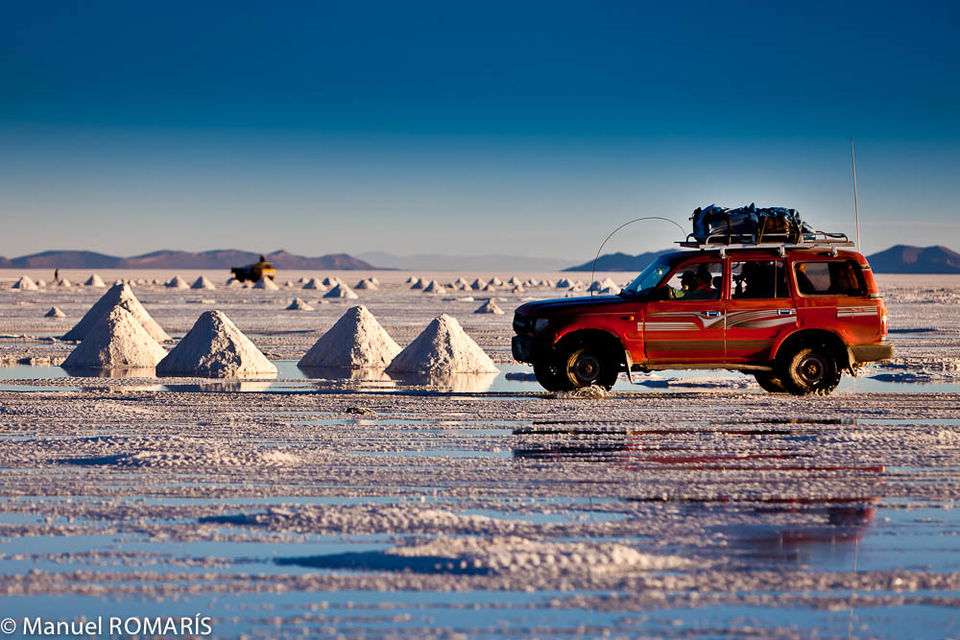 The salt flats dot the waters of this endless stretch. A spectacular illusion that objects on the flats are flying, is composed when the sky meets the salt. This scene then leads to an island swamped with giant cacti.
Palacio de Sal (Palace of Salt), a hotel in Salar de Uyuni, is accessible to all, and made almost entirely, of salt blocks. Nearly 1 million, 35cm salt blocks, have been used for the furniture, walls, stairs and tables.
Thor's Well - Oregon's magnificent sinkhole, that's straight out of a comic book
This gaping sinkhole off the coast of Cape Perpetua, Oregon, is hidden in plain sight as a natural salt water fountain. Big waves rush into the well and then shoot upwards with tumultuous force.
This wondrous hole in the ocean, can be viewed from the Cape Perpetua scenic area viewing centre, by taking the Captain Cook trail, that is also wheelchair accessible.
Équihen-Plage - A French village of inverted boathouses
Off the coast of northern France, this quirky seaside village is brimming with beautiful beaches, camp sites and cozy homes of the locals, that are in fact, upside down boats. In the early 1900s, this peaceful spot, called Quartier des Quilles en l'Air, (neighbourhood of keels in the air) was synonymous with fishing. The boats that were destroyed on the shore were used by local fishermen as roofs for a makeshift shelter.
The hull of the boat was transformed into the roof, and was laden with tar to make it watertight. Spruced up with modern amenities, these homes can now be rented with prices starting from about 300 Euros.
Lake Hillier - Australia's Pink Brew
Fringed by sand and a dense woodland of paperbark and eucalyptus trees, Lake Hillier is a 600 metres long wonder. A concoction of pink bacteria (halobacteria), salt-loving algae (Dunaliella salina) and high salinity, imparts the deep bubblegum pink colour year-round, to this spectacular lake of Western Australia's Recherche Archipelago.
Badab-e-Surt - A yellow Iranian staircase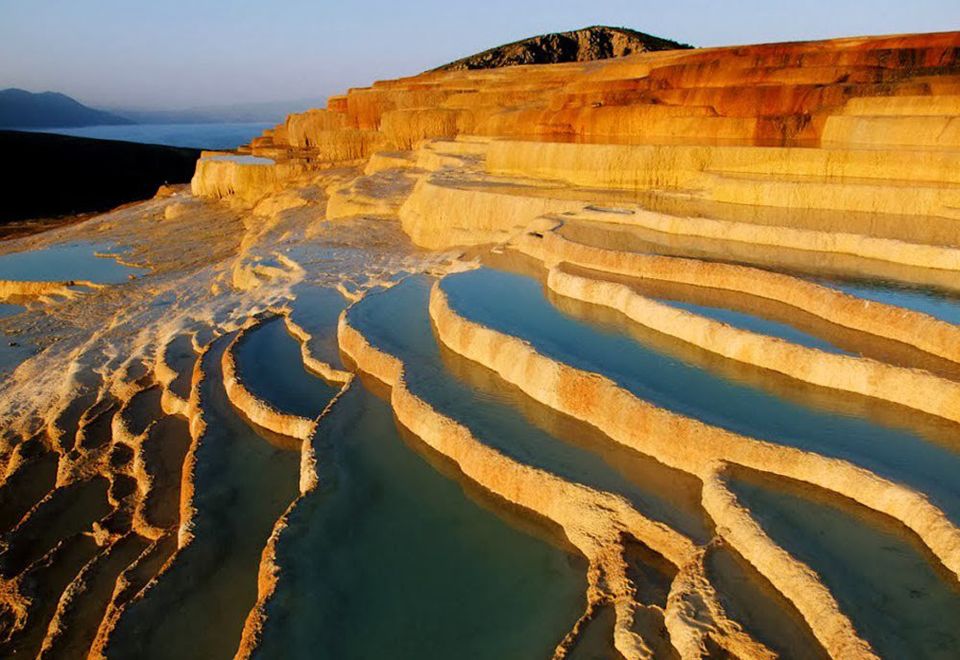 Badab-e-Surt, a Persian compound, translates to gassed water of the Orost village ( bād literally means gas, āb translates to water, Soort is an old name for Orost village and a Persian word for intensity).
Matured over a millennia, these stepped limestone terraces of the Mazandaran Province, northern Iran are an incredible natural phenomenon. They were formed as a result of two mineral hot springs cooling and depositing carbonate materials on the mountainside. The reddish travertine terraces are due to the large amount of iron content in the springs.
Dusk or dawn are usually the best times to visit this place. These terraced hot springs are accessible via Semnan province that has a paved path and vehicles that can be driven on the dirt roads leading up to the spring.
Goblin Valley State Park - The goblins' favourite haunt in Utah
A little over a 200 miles southeast of Salt Lake city in Utah, this eerie landscape has strange mushroom-shaped rock pinnacles or hoodoos, that closely resemble goblins is one of the most sought after yet strange places in the world. About two miles long, this uninhabited valley has been eroded by wind and water for years, to form these soft sandstone structures.
Hike up the marked trails of the state park that lies in the San Rafael Desert, north of the Henry mountains.
Whale Bone Alley - Siberia's Stonehenge
This macabre stretch of land, dating back to the fourteenth century, was a consequence of a temporary ice age that resulted in prolonged winter and food shortages, and can be found on the northern shore of the remote Yttygran Island, in the Bering Sea off the coast of Alaska.
Rumoured to be created by Eskimos, the humungous whale jawbones, vertebrae and ribs are jabbed into the ground, and propped up by rocks, as they form a peculiar alleyway. Its also believed to be a shrine and sacred meeting place, for the native Inuit tribes.
Know of some other weirdest places in the world? Share your suggestions with Tripoto, here.
Frequent Searches Leading To This Page:-
Australia holiday packages from India, places to visit in Australia for honeymoon, strange places in the world, unique places to visit in the world, photos of strange places, top 5 strange places in the world, unusual things in the world, strange places in india, offbeat places in Australia, best places to visit in new Zealand, Turkey Package Holidays From India