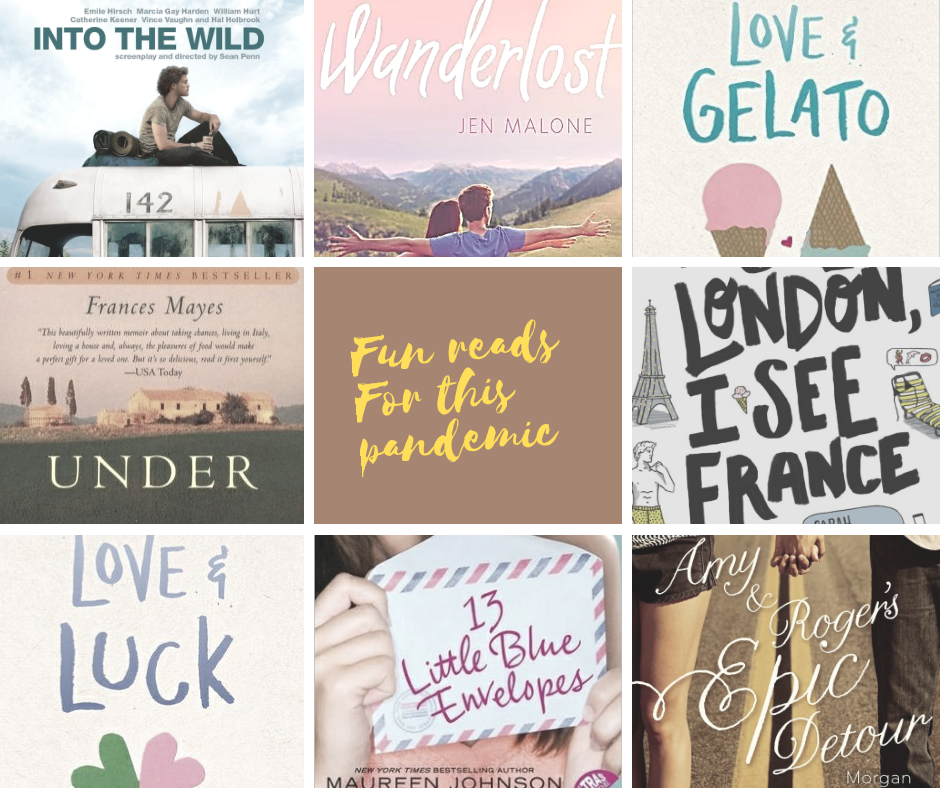 1] LOVE & GELATO- Jenna evans welch
(My rating 4/5)
Lina is spending the summer in #Tuscany.
But she is not in a mood to enjoy #Italy and its beautiful vineyards and the landscapes.
she is only there as it was her mother's last wish to know her father. But all she wants to do is go back home.
will she go back? or will she fall in love with that place?
you can check more details on goodreads. here
2] LOVE & LUCK- Jenna evans welch
(My rating 4/5)
Addie is visiting #Ireland for his aunt's destination wedding but her brother has other plans.
she finds an unusual guidebook - Ireland for The Heartbroken.
later she finds herself on a tour,
trapped in the world's smallest vehicle with her brother Ian and his cute friend Rowan.
As the trio journeys over breathtaking but unique places,
Addie hopes her guidebook will heal not only her broken heart but also her ruined relationship with her brother.
you can check more details on goodreads here
3] I SEE LONDON, I SEE FRANCE- Sarah Mlynowski
(My rating 3.5/5)
Nineteen-year-old Sydney has the perfect summer figured out.
she is going to spend her next month in #Europe with her best friend, Leela.
Their plans include selfies at Eiffel tower, having hot cocoa, and yummy gelato with pizza.
But They will end up changing their plans like a million times because of Leela's ex-boyfriend.
Read this for fast and fun read if you like london , amsterdam , paris and italy. here
4] UNDER THE TUSCAN SUN-Frances Mayes
(My rating 5/5)
Frances Mayes entered an astonishing new world after her divorce.
she ends up buying an abandoned villa and renovating it in the countryside of Tuscany.
In the process, she ends up in many problems ,overcomes it and eventually fell in love with this place.
This story will make you wanna #travel to Tuscany tomorrow. tap here
5] 13 LITTLE BLUE ENVELOPES- Maureen Johnson
(My rating 3/5)
Everything about Ginny's life will change this summer.
it's all because of the 13 little blue envelopes.
If you've ever been to Europe, thought about going to Europe or even heard about it you will love this book.
its a fun, fast #summer read. here
6] EAT,PRAY,LOVE-Elizabeth Gilbert
(My rating 5/5)
To recover from all the problems going on, Elizabeth Gilbert took an extreme step. to know what, why, and how about her life, she got rid of her belongings, quit her job, and undertook a yearlong journey around the world—all alone.
Her aim was to visit three places.
In #Rome she learned about the culture and the language and of course the food.
In #India, she understood the art of devotion and culture.
In #Bali, she got to know the art of balance between enjoyment and holy excellence.Read this book to see the journey of self discovery in a fun way. here
7] INTO THE WILD-Jon Krakauer
(My rating 5/5)
In April 1992 a young man from a well-to-do family left for #Alaska and walked alone into the wild north of Mt. McKinley. His name, Christopher Johnson McCandless.he gave his money to charity.
abandoned his car somewhere where no one could find and burned the cash and made this journey his life.
Four months later, his decomposed body was found near the bus by the moose hunter. here
8] SINCE YOU'VE BEEN GONE-Morgan Matson
(My rating 4/5)
It was Sloane who pulled Emily out of her shell and made life more interesting. But right before they were planning an awesome summer, Sloane …disappears.
All she leaves behind is a to-do list for Emily.
All she has now is this unpredicted summer, to check things off Sloane's list. Who knows what she'll find? here
9] AMY'S & ROGER'S DETOUR-Morgan Matson
(My rating 4.5/5)
When you're on a road trip, life is all about the detours. . . .
Amy Curry is having a terrible year. her mother is moving away and wants Amy to get the car from #California to Connecticut.
but there is one problem, she hasn't been able to get behind the wheel since her father died. Enter Roger, the nineteen-year-old son of an old family friend, who turns out to be unexpectedly cute ...
They end up traveling through #America, seeing the Colorado mountains,crossing the Kansas plains.and Graceland was definitely not on the itinerary.
but during this journey, they learned the importance of people in their life.and that sometimes you have to get lost to find your way back home. here
10] WANDERLOST-Jen Malone
(My rating 4/5)
Aubree can't think of a better plan than relaxing in #Ohio. but her sister, Elizabeth, gets into real trouble. And that ends up in Aubree taking her sister's summer job in Europe.
Before she could reach her first point, the journey unravels.leaving her with no phone, no information, and an unexpected guest, the tour company owner's son, Sam.
As she is pretending to be her sister, she cannot fall for him but she couldn't control that.Especially when they are #traveling over most #romanticplaces in Europe. here
How many of these books have you read? do let me know in the comments below.