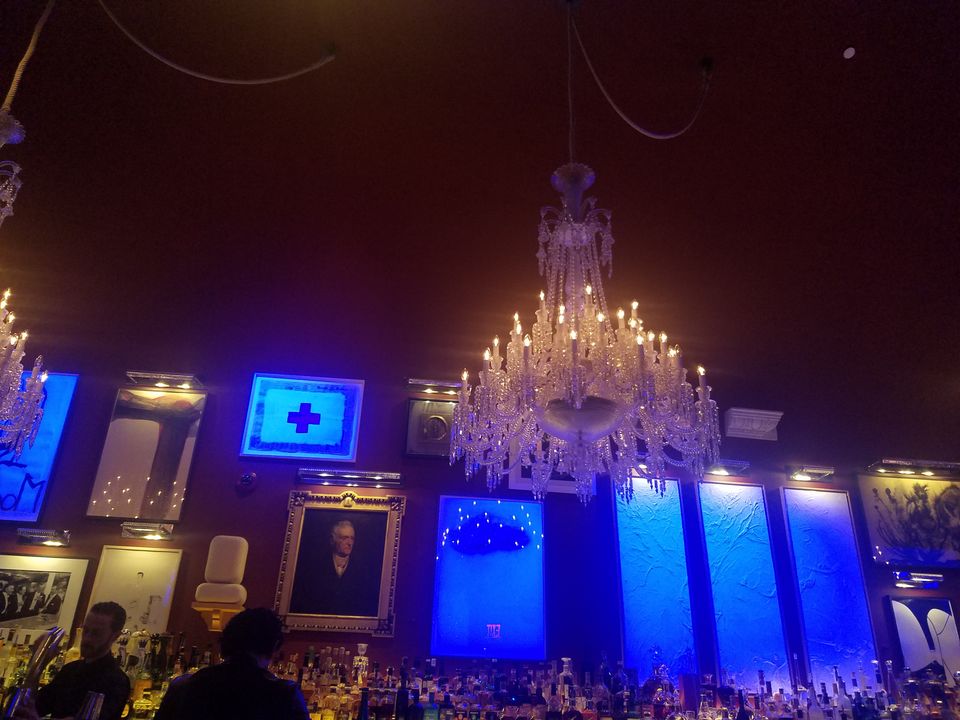 New York City also coined The Big Apple in the 1920's, can seem like a pulsating metropolis only moments away from eating you up. But if you break it down into sections it is a manageable cluster of neighborhoods.
When planning your itinerary one must start with a decision, am I going to visit the touristy areas? I certainly reccommend you do on your first trip, i.e.; Freedom Tower, Times Square, Radio City Music Hall et al, or am I ready to explore the intersections of streets and avenues which define its' people?
Just a brief history lesson and then onto some suggestions for an intinerary.
The island of Manhattan was purchased from local Indians in 1626 by Peter Minuit the first director general of the New Netherland province. The English took possession in 1664, the island having already been incorporated as the city of New Amsterdam in 1653. It was renamed New York City when transferred to the British.
The area downtown is the oldest and is a sometimes confusing mish mash of little streets and lanes. The shortest street is only 63 feet, Edgar Street in the Financial District. Downtown your directional compass can evade you. You swear you are headed north east but you make a few wrong turns and you are now headed west. I get so confused, still. The streets and avenues above 14th St are on the grid. Just a quick note; Streets run east-west and Avenues run north-south. Street names comes first ex. 33rd and 3rd.
On my first evening I happened to see The Algonquin Hotel 59 W. 44th $$. I remembered The Algonquin Round Table was a group of New York City writers, critics, actors, and wits. Gathering initially as part of a practical joke, members of "The Vicious Circle", as they dubbed themselves, met for lunch each day at the Algonquin Hotel from 1919 until roughly 1929.
It beckoned me to come in and have a drink. Their Blue Bar has a sensual atmosphere with blue lights emanating from the bar and they made me an Old Fashioned just the way it was intended with the orange rind and black cherries. I am not sure why you have to ask for the black cherries in most places? I learned they have a resident cat named Hamlet and I tried to visit him, but he was napping. Typical cat!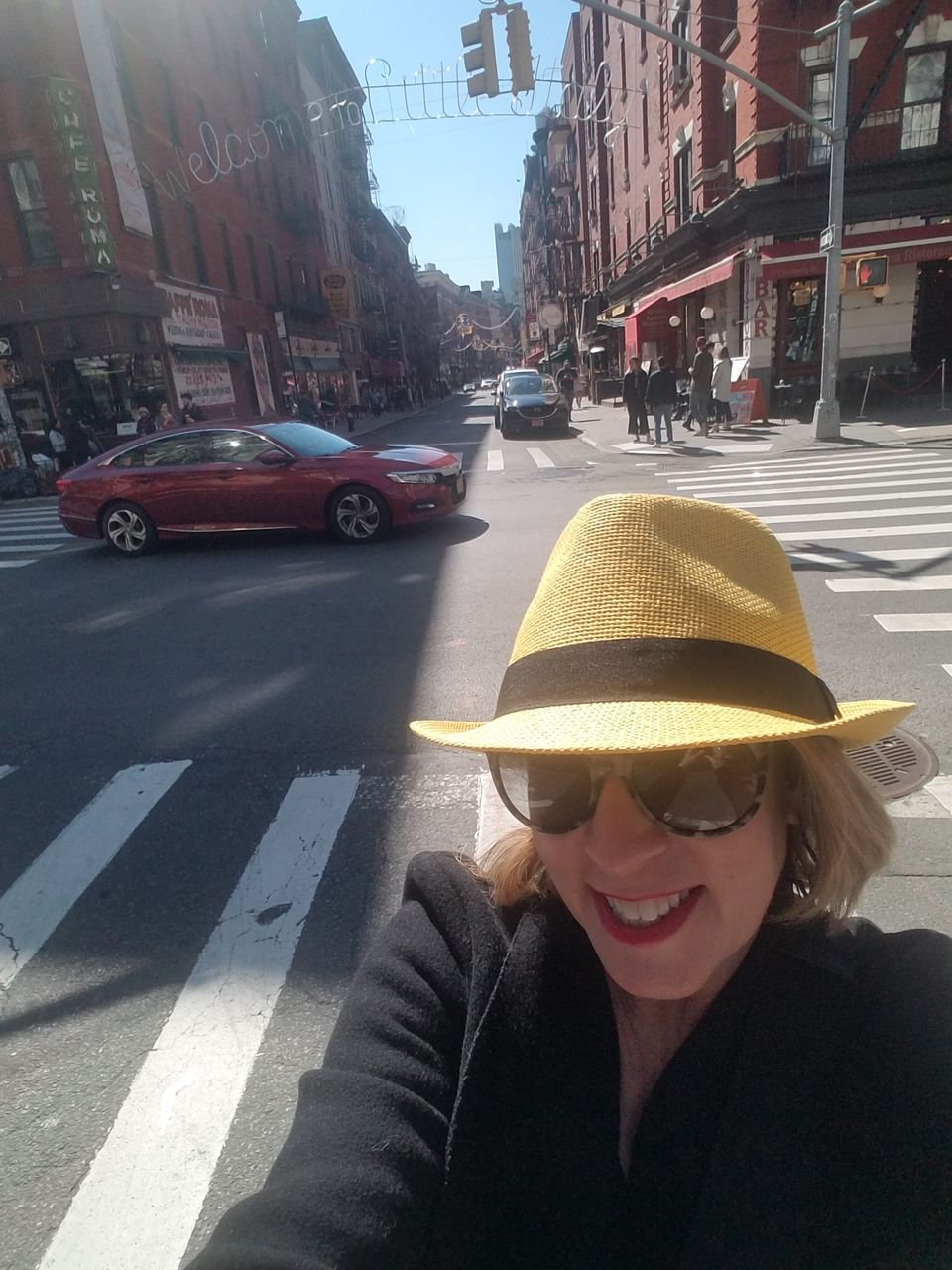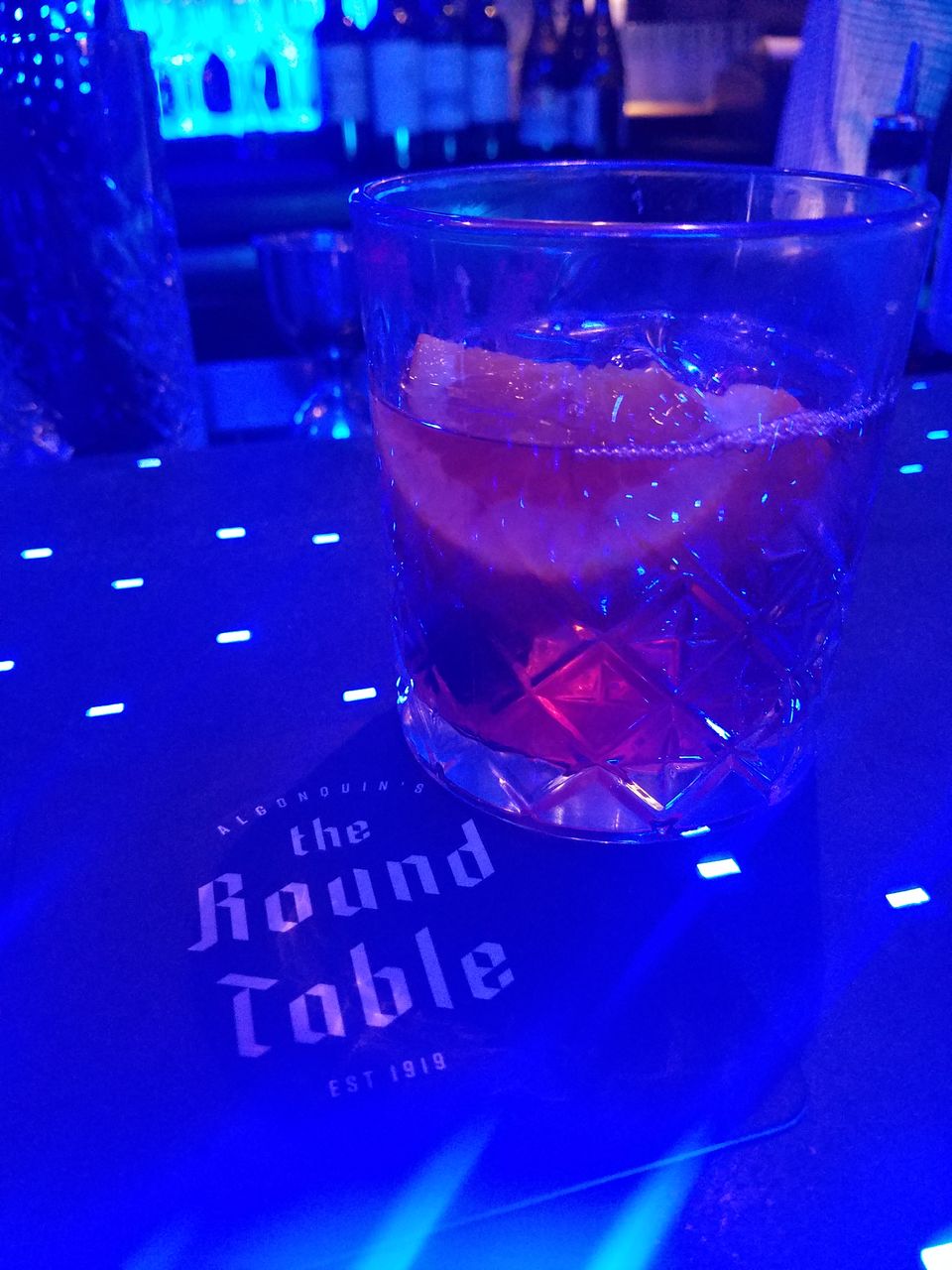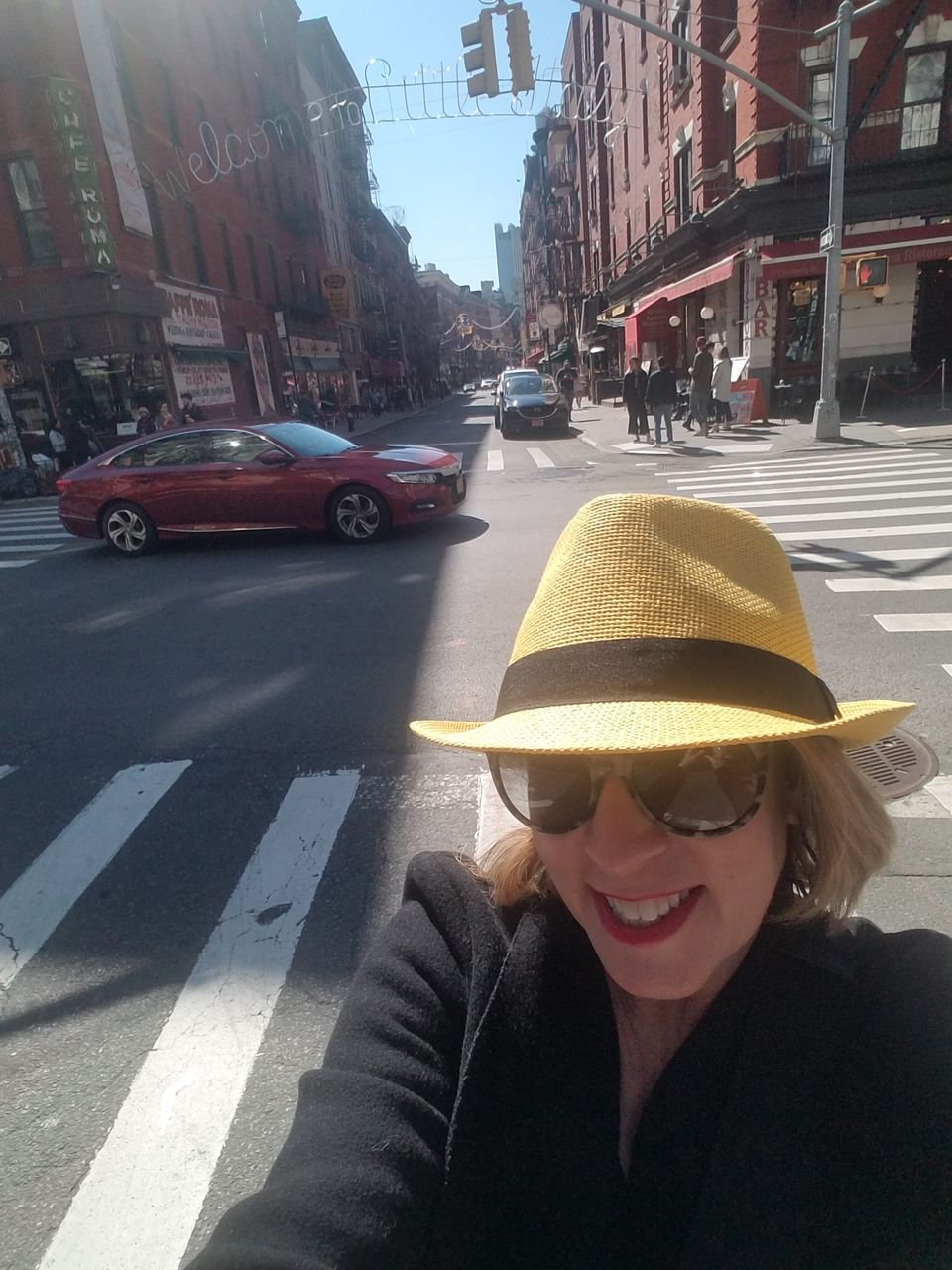 The West Village was where I decided I wanted to go for my entertainment that evening. I recall a red awning summons you to go down steps and makes you feel as though you've been transported back in history to the prohibition era. Marie's Crisis 59 Grove St. $$ is a bar where patrons gather round a piano and sing showtunes. The bar was built in 1839, named after Marie Du Mont, an Austrian immigrant well known for her blonde hair, her voice and for selling alcohol during the prohibition era. The name of the bar was also inspired by the Crisis pamphlets, written by Thomas Paine.
After dinner I proceeded to walk confidently toward the bar since bt, being off the grid I got so turned around. At one point, I noticed I had walked down the same street twice and knew I was lost. Tired from the day of shopping and wine, I hailed a cab and decided to go back to the hotel. Until next time Marie.
My last day in The City I rode the bus from The Lower Eastside (LES) to The Upper Eastside or the (UES). Riding the bus, you do have lots of stops and starts, but what an amazing way to experience the City when you have tired from all your walking and shopping.
The plan for the evening was to see the new Baccarat Hotel 28 W. 53rd. I was escorted up the elevator and emerged into a room full of crystal dripping from every ceiling and nook. I chose The Bar $$$$ and sat at a table with a mirrored top just so I could see reflection of the three crystal chandeliers. The walls are a deep rich red and lighting changes from blue to orange to purple. There are banquettes with velvety cushioned seats.
While I was taking in all the décor a lady next to me sneezed and immediately as if on cue a waiter brought over a box of tissue. We laughed and the notion allowed us to strike up a conversation. As luck would have it, she was the Executive Sales Manager for the hotel. I learned that each one of the chandeliers were worth more than $350,000 dollars. There are several areas to dine but the hotel has no formal dining room. What an exquisite locale! They are opening a Baccarat Hotel in Los Angeles and I will visit there for certain.
Originally, I had planned to dine at La Grenouille 3 E 52nd $$$$ but learned they are closed on Mondays. She suggested Majorelle and she said I will not be disappointed. The restaurant is at The Lowell Hotel 28 E 63rd $$$. I had met the restaurateur at an art show in L.A. years back and thankfully he recalled our brief encounter. He escorted me to a table overlooking a most sophistical clientele and gorgeous floral arrangements.
My waiter was from Lyon, France so I ordered my meal in French calling upon my Le Lycée de Francais education from 6th grade. Majorelle has a Moroccan inspired French and Mediterranean menu. I had the red snapper with figs and olives in a tajine. A complimentary glass of champagne arrived in a lovely Williams Sonoma crystal glass.
The service was perfectly timed, no rushing and of course I had to end my meal with a Grand Marnier souffle cooked to perfection. I spent a small fortune on one meal, but it was worth it. AHHH, the good life!
Until we meet again NYC, I LOVE YOU!
The mural on the wall is iconic.
It was originally painted for The Knickerbocker Hotel, but it has been at The St. Regis since the 1930's. Not many know of its story. You see it shows Old King Cole sitting on a throne with his courters holding their noses and they are all clearly quite displeased. Apparently, this regal King just let out a grandiose fart. I find the absurdity of it in such a sophisticated setting makes it all that much more amusing.
Raining outside I decided to ride the subway and head to Harlem. I mistakenly took the Express train all the way to 125th. I decided to walk around the neighborhood as I knew the The Apollo 253 W. 125th was nearby. I had visited the theatre when I was on a Harlem Spiritual Tour back in 2011. I highly recommend watching a documentary on HBO called The Apollo. It chronicles the storied theatre and it is well worth the 98 minutes with a beautiful song called "Don't Turn Back Now" by Ledisi.
Harlem is becoming more gentrified every year. Some people might find that a good thing and others may not.
I descended back into the subway to 116th St. to dine at Lido 2168 Frederick Douglass Blvd. $$ It is a lovely Italian restaurant with an old jazz feel. The risotto with lemon zest was sumptuous just as was the chocolate chip cookie from Levain Bakery which is just across the street.
It was raining hard at this point.
Another tip is when the weather is not in your favor is to visit the plethora of museums in New York City.
I decided to go to the big daddy of them all The Metropolitan Museum of Art 1000 5th Ave. The museum takes up four city blocks. Instead of paying to go into the exhibits I perused the bookstore for at over an hour. They have the most amazing collection of books on everything from art, architecture, music, interior design and lots of NYC trivia. As an avid lover of music, I purchased a book called "How Music can make you better" by Indre Viskontas, PhD.
The third day I spent in SoHo – pronounced "House ton". I shopped at for Artists and Fleas SoHo 490 Broadway. It is an indoor flea market with many vendors selling clothing and jewelry and unique gifts all from vintage to budding new artists.
There I had met some locals who suggested I have lunch at Balthazar 80 Spring St. $$$. It is a traditional French brasserie and feels quite Parisian. Along with my lovely niçoise salad I ordered a glass of sauvignon blanc. My neighbors seated to my right were celebrating their 25th anniversary. They shared their pate with me. As we sipped wine at 1pm we noted this experience was so much more decadent for it is not every Monday afternoon do we get to spend quite like this. Ahhh, balance.
A night of entertainment in Manhattan is a must in New York. I went to see Linda Eder at Feinstein's 54 Below 254 W. 54th $$. Feinstein's is a cabaret dinner theatre with a seating capacity of under 150. Being alone, I chose to sit at the bar which is always a good suggestion when traveling solo as it is much easier to strike up conversation with others. Her performance of "Someone like you" from Jekyll and Hyde, her most famous role on Broadway, brought tears to my eyes.
On my second day I visited The St. Regis Hotel Two E. 55th. My maternal grandfather Ernest worked for Chanel and they used to have their annual sales meetings there for years. I cherish being able to visit The King Cole Bar $$$$. Not only does it remind me of grandpa, but it is steeped in history. It is purported that The Bloody Mary originated there, but it was formally called The Red Snapper. You normally get served a tray full of cashews and almonds. If not, just ask.
I walked over to Mulberry St. and found a great pop up shop near Little Italy. I chatted with the storekeeper named Isabella for quite some time. I bought several items from her including a yellow hat. Why not stand out amongst all the black and grey of the city streets.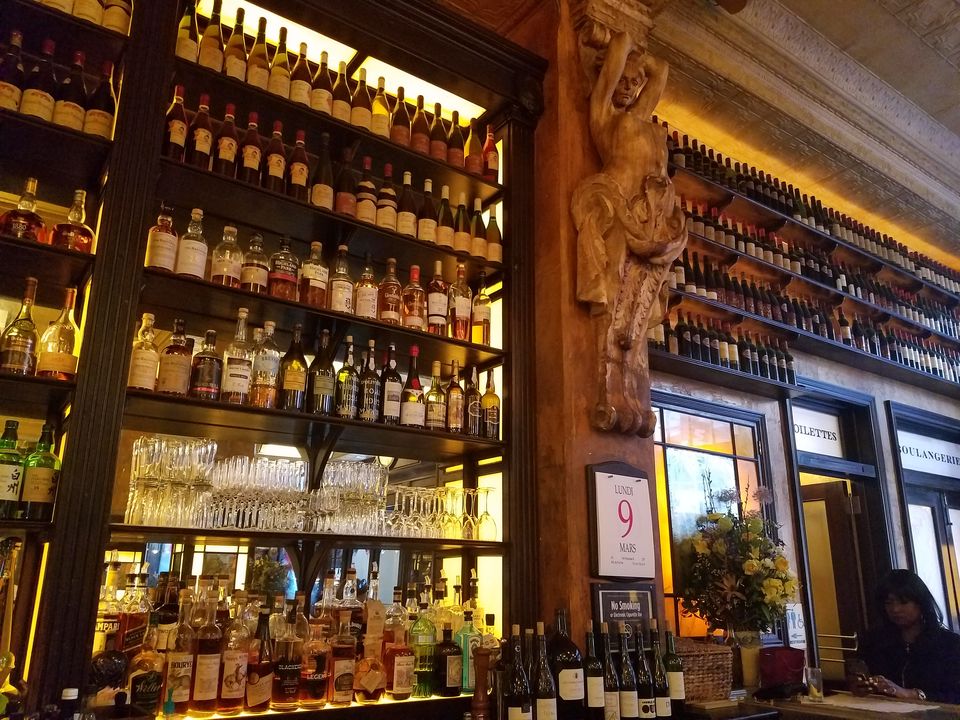 She told me her family restaurant was just down the street. So, I headed off for DaNico 164 Mulberry St. $$ She'd said, "if Frankie isn't there then ask for Tony". I had an antipasto salad, two glasses of Cabernet Sauvignon and a delicious plate of fettuccine alfredo. It was made of fresh egg noodles with a sauce so perfectly creamy and lite. Unlike lesser made pastas, it did not make my stomach feel like a bowling ball.
I so enjoy exploring different neighborhoods each visit as they all have their own unique rhythm and flavor!