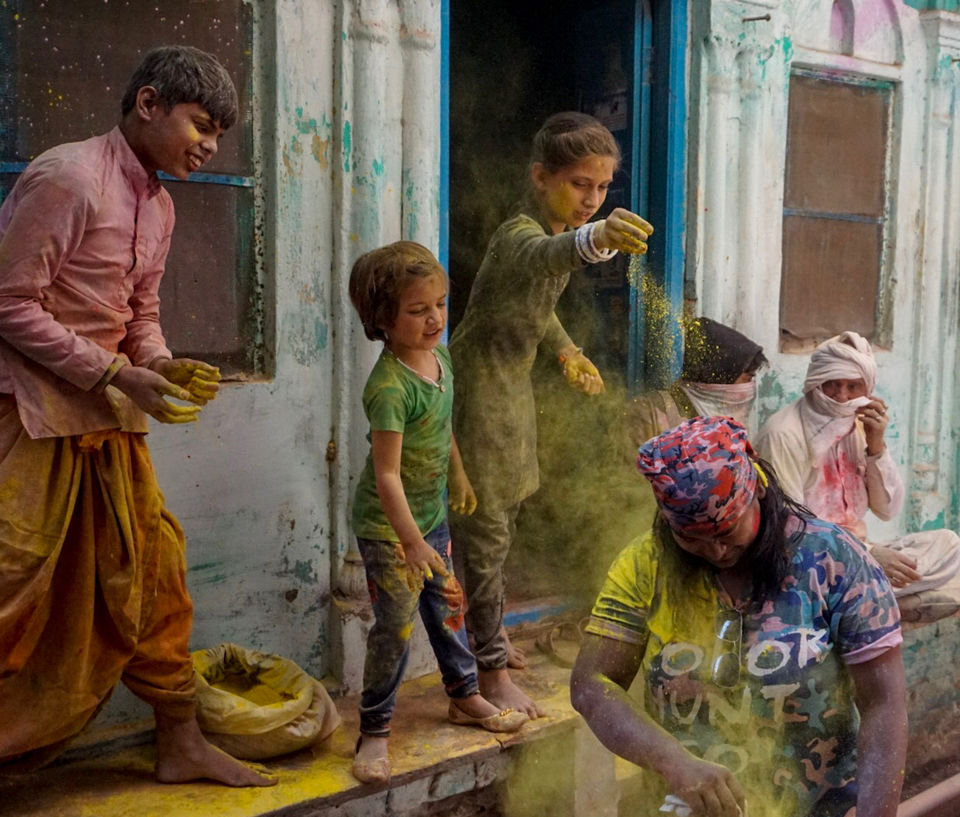 Since I am a photographer by education and passion I always had a plan of visiting Mathura and Vrindavan holi. So finally this year I got a chance to visit. I didn't want to go alone there in Mathura so I asked my brother if he could go with me and boom he agreed.
so I managed tickets to Mathura for me and my cousin bro.As a solo traveller, taking a decision to choose braj for Holi was a tough choice I made.
While Holi is celebrated in almost every part of India, Holi in Braj is especially famous. Braj is a historical region which covers the area of Mathura, Vrindavan, Bars ana, Gokul, Nandgaon. Holi here attracts tourists and pilgrims from all over the world because of its unique customs and traditions. Mathura is the birth-place of Lord Krishna, and Vrindavan is the place where he grew up in his childhood.
HISTORY::-When Krishna was young, he cribbed to his mother about Radha (his friend) being fair while Krishna himself was dark complexioned. His mother (Yashoda) suggested him to colour Radha with colours in a playful manner. Over the years, Krishna from his village Nandgaon used to go to Barsana (Radha's village) to colour Radha and other Gopis. They also used to playfully beat him with sticks. And hence the tradition evolved.
13-04-2019:
on this day I left from pune via train. And my bro joined from Gwalior as he lives there. We reached Mathura in the very morning of 14 APR.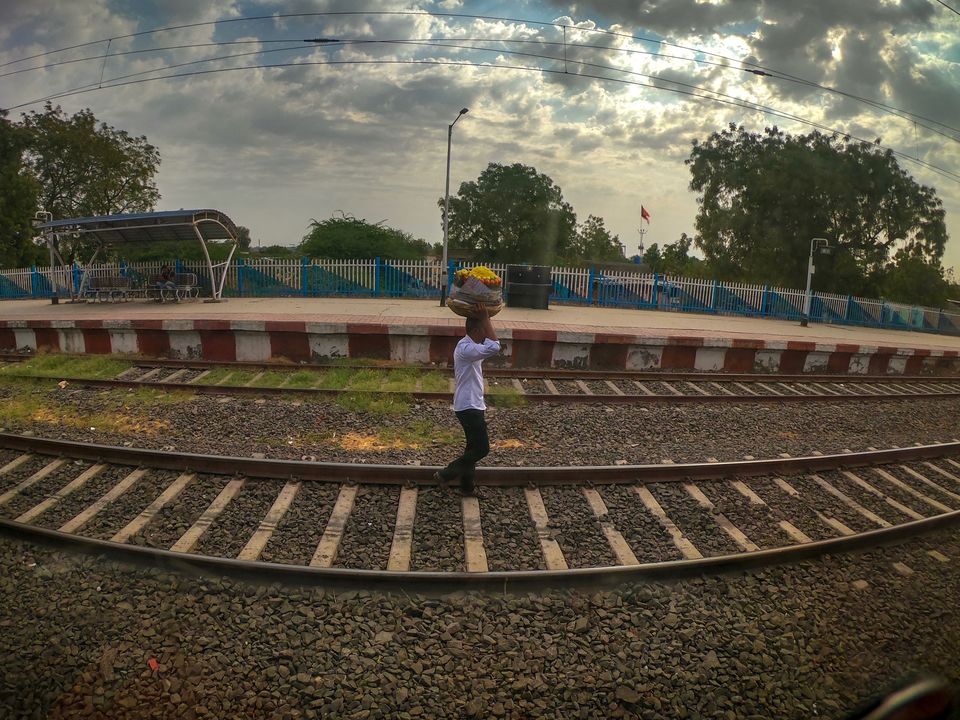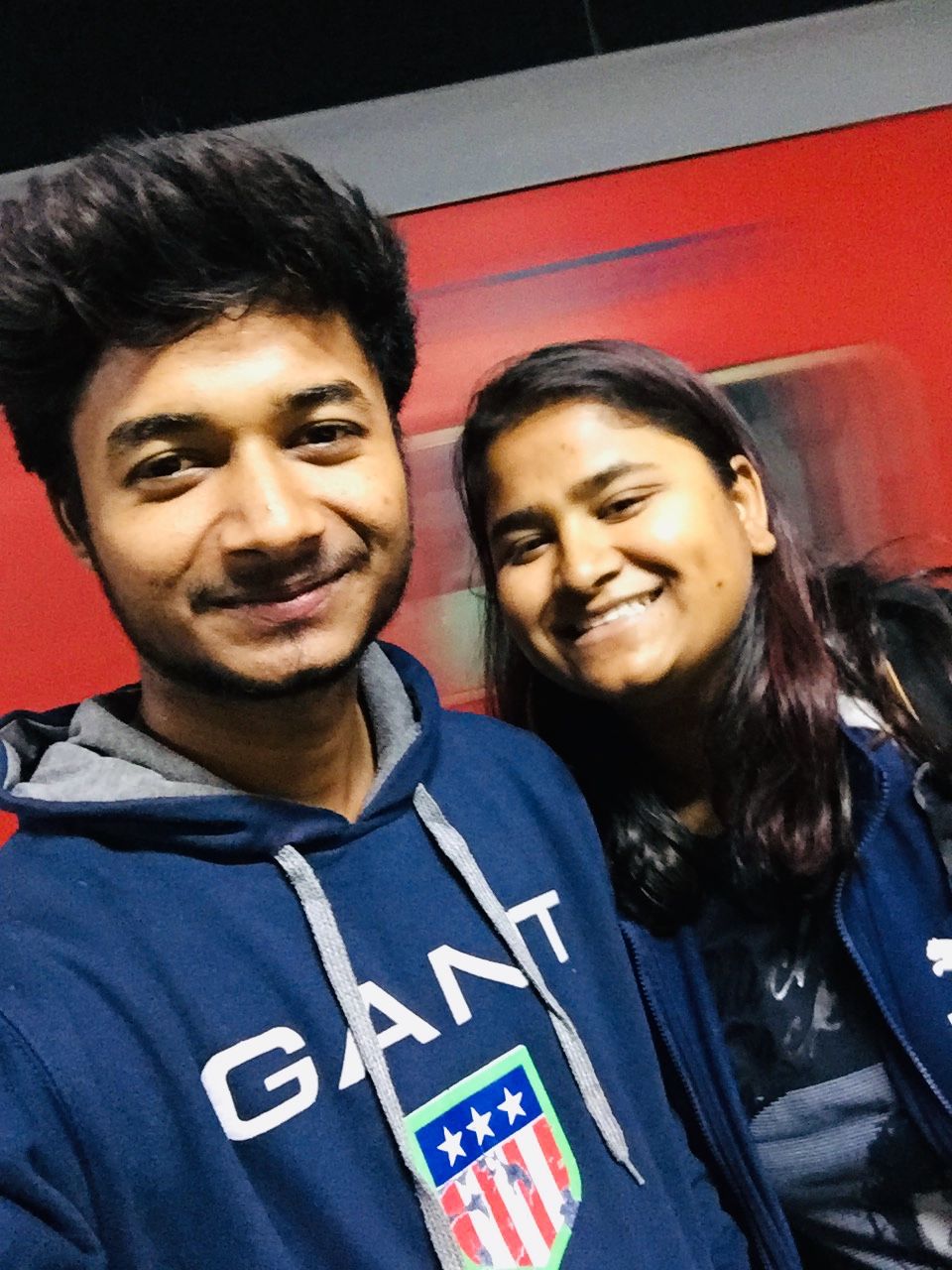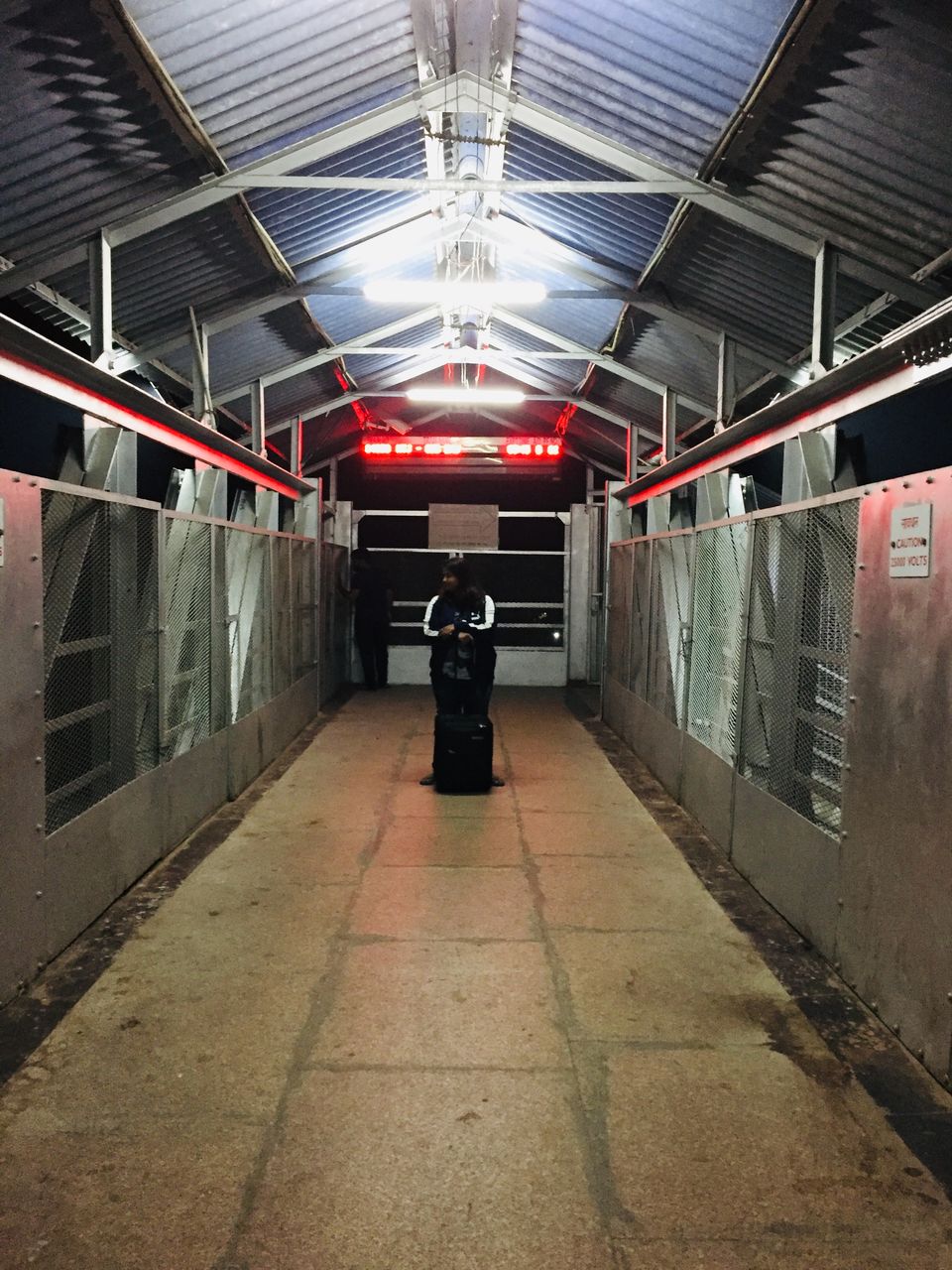 14-04-2019:
We arrived at the station captured some selfies and did some social apps. After that we took a rickshaw from station to the darmshala I booked earlier. By luck I booked it earlier else it would have cost me a fortune, since the prices were increasing day by day as the days of holi were coming near.
we reached dharm shala. Got our verification done at the dharmshala reception. Since we were tired we slept. And woke up in the late morning and decided to visit barsana on the same day.
we took our important stuff, since I am camera person I took my cameras and went to the nearest bus station and took a public bus. We reached barasna bus station.
since it is known to be the main holi place we were able to see the colors of joy and love.
then we headed to the temple with the help of suggestions given by people of barsanaa and other visitors.
people of barsana seemed to very welcoming to us.
as we were going through street by street to the temple. Kids present around were throwing colors on us as we were moving, really it was a great fun. The temple was at some height so we reached to the point where we now had to use the stairs to reach the temple. On the stairs there were visitors and sadhus doing their kriya, some were dancing in joy. Since my brother is good at extempore and he loves public exposure he started dancing right there. Then somehow I managed to him to move and we finally reached the temple.
in the start their were a place where we had to take our foot-wears off. And we washed our hands before entering a hall. A hall which was open from three side and wide enough.
this hall was full of ppl dancing playing with gulal. There were desi music groups. The main attraction of this hall was to see eunuch people to see dancing with happiness. The place was full of them. They were looking so attractive as they were wearing heavy attractive make-up. Their art of dance seemed to be very fantastic.
we spend hours there & went to the inner side of temple. Inner temple was a chok with god residing from one side. There we sat for few minutes enjoyed geets. And did parikrima afterwards.
since I told the temple is at a high point from the ground, so the view was astonishing and quite attractive from there as we could see vaadiyan and grounds from up there. .
we decided to leave again there were different stairs to get out of the campus. In the pathway there were shops(snacks) of taste. We enjoyed lassi and some chaat. Now we decided to leave the city and headed to the bus station we took one and came back to our residence.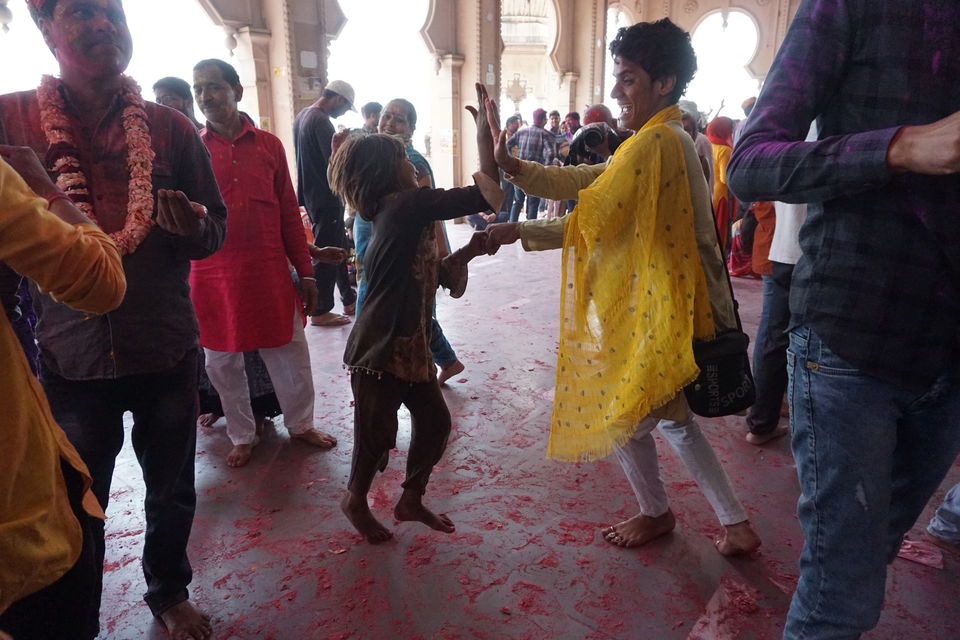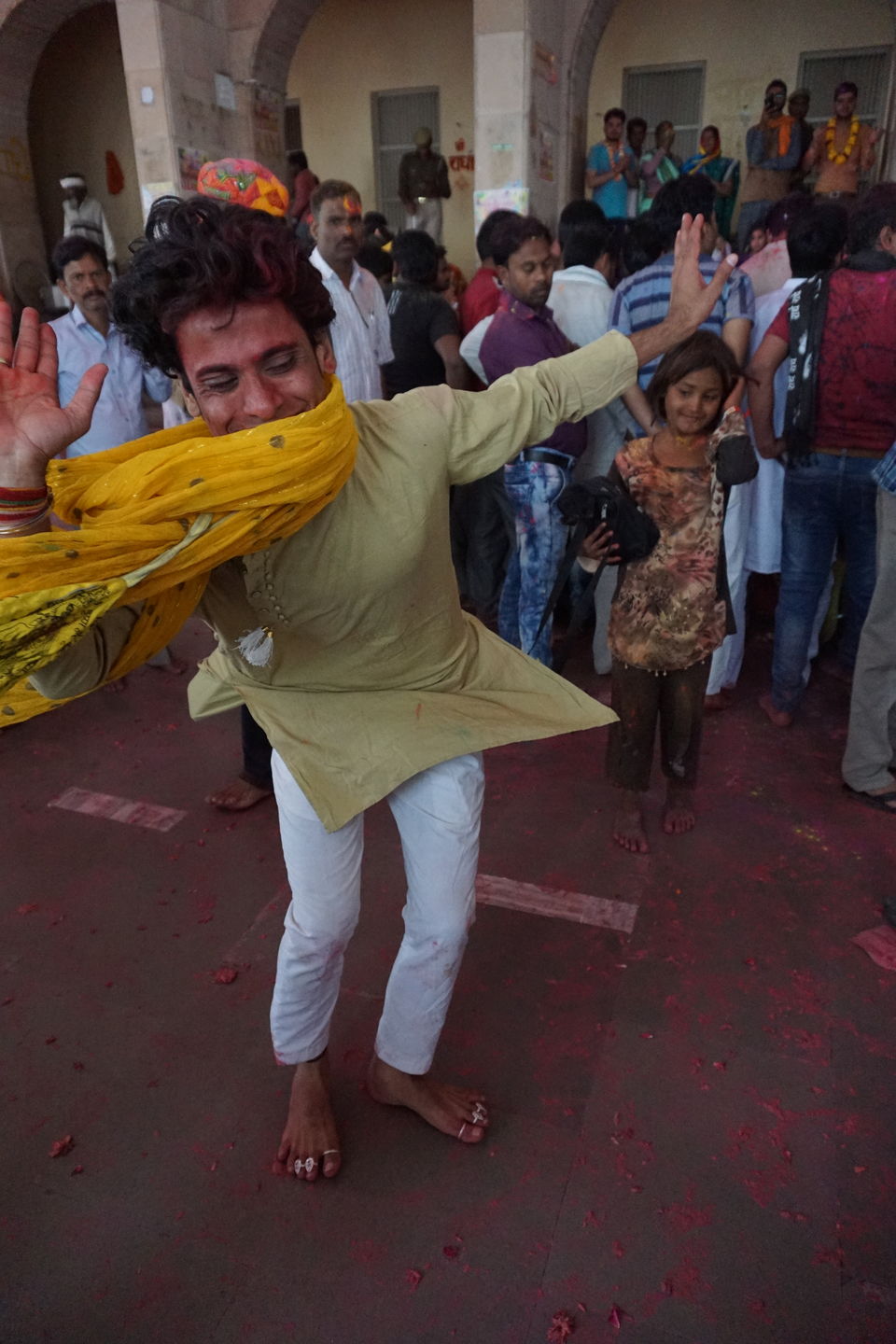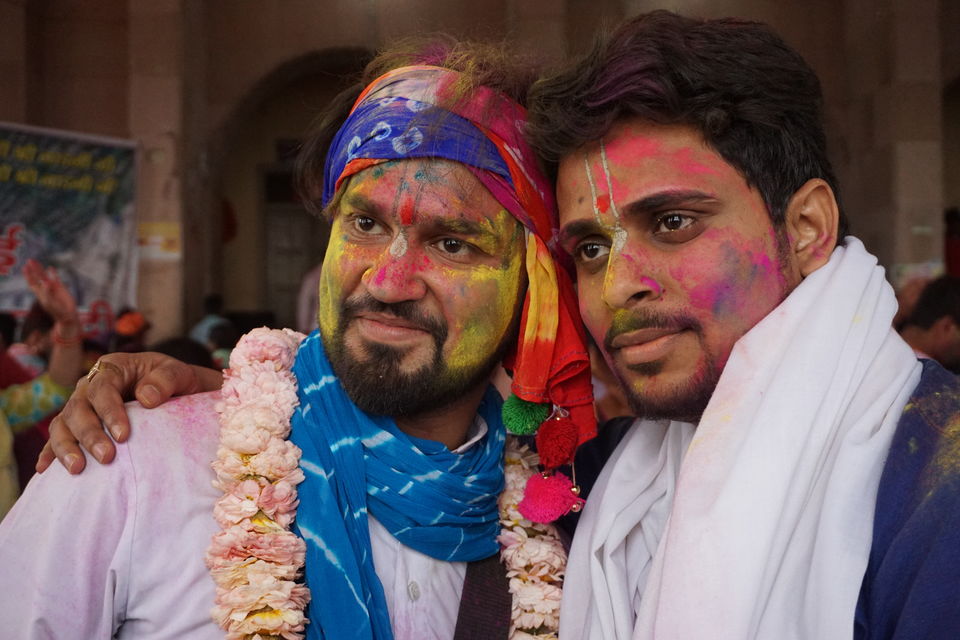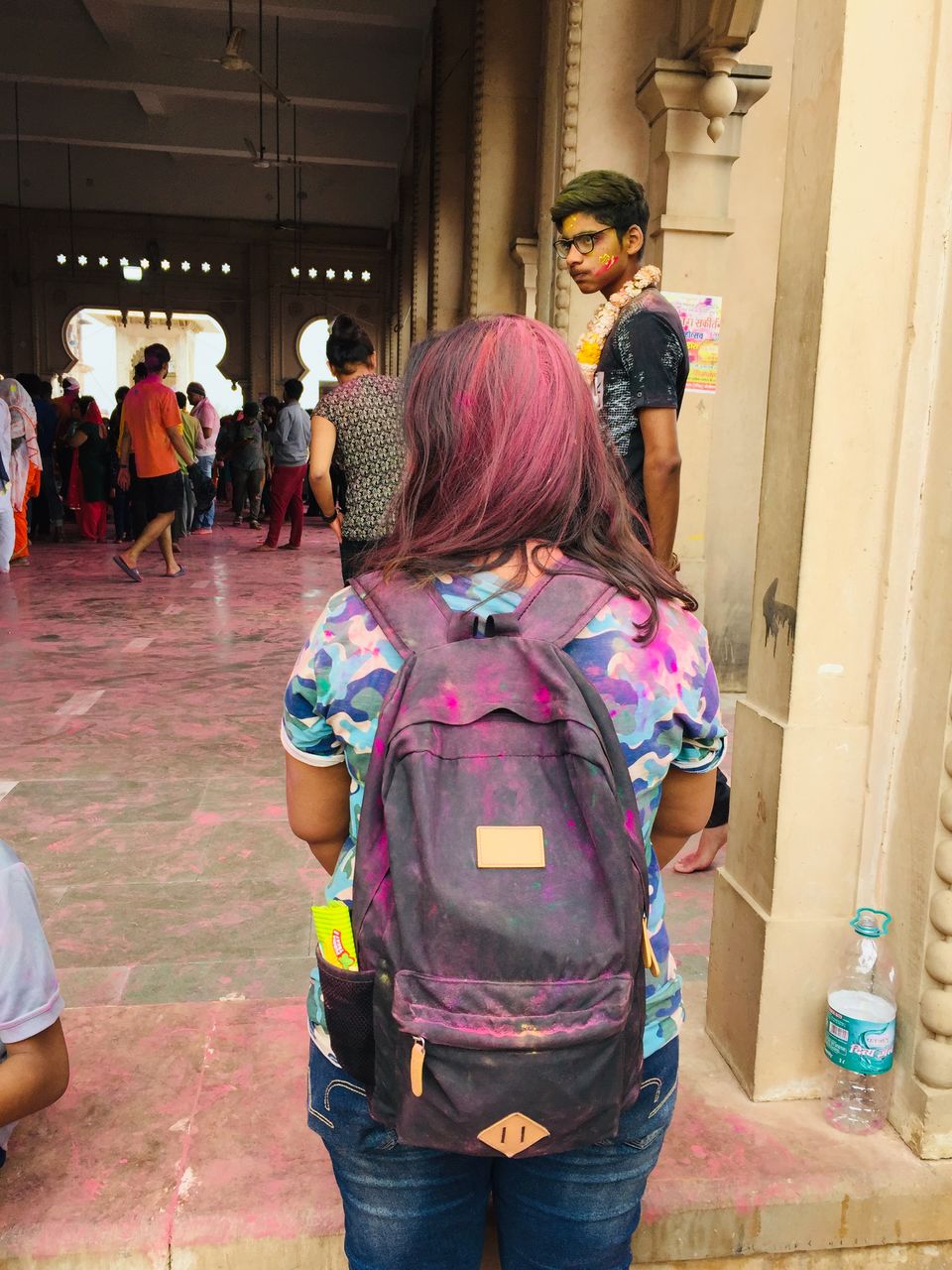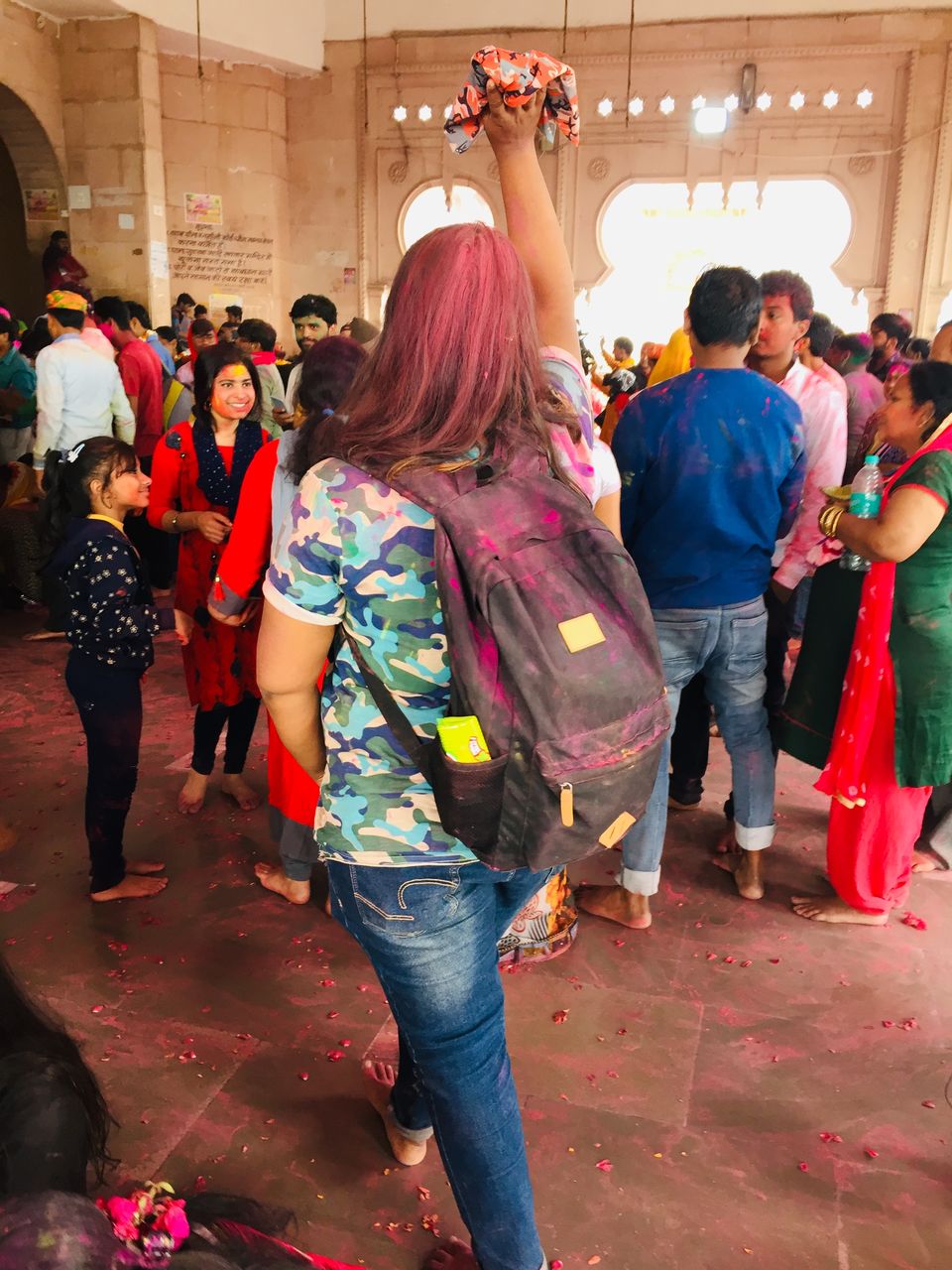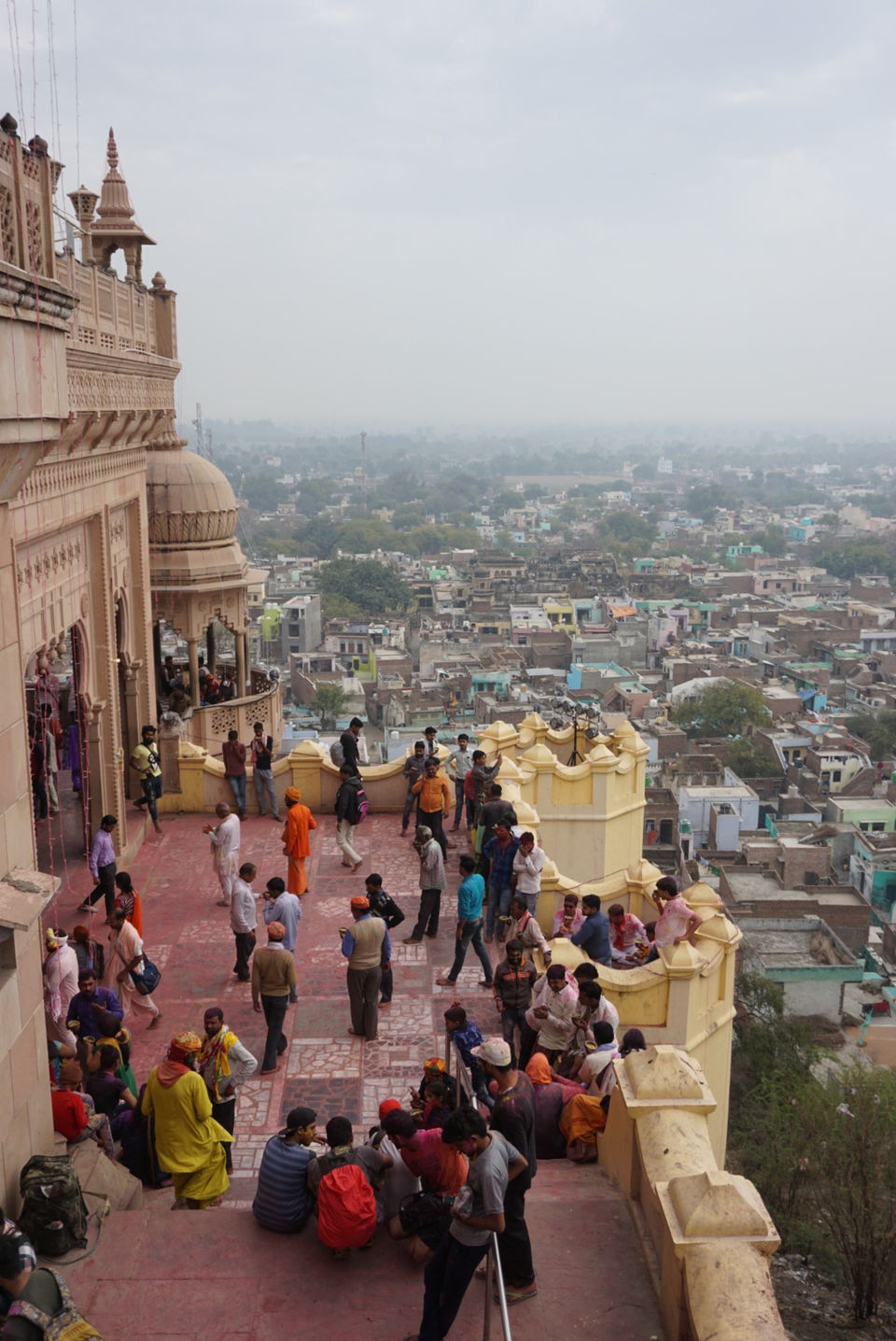 15-04-2019:
On this day we opened the chart of schedules of programs and it was 'Latthamar Holi' in barsana and gokul both places. So we went to barsana again, BUT WAIT.
it was not the same
This day was quite crowded with people and our bus was stopped almost 5 to 10 KMs away from the city. So we decided to walk on feet to the place now.
As we were reaching the city we found out there are number of times people more than it was yesterday.
But also number of bhandara and free prashad stalls there. We went to the city. We got to know about the pathways from where the path of rally goes. Let me tell about it in details, there are some ladies & Mans who participate in this process as the rally moves forward new entries can be observed and existing ones may or may not leave. All the ladies are very well dressed in sari. All the ladies wear Indian makeup and they were in Indian attire and even the men are in kurta and in their holy attire. All the ladies hold a big and thick wood stick and mens hold a shield made of metal and clothes.
and then if you know what happens next…
Ladies attack on that shield with all her power again & again.
to watch this rally we have t gather up in the streets but we came to know that streets were full of crowd, and we hardly could manage a place to sit and watch the scene. We asked some local persons to let us use their roof to sit so that we could shoot the scene but our luck, they were charging for it.
This scene can turn into a stampede if you are not aware, don't get too near to them as the streets are narrow and they have to manage the space for the participants.
after this beautiful scene we left barsana on the same day.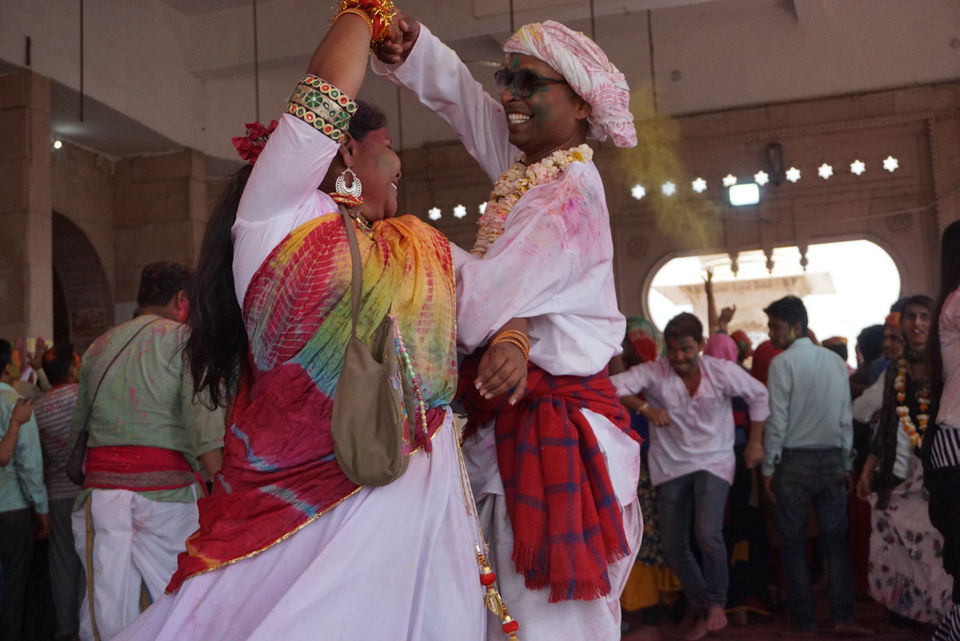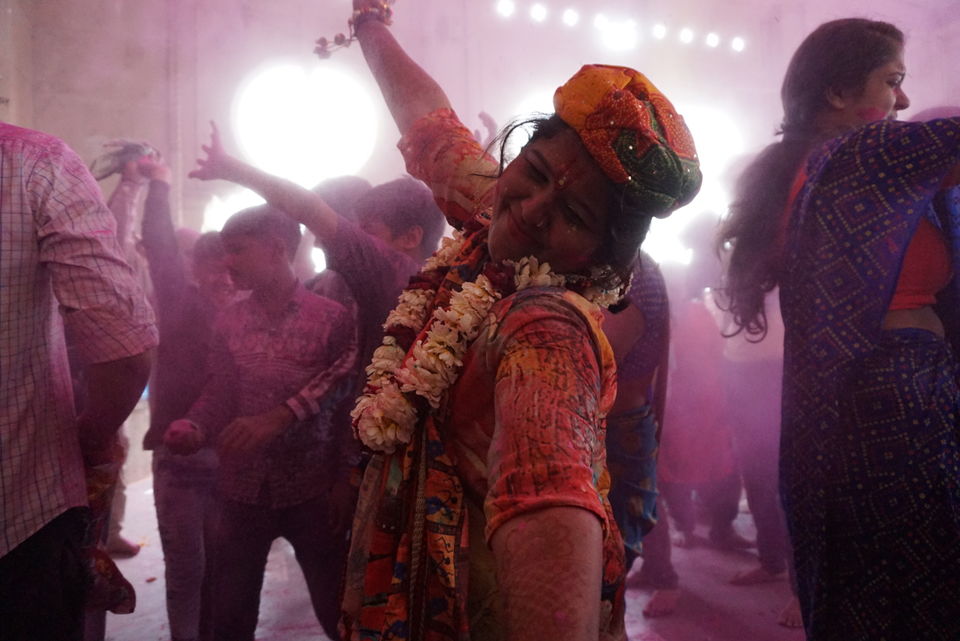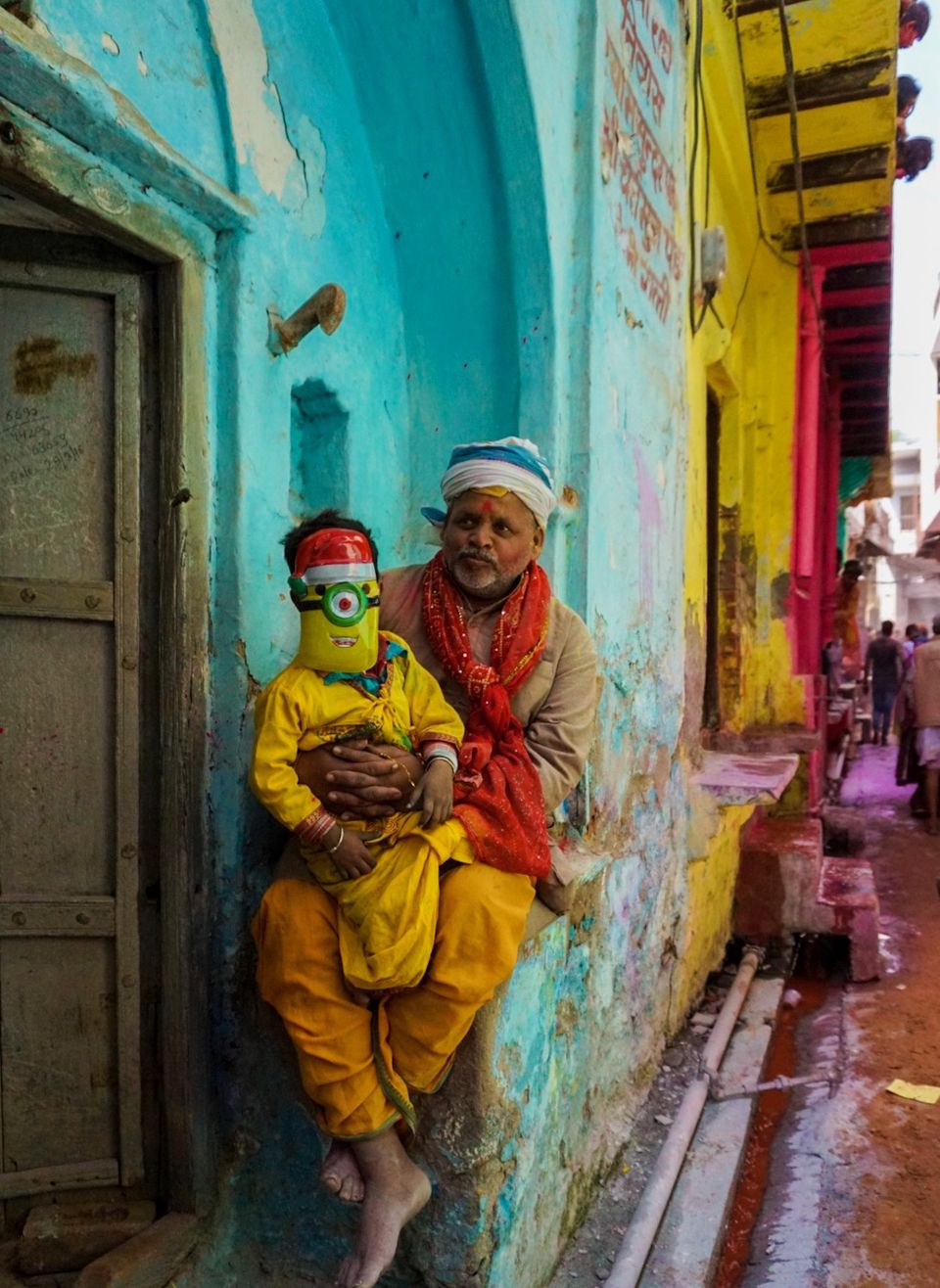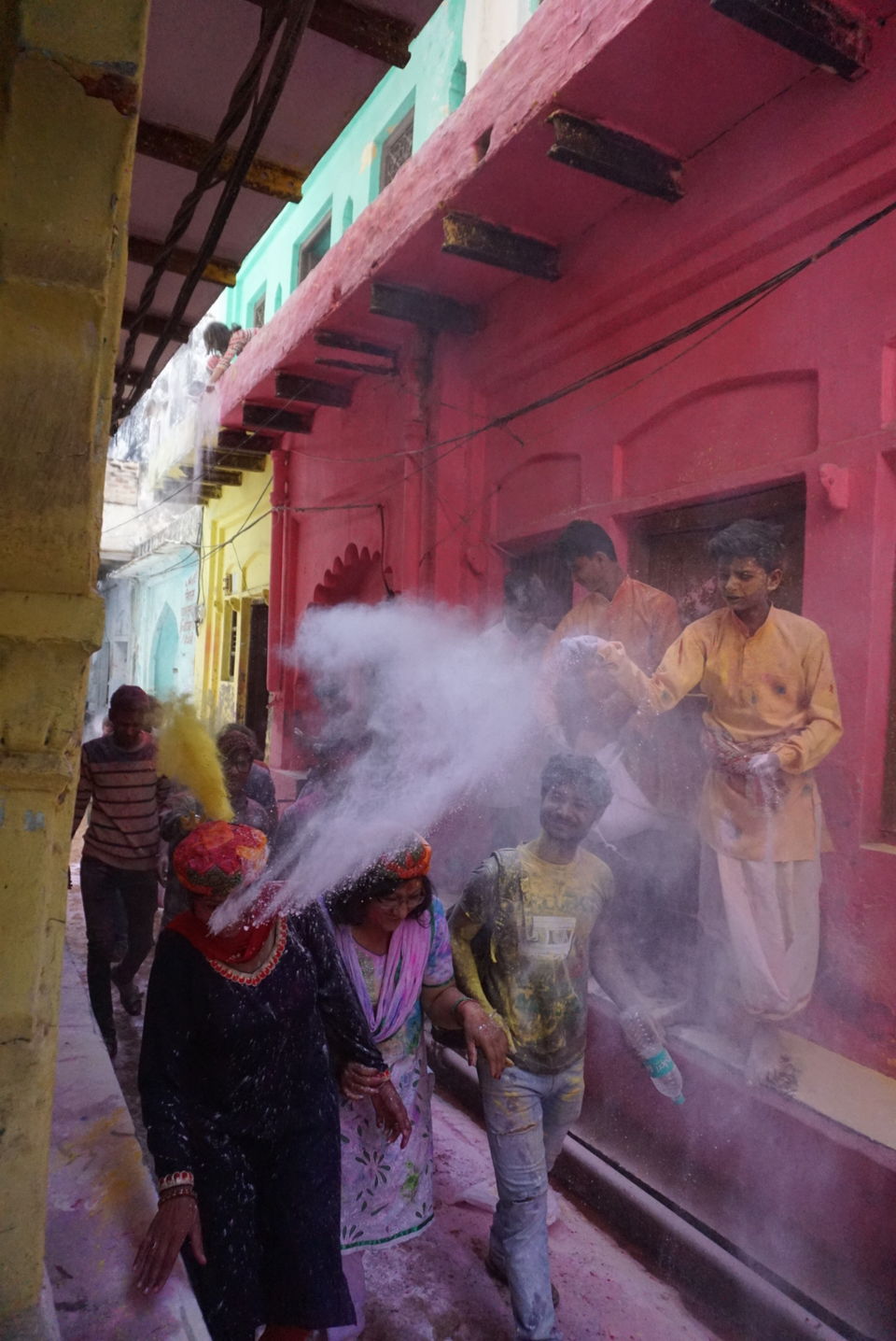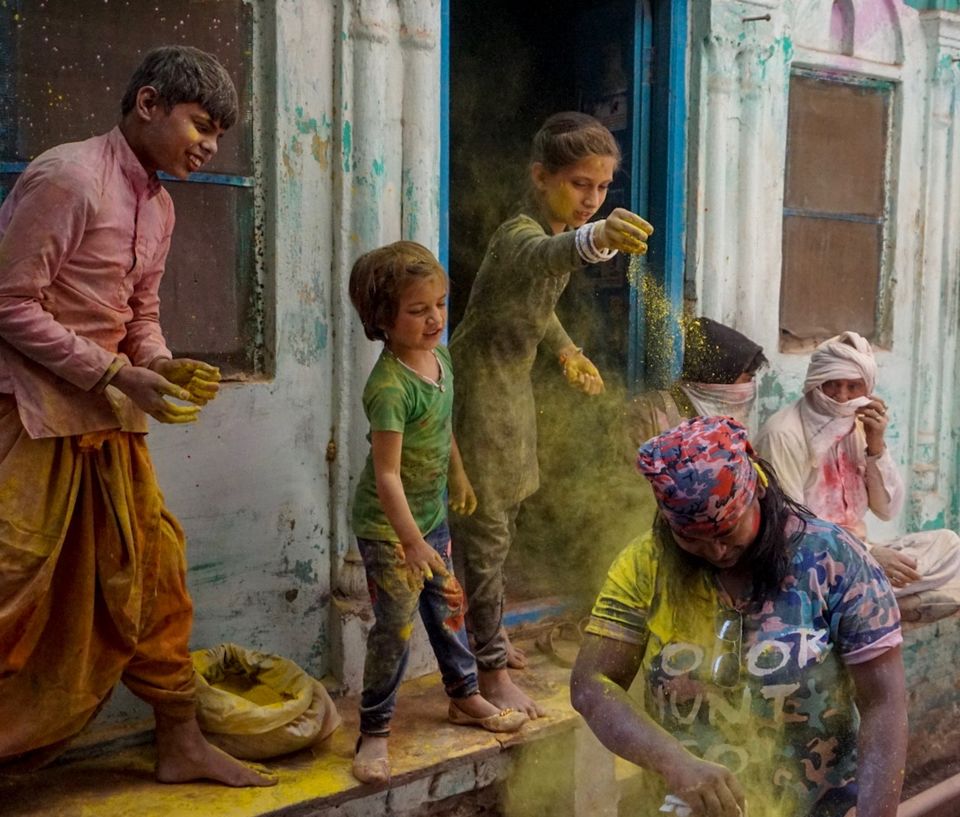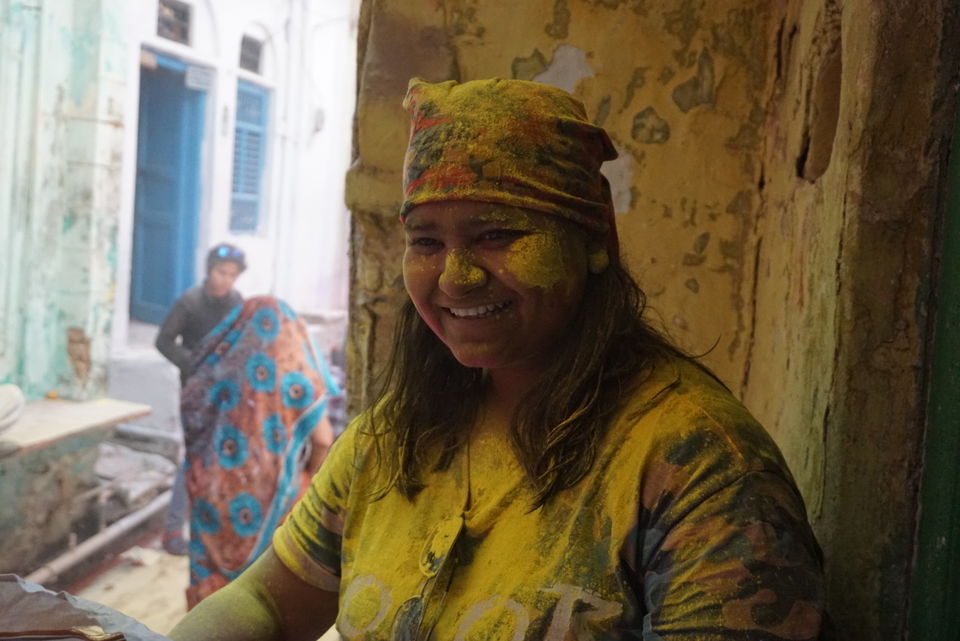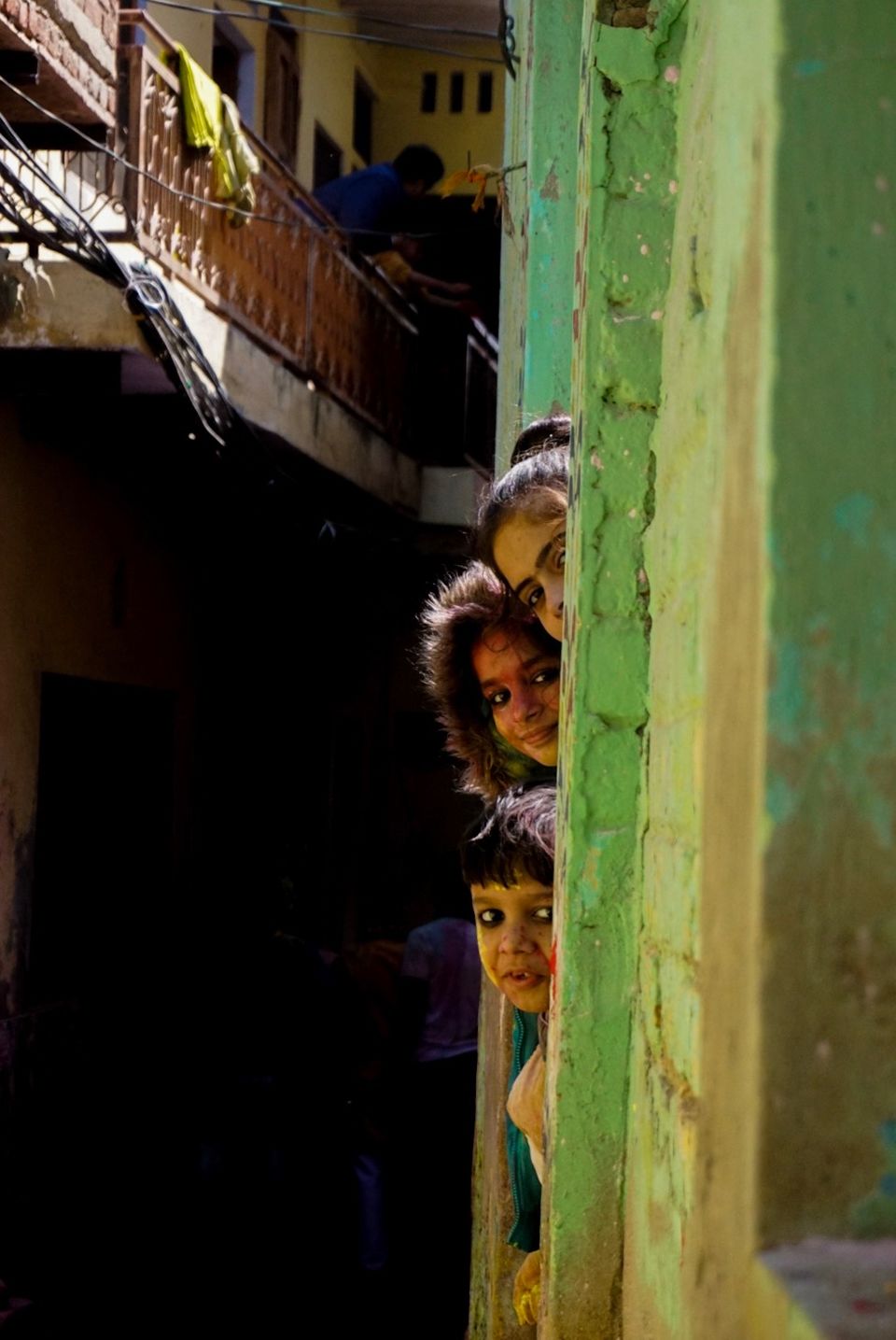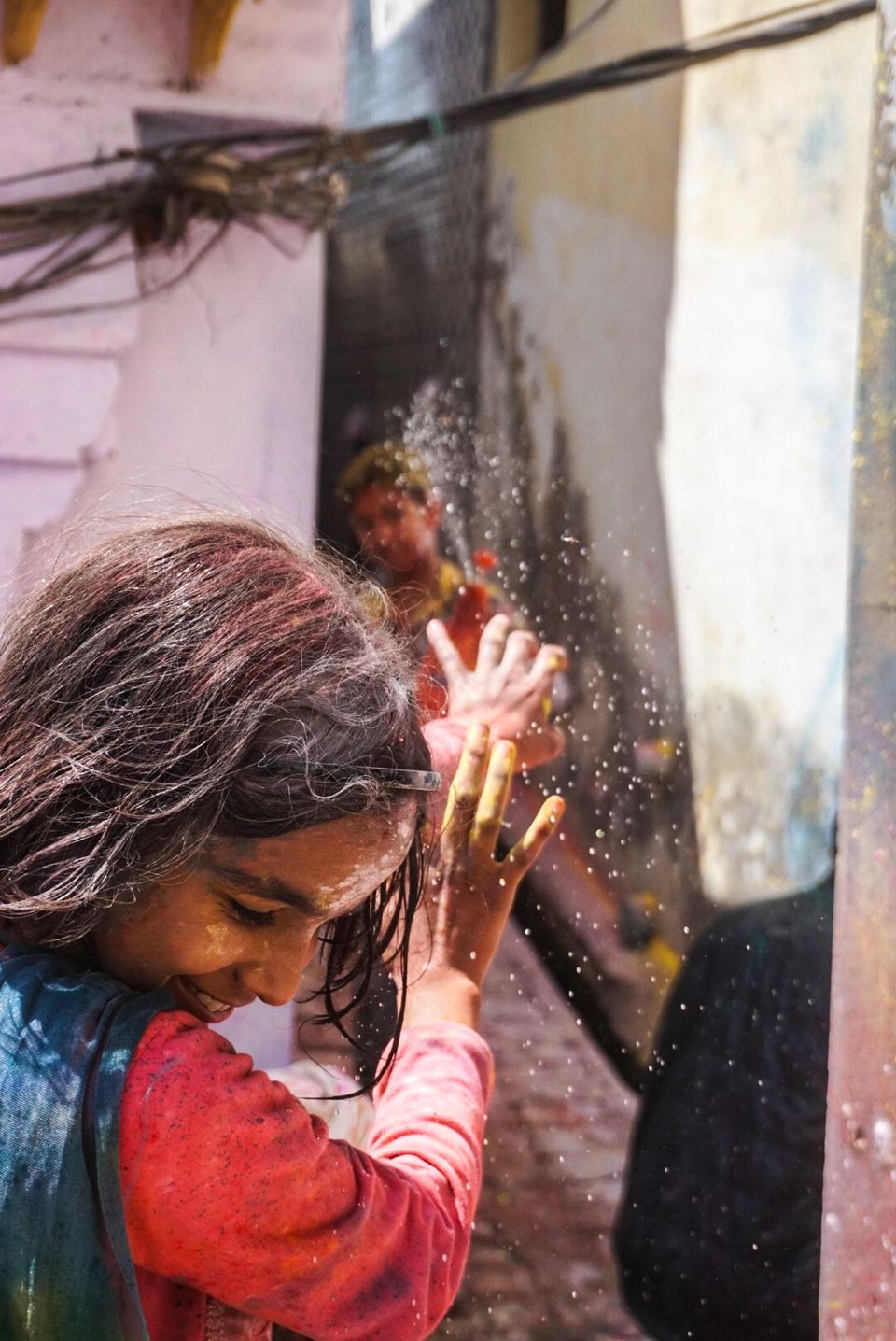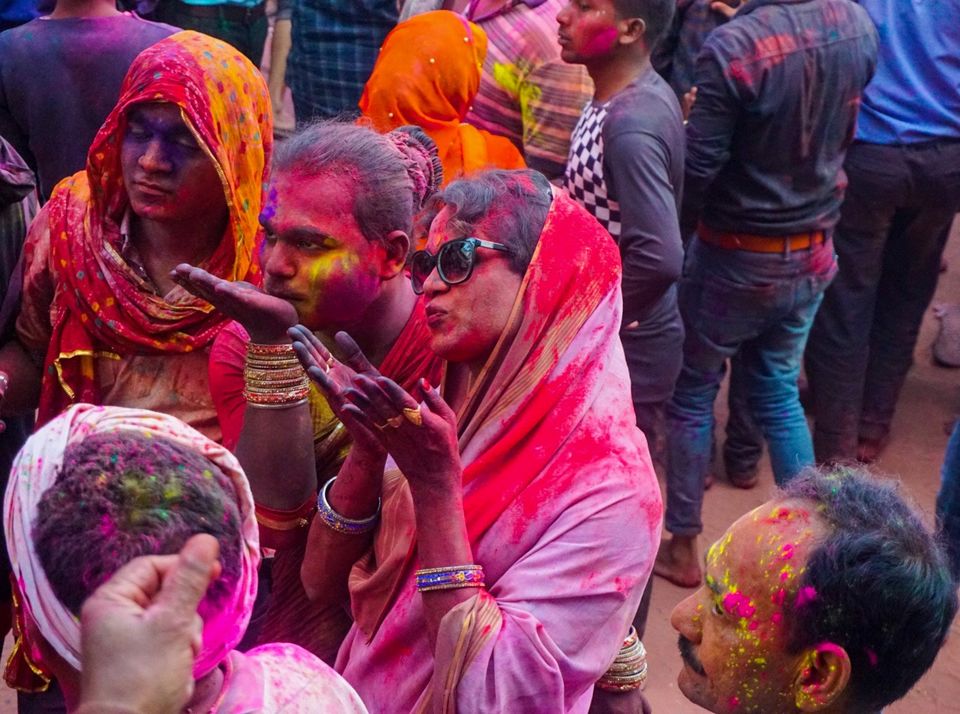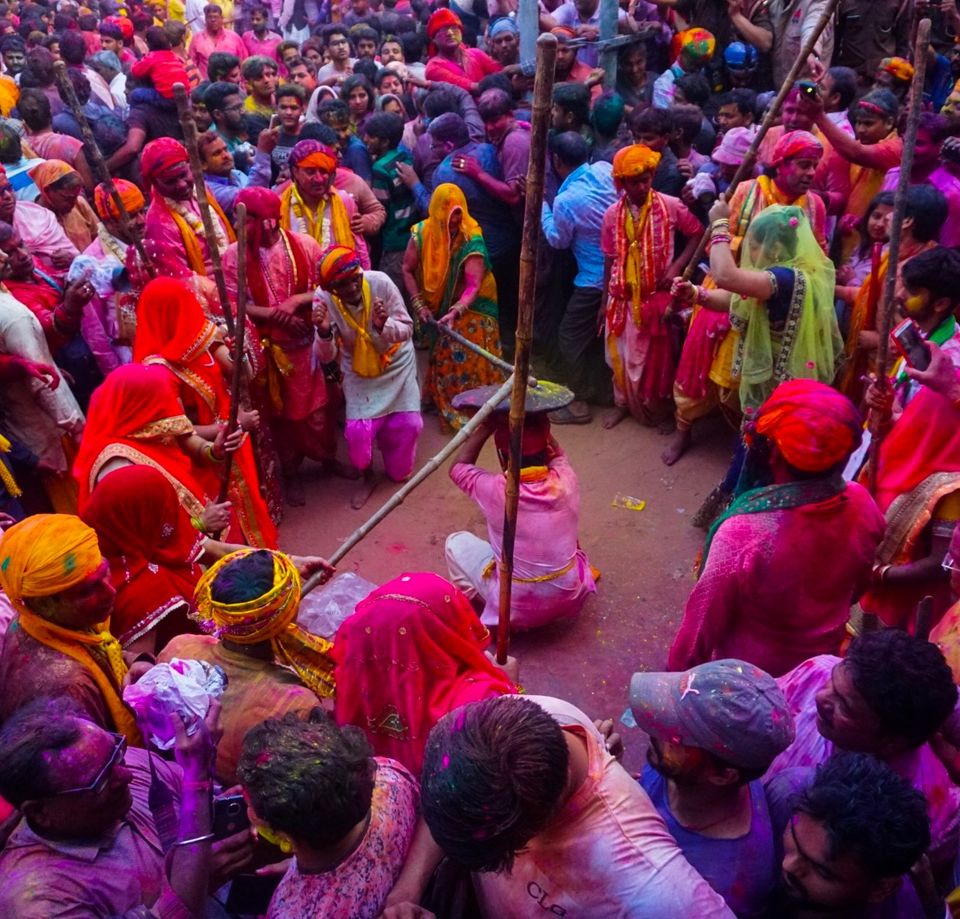 16-04-2019
On this day we went to govardhan in the morning. We took a bus to govardhan from Mathura.
we prayed in the temple.
then we had to do the parikrima. We asked locals about it they showed us the way. So what I found out.
Basically there are two parikrima. One is knows as large and another is short parikrima. both of them taken together lengths 21KM. lengthy one is 12 km and another is 9 km.
you can use auto and vehicles to cover the parikrima or break it in lengths as we did. We did lengthy one on feet and other with auto. During the parikrima we saw monkeys everywhere but don't worry they are not dangerous or harmful but beware if you have anything they love like bananas or other food. Generally they don't bother. That's how we did this day.
17-04-2019
On this day we went to vrindavan so we took a bus to vrindavan. They asked us to get off the bus some distance away from the city as it was management of the public officials. So we walked down the rest of the path. We were reaching the temple, during the path we saw Yamuna river where we saw ghat and then we continued our way to temple. The temple came after crossing various narrow streets. We went in the temple. There was no place to put our feet on ground. Yet we kept moving in by force coming from backside. And what we saw I can't express what the view was . it was astonishing somehow I managed to get in the corridor on above floor so that I could capture the moment. We did it and came back from temple. There was one more place in vrindavan to visit. It was prem janki mandir. However as we were returning from the temple, We saw it from outside. But the biggest problem we faced was coming back to Mathura. The distance for which only 20/- has to be paid was being asked to pay 100 to 150 rupees. We waited for some more time and came in the vehicle back to Mathura.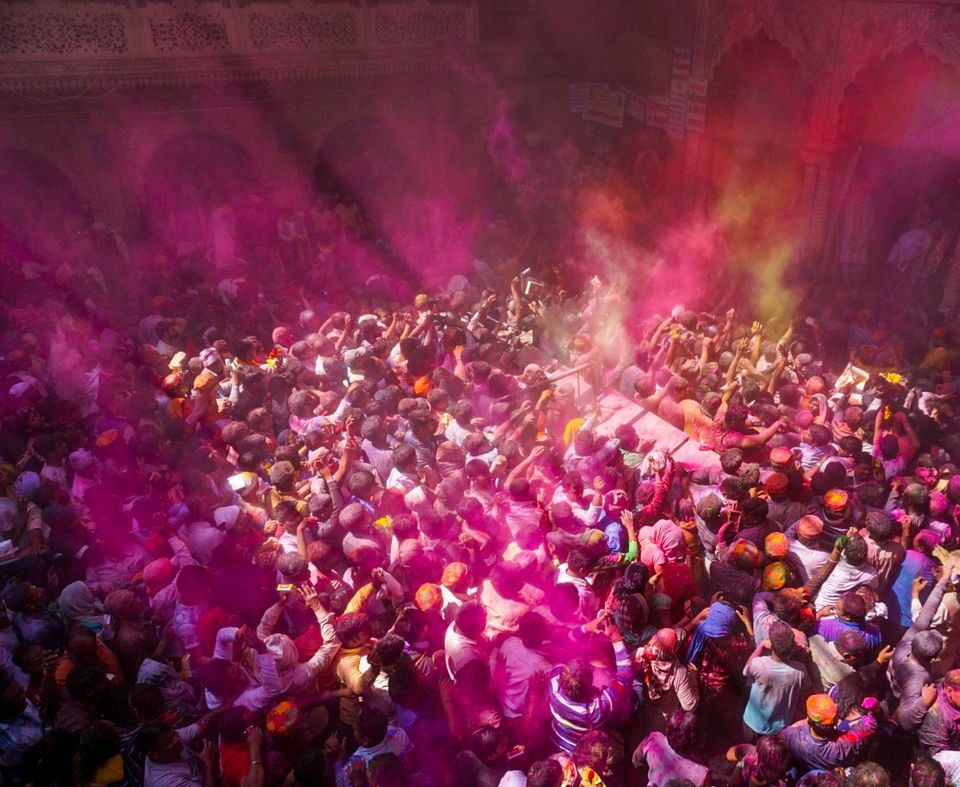 18-04-2019
On this day we planned to visit gokul. You can only take auto, no bus serves there. So we took a auto. And found out he was cheap person always remember to do the auto only for one side rest will be managed accordingly else he will be pinning you again and again because gokul has lot more to explore in. so deal with auto wala properly. And after getting off the auto or any vehicle there will be a panda waiting for you to pay him a fortune. Just be there and see and if asked for money don't give. He will show you the kund(POND) and will blabber. Just ignore him. Two KM away is a place where you will not regret to visit. RAMANRATI I guess. You will see number of animals there. This place just feels like you are at goa beach with a texture of spirituality.
behind that there are gou-shalas, pond which you take jump in, ayurveda forest belt.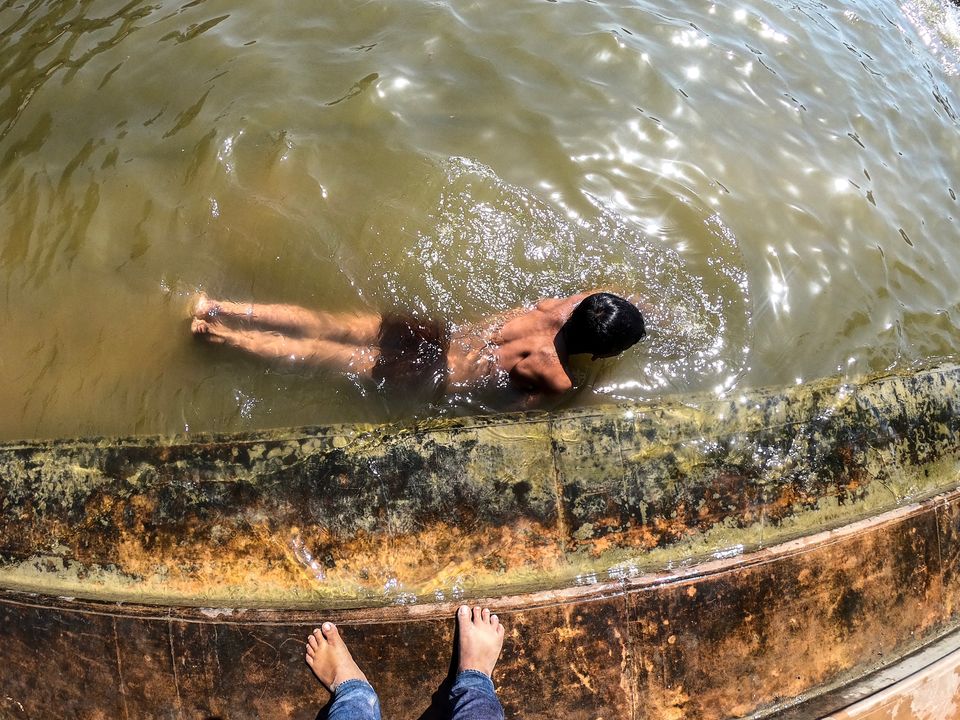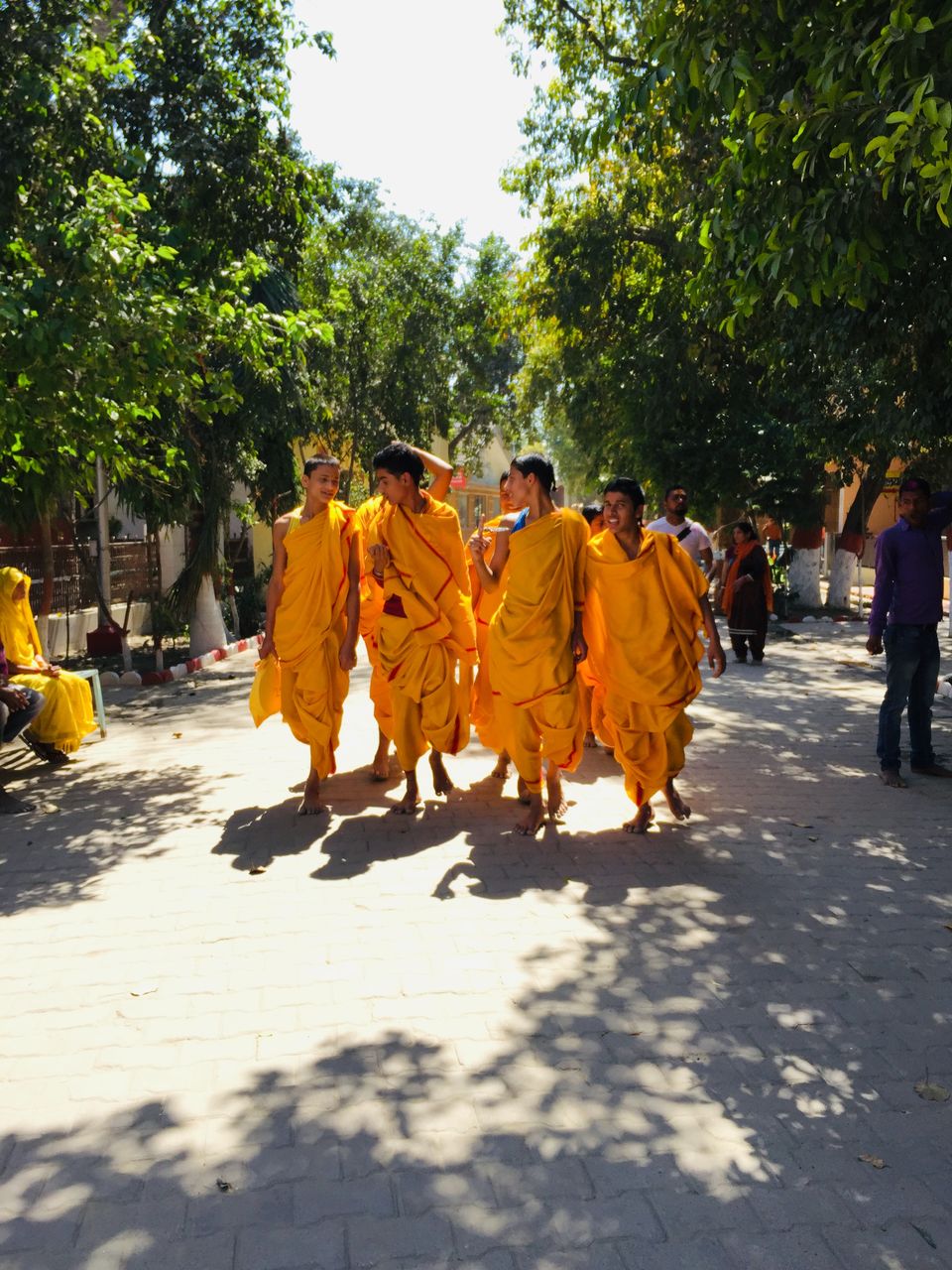 But beware of pocket-picking. ALWAYS TAKE CARE OF YOUR BELONGINGS.

As my cousin lost his purse. We don't have any idea how it happened. We can just assume it might have been stolen somewhere in between when we were in the queue of Prashadi Bhojan. That's it our mood was ruined.
my cousin brother lost his mind. He kept trying to track where could he lose it. But nothing came in help.
so we decided to leave the place.
after it we entered again in the gokul. Became part of some rituals. And came back to Mathura.
19-04-2019
Our holi trip on end. Me and my brother decides to go agra it could be seem very usual but we wanted to utilise our time.
But this time not only TAJ-MAHAL but also AGRA FORT.
So we took train from mathura to agra, it was crowdy.
We took a taxi to the red fort, infront of redfort main gate there is a square. So there was a punjabi named restaurant in which we had lunch, it costed us 50/- but the taste was awesome.
Then we went to refort. Got tickets.
So we went in, this is huge place to explore, some unexploded too.
Now we had to go to TAJ.
So we took a ticket, we went in.
So we were moving here and there and i did some photography. It was very hot that day so we left the place early and then came back to mathura.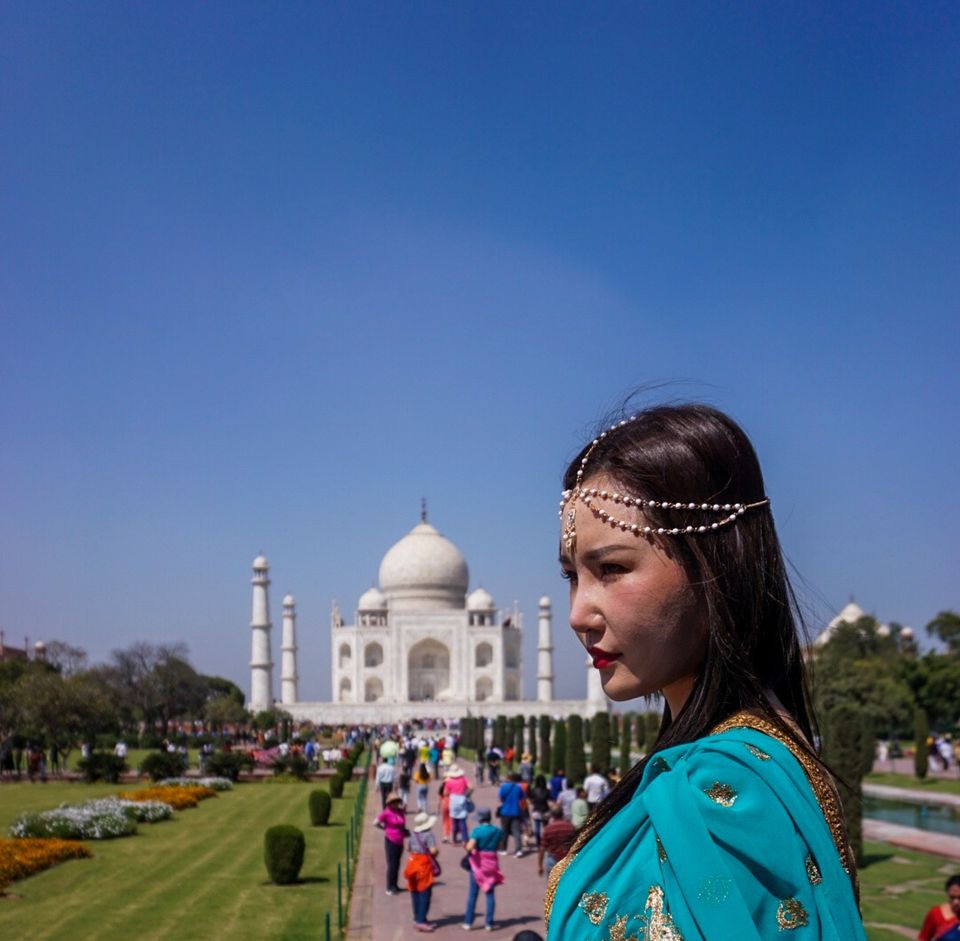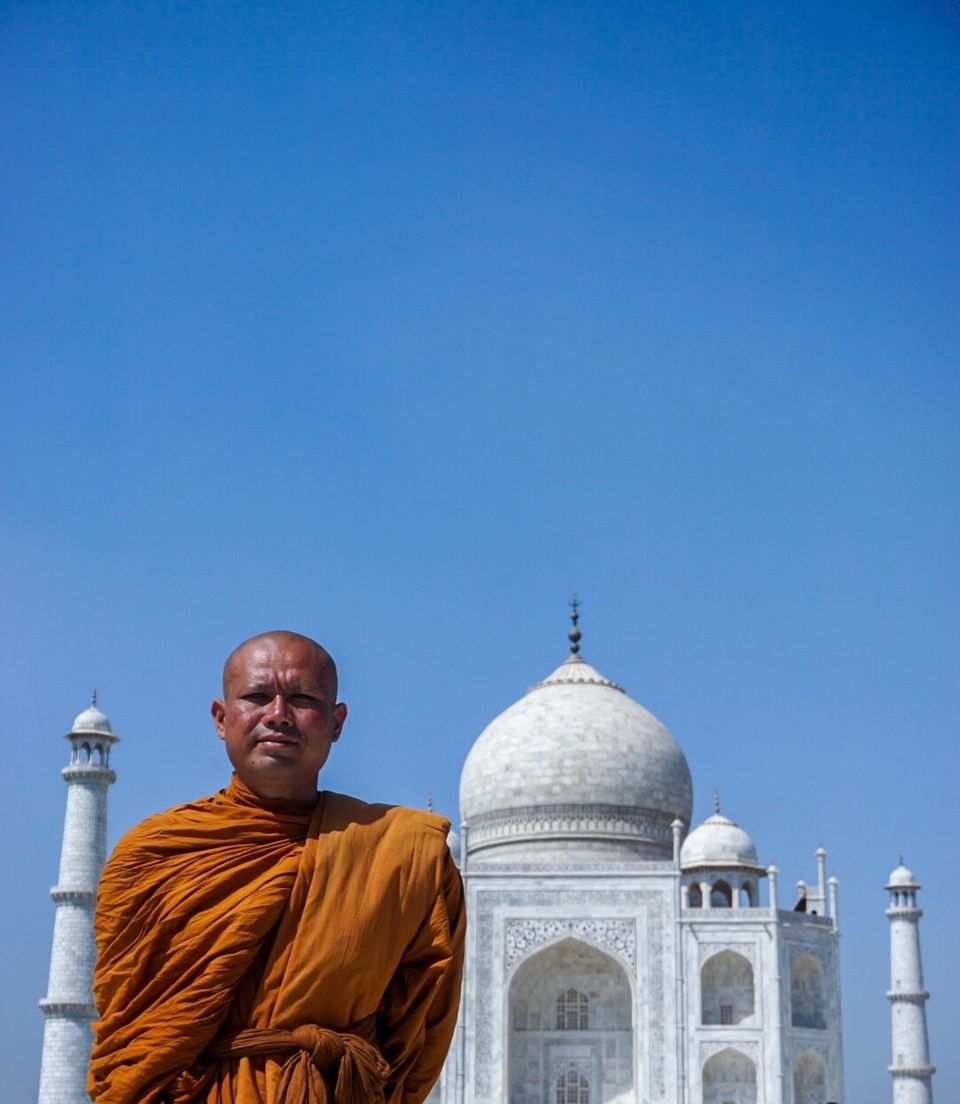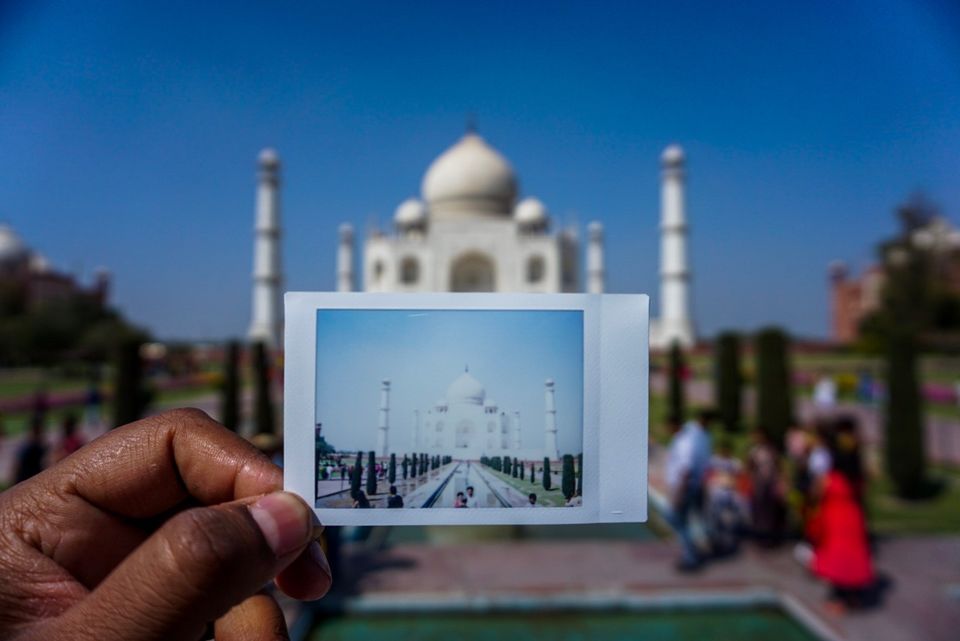 This was our journey!.. how yours went…Write down in the comment section below.
Things to Carry:-
-Valid Identity Proof, along with Photocopy
- Water Bottles
- A lightweight Backpack, and a smaller Day Sack (Avoid Suitcases)
-Good pair of shoes, and a pair of flip-flops
-Fleece Jacket/ Sweater
-Cap, sunglasses, scarf
-Camera, Binoculars (Optional)
Things to Remember:-
It is essential to stay vigilant while in Braj. Protect your camera and mobile phone by covering them with polythene or other such material. While walking towards the temples, many people throw colour and water at everyone.
Find out the date of the festivities in advance from locals – cab drivers and hotel staff. However, do not depend on them for the exact timings and schedule of events. It is better to go to the venues in the morning and stick around for the rest of the day; there is always something or the other happening.
Where to Eat:-
Food available in Mathura and Vrindavan is strictly vegetarian. If you are staying in an expensive hotel, the in-house restaurant may provide you with more variety.
In Mathura, the International Guesthouse next to the Janma-bhoomi Complex offers a nice thali. There are many eateries selling delicious street food – puri sabzi, chaat and lassi.
Outlets of Brijwasi sell excellent pedas, the dessert Mathura is famous for.