Katarniaghat Wildlife Sanctuary is situated in the Bahraich district, Utter Pradesh state in India. It is established in 1975 and declared as a Project Tiger reserve in 1987. It is situated in the Upper Gangetic plains in Bahraich district of Uttar Pradesh state in India. Bahraich city is the nearest city to this wildlife sanctuary.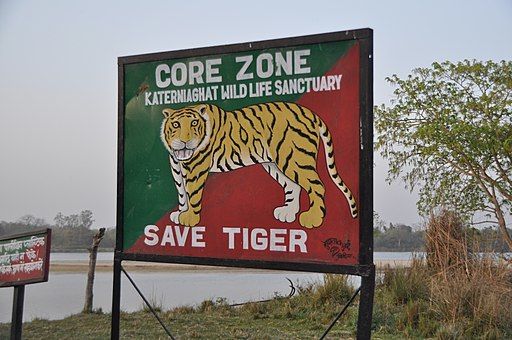 Katarniaghat Wildlife SanctuaryA board at Katarniaghat Wildlife Sanctuary
Kishanpur Wildlife Sanctuary and the Dudhwa National Park are the two nearby tiger sanctuaries to Katarniaghat Wildlife Sanctuary. Katarniaghat sanctuary acts as a corridor between other two nearby tiger habitats. Another tiger habitat, Bardia National Park in Nepal, is also connected with the Katarniaghat Wildlife Sanctuary. Thus, this corridor acts as an international tiger corridor too.
Katarniaghat Wildlife Sanctuary is spread over an area of 400.6 square kilometers.
This wildlife sanctuary is rich in flora and fauna. Flora is a mixture of Teak forests, Sal tree forests (Shorea robusta) along with lush grasslands, a large number of swamps and wetlands. As per Jain religion, Saint Mahavir alias Vardhamana, the 24th Tirthankar, achieved enlightenment under Sal tree.
Fauna of this wildlife sanctuary includes Gharial, Tiger, Rhino, Gangetic Dolphin, Swamp Deer, Hispid Hare, Bengal Forican, White-backed vultures and Long-billed Vultures. One of the best places to see Gharials in its natural habitats is the Girwa River, a tributary of the River Karnali. Mugger can also be seen along with Gharials in this river. Gharials can also be seen frolicking with the Ganges dolphins in this river.
How do I Go to Katarniaghat Wildlife Sanctuary?
There are buses to Katarniaghat Wildlife Sanctuary. The nearest railway station is Bichhiya in Bahraich district of Uttar Pradesh. Station code of this station is BIC. It is a small station with just one platform. four trains halts at Bichhiya railway station. Lucknow is the nearest airport to the wildlife sanctuary.