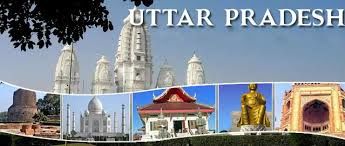 5 Top Travel Destinations in Uttar Pradesh
1. Agra - The land of Taj, Agra has earned itself international fame for being a heritage hotspot in the country. Reflecting the architecture excellence of the Mughal Era, Agra stands on the bank of River Yamuna
2. Mathura - 'Krishnabhoomi' or the land of Krishna, Mathura is amongst the most visited places in Uttar Pradesh. The town near the famed Vrindavan is dotted with temples and a sacred Yamuna River flows past it. The entire lined with 25 ghats, which are thronged by devotees at dawn and sunset.
3. Varanasi - This religious city in Uttar Pradesh is said to be one of the oldest continually inhabited places in the world. Sitting on the bank of River Ganges, Varanasi is known for its ghats and the winding lanes dotted with temples that come in all sizes and shape
4. Ayodhya - The much controversial yet sacred Ayodhya has been an infamous destination in Uttar Pradesh for more than two decades now but the controversy has earned it an ambiguous international acclaim. The birthplace of Lord Rama, Ayodhya besides its controversial site is a great place to take a plunge into the pool of spirituality.
5. Kapilvastu - Recognized as the Shakya Capital, where Lord Buddha was born, Kapilvastu is an important place for Buddhist devotees. Situated about 27kms from Siddhartha Nagar district, the place has ruins that back to 8th century BC.