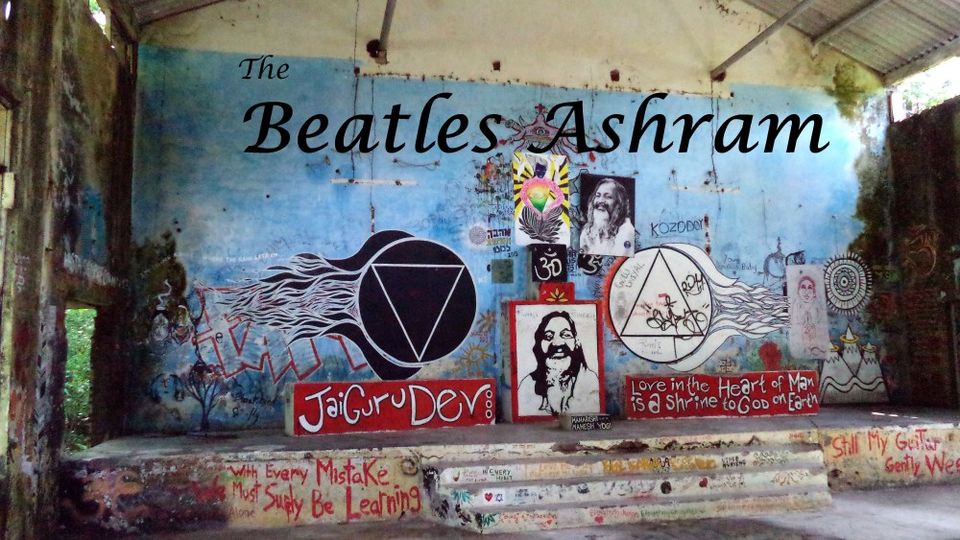 An Overview Of Rishikesh
Rishikesh is pretty much nestled across its two pedestrian bridges - Lakshman Jhula and Ram Jhula - which connect the eastern and the western sides of the city. If you're looking for a place away from any movement and where you apparently hear nothing but the sound of the gushing river during the night, then consider staying close to Lakshman Jhula. Ram Jhula, on the other hand, is in the close proximity to some of the most popular Hindu Temples and Ashrams (including the famous Beatles Ashram) and is, therefore, more favoured by the Indian tourists. From these bridges, Rishikesh wends its way along both banks of the river, at the bottom of a narrow valley. The east side is almost free of car traffic, and a walk from Ram Jula to Lakshman Jula takes about an hour and passes through many sadhu huts, parks, and scores of small shops.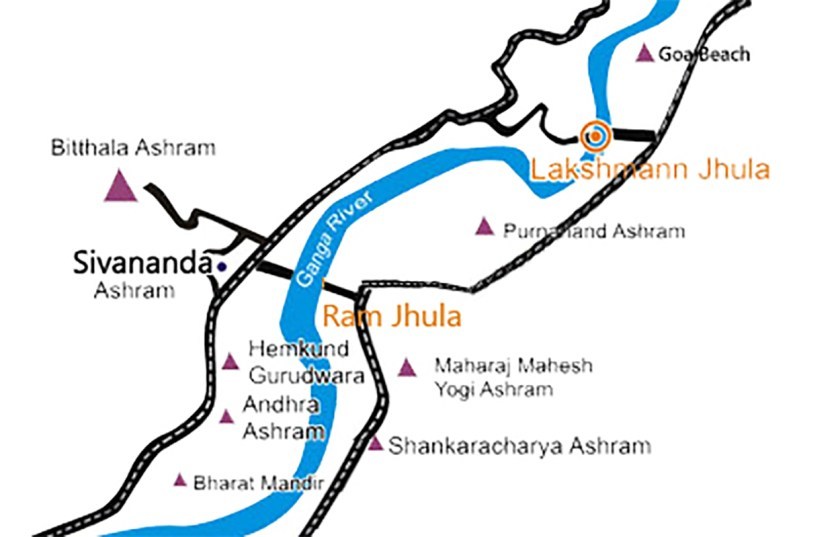 Top Things To In Rishikesh
With an overgrowing popularity, Rishikesh is getting crowded every day. But for those who are visiting Rishikesh to entertain themselves with extracurricular activities, apart from the most sought-after Yoga vacations, Rishikesh has no shortage of things to see and activities to try. Here's a list of some of the options available for you in under a 20 km radium around Rishikesh: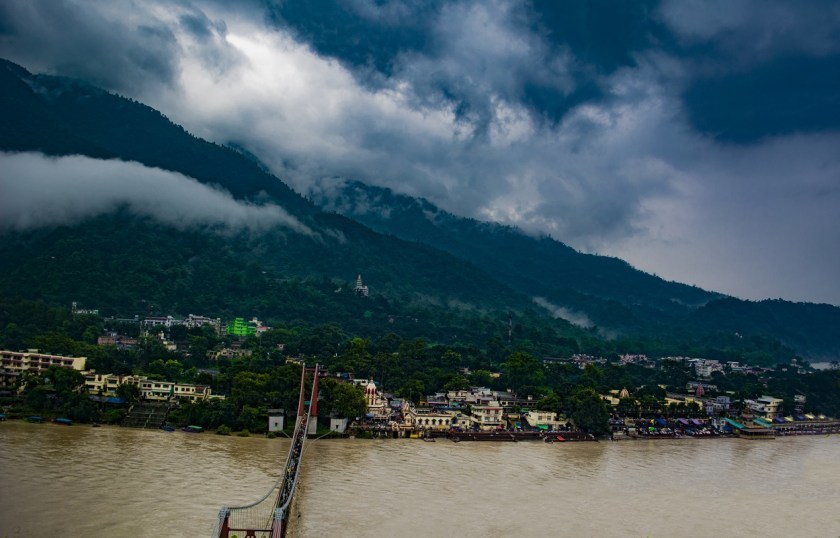 Experiencing the waterfalls of Phool Chatti and Garud Chatti (both are located under 5kms north of Lakshman Jhula) River Rafting from the town of Shivpuri (18Kms north of Lakshman Jhula Bunjee Jumping and other adventure sports at Mohan Chatti (15Kms from Lakshman Jhula) Experiencing the evening Ganga Aartis at Parmarth Niketan Living the music in Beatles Ashram, near Ram Jhula Café hopping among some of the popular chill-vibe cafés overlooking the glistering Ganges. My favourite ones include Little Buddha Cafe, The 60's Cafe, Bistro Nirvana and the Ellbee Ganga View.
Where to Stay in Rishikesh.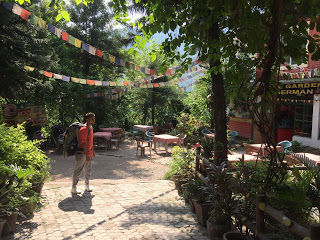 Unusually for me, I had little in the way of a plan. I'd searched for ashrams and yoga retreats for hours and become overwhelmed by options. So I abandoned planning completely and just booked my first night at a Zostel on the Tapovan side of Rishikesh. If you like a bit of peace and quiet and have travelled to Uttarakhand in search of space to reflect, I highly recommend staying in Tapovan - or further out - rather than in Laxman Jhula, which can get a little noisy. As for finding things to do in Rishikesh - from my experience, here, things will generally find you. Taking a quiet stroll to soak up the Ganges air, will inevitably lead you into conversations with strangers, music on ghats by the river and more. For the action driven - Rishikesh offers white water rafting and hiking opportunities a-plenty. I was happy I chose to stay on this side of the bridge, about 15 minutes walk from Laxman Jhula and the main market drag. Tapovan was quieter, relaxed, but still with plenty of places to enjoy a chai or join a yoga class.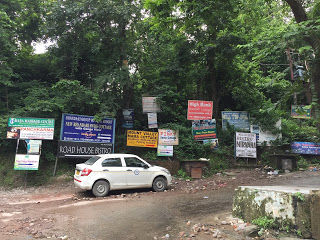 Shiv Shakti is the best hostel in town, and it's in the backpacker area, Lakshman Jhula, so you will find affordable eats nearby. Although many people come for the ashrams, if you're passing through you can still practice yoga and meditate from the many hotels. Rishikesh Valley Hotel is the eco-friendly option with wooden huts and great sustainable choice. Atali Ganga Cottages has the best views in town, and Ganga Kinare Boutique Hotel is the best all-around mid-range and convenient option.
Tips for Finding an Ashram in Rishikesh.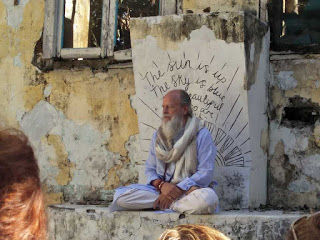 To reduce the number of options available to you, you can start by asking the following questions:
How long do you want to stay for? Some Ashrams are open for shorter stays (3-7 days, others only accept those staying for longer) Do you want to focus on Yoga or a Yoga Teacher Training course? Some 'Ashrams' are more like Yoga Teacher Training Centres, while other Ashrams do not offer yoga at all - think about how much yoga (asana) you want to practise and look for Ashrams that offer this Do you prefer to be surrounded by people or in a smaller Ashram? Are you looking for an Ashram with a rigid schedule, or do you want more time to yourself? Don't forget to book well in advance - Ashrams are not usually set up for 'walk-ins' and many popular Ashrams get booked up.
Finding Soul. (And lots of Chai...)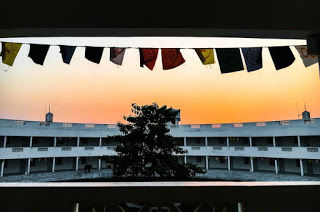 I fell in love with Rishikesh. Partly I fell in love with the place: the mountains, the rushing river, the warm sun against the crisp winter air. After the bustle of the desert cities of Rajasthan, Rishikesh felt like a haven of peace. The air is cleaner, the sun is purer, and people seem relaxed. In Rishikesh I am sure there is the occasional less-than-authentic sadhu, but during my 10 days there I experienced no hassle. Rishikesh seemed generally safe too, although if walking alone after dark do avoid isolated and un-lit areas, and keep your wits about you. But I also fell in love with how I felt there. There's something in the air - I found - that gets to you. Maybe it was the daily yoga, maybe it was the spray from the Ganges. Maybe it was the magic of the meditation hall at Aurovalley. All I know is that I felt more relaxed and at peace than I can remember feeling for a long time. And it's that feeling that will bring me back here on future adventures.